Dockside Destinations: Péniches in Paris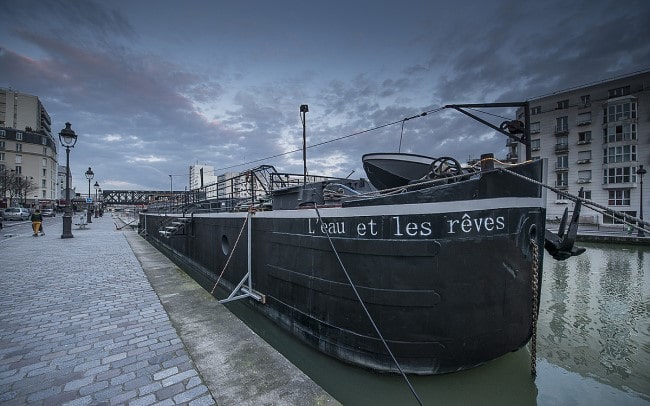 Paris, a river runs through it… and a canal system. A few lucky sailors have precious mooring spaces in Paris, either along the Seine or the Bassin de la Villette. Many barges, aka péniches, are party boats, with top-deck revelers and a thumping bassline. But some of the barges tied to the capstans on the quays are multicultural centers, dance schools, bookstores, cinemas, floating food markets and child-centric destinations. Here are a few favorites.
L'Eau et les Rêves is a floating bookstore/café whose name in English means "water and dreams" –  so-called from a quote by philosopher Gaston Bachelard. Moored in the Canal de l'Ourcq, l'Eau et les Rêves has an inevitable nautical theme, replete with portholes, mermaids and old maps. This barge-bouquiniste has wooden stalls on the upper deck for borrowing or buying second-hand books. Bigger on the inside, this péniche boasts spaces for a children, theater workshops, lectures and book signings. While l'Eau et les Rêves is a treasure trove of volumes on seafaring and maritime escapades, it's still a mainstream bookshop with new titles. This French librarie will order English language books for you. Their café offers snacks, juices, wine and cocktails.
9 Quai de l'Oise, 19th
Fluctuart is a floating urban art center located at the foot of the Pont des Invalides. Along with temporary exhibits, Fluctuart features works by internationally renowned street and graffiti artists like Banksy, Keith Haring, Invader, VHILS, Shepard Fairey and JR. Fluctuart capsizes the idea of a traditional museum by creating an opportunity to see urban art in a Seine-side setting. This barge of 1000 m² consists of three gallery spaces connected from water to rooftop by a series of atrium-like gangways which create an intimate interface between the Seine and gallery-goers. Fluctuart is free and open from noon to midnight. The space can be toured with one of Fluctuart's passionate guides. DJ sets in the evening are a unique way to listen to music, enjoy a cocktail and take in some incredible art and views of the Seine. They offer children's workshops Sundays at 2 pm. The small menu at Fluctufood is a distillation of Paris fare. Books and prints specializing in urban culture are available at Fluctuart bookshop. Fluctuart is open every day in the summer and Wednesday to Sunday starting November.
Pont des Invalides/Port du Gros Caillou, 7th

In the Bassin de la Villette is the Antipode. Antipode is a word most often used for Australia and "lands down under," but the dictionary reveals it means "something which is the direct opposite of something else." And that's what the Antipode is. This imposing hulk of a barge was built in the midst of World War II and transported all manner of freight on the canals of Europe. Now it's a laid-back, kid-friendly cultural space, appealing to the eclectic, the hipster, and those trying their best to rage against gentrification.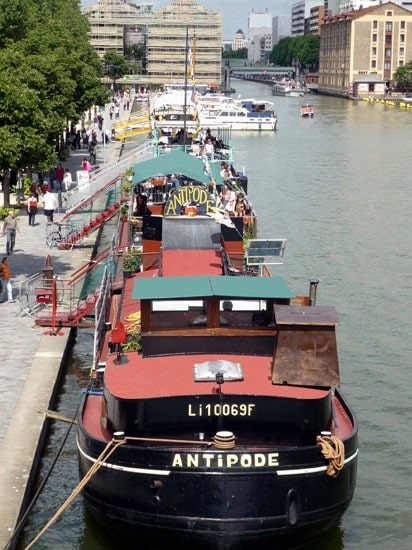 For children there are live shows with creations by the Abricadabra theater company with clowning, mimes, songs, acrobatics and puppetry which are suitable for toddlers and up.
There are plays, sketches and cabaret concerts for adults in the evenings. In this friendly and welcoming spot, DJs spin worldbeat-style hip hop. Evenings of progressive rock and folk are available for a very meager cover charge. Some chansons-concerts and Sunday flamenco events cost a bit more.
The Café Antipode, a bar and restaurant, offers a la carte, fair trade and artisanal foods and a well-supplied bar. You can have a meal on board or just have a casual drink on the terraces. Antipode is anchored at 55 Quai de la Seine, in the 19th arrondissement.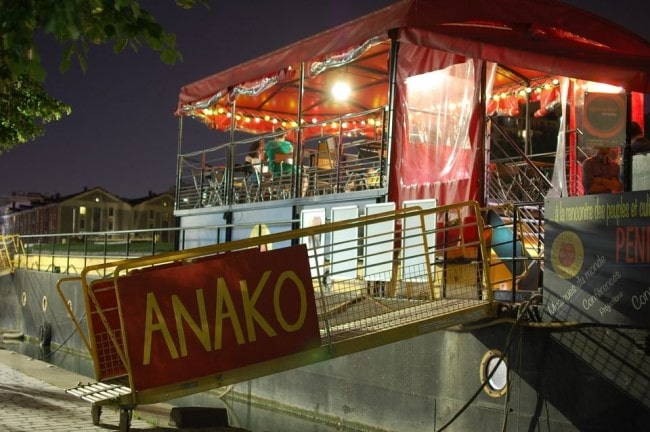 Péniche Anako advertises itself as a cultural center inviting one to meet other peoples and cultures along life's unmarked path. World music jams and gems of old cinema are offered. The Péniche Anako has a long history with Armenian Red Cross Relief Committee who symbolically make the barge available to promote their cause of multiculturalism. Like the Antipode the vibe is very casual. They also have a menu of the day.
Bassin de la Villette, facing 34 quai de la Loire, 19th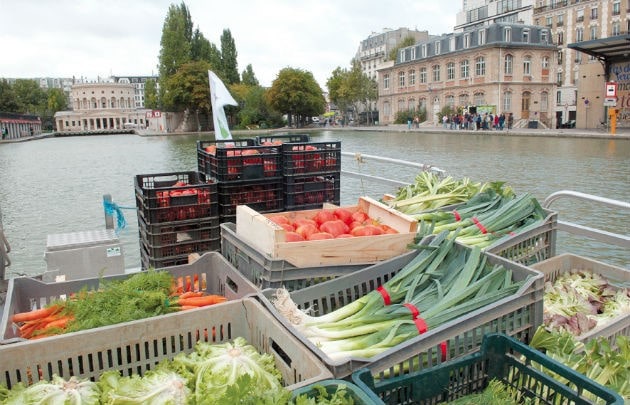 Since 2012, the Marché sur l'Eau Association has offered city dwellers the opportunity to buy quality fruits, vegetables and other foodstuffs grown in Île de France, less than 100 km from Paris. Docking on Tuesdays and Saturdays, behind La Rotonde in the Bassin de la Villette, the Marché sur l'Eau is a favorite of restaurateurs lading their eco-conscious pantries, yet anyone can browse on board- or on quayside – or pre-order baskets for weekly delivery. Locavores get to experience fruits and vegetables picked when ripe and in season. Preserves, honey, and craft beers are also offered on market days. Even their boat Les Deux Brigands is 100% sustainably fueled.
Place de Stalingrad, 19th: Saturday 11:30 am-1:30 pm; Tuesday, 6 pm-8 pm
Named in honor of the French-American sculptor, the Jardin de l'Archipel des Berges de Seine – Niki de Saint-Phalle are five unique gardens growing on a series of custom built metal barges. Permanently moored, these small island parks totaling 1800m² are strung together yet try to remain discrete. Evoking the microclimates found along the Seine, the barges consist of a bird island with flowering shrubs and berried branches in which birds can make their nests, the prairie island with field flowers and tall grasses, the central island with child-friendly rope nets on which to climb and an orchard island. In the bow of this archipelago of islands is the misty l'île aux brumes where mechanical foggers replicate the sometimes mysterious quality of the banks of the Seine. It's a pedestrian oasis of biodiversity in the middle of Paris. Located at the Port Gros Caillou, about 100 meters from Pont d'Alma in the 7th, it's open all year round but closed during rough and windy weather.
https://www.paris.fr/equipements/jardins-de-l-archipel-des-berges-de-seine-niki-de-saint-phalle-16811
The first barge of its kind, La Péniche Cinéma is designed as a mini-cinema screening short films and documentaries. Although many offerings are award winners, the films are mostly unknown to the general public. The programming is eclectic, ambitious, and professionally run. In addition, La Péniche Cinema offers mini festivals and events centered on filmmakers and producers. The association wants to serve as a springboard for the creators of tomorrow and they offer intensive filmmaking courses for children. The restaurant, La Terrasse De Frankie, located on the bridge, features homemade, seasonal cuisine and craft beers for moviegoers who want a post-movie snack.
Canal de l'Ourcq – in the Pace de la Villette, facing the Cabaret Sauvage, 59 boulevard MacDonald, 19th.
On the bill at La Péniche Demoiselle, situated at the north end of the Bassin de la Villette, are artists from divergent musical universes: pop, world music, folk, jazz, chanson, reggae and klezmer. The barge contains a lively and effervescent music hall but it's more than just a concert venue. La Péniche Demoiselle is part of a larger project created on the theme of travel and dance.
Since 2008, La Péniche Demoiselle has been committed to educating people on the intricacies of world dance, offering balls, concerts, exhibitions, courses and classes.  They aim for you to learn a few dance steps on their 120 m² parquet floor. La Péniche Demoiselle's instructional workshops feature, to name a few, bal musette, swing, tango and rhumba. There are workshops for children too, as well as yoga lessons for adults. Self-funded, volunteers and employees work together to implement socio-cultural projects. There is the ubiquitous bar onboard serving sweets and savories.
The Péniche La Pop is an artistic incubator for live music and sound. Since 2016 it's been a place of residence, research, and experimentation for upcoming music makers. La Pop's mission is to support emerging artists who, through the creative projects they design in the hold of the barge, question the different roles that music and sounds play in society. While this all sounds very esoteric, La Pop welcomes and supports about 50 artistic teams each year resulting in a calendar full of presentations. These shows are invitations to discover different interpretations of sound and musical objects. La Pop is a cultural barge that is place of creation and performance and is found at 61 quai de la Seine in the 19th.
Lead photo credit : courtesy of L'Eau et les Rêves
More in Boats, cinema, food, gastronomy, markets
---
---