Modern Bal-Musette: Le Balluche de la Saugrenue and More!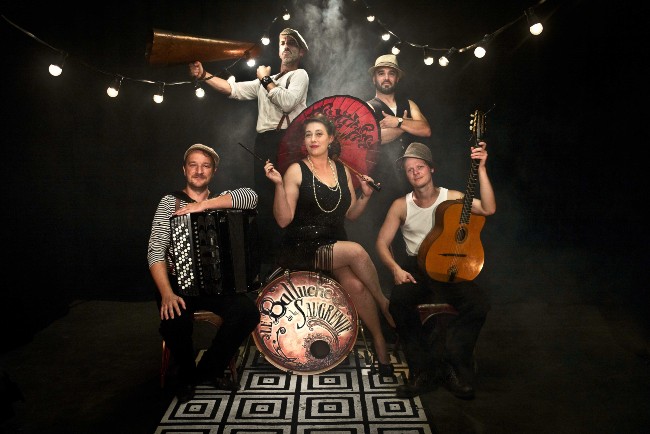 The classic Parisian scene is an indelible one and whether your Paris experience is down-to earth or the ultimate illusion, the music brought to mind by cobbled streets, sidewalk cafes or strolls by the Seine is likely to be bal-musette, an ever-so-romantic waltz-style of music featuring the accordion. As Paris evolves, bal-musette is rarely heard, however some traditionalists are keeping this genre of street music alive with the addition of modern beats and picaresque players.
First gaining popularity in the 1880s, bal-musette is a style of French music and dance that features a variety of waltzes, polkas and other rhythms played on the accordion. The much-maligned accordion that defines this style of music is called the musette, although it has been called less-than-flattering names over the years: La Boîte à Frissons (the Trembling Box), Le Piano du Pauvre (the Poor People's Piano) and Le Piano aux Bretelles, (the Piano with Suspenders.) Whatever your opinion, from its first wheezy breath, the musette sends you back in time.
Etymologically speaking, musette refers to a small backpack or kitbag. In the late 19th century, newcomers from the Auvergne region introduced a small bagpipe called the musette to the outskirts of Paris. Later, the Italian immigrants who joined them in the same neighborhoods brought the accordion with them as part of their own musical tradition. The bagpipes gave way to the squeezebox, which became the main instrument for bal-musette but the name remained the same. The musette accompanied polkas, mazurkas, and gavottes and fast waltzes called javas, a word derived from the Auvergnat pronunciation of "Ça va?"
With industrial advances came the railway and a gateway to actual leisure time. The guinguettes – public dance halls in the banlieue of Paris – became popular outdoor drinking establishments. Crowds were drawn to the venues highlighting the entertaining musette bands. It would take a few decades before the accordion arrived in central Paris.
The popularity of bal-musette grew through the first half of the 20th century and by 1945, it was the most popular style of dance in France. Josephine Baker and Edith Piaf sang to this style of music. Well-known names like Django Reinhardt and Stéphane Grapelli started their careers in Paris musette bands. The popularity of this style of music declined drastically in the early '60s.  The oldest bal-musette location was demolished in 1989. Le Petit Balcon, tucked away in Bastille, had survived from the 1930s by staging clichéd, low-life l'apache performances.
A revival of bal-musette has begun, especially in larger cities, where a more modern form of musette is establishing itself. The stalwarts of this style are Le Balluche de la Saugrenue, Le Petit Bal de Poche and Les Balochiens.
Le Balluche de la Saugrenue
The zippy, saucy melodies of Le Balluche de la Saugrenue are the soundtrack in my head. This pirate ensemble is made of up of talented bunch of musicians dressed up in an assortment of banded Bretons and striped trousers. Originating from Tours circa 2006, Le Balluche is just one element of the city's wildly innovative La Saugrenue Collectif, a group of musicians whose name means "The Absurd." The band has not picked up and moved to Paris but their sound will transport you straight back to a Paris speakeasy.
Now internationally recognized "World" musicians, the goal of the artists of Le Balluche de la Saugrenue is to reinvigorate the music of the cosmopolitan Paris of the 1930s and infuse it with a healthy dollop of 21st-century sensibilities. By using the genre's typical formation: the accordion, jazz guitar and/or banjo, double bass, and jâse – the ancestor of the drum kit – they combine new compositions with covers of the lost sounds of the real musette. With the addition of a vocalist, they are able to revisit songs of the Chanson Réaliste style, with lyrics that deal primarily with the lives of Paris' poor and working class. Le Balluche de la Saugrenue has composed their own tracks, incorporating authentic Parisian slang with modern musical elements and old-school themes. Their shows are giddy spectacle with lots of humor and theatricality.
In Paris, the musette entertainers lived on the fringes of "Paname," a pseudonym for the less- than-salubrious side of the city, and they became embroiled in a life of rogues and ruffians around Pigalle. The musette balls of the 1930s embodied a tough-guy image: thugs of all stripes, scoundrels in muscle shirts with an ever-present Gitane and a bandana knotted at the throat. On the Balluche de la Saugrenue stage are five equally colorful characters – each endowed with their own charming alias and a backstory dripping with irony. Sacha la Fauve, "Wildcat Sacha," is the vocalist; Flo la Bretelle, "Dapper Flo" plays the accordion; Hector la Gachette known as "Hector the trigger-man" plays the gypsy guitar and banjo; Mat l'Emplummeur aka "light-fingered Mat" hits the double bass; and Jean-Jean la Taxe, which translates into "Jean-Jean the Cadge," beats the jâse drums.
Today the group performs two distinct styles of concerts:  the vagabond Balluche Soundsystem transports their own retro-vintage stage with them, which flips down from the side of a caravan. This entertaining assault of sound and light would be right at home in a fantasy by Jean-Pierre Jeunet. Then their Le P'tit Bal Perdu, the Little Lost Ball, is a fully-fledged cabaret served the old-fashioned way. On stage or on the street-side caravan, Le Balluche meets an ever-wider audience. They have no Paris dates in the summer of 2021 due to COVID, but it would be very interesting to meet them one day.
Adopting an alias seems to be the thing to do if you are a bal-musette musician. And you need an inventive resume to boot. For example, the founder of Le Petit Bal de Poche, violinist and vocalist Lucien Alfonso weaves this story about his alter-ego Lulu la Cagette. After having studied in the conservatories of Toulouse and Geneva, Lulu headed to Paris to make his fortune. With only his baggage, his crate, and his legendary sympathy, he walked the Paris streets, unearthed bars, searched and rummaged without ever pausing for fun. Then, after making many connections, friendships, anecdotes and music were born, pushing Lulu to create many musical paths. A hyperactive adventurer, Lulu strolled through France's countless markets and then realized that his music made the fruit, vegetables, and, above all, people dance! Inspired, he and his colleagues created a bal dedicated to making our lives more sassy.
His compatriots are: Jérôme Soulas (aka Jéjé le Soufflet) on the accordion, Pierre-Yves Lejeune who's called Pierrot la Glace provides the bass line, Michael Gimenez (aka Michel la Guinde) plays the guitar. When the opportunity arises there's room for a vibraphonist and sax player.
Of course these mecs weren't even born when Parisian nightclubs became electric but they grew up in families where the spirit of bal-musette was still cultivated. Most of them called Brittany home but these good humored players succumbed to the siren call of Paris and headed to the capital to experiment with music. They take great pleasure in playing bal-musette, but also their own style of hip-hop, electronic music, free-jazz, and Afrobeats too. Le Petite Bal de Poche are determined to re-establish the essence of a time gone by which they believe still slumbers in our subconscious. Le Petit Bal de Poche brings back the songs, waltzes and tangos that time has made us forget and turns bad memories into good ones.
Les Balochiens, a popular bal-musette orchestra, promises a good time in a guinguette atmosphere. Focusing on the dog (chien) motif, they like to promote that they are loud mouth singers and jokers without restraint, in other words, unleashed. Les Balochiens are more perspicacious about who they are. The pack consists of Yannick Jamin (vocals-guitar), Nicolas Joseph (vocals-accordion), Catherine Masson (vocals-violin), Yvan Krivokapic (vocals-percussion), Jean Louis Cianci (double bass), Nicolas Boudou (drums), Nico Benedetti (trombone), Léo Jeannet (trumpet), and Jon Lopez de Vicuna (saxophone).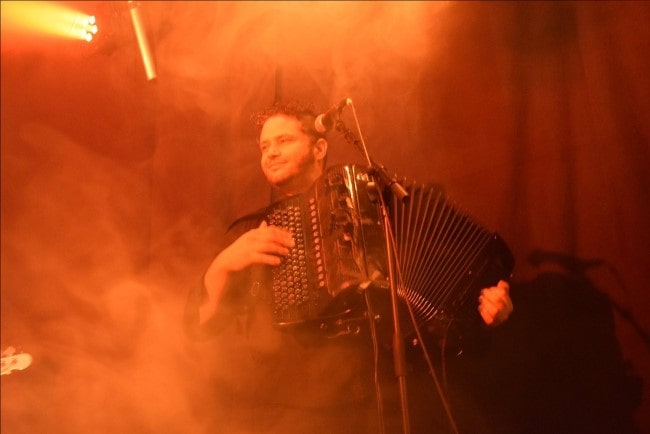 Their style of music transports the crowd to the old Paris of Piaf, to Limousin with its almost Cajun bayou sounds, to the Havana belonging the Buena Vista Social Club and the Klezmer music of Red Square but with tons of rhythm and reverb. In their own words, Les Balochiens states poetically that they also play "sea songs full of spray" and a "sulphurous tango." How alluring! Les Balochiens guarantee lots of banter to wind up the audience.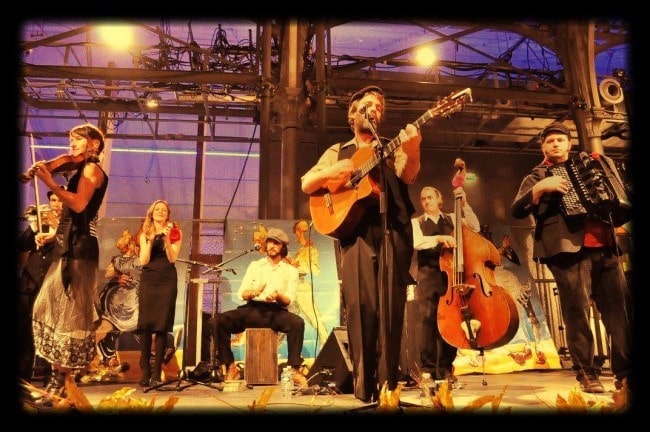 They reiterate that bal musette is the music of the Parisian dance floor but it's also the Parisian soundtrack in your mind. Les Balochiens often play dance halls near Paris' canals. They play weddings, parties, anything!
Whether you find bal-musette hokey or hopelessly out of date, it's happy music that makes you want to dance and in 2021 we need more of that! These splendid bands are revving up for a new season and their schedules will soon be online.
Lead photo credit : courtesy of Le Balluche de la Saugrenue
More in Bands, entertainment, music
---
---