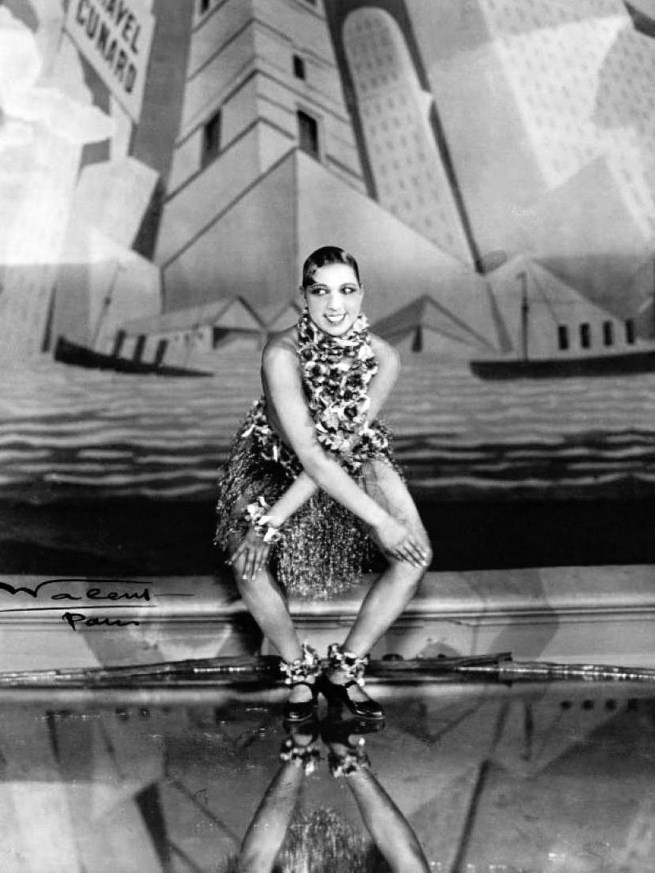 Innumerable American writers, artists and poets made Paris their home for months, even years at a time. (To name a few: Hemingway, Fitzgerald, Ezra Pound, James Baldwin.) Indeed it was almost a rite of passage. And there were a few, so beguiled by Paris and the French way of life, that they never left.
The most famous American expat who felt so accepted in France that she even took French citizenship and made France her lifetime home, was a black African-American dancer, whose life reads like a fictional rags-to-riches story, complete with numerous marriages, bisexual relationships, espionage and an adopted family of 12 children.
Josephine Baker's life was truly extraordinary.
When Josephine Baker descended from a palm tree wearing not much more than a skirt made from 16 rubber bananas in La Revue nègre at the Folies-Bergères in Paris, she became an overnight sensation.
Dancing the 'danse sauvage', her parody of a 'black savage' with slicked back hair, she drove the audiences wild and her life was changed forever.
The year was 1926 and Paris, already fascinated by black jazz culture, had never seen anything like the 20-year-old Josephine Baker who was soon to become the biggest, and richest, black female star in the world.
Born Freda Josephine McDonald on June 3rd, 1906 in the slums of St Louis, Missouri, her father Eddie Carson was supposedly a vaudeville drummer, but her half brother, Jean Claude Baker, cast doubt on that in his biography of Baker. After extensive research, he believed that Josephine's father was actually German, and it was he who paid for her mother Carrie's confinement in an exclusively white hospital, unheard of in those days of rigid segregation where black women almost always had their child at home. However records proved inconclusive, although Baker herself believed her father was white, despite her mother refusing to the end to speak about it.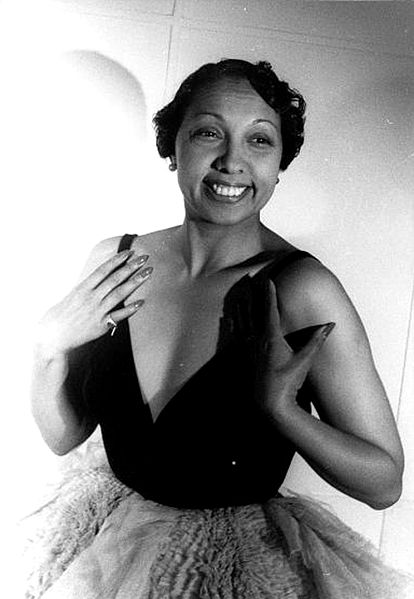 Baker began work at the age of eight as a live-in domestic and was often very badly treated. She was married at 13, and unsurprisingly, the marriage was brief.
Vaudeville was, however, always in her blood, (her mother and Carson had a song and dance act) and at the age of 15 she was recruited to the St Louis Chorus vaudeville show.
These Broadway revues were hugely successful and Baker's position at the end of the chorus line brought her immediate attention. The last dancer in the chorus line performed in a deliberately comic fashion, as if she could not remember the steps, only at the encore performing each step brilliantly. Baker was so good at this she was billed as 'the highest paid chorus girl in vaudeville.'
On the back of her successes on Broadway, Baker sailed to Paris in October 1925 to open in La Revue nègre in the Théâtre des Champs Elysées. Her erotic dances and semi nude performances made her an instant success but it was her later performances at the Folies-Bergères that shot her to instant and lasting stardom.
Appearing on stage with her cheetah 'Chiquita', adorned with a diamond collar, Baker's exotic act tapped into the French fascination at the time of  black jazz culture and African art in an explosive way. To add even more of a frisson (as if more were needed!) to her act, the cheetah often escaped into the orchestra stalls terrorizing the musicians.
Baker cashed in on the mode for all things black by producing her own brand called 'The Baker Look' which included a skin darkening product, Bakerskin, and a pomade for sleeking back and glossing the hair. The profits from this enterprise bought her the Château des Milandes in SW France.
She starred in three films in the 1930s, Siren of the Tropics, Zouzou and Princess Tam Tam. These established not only her phenomenal success throughout Europe but brought her thousands of marriage proposals.
Hoping for a triumphant return to America, Baker returned in 1936 to star in the Ziegfeld Follies. Disastrously America, it seems, was not ready for Josephine Baker and she was soon replaced by Gypsy Rose Lee. Critics slated both her singing and dancing; Time Magazine even referred to her as a 'Negro Wench'.
Heartbroken Baker returned to France and married Jean Lion, a Jewish Frenchman, renounced her U.S. citizenship and became a French citizen. Jean Lion was Baker's third husband. (Baker was known to be bi-sexual, famously having an affair with the artist Frida Kahlo and an extra marital affair with the author Georges Simenon.)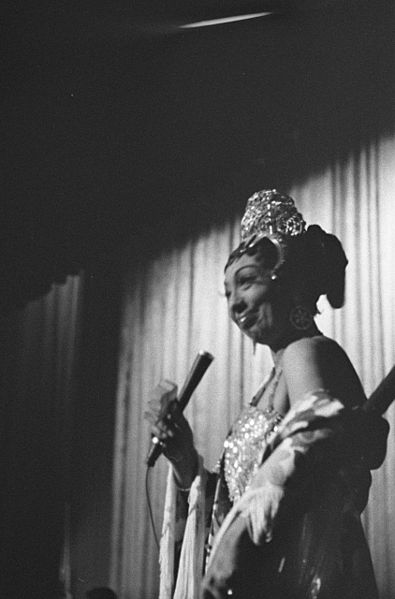 During WWII, Baker repaid her adopted country by becoming a spy. Her chateau in the south of France not only housed members of the Free French movement but Jewish refugees as well. Traveling throughout Europe as an entertainer and being a celebrated guest in Embassies, Baker gathered information on German troop movements, airfields, harbors etc for transmission to England. Notes were written in invisible ink on her sheet music and even secreted in her underwear. In recognition of her war work, she was not only awarded the Croix de Guerre and the Rosette de la Resistance but was made a Chevalier de la Légion d'honneur by Charles de Gaulle.
Already politicized, Baker became a fervent advocate for the Civil Rights movement in America and refused to play to segregated audiences. An experience in the Stork Club in 1949 when a waiter was reluctant to serve her, only energized her resolve. Grace Kelly was dining at the Stork Club at the time and appalled by Baker's treatment walked out in protest. (The two became life-long friends, Kelly offering Baker an apartment in Roquebrune near Monaco when she lost her chateau due to extravagant living and mounting debts.)
Baker's outspoken speeches on Civil Rights caused a furor and U.S. officials revoked her work visa and it was almost a decade before Baker was allowed re-entry into the U.S. (After Martin Luther King's assassination, his wife Coretta, asked Baker to take his place as leader. Baker now the mother to 12 adopted children –her 'rainbow tribe'-was forced reluctantly to refuse.)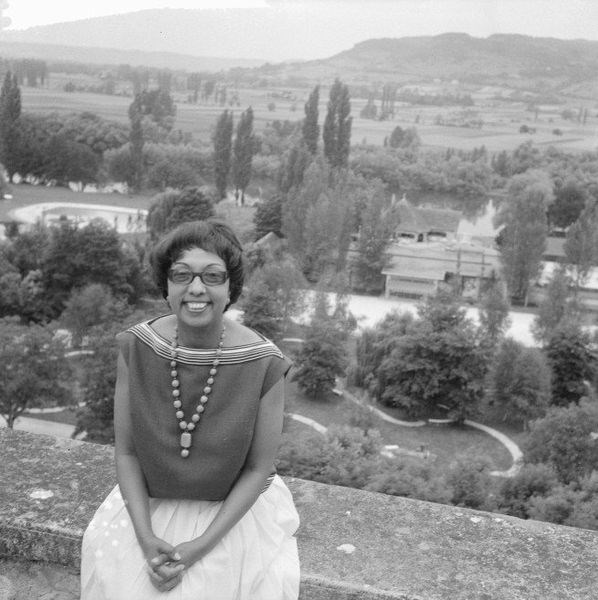 Baker continued to work and in 1975 to celebrate 50 years in show business, Josephine Baker starred in a revue at the Bobino in Paris. The show was an instant sell-out with high-profile members of the audience including Mick Jagger, Jacqueline Kennedy, Sophia Loren, Liza Minelli, Dinah Ross and of course Princess Grace Kelly and Prince Rainier.
Four days later, surrounded by ecstatic reviews, Josephine Baker was found lying peacefully in bed. She had suffered a cerebral hemorrage and was taken in a coma to the Pitié Salpêtrière Hospital where she died on April 12th, aged 68.
Having earlier converted to Catholicism, Baker's funeral was held at L'Eglise de la Madeleine. 20,000 mourners lined the boulevard to pay their respects to the only American-born woman to receive full military honours at her funeral.
Later Baker's remains were interred at Monaco's cemetery after a family service at Saint-Charles Church in Monte-Carlo.
Ernest Hemingway said that Josephine Baker was the most exciting woman he'd ever seen in his life.
She was so much more than that.