Frida Kahlo & More: "Mexique" Exhibition Opens at the Grand Palais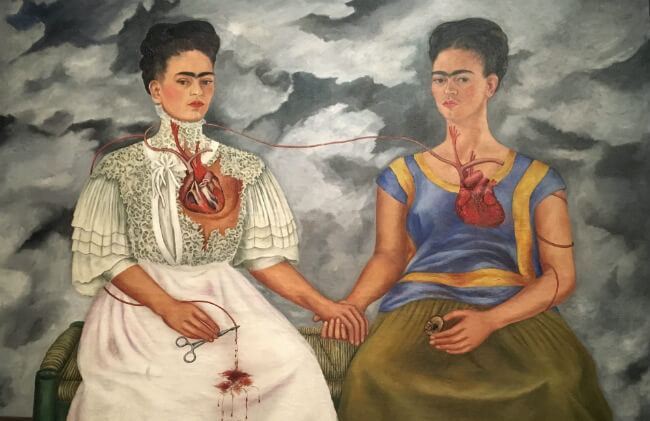 Billed as one of the largest events dedicated to Mexican art in decades, the newly opened Mexique exhibition at the Grand Palais offers visitors a cultural and historical view of the country through the work of its most celebrated artists. Titled Mexique 1900-1950: Diego Rivera, Frida Kahlo, José Clemente Orozco and the Avant-Garde, the multimedia exhibition spans pre- and post-revolution Mexico, with an emphasis on the era's social and artistic movements. It includes 202 works from more than 60 artists.
Along with household names like Diego Rivera and Frida Kahlo, Mexique features numerous contemporary and alternative Mexican painters, sculptors and filmmakers. The exhibition showcases local connections, too, as several artists, including Rivera, spent time in Paris in the early 20th century. Among the works on display from this period are Rivera's "Notre-Dame de Paris" and Nahui Olin's self-portrait as a student in Paris.
The Mexican Revolution plays prominently in Mexique, as the conflict inspired increasingly ideological work, ranging from graphic design to mural painting. But that isn't the only type of diversity on display. The revolutionary period also saw a rise in the prominence of female artists in Mexico. In addition to Kahlo and Olin, Mexique highlights works from Rosa Rolanda and photographers Lola Álvarez Bravo and Tina Modotti, among other women.
In a published statement, Réunion des Musées Nationaux-Grand Palais noted, "Mexican 20th century art offers the paradox of having close links to the international avant-garde yet presenting an incredible singularity, a certain strangeness even, and a power that challenges our European perspective." With its opening at the Grand Palais, Mexique doesn't just bring Mexican art to Paris – it provides an opportunity to explore a changing time and place through the eyes of its artists.
Information:
"Mexique 1900-1950 Diego Rivera, Frida Kahlo, José Clemente Orozco and the Avant-Garde" is organized by Reunion des Musees Nationaux-Grand Palais and la Secretaria de Cultura/Instituto Nacional de Bellas Artes/Museo Nacional de Arte, Mexico. It opened on October 5th and runs through January 23rd, 2017 at the Grand Palais. Also showing at the Grand Palais: Hergé.
Lead photo credit : Frida Kahlo's "The Two Fridas". Photo: Rohini Gupta
Leave a reply
Your email address will not be published. Required fields are marked *