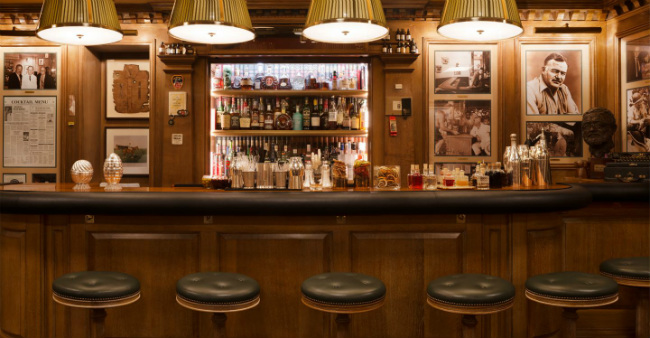 Paris's cocktail scene is burgeoning. In the past year alone more than two dozen top-notch cocktail bars have opened their doors to experimental drinkers. The proliferation of authentic cocktail dens in Paris– and indeed France more widely– is arguably an upshot of the success of the Experimental Cocktail Club (37, Rue Saint Sauveur, 2nd arrondissement) which spearheaded the movement almost a decade ago. The Experimental Cocktail Club entirely transformed the landscape; trendy bars across the city have increasingly placed a focus on delivering expertly crafted creative drinks through innovative mixology. As you navigate Paris's buzzing bar scene in search of haute cocktails, we guide you in the direction of our favorite spots.
Bar Hemingway (The Ritz Paris)
Following a four-year, 200 million euro renovation, The Ritz Paris has reopened and the cocktail-making maestros at the Bar Hemingway are back making the world's best martinis. Head barman Colin Field is hugely passionate and skilled– constantly pushing the boundaries of mixology. A testament to this is his newest creation: the world's first clear dry dirty martini which is now on the menu at the Ritz. If your palate prefers something a little sweeter, we are told that the "Serendipity"– Colin's signature cocktail made with fresh mint, sugar, clarified apple juice, calvados, ice, and Champagne– is the most popular offering on the menu. As his fellow mixologist, Roman Devaux puts it- the Serendipity is "France in a glass".
Location: 15 Place Vendome‬, 75001
A cornucopia of creativity – this bar tirelessly seeks to invent novel concoctions. The combination of quality spirits and superior ingredients allow the Little Red Door to deliver some of the tastiest cocktails in town. Their new 'Evocative' menu was recently nominated for "World's Best Cocktail Menu" in the Spirited awards and plays with a few key ingredients such as salt, roots, spices and fruits. Its sister bar Lulu White in Montmartre is a speakeasy-style establishment which primarily focuses on absinthe-based cocktails and is also well worth a visit. Given the success of these two ventures, the owners opened a third venue during the summer in the 10th arrondissement called Bonhomie. Bonhomie is an all-day affair serving speciality coffee, food and cocktails with a Mediterranean vibe. Under the auspices of Remy Savage and Ben Tyler of the Little Red Door, Bonhomie's cocktails are bound to be a hit.
Location: 60 Rue Charlot, 75003

Crafted with affection and artful attention to detail, Copper Bay's cocktails are not only a delight for the taste buds but also a treat for the eye. These folks take their cocktails seriously, providing customers with a deck of cards which use diagrams to explain the flavor profile and composition of each drink. The menu is seasonal and consists of all the old classics plus a selection of their own original libations. Copper Bay's bartenders are so good in fact, that earlier this year their master mixologist Aurélie Panhelleux fought off the very best in the business to win the prestigious Chivas Masters cocktail competition.
Location:5 Rue Bouchardon, 75010
The Sherry Butt is the brainchild of two former Experimental Cocktail Club mixologists so there is no surprise that professional mixology is at the heart of this operation. Only high-quality liquors are used and all of their syrups and infusions are made in-house; the ice-cubes are even hand carved. Like the other bars on our list, the menu is carefully curated and changes seasonally.
Location: 20 Rue Beautreillis, 75004
Mabel (Cocktail Den/Rum Empire)
What appears, at first sight, to be a retro café serving grilled cheese sandwiches is, in fact, something far more exciting. Billed as a "Cocktail Den and Rum Empire", Mabel, as the description suggests, is indeed home to an extensive selection of rums from every corner of the world. Many of their most delectable offerings are rum-based and in a number of their cocktails, different rums are blended to introduce contrasting notes – this really is alcohol alchemy. As for the first impression, grilled cheese sandwiches and cocktails are an unexpectedly favorable combo.
Location: 58 Rue d'Aboukir, 75002