In Pictures: Monumenta 'Empires' at the Grand Palais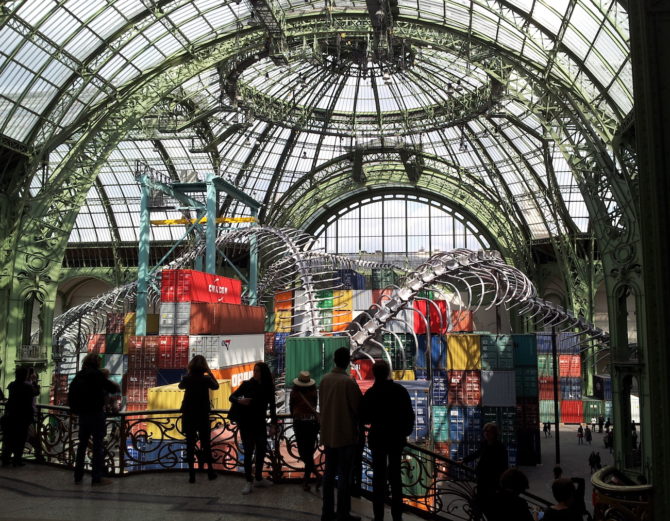 Since 2007, Monumenta has invited an artist with an international reputation to show a large-scale temporary art installation in the enormous nave of the Grand Palais in Paris. Huang Yong Ping's works often refer to mythological or philosophical narratives of universal significance, placed in the context of the burning issues of the day. The nave of the Grand Palais offers a challenging 13,500 m2 of space with wide variations in light through the glass ceilings. Returning to his native China after an 11-year absence, artist Huang Yong Ping was struck by the mountains of containers in the ports. An empire is an absolute form of power which thrives on its own expansion, and which doesn't require citizenship, only subjecthood. Without judgement, a meditation: is globalization a present-day empire? Drawing inspiration from the ancient Chinese art of warfare "beat the East with the West, beat the West with the East", Huan Yon Ping's art plays on the gap between cultures in a thought-provoking way. An entirely functional and motorised lifting gantry, custom-made to the requirements of the exhibition, supports the snake skeleton. A total of 254 metres in length, the snake skeleton is made up of 316 vertebrae and 568 cast aluminium ribs assembled around a central tube and distributed over 28 steel posts. "I believe in infinite openness of interpretation," says the artist, "Just as I don't believe in interpretation." Empires have shaped history, but they do not materialize out of a void. Technological and industrial developments have made them possible, including the steam engine, the shipping container, and the internet. A mosaic of 305 standard metal containers are distributed among 8 islands. The Bicorne is an enlargement of the hat worn by Napoleon Bonaparte at the battle of Eylau in 1807. A real sculpture in itself, Bicorne by Huang Yong Ping is a reproduction, down to the very last detail, of the original model scanned in 3D at the Musée de l'Armée in Paris 2014. More about the inspiration behind Huan Yong Ping's 'Empires' Watch a time lapse of the installation. Monumenta 2016 is held every two years by the Réunion des musées nationaux – Grand Palais, with the support of the French Ministry for Culture and Communication. Previous Monumenta artists: Anselm Kiefer, Richard Serra, Christian Boltanski, Anish Kapoor, Daniel Buren and Ilya and Emilia Kabakov.  Monumenta Huang Yong Ping "Empires" Until June 18 Grand Palais, la Nef Métro: Franklin-D.-Roosevelt, Champs-Elysées-Clemenceau Open daily 10am-7pm. Until 10pm Thursday, Friday and Saturday. Closed Tuesday. Admission €11
www.grandpalais.fr/en/event/monumenta-2016-Huang-yong-ping
SUBSCRIBE
ALREADY SUBSCRIBED?
BECOME A BONJOUR PARIS MEMBER

Gain full access to our collection of over 5,000 articles and bring the City of Light into your life. Just 60 USD per year.

Find out why you should become a member here.

Sign in

Fill in your credentials below.
Since 2007, Monumenta has invited an artist with an international reputation to show a large-scale temporary art installation in the enormous nave of the Grand Palais in Paris.
Huang Yong Ping's works often refer to mythological or philosophical narratives of universal significance, placed in the context of the burning issues of the day.
The nave of the Grand Palais offers a challenging 13,500 m2 of space with wide variations in light through the glass ceilings.
Returning to his native China after an 11-year absence, artist Huang Yong Ping was struck by the mountains of containers in the ports.
An empire is an absolute form of power which thrives on its own expansion, and which doesn't require citizenship, only subjecthood. Without judgement, a meditation: is globalization a present-day empire?
Drawing inspiration from the ancient Chinese art of warfare "beat the East with the West, beat the West with the East", Huan Yon Ping's art plays on the gap between cultures in a thought-provoking way.
An entirely functional and motorised lifting gantry, custom-made to the requirements of the exhibition, supports the snake skeleton.
A total of 254 metres in length, the snake skeleton is made up of 316 vertebrae and 568 cast aluminium ribs assembled around a central tube and distributed over 28 steel posts.
"I believe in infinite openness of interpretation," says the artist, "Just as I don't believe in interpretation."
Empires have shaped history, but they do not materialize out of a void. Technological and industrial developments have made them possible, including the steam engine, the shipping container, and the internet.
A mosaic of 305 standard metal containers are distributed among 8 islands.
The Bicorne is an enlargement of the hat worn by Napoleon Bonaparte at the battle of Eylau in 1807. A real sculpture in itself, Bicorne by Huang Yong Ping is a reproduction, down to the very last detail, of the original model scanned in 3D at the Musée de l'Armée in Paris 2014.
More about the inspiration behind Huan Yong Ping's 'Empires'

Watch a time lapse of the installation.

---
Monumenta 2016 is held every two years by the Réunion des musées nationaux – Grand Palais, with the support of the French Ministry for Culture and Communication. Previous Monumenta artists: Anselm Kiefer, Richard Serra, Christian Boltanski, Anish Kapoor, Daniel Buren and Ilya and Emilia Kabakov. 
Monumenta
Huang Yong Ping "Empires"
Until June 18
Grand Palais, la Nef
Métro: Franklin-D.-Roosevelt, Champs-Elysées-Clemenceau
Open daily 10am-7pm. Until 10pm Thursday, Friday and Saturday. Closed Tuesday.
Admission €11
www.grandpalais.fr/en/event/monumenta-2016-Huang-yong-ping
Lead photo credit : Photo ©Electrohermit
More in art exhibitions, Grand Palais
---
---