Hergé, the Genius who Invented Tintin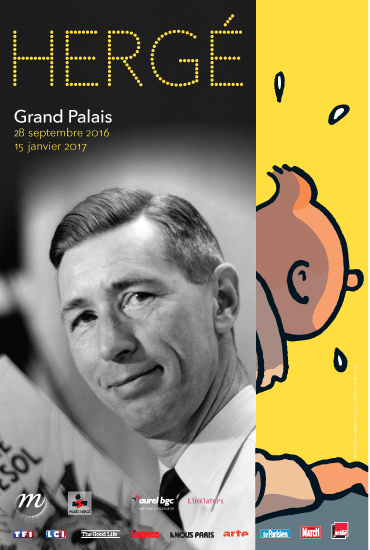 Amongst the throngs of journalists attending the opening the Hergé exhibition at the
Grand Palais
on September 28th, 2016, there will be an intrepid boy reporter with a blonde quiff and dashing plus-fours that everyone will want to see, because Belgian cartoonist Hergé is the creator of the universally recognized character Tintin. The life's work of Hergé will be honored at the Grand Palais, 3 avenue du Général Eisenhower, until January 15, 2017. Best known for The Adventures of Tintin, Hergé is referred to as the father of the European comic strip and is considered an important contemporary artist, selling nearly 250 million books. Hergé will be a large exhibition spread throughout ten rooms of the Grand Palais. The exhibition will focus on Hergé's creative process, including how his passion for drawing was influenced by cinema, visual art and the adventure novels of his youth. Hergé turned comic strips, or bandes dessinées, into a respected art form and used them as a chronicle of 20th-century life. Hergé is the pen name of Georges Rémi, who created Tintin in 1929 and produced 24 internationally famous comic books centering on the young reporter and his faithful fox terrier. The Tintin books were written between 1929 and 1970 and have been translated from the original French into 70 languages. Georges Rémi was born near Brussels in 1907. At fourteen, he joined his school's Boy Scout troop where he was given the nickname of "renard curieux" (curious fox). His first drawings were published in his school magazine. Later his drawings were featured in the monthly Belgian scouting magazine, Le Boy-Scout Belge. In 1924 Georges Rémi decided to sign his drawings by Hergé, the name which when pronounced with a French twist, consists of his inverted initials, R.G. Tintin appeared for the very first time on January 10th, 1929 in the weekly magazine, Le Petit Vingtième. Tintin's adventures were later reprinted as books. Tintin appears to be an adolescent with no known family. His age is hard to pinpoint; sometimes he seems to be a teen, but generally he behaves like an adult. He never has a girlfriend. Women would interfere with the adventures that come his way. Though Tintin is supposed to earn his living as a reporter, he never sits at a typewriter. Fate has turned him into an adventurer and a detective. Courageous Tintin never hesitates when confronting the forces of evil. The direct opposite of the majority of comic heroes, Tintin has no remarkable powers. He uses his intelligence and common sense to battle the wicked and protect the weak. Occasionally he reveals surprising talents; he can fly an airplane, and he can beat a tiger. Tintin's supporting cast of characters include his white fox-terrier Snowy, two dim-witted detectives, Thompson and Thomson whose antics reveal Hergé's attraction to slapstick humour, Captain Haddock, with his boundless taste for liquor and the absent-minded and inconveniently deaf Professor Calculus. In the original French, Snowy is Milou. The name came about thanks to a girlfriend of Hergé's whose name was Malou. Snowy is present in the first drawing of the first adventure, Tintin in the Land of the Soviets. There are similarities between Snowy and Captain Haddock. Both are irritable and talkative and both are susceptible to drink. In fact, when Captain Haddock arrives on the scene as a permanent character, Snowy becomes less talkative. In a sense, Haddock replaced Snowy as Tintin's number one friend. Always at the ready to arrest Tintin are the narrow-minded police officers, the Thompsons. Identical at first glance, they are neither twins nor brothers. Only the shape of their moustaches distinguishes them. As Hergé once explained, Thompson has a straight moustache whereas Thomson's is slightly twisted. Their constant repetition of what the other says and their favorite expression, "To be precise" makes them comical despite their pompousness. In Hergé's original French Thompson and Thomson are Dupont and Dupond. Around the world they are known quite differently. Some twists on their names are: Uys & Buys, Schulze & Schultze, Tik & Tak, Hueber & Grueber Hernandez & Fernandez, and Jansen & Jansens. Throughout the years Hergé worked with various people. One who greatly assisted his work was the Chinese student Chang Chon-Jen whom he met in 1936 while starting on The Blue Lotus. Chang encouraged Hergé to do serious research for each place and country Tintin visited, instead of relying on other sources of information. Hergé became convinced of the importance of a soundly built storyline and of the need for documentation. He began to take seriously what was, up until then, just a bit of fun. Hergé and Chang became good friends, and he even based one of his characters, Chang Chon-Chen after him. A Tintin magazine was created in 1946. The weekly publication, which showcased comics by other artists plus Tintin and Snowy, lasted until 1993. In 1950, after beginning work on Explorers on the Moon, a story requiring much detailed technical work and research, Hergé enlisted a number of teammates and founded the Studios Hergé. The result was a precise and visionary work of science fiction. Explorers on the Moon was incredibly futuristic, though it was 15 years before astronauts would actually visit the moon. In 1982 to celebrate Hergé's 75th birthday, the Belgian Astronomical Society named an asteroid…
SUBSCRIBE
ALREADY SUBSCRIBED?
BECOME A BONJOUR PARIS MEMBER

Gain full access to our collection of over 5,000 articles and bring the City of Light into your life. Just 60 USD per year.

Find out why you should become a member here.

Sign in

Fill in your credentials below.

Amongst the throngs of journalists attending the opening the Hergé exhibition at the Grand Palais on September 28th, 2016, there will be an intrepid boy reporter with a blonde quiff and dashing plus-fours that everyone will want to see, because Belgian cartoonist Hergé is the creator of the universally recognized character Tintin.
The life's work of Hergé will be honored at the Grand Palais, 3 avenue du Général Eisenhower, until January 15, 2017. Best known for The Adventures of Tintin, Hergé is referred to as the father of the European comic strip and is considered an important contemporary artist, selling nearly 250 million books. Hergé will be a large exhibition spread throughout ten rooms of the Grand Palais. The exhibition will focus on Hergé's creative process, including how his passion for drawing was influenced by cinema, visual art and the adventure novels of his youth. Hergé turned comic strips, or bandes dessinées, into a respected art form and used them as a chronicle of 20th-century life.
Hergé is the pen name of Georges Rémi, who created Tintin in 1929 and produced 24 internationally famous comic books centering on the young reporter and his faithful fox terrier. The Tintin books were written between 1929 and 1970 and have been translated from the original French into 70 languages.
Georges Rémi was born near Brussels in 1907. At fourteen, he joined his school's Boy Scout troop where he was given the nickname of "renard curieux" (curious fox). His first drawings were published in his school magazine. Later his drawings were featured in the monthly Belgian scouting magazine, Le Boy-Scout Belge. In 1924 Georges Rémi decided to sign his drawings by Hergé, the name which when pronounced with a French twist, consists of his inverted initials, R.G.
Tintin appeared for the very first time on January 10th, 1929 in the weekly magazine, Le Petit Vingtième. Tintin's adventures were later reprinted as books. Tintin appears to be an adolescent with no known family. His age is hard to pinpoint; sometimes he seems to be a teen, but generally he behaves like an adult. He never has a girlfriend. Women would interfere with the adventures that come his way. Though Tintin is supposed to earn his living as a reporter, he never sits at a typewriter. Fate has turned him into an adventurer and a detective.
Courageous Tintin never hesitates when confronting the forces of evil. The direct opposite of the majority of comic heroes, Tintin has no remarkable powers. He uses his intelligence and common sense to battle the wicked and protect the weak. Occasionally he reveals surprising talents; he can fly an airplane, and he can beat a tiger.
Tintin's supporting cast of characters include his white fox-terrier Snowy, two dim-witted detectives, Thompson and Thomson whose antics reveal Hergé's attraction to slapstick humour, Captain Haddock, with his boundless taste for liquor and the absent-minded and inconveniently deaf Professor Calculus.
In the original French, Snowy is Milou. The name came about thanks to a girlfriend of Hergé's whose name was Malou. Snowy is present in the first drawing of the first adventure, Tintin in the Land of the Soviets. There are similarities between Snowy and Captain Haddock. Both are irritable and talkative and both are susceptible to drink. In fact, when Captain Haddock arrives on the scene as a permanent character, Snowy becomes less talkative. In a sense, Haddock replaced Snowy as Tintin's number one friend.
Always at the ready to arrest Tintin are the narrow-minded police officers, the Thompsons. Identical at first glance, they are neither twins nor brothers. Only the shape of their moustaches distinguishes them. As Hergé once explained, Thompson has a straight moustache whereas Thomson's is slightly twisted. Their constant repetition of what the other says and their favorite expression, "To be precise" makes them comical despite their pompousness.
In Hergé's original French Thompson and Thomson are Dupont and Dupond. Around the world they are known quite differently. Some twists on their names are: Uys & Buys, Schulze & Schultze, Tik & Tak, Hueber & Grueber Hernandez & Fernandez, and Jansen & Jansens.
Throughout the years Hergé worked with various people. One who greatly assisted his work was the Chinese student Chang Chon-Jen whom he met in 1936 while starting on The Blue Lotus. Chang encouraged Hergé to do serious research for each place and country Tintin visited, instead of relying on other sources of information. Hergé became convinced of the importance of a soundly built storyline and of the need for documentation. He began to take seriously what was, up until then, just a bit of fun. Hergé and Chang became good friends, and he even based one of his characters, Chang Chon-Chen after him.
A Tintin magazine was created in 1946. The weekly publication, which showcased comics by other artists plus Tintin and Snowy, lasted until 1993.
In 1950, after beginning work on Explorers on the Moon, a story requiring much detailed technical work and research, Hergé enlisted a number of teammates and founded the Studios Hergé. The result was a precise and visionary work of science fiction. Explorers on the Moon was incredibly futuristic, though it was 15 years before astronauts would actually visit the moon. In 1982 to celebrate Hergé's 75th birthday, the Belgian Astronomical Society named an asteroid after him. "Asteroid 1652" located between Mars and Jupiter became "Planet Hergé".
Hergé was a cultivated art lover. His personal collection included Miró, Klee, Dubuffet and Warhol. Warhol considered Hergé to be an icon with as much influence as Disney. Tintin and Alph-Art was Hergé's 24th and final volume. Unfinished, it reflected Hergé's fascination for modern art.
Hergé died in 1983. In 1988, in a Brussels subway station, a huge mural was unveiled depicting the cast of characters from the adventures of Tintin.
For those fortunate enough to be attending the Hergé exhibition during Nuit Blanche, on October 1st, the joyous and eclectic horns of Fanfare Zebaliz will entertain museum-goers. Admission will be free from 8pm to midnight during Nuit Blanche only.
Hergé is at the Grand Palais from 28th September 2016 – 15th January 2017. Open ever day except Tuesdays from 10am-8pm (10pm Wednesdays) Early closing at 7pm on 29th September, and at 6pm on 24th & 31st December. Closed 25th December. Admission: 13€ / 9€
Website: www.grandpalais.fr
Facebook: facebook.com/GrandPalais.RMN
Twitter: twitter.com/GrandPalaisRmn #ExpoHergé
Photo credits: Wall mural in Brussels by Ferran Cornellà/Wikipedia
Lead photo credit : Affiche Rmn-Grand Palais / Photo Paul Nemerlin, Hergé © Adagp, Paris, 2016 © Hergé-Moulinsart
---
---