Renoir Redux: The Modern Guinguettes of the 19th Arrondissement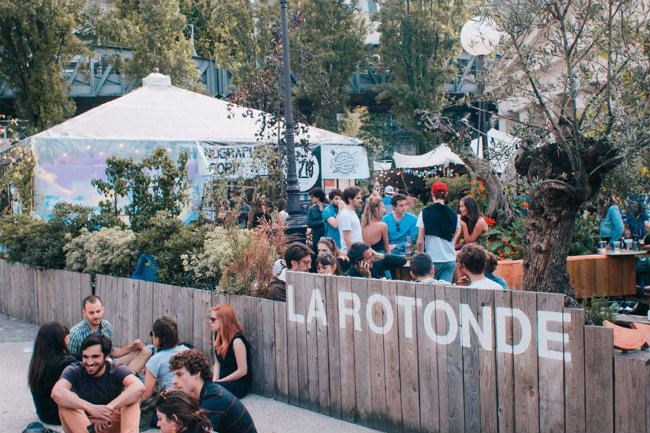 "To be away from home and yet to feel oneself everywhere at home." –Baudelaire
The Luncheon of the Boating Party reveals that Renoir plunged head first into the new-found leisure of suburban Paris. The guinguette– open-air cabaret or riverfront dance hall– depicted in the artist's iconic 1880-81 painting was one of many located in the banlieues of Paris. Guinguettes were among the favorite haunts of the Impressionists. At these popular weekend destinations, Parisian pleasure-seekers found the freedom and inhibition necessary to escape the grind of the city. Familiar to us from the paintings of Renoir, Manet, and Caillebotte, these day-trippers in their straw hats and shirtsleeves, merrily participated in boating and swimming, dancing and dining.
A guinguette could consist of a few tables under the trees to more elaborate full-service restaurants with bandstands and polished dance floors. Outdoors, the patrons hired boats and played boules or pétanque under the warm summer sun. Today, Parisians don't board the RER headed for the outskirts to spend their leisure time. The Bassin de la Villette in the 19th arrondissement of Paris is home to a selection of modern-day guinguettes, where, to quote Bob Dylan, there is music in the cafes at night and revolution in the air. The canotiers in Renoir's boating party seem orthodox to us now, but everything old is new again – and what's new and vibrant are the hangouts, clubhouses and bars that flank the basin connecting Canal Saint-Martin with Canal de l'Ourcq. This is rest and relaxation in the 21st century. [See the related article: "A Flâneur in Paris: Strolling the Canal Saint Martin & Canal de l'Ourcq".]
Like a well-designed beehive, La Rotonde Stalingrad is the hangout of creative Parisians, the bourgeois-bohème and international travelers. The neoclassical building was designed just prior to the French Revolution by the architect Claude-Nicolas Ledoux on a vestige of the old city wall. Built to serve as a customs house at the southern end of the Canal de l'Ourcq, La Rotonde Stalingrad miraculously avoided Haussmann and the march of progress. Known simply as La Rotonde, this former taxman's lair has been transformed into a multi-purpose bar-brasserie. La Rotonde is a beacon indicating the renaissance the Canal is enjoying today.
La Rotonde Stalingrad has many rooms for many moods. Like a 19th century guinguette it offers an array of relaxing diversions to forget the worries of a nine-to-five day. La Rotonde's calm and airy dining room is bathed in light from the neo-classical skylight above. Mirrors double the look of the interior which seamlessly flows into the terrace when the immense 18th-century doors are opened.
The terrace is a lively urban garden accommodating hundreds of people around a large and impressive fountain. When dark falls, La Terrasse is a fairy-lit bazaar, a night market of food and drink. Two outdoor bars, La Guitoune and Le Kiosque thrive near an assortment of food trucks offering world cuisine. The façade of La Rotonde Stalingrad is illuminated at night; the reds and blues highlighting this fantastic example of neo-classicism. A gentle bal-musette is required to complete this guinguette; however, today electro beats are in order. Access to one of Paris' August plages is located here. Amid the tons of sand are rentals for rowboats, pedalos and dinghies. Cue Caillebotte's oarsmen and the scene is an Impressionist painting come to life.
One can escape from everyday worries at Le Refuge located in a wing of La Rotonde. The watchful eye of an old stuffed moose oversees this wonderful bar with a collection of mix and match furniture, a wide selection of beers, and good salads. For night owls, Le Mini-Club is a-thump with electronic French disco Friday and Saturday, from midnight until yawn. Artistic experimentation is promoted in La Galerie de la Rotonde which hosts contemporary art exhibitions and cultural programming. La Rotonde, 6-8 Pl. de la Bataille De Stalingrad, 75019 Paris. (Métro Jaurès – lines 2/5; Métro Stalingrad – lines 2/5/7)
Le Pavillon des Canaux is like the flâneur Baudelaire's home away from home. Guarding the banks of Canal de l'Ourcq, Le Pavillon des Canaux is a clubhouse where you can feel at home and chill out when the bustle of Paris becomes overwhelming. Le Pavillon Canaux is unlike other Parisian cafés, because despite its truly fascinating décor, it's a real working space, open to all. At Le Pavillon des Canaux hard work can be fun.
The walls of this solid brick house, once an administration building for the Canal de l'Ourcq, have been entrusted to street-artists Alexone and Supakitch and the result is spectacular. In 2014, designers Sinny & Ooko revamped Le Pavillon into a light and airy two-story home, furnished with a retro kitchen and a plethora of parlors, each painted in different colours and imbued with different atmospheres. A drink can be enjoyed on a sofa, in a candy pink bedroom, or even in a bathtub. On a sunny day the waterside terrace offers communal picnic tables where ideas can be shared and connections can be made.
The management of the Pavillon addresses a new reality. More people are working from home and shunning conventional ways of interacting. In this day of digital communication, Le Pavillon des Canaux is all about connecting with people. Le Pavillon offers Le Coffice, an open workspace for those who are unable to work at home or lone workers looking for inspiration and companionship. A good coffee and a place to work... Coffee + office = Coffice!
Aside from the Coffice, the Pavillon hosts families with children, students from the district, freelance writers, grandpas and girlfriends. Its coffee comes from the Montmartre roaster Cafe Lomi. All food is made fresh in-house and like everything else in the Pavillon, surprisingly diverse. A selection of big house salads, inventive sandwiches and burgers are on hand. As well as the hot and crunchy Croque Monsieur, a selection of bruschetta and a daily vegetarian plate are available at reasonable prices. The unwinding continues with a glass of wine or beer on the terrace. This is the new age of the philo-café, where ideas are shared, films are dissected, and current events discussed. Le Pavillon's holistic attitude carries into their portfolio of workshops. Yoga, cooking classes, manga workshops, and literary evenings are hosted by the Pavillon. Le Pavillon des Canaux, 39 quai de la Loire 75019 Paris. (Métro Laumière line 5)
Not far from Le Pavillon des Canaux is the tiny, turquoise BarOurcq. This diamond in the rough has a canalside location and a cool vibe, making it one Paris's most attractive destinations. Its unstuffy attitude adds to its appeal. The casual 'shorts and sandals' philosophy is not only welcomed, it's encouraged. Imaginatively decorated, with parrot-themed wallpaper and old, comfy couches, this small bar has a warm, intimate feel and attracts an eclectic crowd from across the city. At BarOurcq you can watch the lights over the canal at night, or pétanque players by day.
BarOurcq has just a few outdoor tables to relax and people-watch, but the bar lends deck chairs to customers in the know. Drinks and reasonably priced snacks are enjoyed at the canal's edge, just a quick hop, step, and jump across the cobbles and – watch out! – the pétanque court. BarOurcq is one of the most popular bowling spots in Paris. The bar is the first to admit that things get a little tipsy as the day wears on, leading many a pétanque player to squint hesitantly at their targets and to refuel on a cold beer or a pastis from the bar. But what's a modern day guinguette without the occasional libation? The location is great to meet friends for an afternoon or evening drink. The bar opens at three, because the owners need a life too! Regulars have been known to romantically strum their guitars at the canal's edge when the sun goes down. Summertime DJs spin their electro mix from 5pm, until midnight weekdays, 2am at the weekends. Apart from the festive summer quayside, the winter months offer cozy corners in a pouf-strewn bar area where regulars spend their afternoons with their nose in a book, indulging in board games or taking advantage of the free wifi.

BarOurcq is cool without being overdone. Here one can eat and drink for next to nothing. Beers are just €2.5 and tasty tapas start at €1.5. They have one of the city's largest collections of flavored sirops. Nibbles of salami and olives come free with your drinks. Fruit smoothies and a selection of teas are available.
BarOurcq not only takes its name from the canal it's situated on, but when the bar's owner Jerome Naccache was refurbishing the business, his young niece dubbed it BarOurcq because the sound is very similar to the Hebrew word Barukh, which means blessed. BarOurcq, 69 quai de la Loire, 75019 Paris. (Métro Laumière line 5) 
The undulating waters of the Canal de l'Ourcq are a backdrop to passionate conversations, energizing music and an invigorating game of boules, not unlike The Luncheon of the Boating Party 150 ago. Renoir would love it. Who says you can never go back?
Photo credit: Bar Ourcq by Evan Bench/ Flickr
Lead photo credit : Photo credit: Brieuc Weulersse/ La Rotonde Stalingrad
Leave a reply
Your email address will not be published. Required fields are marked *