Photo Essay: Pétanque in the Jardin du Luxembourg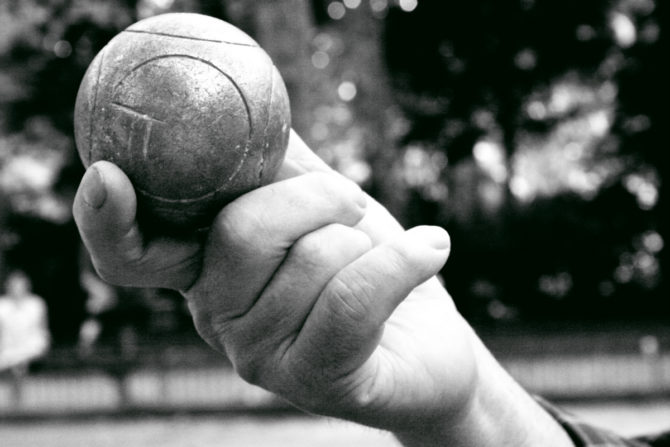 In the summer of 2009, while wandering through the Luxembourg Gardens, I happened upon the pétanque courts. The players themselves, mostly men of a certain age, as well as the interesting spectators, drew me in. Before I knew it, I had pulled up a green chair alongside them and started snapping away. One of the players spotted me and delighted in explaining the rules of the game in French, but I got the general idea. Pétanque is similar to boules, which is played in the south of France but with smaller metal balls. The games get quite spirited, and it seems a good bit of time is spent standing around staring at and discussing whose ball has come closest to the small wooden target ball called a cochonnet (which means "little pig").
Since that fist visit, I have returned to photograph the pétanque players many times. They are a hardy bunch and play even in the cold and light rain. I notice that, from time to time, younger players and even a few women join the game. Although Luxembourg has courts, if you are lucky, you can find groups playing in many of the gardens and parks around Paris — anywhere you can draw a circle in the dirt with a stick. Pétanque, a little slice of Parisian life.
Lead photo credit : Pétanque in the Jardin du Luxembourg by Virginia Jones
---
---