Terrific Terraces in Paris
Welcome back to the city's terrific terraces, taking up their place (in the sun) on the pavement, by the water, on the rooftops, and in Paris's museums and secret sensual gardens. Here are a few we recommend for the season.
A gnarled, 100-year-old olive tree frames chef Fréderic Vardon's secret roof garden space above the Champs Elysées. Le 39V, recently transformed by architect Raphael Navot, is a secret away from the bustle of Paris. A table in the garden is the opportunity to discover/re-discover the finest French cuisine, cooked with love, with ingredients meticulously garnered by Vardon from his friends: the farmers, growers and winemakers.
Look for crab from Boulogne-sur-Mer; house smoked Crisenon trout served with kimchi and horseradish; macaroni from Maison Blin. The fish of the day, sustainably-sourced, is cooked with, say, Jardin de la Rance fennel. Carnivores adore the classic purebred beef paired with Dauphine potatoes and drizzled with peppery sauce. Delectable desserts include 39V signature chocolate soufflé with Espelette; Pears with black rice praline; or Le 26 Chantilly. There's also an excellent wine card, a Tour de France and Corsica, plus perfect cheeses from Quatrehomme.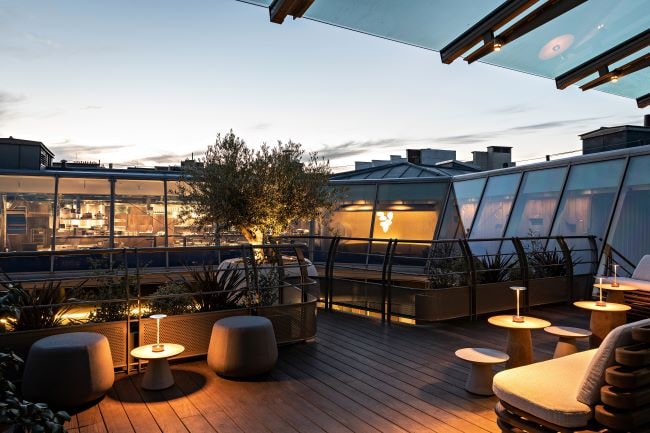 Closed Saturday-Sunday
Average Spend €49.50 -€145
Lunch menu from €49.50
4-course tasting menu: €95 6-course tasting menu: €145
39, Avenue George V, 8th
(Entrance at 17 rue Quentin Bauchart)
Metro: George V
Tel: 01 56 62 39 05
Benjamin Patou and Moma Group's chic culinary hotspot for cool Mediterranean dishes is now serving on the terrace: the Cour d'Honneur of the handsome Hôtel de la Marine, Place de la Concorde. Jean-François Piège and chef Thomas Rossi suggest the following. Start with the signature eggs mimosa, topped with different ingredients such as avocado, caviar, tarama or lobster. Other appetizers include golden, paper-thin, sliced vegetables tempura; Mimosa salad, punctuated with eel, seized in a wood fire oven, as are fried eggs topped with black truffles, light and lovely Niçoise-style vegetable beignets. Mains include Mediterranean red tuna steak or catch of the day (for two) anointed with frothy Menton lemon emulsion. Perfect with soft and spicy Chorey les Beane from Domaine Maillard Pere & Fils. And, do save space for the fabulous Pannetone dessert, to share, or not.
A La Carte from about €34-€122 + wine
2, rue Royale, 8th
Metro: Concorde
Tel: 01 53 93 62 52
Open 7/7
"Brillat Savarin, Louis Ladurée, Antoine-Augustine Parmentier and Jim Morrison's spirits are floating nearby," explains chef Guy Martin when I ask why he decided to renovate a classic neighborhood brasserie on the same busy boulevard as the legendary Père Lachaise cemetery.
"I adore the grungy 20th arrondissement. My inner artist has created a neo bistro-guinguette with Mediterranean attitude," Guy Martin adds. The airy setting, created together with architect Jérome Faillant-Dumas, struts artist's chic with spruce and fresh colors. The 1930s/1950s-style wall frescos are a nod and wink to Jean Cocteau. Sit at the counter, the well spaced wooden tables, or the wide terrace and watch the multi-cultural world go by.
On the menu, by young talent Romain Dassié, you'll find eggs cooked at low temperature, butternut squash, hazelnuts; Foie gras with pear, chestnut and sourdough toast; Quinoa salad, crunchy vegetables; Dassié's spin on Fish n'Chips, not as you know it! Pan-fried pollack, roasted salsify, parsnip cream and Maltese foam or, 8-hour braised chuck, celery, nashi pear, red wine sauce.
For dessert, give in to temptation with Red Fruit Pavlova, or chocolate hazelnut finger. There's an eclectic choice of cocktails, mocktails (from €8), wines by the glass (€6), bottle or magnums.
Lunch €19-€25
A La Carte about €44
78 Boulevard Ménilmontant, 20th
Metro: Père Lachaise
Tel: 01 40 30 26 00
Closed Sunday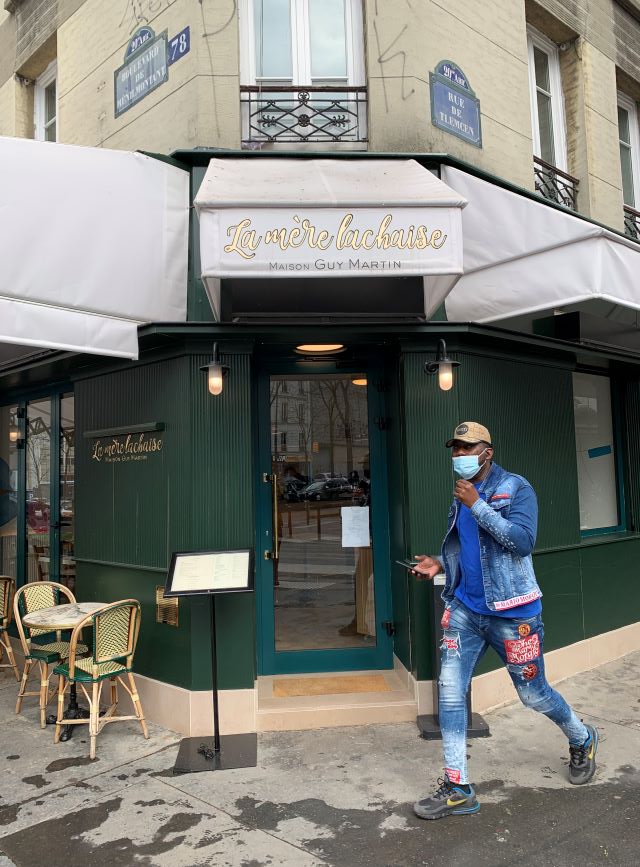 Need to find: Les Maisons and terraces of Guy Martin
Guy Martin at Le Grand Véfour, Palais Royal (Terrace)
Pasco, in the 7th (Terrace) A
Noste, near the Stock Exchange, 2nd, (Terrace)
Augustin, rue Daguerre, 15th (Terrace)
Rech – Maison d'Amerique Latine
There's a bucolic attitude in the magnificent, manicured gardens of this unique address, which now houses the iconic fish restaurant Rech (since 1925).
Chef David Vignaud sends out seasonal fish dishes with a Vignaud/Ducasse spin. Read: absolute perfection. As you would expect, the wonderful wines selected by Gérard Margeon, Head Somm of Maison Ducasse, include perfectly chilled rosés from Provence and the Languedoc regions. Chablis, Meursault and Puligny-Montrachet and European and world wines balance the ever elegant Chambolle-Musigny, Vosne-Romanée, Pessac-Léognan and Pauillac wines. Average spend €36-€80 + wine.
Les Collectioneurs (President Alain Ducasse)
217 Boulevard Saint-Germain, 7th
Tel: 01 49 54 75 10
Metro: Solferino
Closed Saturday and Sunday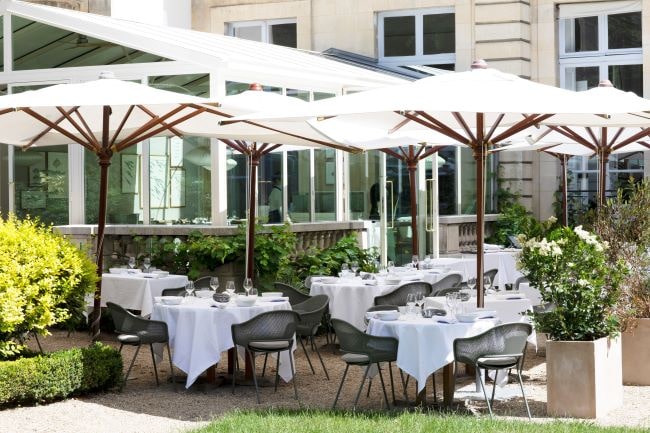 The handsome Art Nouveau building housing the Le Kimpton St Honoré is an olive stone's throw from Opéra Garnier and the Charles Zana designed rooftop bar on the 10th floor has a 360-degree view of the city. Meet at lunch for the "Let's Tacos About It" menu of tacos, guacamole, homemade tortilla chips, a soft and/or warm drink. In the evening, enjoy cocktails like the My Taï (€21) and mocktails (Green Garden €16), plus sublime lobster roll and Chef's tacos, in mini versions. Desserters will go for the natural Mexican style Los Pistoleros ice creams, "paletas popsicles". A breeze direct from Latin America blows on the green and pleasant Sequoia Rooftop terrace this summer.
27-29 Boulevard des Capucines, 2nd
Tel: 01 80 40 76 20
Metro: Opera
Open daily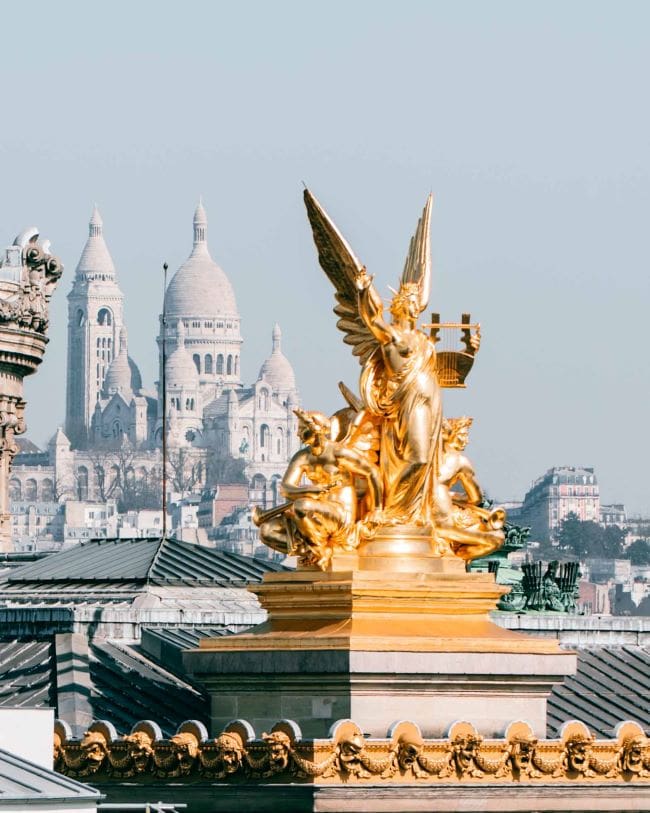 Thierry and Gilbert Costes (Group Beaumarly), with chef consultant Thierry Burlot, present their guinguette attitude on quai Beaugrenelle, facing the Statue of Liberty. Hot designer Martin Brudnizki (behind the flamboyant décor of Annabel's and Sexy Fish, London and Les Jardins du Presbourg, Paris) has created neo-retro vibes adorned with plant frescoes bringing to mind Renoir's Déjeuner des Canotiers. Completely unique, this spot overlooking the Seine has a beautiful terrace to discover on sunny days.
Port de Javel Haut, 15th
Tel: 01 82 82 00 89
Open 7/7 from 9h-2h
Restaurant, Bar, Terrace Le Camondo
There's a secret garden/restaurant tucked away at the back of this lovely museum.
This summer, young cheffe Fanny Herpin (Le Jules Verne, Pinch NYC, Taillevent etc.) dedicates Saturday lunch (until July 30th) to her catch of the day. "La Petite Pêche du Camondo" is a market-driven raw fish dish, the recipe changing weekly. The idea is "to present lesser known fish such as horse mackerel, gurnard, mullet or wild julienne (which resembles cod). Of course the A La Carte dishes are still available," says cheffe Herpin. €18-€22.
From the snack menu choose Truffles Belle Burrata, salad drizzled with balsamic de Modena (€26); Croque Monceau, truffles, compté cheese, white ham (€18); Charcuterie with toasted sourdough from Jean-Luc Poujauran (€24); Dish of the day (€28). Cheeses from Marie Quatrehomme (€16) and pâtisserie by Nina Métayer includes Lemon Meringue Tart, Yuzu and Bergamote (€15). Or, just pop in for coffee and madeleines (€11).
Located within the old residence of the Camondo family – founders of a bank and one of the 19th century's wealthiest Ottoman Empire families – here's an eclectic mix of museum, restaurant, bar, and belle terrasse. Before, or post lunch, discover the galleries and browse the Musée Nissim de Camondo's art and paintings lovingly collected by Nissim's father, Moïse de Camondo, gifted to the French government after his son's tragic death during the First World War.
61bis Rue de Monceau, 8th
Metro: Monceau
Tel: 01 45 63 40 40
Open daily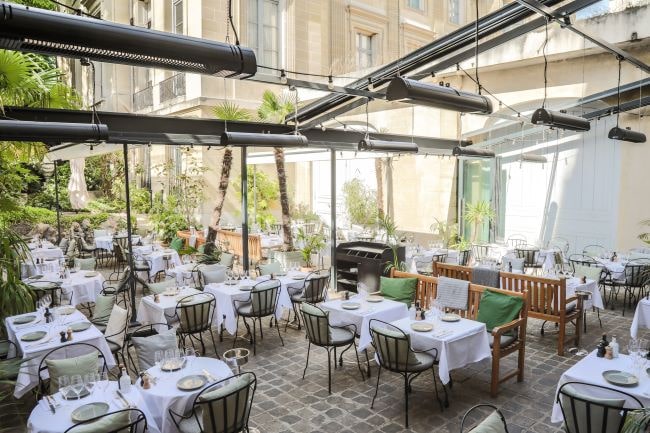 Prettily perched on the roof terrace of the Quai Branly – Jacques Chirac Museum, designed by Jean Nouvel, you'll find the panoramic view of the Iron Lady is so romantic. On the wide terrace, enjoy the seasonal dishes of chef Rui Martins, as he salutes the traditions of French cuisine – with an exciting modern spin: Cookpot of vegetables (€27); White asparagus, truffled mousseline (€30); Marinated Brittany sardines (€27); Grilled turbot, reduction of champagne and golden caviar (€48); Peppered Normandy Beef, pommes Anna (€48); and All About chocolate dessert (€19).
Lunch formula €48
Menu Collection €110 + A La Carte
27 Quai Branly, 7th
Metro: Bir Hakeim
Closed Monday
Tel: 01 47 53 68 00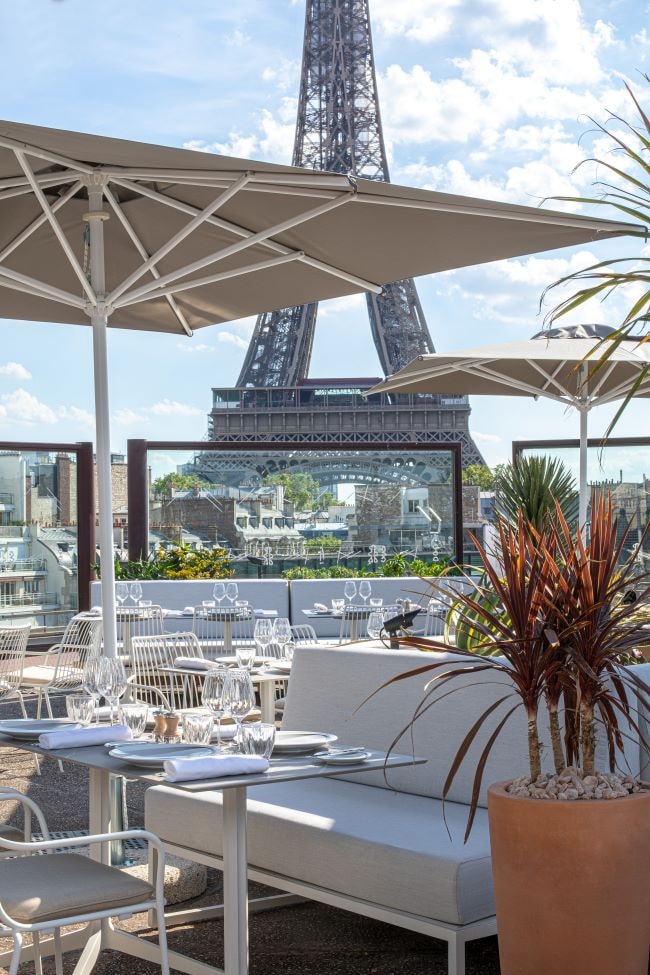 Chef Philip Chronopoulos, at the helm of the Palais Royal Restaurant's kitchens since 2015, recently snagged a well deserved second Michelin star. Located under the colonnades of the Palais-Royal, next door to the Comédie Française Theatre, this beautiful address, part of the Evok Collection, founded by Pierre Bastid, Emmanuel Sauvage and Romain Yzerman, has discreetly established itself as one of the most confidential of Parisian restaurants. The décor by Christophe Tollemer blends seamlessly into its environment. On sunny days, the terrace transforms to accommodate lunch and/or dinner (no reservations) in the heart of the garden, where Restaurant Manager Ahmad Houmani directs proceedings with elegance and charm.
Mezze, served as an amuse-bouche to share, or not, are an introduction to the chef's world and the tastes that flavored his childhood in Greece. The menu showcases French cuisine and seasonal ingredients, with summery Mediterranean influences.
Lunch €75 Tasting Menu €180
110 Galerie de Valois, 1st
Metro: Palais Royale Musee du Louvre
Tel: 01 40 20 00 27
Closed Sunday & Monday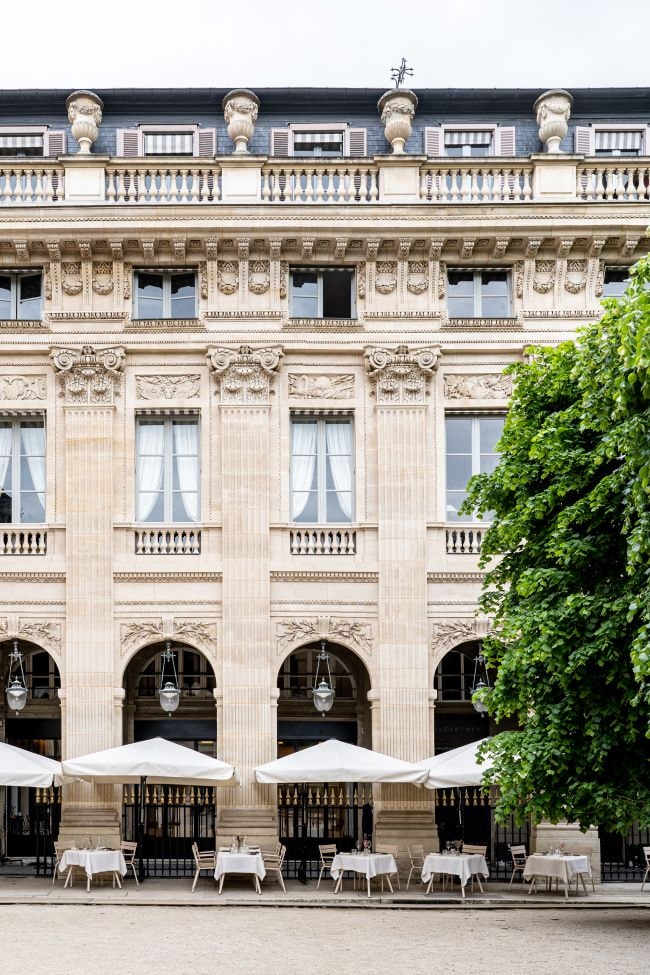 And don't miss the great cocktails at:
National ON (the) TOP,
Hotel National des Arts & Metiers
243 rue Saint Martin, 3rd
Tel: 01 80 97 22 80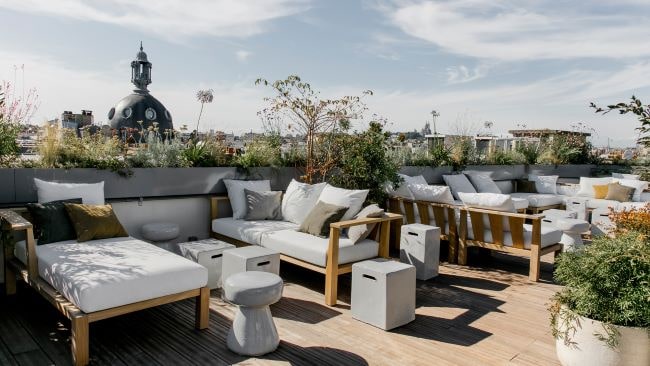 Lead photo credit : Mimosa Terrace
More in Open terraces, Restaurant in Paris, restaurant news, rooftop bars, rooftops in Paris, Terraces in Paris
---
---
Comments