A New Wave of Museum Restaurants in Paris
In Paris, there's a wealth of wonderful restaurants inside the famous museums, some of them newly opened this year. Here's a look at some of the places you can fuel up after feeding your soul on culture.
"Breath Paris in. It nourishes the soul." -Victor Hugo
Magnificently restored and transformed by Japanese architect Tadao Ando, and part of the newly redesigned Les Halles district, La Bourse de Commerce – Pinault Collection, located in the former commodities exchange is now home to the impressive contemporary art collection of François Pinault, the French luxury goods billionaire businessman.
Café-Restaurant Halle aux Grains, with independent entrance, is located on the third floor, beneath the magnificent cupola. It's already a foodie destination – with the usual Pinault flair and attention to detail. To the inside of the building, tables offer views of the original murals of the five continents in a setting refreshingly brought to life by  Tadao Ando. The outward view stretches over the church of Saint-Eustache, Les Halles, and the Centre Pompidou to the iconic Paris rooftops beyond.
Helming Halle aux Grains are Michel and Sébastien Bras, the father and son super chef duo from Laguiole in the Auvergne region, sending out their unique contemporary spins on organic grains (including corn, cereals, kasha, chia, pulses, buckwheat etc.) Wheatgerm soufflé, anyone?
2, rue de Viarmes, 1st
Metro: Bourse
Tel: 01 82 71 71 60
Lunch/ Afternoon Tea/Dinner
Wine pairing menus €78 and €98
A La Carte starters €19-32. Mains €38-52. Desserts €17
Museum entry ticket €14
Free entry on the first Saturday of each month (from 5pm-9pm)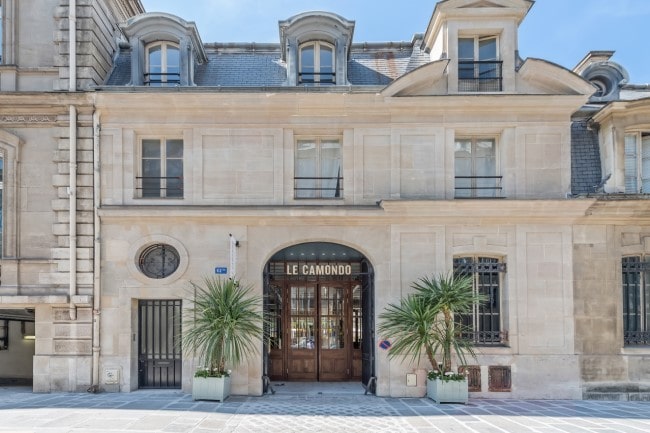 Musée Nissim de Camondo x Le Camondo
The concept of banker Count Moïse de Camondo, the collection is named in honor of his son Nissim, tragically killed during the First World War. Moïse replaced the two family houses, near Parc Monceau, with this palatial residence, where he lived in grand style, fascinated by 18th-century art and design. Handsome first-floor reception rooms showcase furniture by craftsmen of the Louis XV and XVI eras, silver services, Sèvres and Meissen porcelain, Savonnerie carpets and Aubusson tapestries.
The elegant restaurant/bar/terrace once housed the count's car collection – and never disappoints. The menu changes every month and is designed by chef Kevin LeBrun. You'll find items like the Plat du Jour (32); Poached egg and truffles (€19) ;Wild duck, parsnip purée (€31); Le Croque Monceau (€12); Cheese by Quatrehomme (€10); Café & Madeleines (€8); Chablis from William Fèvre's Burgundy winery.
61 bis rue de Monceau, 8th
Metro: Monceau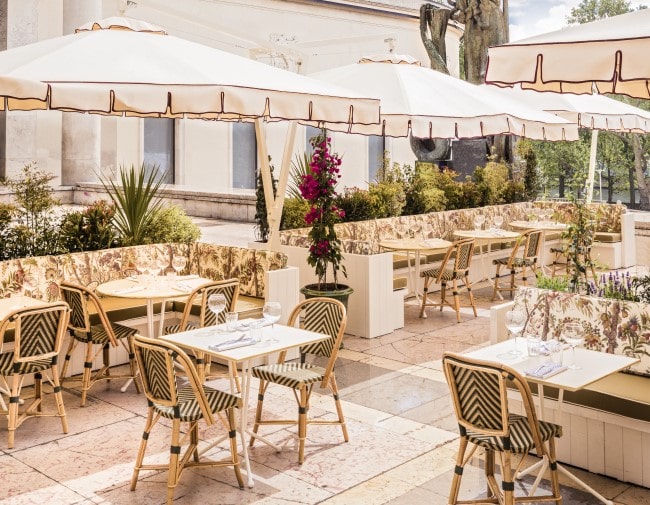 Palais de Tokyo x Bambini
With picture postcard views of the Eiffel Tower, Bambini's the joyful concept of Paris Society founders Laurent de Gourcuff and Laurent Taïb, art aficionados and super foodies. Here's the perfect spot to sit and dream after exploring the museum. Dedicated to modern art and technology, the impressive building was constructed in 1937 for the Paris International Exhibition. A table at Bambini is definitely a dolce vita fiesta: bellezza, pizza, cicchetti, green fettucine and pasta experience, with terrific cocktails, prosecco (from €10) and wicked desserts like the Giant Tiramisu, Fat Profiterole, Bambini di Bambini, Gelati. Dishes are priced from €16-€29. Desserts cost €12.
13 avenue President Wilson, 16th
Metro: Trocadéro
Terrace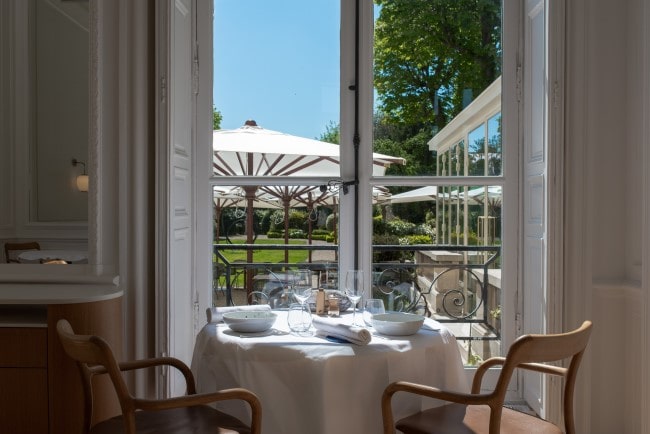 La Maison de l'Amérique Latine x Rech
Chef Alain Ducasse transferred the iconic RECH fish restaurant, in the 17th arrondissement, to the left bank. Enjoy the signature specialities in the sumptuous mansion, opening onto magnificent French gardens. Try line-caught sole;  skate wings "à la Grenobloise" cooked with thyme and laurel; and the famous XL chocolate or coffee éclair.  
The two magnificent 18th-century mansions are l'Hôtel de Varengeville and l'Hôtel Amelot de Gournay, now joined together. Created in 1946, in the wake of the French Resistance, by General de Gaulle, LMAL's now a cultural center highlighting the best of Latin American art, sculpture, and photography. It's also popular as a location for weddings and chic receptions.
217 Boulevard Saint-Germain, 7th
Metro: Solferino
Tel: 01 49 54 75 10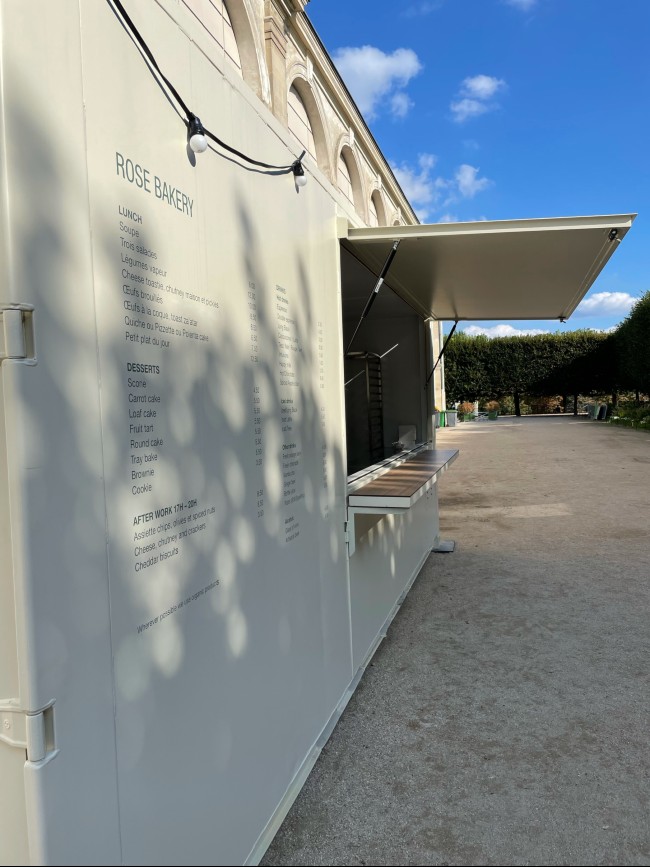 Overlooking Place de la Concorde from the Tuileries Gardens, the imposing Second Empire-style building is in perfect symmetry with the adjacent Musée de l'Orangerie.
Originally designed in the 19th century as indoor courts for a game that was a precursor to tennis, Jeu de Paume housed Impressionist paintings after the Second World War. However, in the 1990s this national gallery took a 180-degree turn devoting itself solely to highlighting modern photography in all its forms, both still images and video, from the 19th century to the present day, read, from Martin Parr to Richard Avedon, Edward Steichen, and Garry Winogrand. The video art and cinema suite shows new digital installation work, as well as feature-length films made by artists.
Rose and Jean-Charles Carrarini just opened the Café/Terrace Rose Bakery, serving all the organic salads, pastries, and hot dishes that Rose Bakery is famous for. It's well worth a visit.
Handy to know: Free guided tours are available (on presentation of the entrance ticket to the exhibitions) on Wednesdays and Saturdays at 12.30pm.
And, discover the Jeu de Paume via treasure hunts – designed for families – downloadable and free of charge.
1 place de la Concorde, 1st
Metro: Concorde
Closed Monday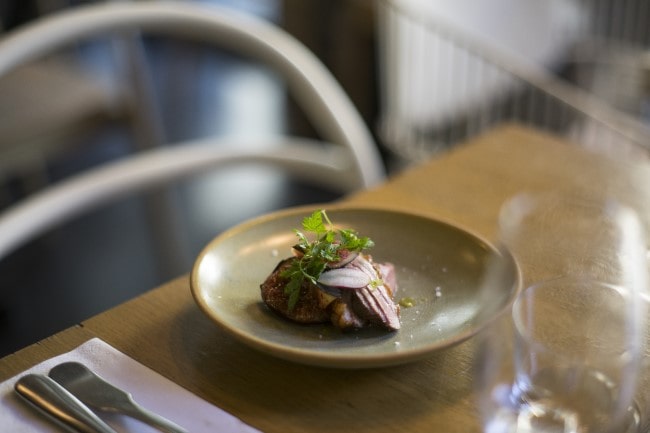 This 1930s building was once a popular dance hall and is now an independent arts center. Focus is on documentary photography, video, cinema and new media through exhibitions, production, book publishing, talks and debates. Le Bal has around 350 m² of exhibition space divided across two floors; a bookshop, Le Bal Books and Le Bal Café Otto (named for a former much admired Austrian chef at the café).
Today, cheffe Morgane Lovero takes culinary inspiration from her mother, a superb cook, and her grandfather, cider producer and respected Normandy lamb breeder. The vegetal Mediterranean/Normandy-based menu respects the seasons and the environment. Think beetroot houmous, feta, pistachio; Lieu jaune (yellow plaice) butternut gratin, pinenuts; Fig Pavlova. Wine by the bottle about €22 – by the glass €5.
Wednesday, Thursday, Friday 12 noon-7pm
Lunch from 12 -2pm
Brunch (no reservations) every weekend from 12-3pm
6, Impasse de la Defense, 18th
Metro: Place de Clichy
Tel: 01 44 70 75 51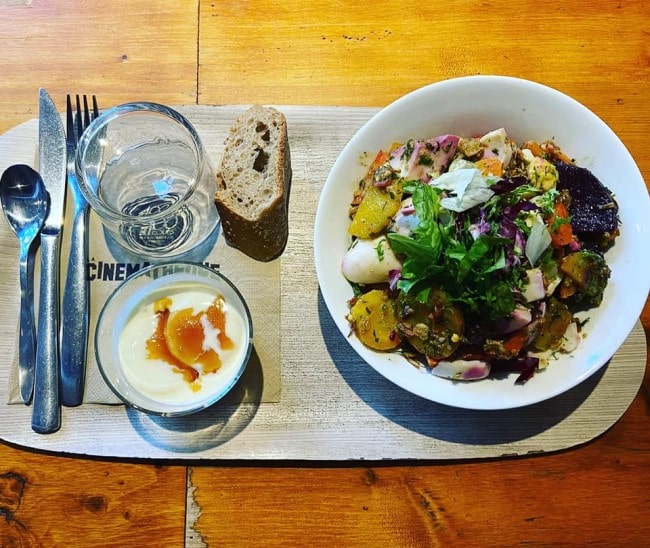 Cinémathéque Français x Le 400 Coups x Film & Food
Housed in a bunker-like building designed by architect Frank Gehry, the Cinémathèque Française conveys a passion for cinema through its many resources and activities, notably the Musée Méliès, exhibitions, screenings, meetings and talks, library, popular café and bookshop.
Les 400 Coups is the meeting place for all cinema lovers, named in homage to the 1959 French New Wave drama film, and the directorial debut of François Truffaut.
The mantra is: "At 400 Coups we eat, drink, share emotions, repeat." The daily changing menu is based on healthy, eco-reponsible "world" cuisine, using locavore products where vegetarian and non-gluten dishes feature. There's a Soup of the day (€5), Buddha bowl (€12), Savoury Tarts (€7.50), Salads (€9.50), overflowing baguette sandwiches (€4.50), and juice of the day (€4.80). Wines arrive direct from the producers and artisan beers are by Deck&Donahue from the Ile de France region.
51 rue de Bercy, 12th
Metro: Bercy
Tel: 01 43 44 18 72

Musée du Vin x Restaurant Les Echansons
In the cellars of the 15th century Abbaye de Passy, the permanent collection belonging to the Echansons Council of France (Conseil des Échansons de France) pays tribute to artisans who, for centuries, have worked to produce world-famous wines.
Museum visitors discover the finest French wines, which are "the reference" throughout the world. The restaurant, tasting sessions/lessons and themed evening events are unique experiences in an exceptional setting.
The restaurant (only open for lunch) is located in the romantic setting of 15th century vaulted cellars. Specialties of classic French cuisine are revised and corrected for today by a young chef to match a list of 200+ wine references.
Chef Steeve Obejero's menu includes, say, oeuf en cocotte; soothing carrot and parsley cappuccino; diver scallops in parmesan shell; housemade foie gras terrine, fig chutney; monkfish navarin with seasonal vegetables,;wild boar stew with beetroot and pan-fried foie gras; Black Angus Entrecôte, crushed apples and salad; and duck breast with blackcurrants.
For dessert, there's cheese, tarte Tatin with creamy caramel and vanilla ice cream,  chocolate mi-cuit with Grand Marnier ice cream and Grand Marnier flute, or vanilla pannacotta served with red fruit coulis. And, of course a wonderful choice of wine!
If you just take the tour, a tasting session completes the experience  – with grape juice offered to visitors who do not drink alcohol!
5 Square Charles Dickens, 16th
Metro: Passy
Tel: 01 45 25 63 26
Ticket : 12€ or with a glass of wine €14.90
Visit + Tasting of 3 glasses €40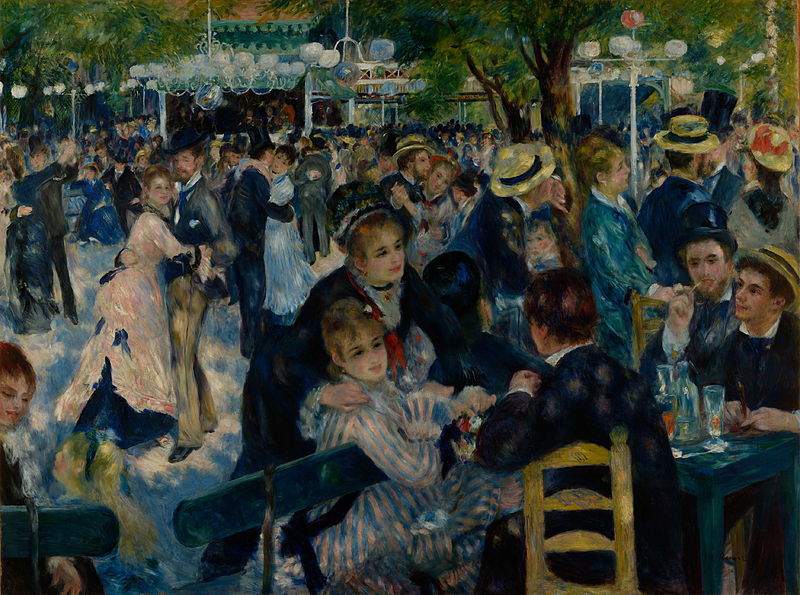 Musée de Montmartre x Jardins Renoir x Café Renoir
Created in 1960 and classified as a Musée de France in 2003. The buildings were formerly the home of several famous artists, including Pierre-Auguste Renoir and Suzanne Valadon.
Not a lot of people know that Montmartre is a Republic! Founded in May 1921, on the initiative of Montmartre artists, painters and draftsmen, the Republic's dashing members distinguish themselves by wearing red scarves, black capes and hats based on the signature outfit worn by Aristide Bruant, the French cabaret singer, comedian, and Montmartre nightclub owner (1851-1925). They guard the charitable traditions initiated by the likes of Henri de Toulouse-Lautrec, Edgar Degas and Henri Matisse. The iconic autumn Vendanges de Montmartre (wine harvest) and various concerts are worth checking out on the Republic website. Mission statement: "Rejoice in doing good."
Café Renoir with its pretty glass roof was recently redecorated in the spirit of a pretty Winter Garden with library, rattan lights, lounge area with period furniture and green plants. And, the glass roof opens onto a lovely garden, reflecting the work of Pierre-Auguste Renoir. The Bal du Moulin de la Galette was painted when he stayed here in 1876.
The atmospheric Café Renoir posts a seasonally changing snack menu, with salads, quiches, fresh vegetable soups and savory pies from €10-€15. Desserts and pastries €4-€5.
Garden access and entry to Café Renoir: €5 or – entry to the Museum: €13
Café Renoir opens Wednesday – Sunday from 11am – 5pm.
Montmartre Museum, 12 rue Cortot 75018 Paris
Metro: Lamarck-Caulaincourt / Abbesses / Anvers – Bus 40 Saules-Cortot stop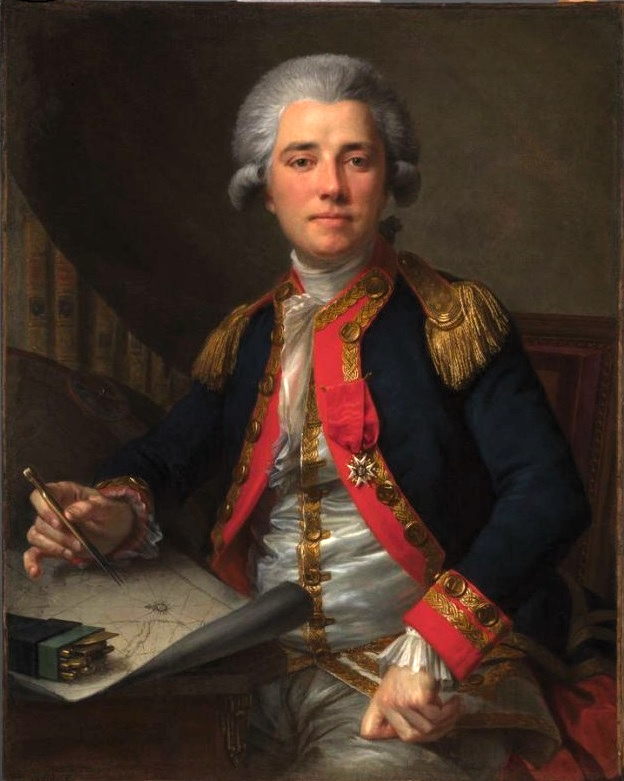 Built in the 18th century by Ange-Jacques Gabriel, chief architect of King Louis XV, on the Place de la Concorde, the Hôtel de la Marine is among Paris's grandest neoclassical buildings. Until 2015 it was the HQ of the French navy (hence its name) but recently, after a major restoration campaign, the Centre des Monuments Nationaux opened parts of the building – including the stately 19th-century reception rooms – to visitors for the first time. Later this year, the former tapestry storerooms will become a new home for the Al Thani Collection of artworks from ancient times to the present.
When Benjamin Patou (great nephew of couturier Jean Patou), the CEO of Moma Group, toured the Hotel de la Marine some time ago, he was entranced with a portrait of the navigator Jean-François de Galaup, Count of Lapérouse (1741-1788), a French officer of the Royal Navy and explorer. Patou, owner of Lapérouse restaurant, decided then and there that he would acquire a space in this building which he would dedicate to the count.
Café Lapérouse, is restaurant, bar, cellar, grocery store, glacier-chocolatier serving breakfast, lunch, tea time chic, cocktails and drinks on the terrace, dinner.
2 place de la Concorde, 1st
M : Concorde
Tel: 01 53 93 65 53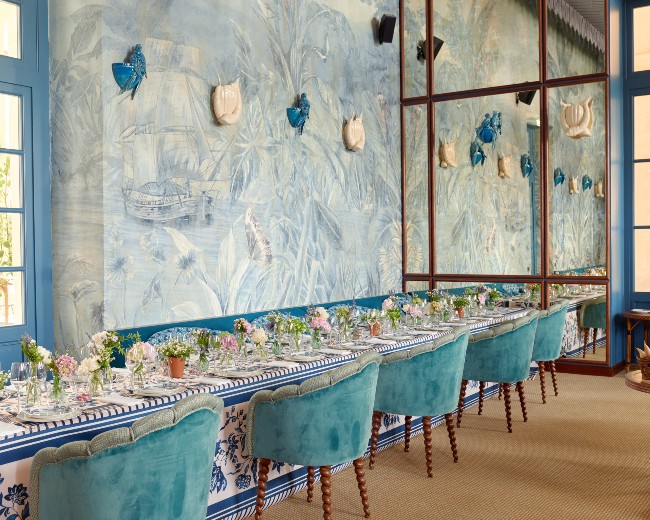 Lead photo credit : Bras_La Halle Aux Grains (C) Bras_La Halle Aux Grains
More in gastronomy, restaurant, restaurant news, Reviews
---
---
Comments