Sustainable Paris: The Green Revolution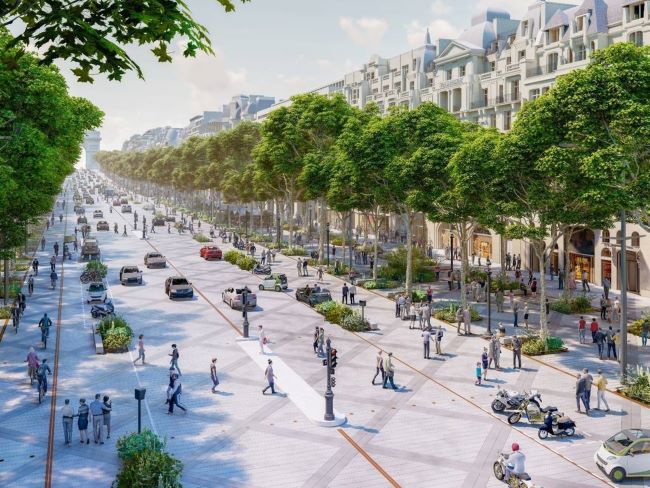 Paris
at its core is a traditional city with a fondness for rules and regulations. Until recently it was a keep-off-the-grass metropolis of grand boulevards, manicured pea-gravel parks, and the honking and sputtering of traffic gridlock. But that's changing. France is no stranger to revolution and one is happening right now in Paris. With a goal to transform Paris into Europe's greenest city by 2030 and the Plan Climat commitment to become carbon neutral by 2050, no segment of daily life remains untouched by the initiatives underway. There are massive new municipal policies, not to mention the neighborhood activism. From urban rooftop farms and vegetarian restaurants, it's all green. In 2007, Paris was one of the first cities in the world to adopt a climate action plan, aiming to reduce greenhouse gas emissions above and beyond the targets outlined by the European Union at that time. The Paris Climate Change Conference of 2015 put further impetus behind the city's green profile. Cities create 60% of the world's carbon emissions and use 78% of its energy. Paris's mayor, Anne Hidalgo, recognizes the importance of making her city a green one and has introduced broadly sweeping plans and policies for a sustainable Paris. Paris is on the road to being an environmentally green city. Paris Green Policies To help Paris turn the corner, the quayside Seine has already been pedestrianized. Traffic is barred on certain roads such as the Rue de Rivoli, in favor of pop-up bike lanes dubbed coronapistes during the first lockdown. These new lanes have been permanently added to the already 1000km of bike access throughout the city. Paris has been a pioneer in public bicycle sharing since 2007. What's more, the city is dotted with electric car-share depots. There are other initiatives to make the core of Paris permanently car-free by 2024. A new "tranquil" zone will include the first four arrondissements of Paris and parts of the 5th, 6th and 7th. Privately owned vehicles using these boulevards as a through lane will be subject to a fine. From 2024, all diesel vehicles will be banned from the city, and by 2030 gas-powered cars as well. Public transit is on the road to being emission free by using electric vehicles or those powered by Bio-gas. Coronapiste Avenue de Saint Ouen Presently only 9.5% of Paris is covered by green space. Hidalgo's municipal government has boldly pledged to increase that to 50% by 2030. To make up for this distinct lack of green, 170,000 trees will be planted across the capital with plans in place for four new urban forests – islands of urban freshness to moderate the city's heat. A pine grove will be planted in the currently barren square of the Hotel de Ville. Blossoming cherries and lindens will be introduced around the Opera Garnier and the Gare de Lyon and swaths of shrubs and grasses will line the quays of the Seine. By 2030 the lanes of cars of the Champs-Élysées will be reduced from four to two, facilitating the addition of more trees and turning the famous boulevard into a CO2- breathing tree tunnel. Clichy-Batignolles develoment. A school with a carbon capturing green wall © Sergio Grazia
SUBSCRIBE
ALREADY SUBSCRIBED?
BECOME A BONJOUR PARIS MEMBER

Gain full access to our collection of over 5,000 articles and bring the City of Light into your life. Just 60 USD per year.

Find out why you should become a member here.

Sign in

Fill in your credentials below.
Paris at its core is a traditional city with a fondness for rules and regulations. Until recently it was a keep-off-the-grass metropolis of grand boulevards, manicured pea-gravel parks, and the honking and sputtering of traffic gridlock. But that's changing. France is no stranger to revolution and one is happening right now in Paris. With a goal to transform Paris into Europe's greenest city by 2030 and the Plan Climat commitment to become carbon neutral by 2050, no segment of daily life remains untouched by the initiatives underway. There are massive new municipal policies, not to mention the neighborhood activism. From urban rooftop farms and vegetarian restaurants, it's all green.
In 2007, Paris was one of the first cities in the world to adopt a climate action plan, aiming to reduce greenhouse gas emissions above and beyond the targets outlined by the European Union at that time. The Paris Climate Change Conference of 2015 put further impetus behind the city's green profile. Cities create 60% of the world's carbon emissions and use 78% of its energy. Paris's mayor, Anne Hidalgo, recognizes the importance of making her city a green one and has introduced broadly sweeping plans and policies for a sustainable Paris. Paris is on the road to being an environmentally green city.
Paris Green Policies
To help Paris turn the corner, the quayside Seine has already been pedestrianized. Traffic is barred on certain roads such as the Rue de Rivoli, in favor of pop-up bike lanes dubbed coronapistes during the first lockdown. These new lanes have been permanently added to the already 1000km of bike access throughout the city. Paris has been a pioneer in public bicycle sharing since 2007. What's more, the city is dotted with electric car-share depots. There are other initiatives to make the core of Paris permanently car-free by 2024. A new "tranquil" zone will include the first four arrondissements of Paris and parts of the 5th, 6th and 7th. Privately owned vehicles using these boulevards as a through lane will be subject to a fine. From 2024, all diesel vehicles will be banned from the city, and by 2030 gas-powered cars as well. Public transit is on the road to being emission free by using electric vehicles or those powered by Bio-gas.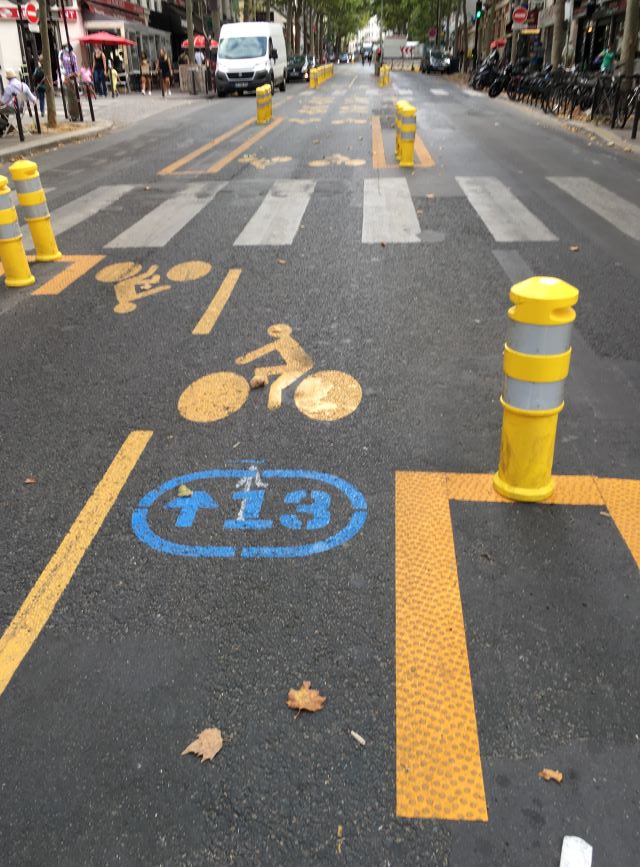 Presently only 9.5% of Paris is covered by green space. Hidalgo's municipal government has boldly pledged to increase that to 50% by 2030. To make up for this distinct lack of green, 170,000 trees will be planted across the capital with plans in place for four new urban forests – islands of urban freshness to moderate the city's heat. A pine grove will be planted in the currently barren square of the Hotel de Ville. Blossoming cherries and lindens will be introduced around the Opera Garnier and the Gare de Lyon and swaths of shrubs and grasses will line the quays of the Seine. By 2030 the lanes of cars of the Champs-Élysées will be reduced from four to two, facilitating the addition of more trees and turning the famous boulevard into a CO2- breathing tree tunnel.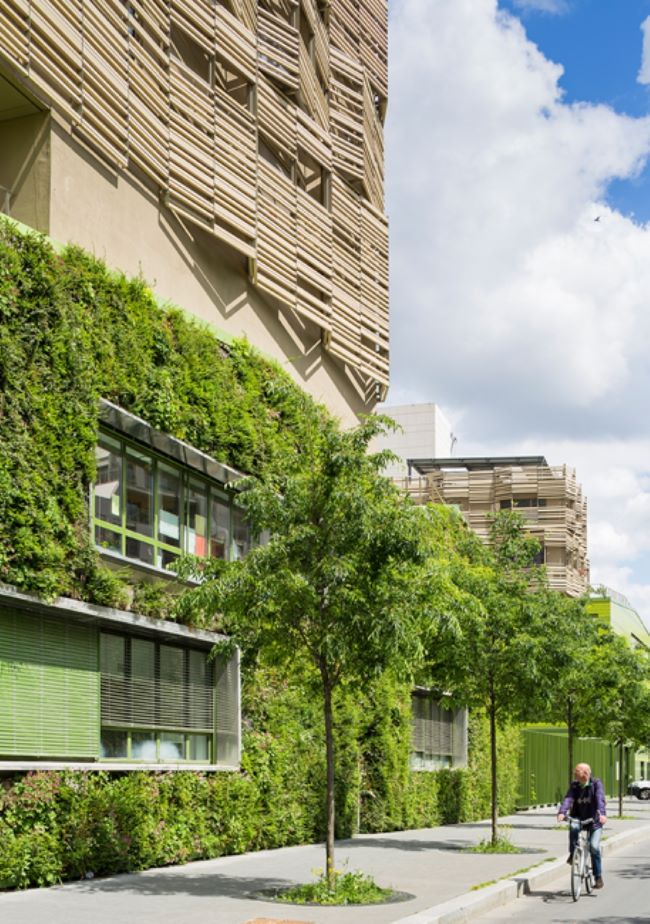 In 2016, the municipal government launched Parisculteurs, a project designed to plant over 100 hectares of the city's rooftops and walls with vegetation – a third devoted to urban farming. At present the world's largest urban rooftop farm sits atop Pavillon 6 at the Paris Expo Porte de Versailles. Nature Urbaine (NU), sprouted to life in 2020, with more than 15,000 square meters covered in an array of innovative rooftop planting. Yielding up to 1,000 kilos of food a day the roof garden supplies local residents with veggie boxes, as well as hotels and catering firms. The intention of NU isn't to feed everyone in the city, but to create awareness about urban agriculture, also through workshops, community gardens, and the rooftop restaurant.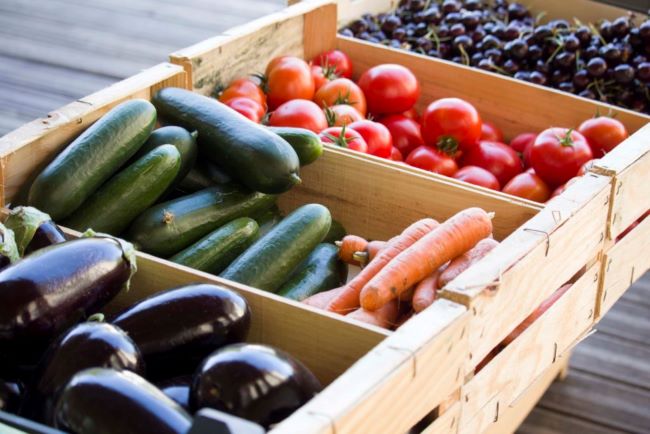 Neighborhoods
In the "15-minute city" concept popularized by Mayor Hidalgo, residents would have access to all basic services – public transport, shops, schools, even work – within a quarter-hour of their home. The pandemic has shown us it's possible to work differently and these new neighborhoods reflect that.
Clichy-Batignolles
A flagship for sustainability, Paris's groundbreaking Clichy-Batignolles Eco-Park is tangible evidence of the city's commitment to reducing its carbon footprint. Gradually expanding over 54 hectares of a former rail yard in north Batignolles (17th arrondissement), this award-winning mixed-use area neighborhood centered on Martin Luther King Park, has all the ingredients of a self-contained city.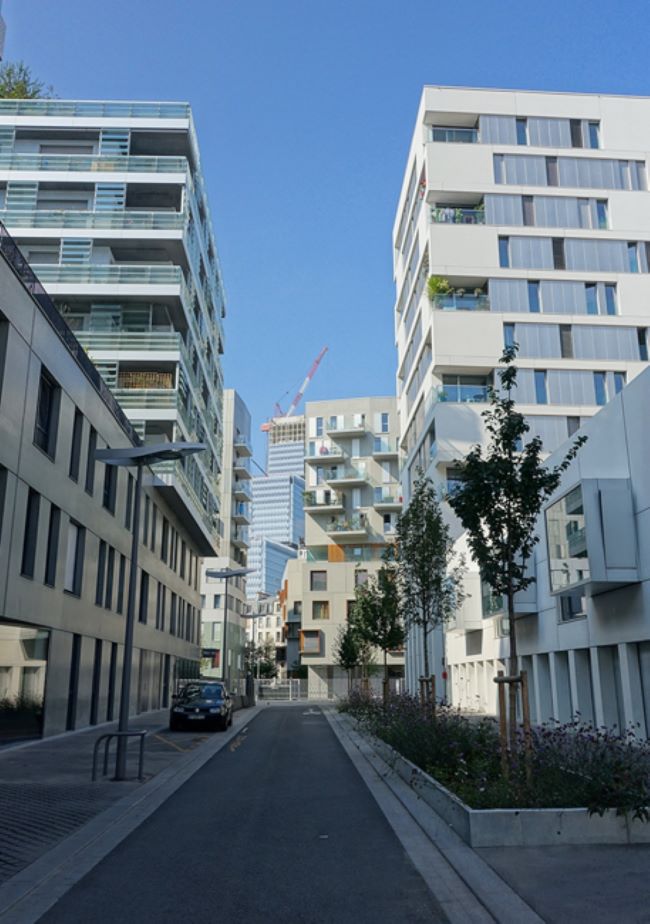 To maximize usable space, the developers of Clichy-Batignolles gained permission to exceed Paris's longstanding height limit of 37m in order to build ten 50m buildings. The area's 7,500 residents come from a wide range of incomes, and include students and the elderly. The eco-park will generate enough employment for more than 12,000 people. In addition to retail and office space, the district encompasses a wide range of services, including four schools, medical services, daycare facilities, gyms, activity centers with performing arts spaces, and cinemas. Like a child's vision of the future, Clichy-Batignolles features pneumatic tubes for the sorting of trash, geothermal heating and high-density building material that catches and releases the heat from the sun. Green roofs offer not only insulation, but also a healthy garden space for residents and a habitat for birds and butterflies. Commuting would be a thing of the past in the ideal 15-Minute City, so roads are restricted to 12% of the total surface area of Clichy-Batignolles.
Charenton-Bercy
The Charenton-Bercy quarter is being changed into a highly connected urban district, part of the municipal government's initiative to link Paris Center with its suburbs. Once a no-man's land between Paris and Val-de-Marne, the district of Charenton-Bercy will be designed to achieve net-zero energy ie, producing as much or more energy than it uses. It's a huge project, including, offices, shops, hotels living spaces, schools, and community centers. At its core is the striking new tech hub of Paris. A landscaped bridge will cross active rail lines to connect the Bois de Vincennes with the Seine. The residences of the centerpiece tower will be enveloped in a greenhouse promenade inside its glass exoskeleton. The six towers, including one reaching 180m, have met with opposition and the height will be dropped by 70 meters.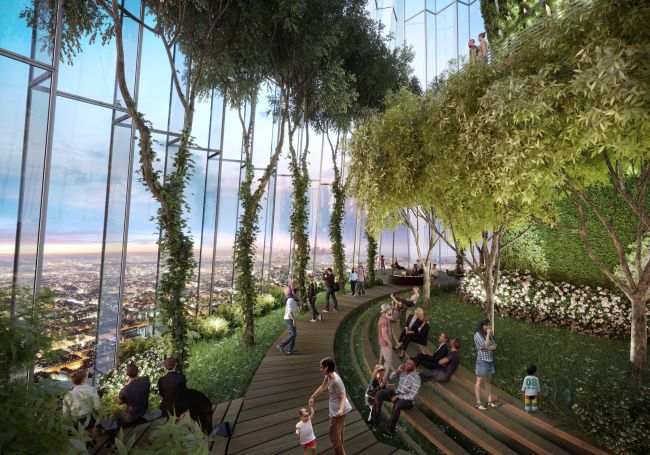 Tour Montparnasse
Incredibly, Paris has removed the height moratorium on the construction of multi-story towers. The 37m ceiling was introduced to stop eyesores akin to the Tour Montparnasse being built. The tower – a hulking dark presence in a sea of Haussmann-era buildings – was almost universally disdained. It sparked a 33-year skyscraper ban in the city.
However, the Tour Montparnasse will be given a green makeover in time for the 2024 Paris Olympics, aiming to be an icon of the 21st-century green revolution. A transparent checkerboard façade will replace the building's opaque face, allowing for natural air circulation between the interior and exterior of tower. Making the most of the horizontal axis, the main body of the tower will seem visually detached from a multi-story millefeuille of rooftop gardens. The project aims to reduce its energy consumption by 90%. Its HVAC will be self-sufficient for 70% of the time with no mechanical assistance, making it a "passive" construction.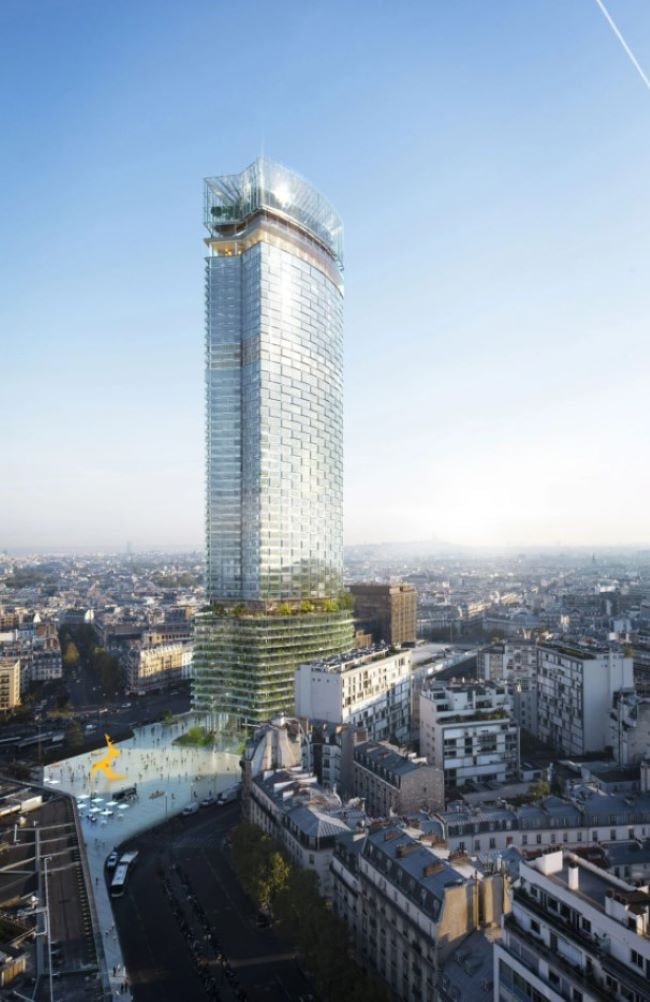 The city's green politicians and residents fiercely fought the 2008 removal of the height ban. Despite polls showing that two-thirds of Parisians oppose the change, mega-structures destined to be failed attempts at urbanism are rising from the lovely, limestone landscape. The Tour Triangle in the 15th arrondissement will be the third highest building in Paris by 2026. According to the project owner, the building with 42 floors inside a 180-meter glass pyramid, will be sustainable, generating only a quarter of the carbon footprint for a building this size. The completely wonky Duo Towers have gone up in the former railyards in the 13th arrondissement. Other projects touting to be green include the Rose de Cherbourg at La Défense. Also in the Puteaux neighborhood is the Tour Alto. While the prospectuses of these developments pay lip-service to the idea of neighborhoods, badly designed towers can destroy the social fabric of a neighborhood.
Paris must remain a patchwork pattern of neighborhoods. A city not only has to be green but also liveable and that's why grassroots action on sustainability must be regarded as important as the grand gestures. Take, for example, Les Grands Voisins. This was an unusual cultural center originally founded on the grounds of the old Saint-Vincent-de-Paul maternity hospital. Les Grands Voisins was like a radical city park consisting of "great neighbors" fighting redevelopment. While the site of the Grands Voisins in the 14th district is gone, a new "Grands Voisins" is potentially opening in the 12th arrondissement in 2022. It will remain a unique center of festivity and solidarity. Included will be accommodations, an urban campground accessible to everyone, biodiverse gardens, locally brewed beer, barbeques and non-stop cultural and educational events. This experiment in diversity will be installed on the site of the Charenton-Bercy development in the wasteland between the SNCF tracks and the ring road. Le Grands Voisins is part of what is called transitional urbanism: it will temporarily occupy a space intended to be rehabilitated and later redeveloped.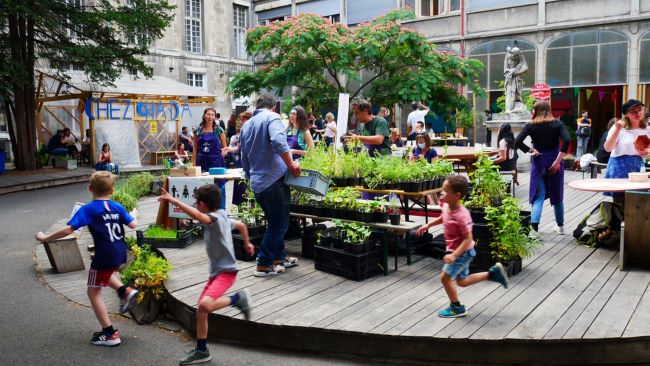 Paris is very grand and soon to be very green. From eco-apartments to urban farms, Paris is strictly adhering to the objectives of the 2050 Plan Climat by creating a sustainable and just city for everyone. There are a myriad initiatives noted in the Paris Climate Action Plan, which can be read here. One takeaway from that document is that over one third of Paris's greenhouse gas emissions is generated by air transport. It's one of the only areas where pollution has increased. Visitors should stay longer!
Lead photo credit : Champs Elysee 2030 plan © PCA Stream
More in Eco city, Eco Neighbourhood, Green city, Paris Neighbourhood, Plan Climat
---
---