Restaurant Buzz: What's New from Ducasse, Piège and other Top Chefs in Paris
The Salon des Manufactures by Alain Ducasse
Good news for fans of Alain Ducasse (and who isn't?). Here's an address the French call "confidentiel." Le Salon des Manufactures is a concept that regroups, in one mouthwatering place, the best of Ducasse's chocolate, coffee and ice cream creations.
You're invited to lunch chez Monsieur Ducasse on the first floor (via the magnificent staircase lined with copper moulds, part of the chef's collection) above the chocolate boutique/factory on the rue des Petits Champs in the 1st arrondissement. The lovely room that Marie Deroudilhe has designed is a nod and a wink to an ultra-elegant, 18th-century salon welcoming guests for luscious lunches and wicked afternoon teas. Moi, I've got curtain envy!
Of course, as you'd expect with Monsieur Ducasse, there's a spin to the dishes. At lunch, by chef Alessandro Lucassino, there's a flirtation of savory sorbets and ice creams with, say, roasted cauliflower, cascara of café granité, cascara, lemon (€15). Add a glass of Hydromel Extra Brut (€12) with lavender notes. Try the lentils served with red onions, citron caviar and socca chips for dipping (€13). Continue with daurade (sea bream) ceviché, avocado, basil, green apple sorbet, lime and thin crunchy Sardinian flatbreads "carasau" made with durum wheat flour, salt, yeast and water (€16). Or how about a ceramic bowl of yogurt, cucumber, mint? It's served with bread warm from the oven, with hints of Earl Grey tea. Another not-to-miss dish: The aubergine brûlée, black garlic and pomegranate marries well with pomegranate sorbet (€15).
Desserts include perfect chocolate (Peru 75%) soufflé and a marvelous apple/quince concoction with cider, sarrasin, breton sablé, cider espuma, sprinkled with grilled buckwheat.
Colette, Cocteau and Sacha Guitry, who once lived at Palais Royal, would adopt this stylish eatery. Emily in Paris will surely discover it soon…
11 rue des Petits Champs, 1st
Metro: Palais Royal,
Tel: 01 55 35 02 15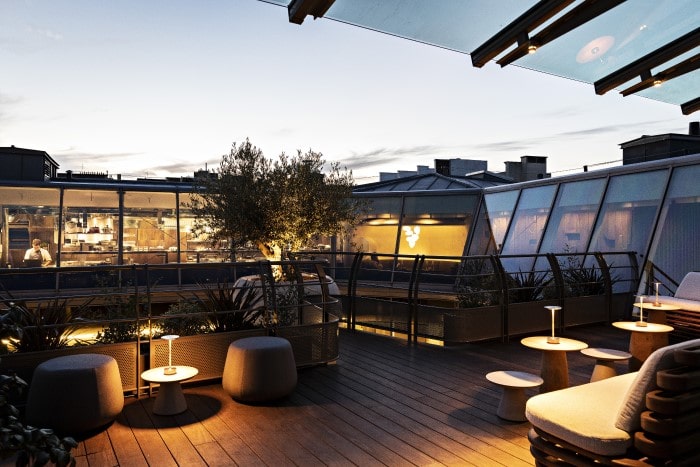 Le 39V by chef Fréderic Vardon
Just off the Champs Elysées, perched high above a renovated Haussmann building, Le39V is accessed by private lift. Here's where Normandy-born chef Fréderic Vardon continues to showcase his spin on modern French cuisine. The unique steel and glass space has a buzzing open kitchen, terrace, 100-year-old olive tree and herb garden.
The edgy new décor by Raphaël Navot exudes zen harmony.
The chef's latest signatures include Tourteau (crab) from Boulogne-sur-Mer (36€); Trout, from Crisenon, house smoked, on cherry wood, kimchi, raifort (€34); Green velouté, mushrooms, hazlenuts (€30). And for the mains: Soufflé Saint Jacques (€56); Catch of the Day (€58); Ris de Veau de France condiment Arcachon (€64); Truffle & Beaufort macaroni by Maison Blin (€60). Somm Julien Gonzalez recommends wine by the glass from €10. We loved the Chardonnay by Domaine Garnier & Fils, with green apple and white flower notes (€45). The cheese is from Madame Cantin and Bernard Antony. Desserts include Chocolate Soufflé (€24) and the Mont Blanc with grilled chestnuts (€24).
Discover Vardon's Normandy roots and passionate culinary concepts in his cookbook Aubergiste Parisien (published by Flammarion).
"There's no good cuisine without good products," says Vardon, who honed his incredible skills with the three Alains – Chapel, Ducasse and Dutournier.
39 Avenue George V, 8th
Metro: Georges V
Tel: 01 56 62 39 05
Closed Saturday-Sunday
Tasting Menus €95 – €145. Lunch €49.50-€59.50.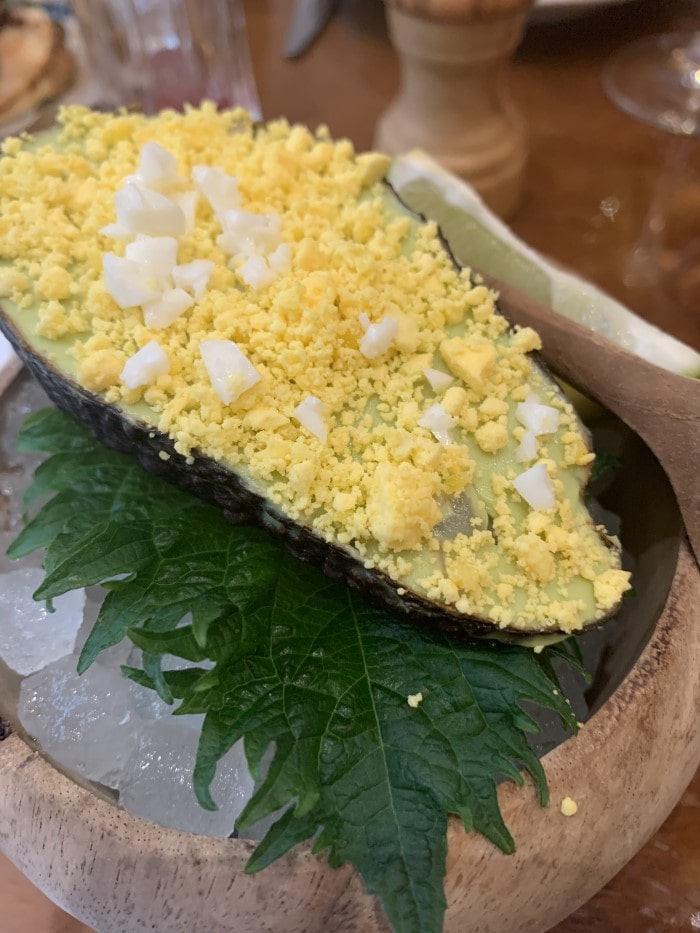 Chef Jean-François Piège has won almost as many awards as he's cooked hot dinners! His fifth Paris restaurant venture is located in the courtyard of the Hôtel de la Marine, commissioned by King Louis XV around 1758 and designed by royal architect Ange-Jacques Gabriel.
The handsome building is now open following a lengthy €100 million restoration and, with sunny décor by Dorothée Delay, Mimosa offers dishes which also take inspiration from the Mediterranean region. Start with the signature eggs mimosa topped with a choice of different ingredients like caviar, tarama or lobster. Other appetizers include thin sliced vegetables tempura; the Mimosa salad, punctuated with eel, is seized in a wood fire oven, as are fried eggs topped with black truffles. Mains include Mediterranean red tuna steak or the catch of the day anointed with Menton lemon emulsion. Perfect with the soft and spicy Chorey les Beane from Domaine Maillard Pere & Fils.
Piège, who hails from the Drôme region, was formerly chef at L'Hôtel de Crillon (where he met his wife Elodie) and Le Plaza Athénée, with Alain Ducasse. He was GQ Man of the Year 2015; his daring mix of traditional palace hotel codes and a hipster style of modern cuisine, rooted in classical French technique, caused a stir! Then, with Thierry Costes, he re-created Thoumieux, the Left Bank Brasserie, hotel and pâtisserie, where he won two Michelin stars. A tall, brooding, and thoughtful man, Piège has a penchant for antique books, Hublot watches, and Louboutin shoes. "My earliest memory of food is tasting Jacques Pic's sea bass and caviar dish when I was about 14," he recalls.
Book ahead for Mimosa, chic, cheerful and definitely "ze place to be."
Starters from €18 – Mains €48 – Desserts €16
2 place de la Concorde, 1st
Metro: Concorde,
Open 7/7
Lovely Terrace
Tel: 01 53 93 65 52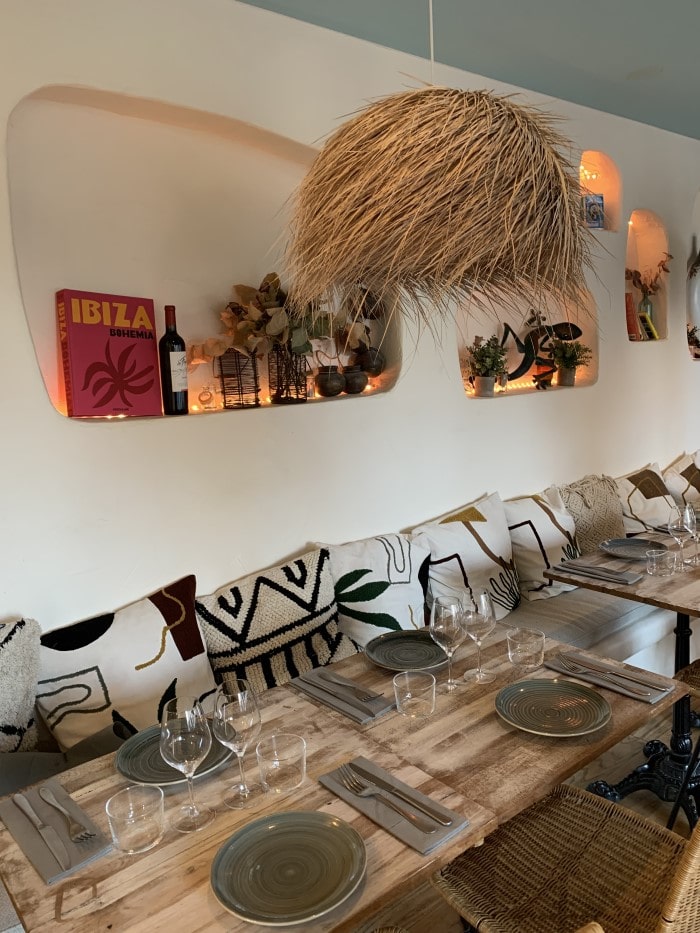 Originally created by cheffe Flora Mikula, this contemporary hotel/bar/auberge opposite the Richard Lenoir street market has been lovingly revamped by new owners. It's hipster, holiday attitude throughout the bright, light building (the décor is by Sebastien d'Evry)- informal but oh so professional. La Mesita buzzes with delightful, modern dishes by chef David Gutman, served from the tiny, all-day kitchen. Choose from hot and cold tapas & mezzes (to share or not) like oeuf mayo, sardines, falafel, delicious dips, salads, poke bowls, a huge soothing dish of roast cauliflower. The Greek yogurt and herbs should not be missed. Or try the Fish & Chips with sauce Andalouse, or the Cheeseburger or Greenburger. There's something for every taste; who'll resist Baba Limoncello,or Panettone Perdu with Nutella?
Quality/Price. La Mesita/The Table's a winner.
Lunch €17-€21 + A La Carte about €32 + wine
21 Ibiza-themed rooms and suites from €82
Sunday Brunch €24 or A La Carte.
Opening soon – Le Spa.
44 Boulevard Richard Lenoir, 11th
Metro: Bastille/Breuget Sabin,
Tel: 01 47 00 52 77
Pet Friendly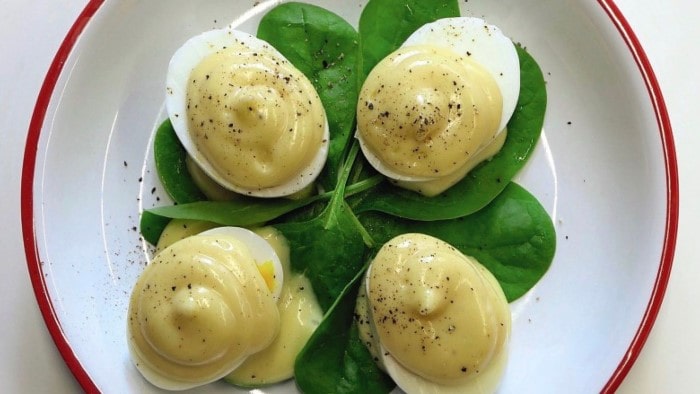 The Best Œuf Mayo in Town
With humor and passion, Claude Lebey, the late great French food critic and author, launched a concept in 1990 over lunch (what else?), which became the Association de Sauvegarde de l'Oeuf Mayonnaise, a non-profit organization to highlight this simple and satisfying bistro dish, the "oeuf mayo."
This year's ASOM award goes to Sébastien Devos chef at La Rôtisserie d'Argent. Judging took place at Ground Control, Paris. The jury was headed by chef Stéphane Jégo of L'Ami Jean.
Competing chefs are judged on specific criteria defined by the "Egg Mayo Charter." The egg must be cooked through, the yolk must remain soft, and the mayo house-made.
Devos' recipe (€9) includes a thin slice of boulangère de pomme de terre, potato seasoned with chicken jus vinaigrette. He cooks organic eggs from La Ferme du Pignon Blanc for 8m40s. The mayo ingredients include organic sunflower oil (from the same farm!) cut with a dash of peanut oil and mustard – add pickled mustard seeds, mustard leaf, freshly ground pepper. Voilà!
Bravo! Oui chef! "Le Temps Passe, Les Œufs Durent." -Claude Lebey 1923-2017
La Rôtisserie d'Argent
19 Quai de la Tournelle, 5th
Metro: Sully Morland
Tel: 01 43 54 62 53
Open 7/7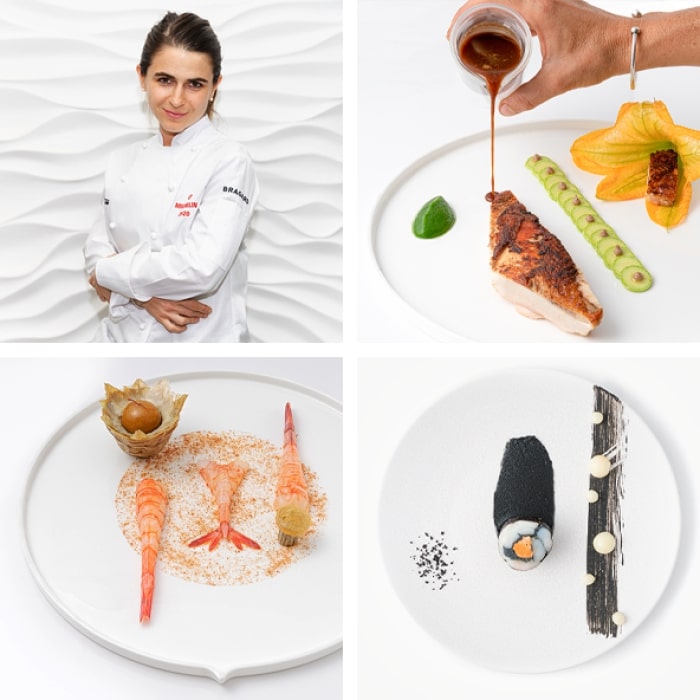 New at the Ritz Paris
In a bold move, considering the male-dominated world of chefs, Eugénie Béziat will take over the kitchens as Head Cheffe (replacing Nicolas Sale) at the ** Michelin, L'Espadon at The Ritz Paris, starting April 1st.
Until then, the 30-something talent holds a Michelin star at La Flibuste in Villeneuve-Loubet, on the port at Marina Baie des Anges, near Nice. The pretty upper village of Villeneuve-Loubet is where Auguste Escoffier, who in 1898 became the first chef at The Ritz Paris, was born in 1846 (and buried there in 1935). Also, at Villeneuve-Loubet the eponymous museum, dedicated to his life, is waiting for you.
Lead photo credit : The Salon des Manufactures. © Philippe Vaures Santamaria
More in dining, food, French food, restaurant
---
---