Mamibaba, Le Grand Véfour and More: Winter 2021 Food News
The pandemic has not been kind to restaurants. But with endless creativity, restaurateurs have worked through the challenges by adapting services, redesigning their spaces, and coming up with new offerings. We can always look on the bright side! Here's some winter Paris food and restaurant news to note.
The storied 2-star Michelin restaurant has a new mission statement: "conviviality & simplicity."
Guy Martin, Le Grand Vefour's chef since 1990, tells us he's taken advantage of the past year to rethink client requirements, in terms of cooking and service. There are changes he thinks are necessary following the long months marked by the cruel Covid-19 pandemic.
"I've been thinking about this for over a year, along with head chef Pascal Pugeault and the brigade, and we want to know: where are we going after such a crisis? What are customers expecting from us as we head towards a new world? We've experienced lockdowns, curfews, businesses closing their doors, the industry in need … It's a difficult situation that affects everyone. We'll come out of this crisis as different people," says Guy Martin.
"Of course the new style Grand Véfour will always serve top quality cuisine – I don't know how to do otherwise," emphasizes the chef. Suppliers will remain the same for the most part. But like the joyful and effervescent Café de Chartres of 1784 (later known as Le Grand Véfour), it will be more relaxed – sometimes with music!"
Inside the magnificent, historic-listed rooms where Napoleon & Josephine, Jean Cocteau, Victor Hugo, Colette and Coco Chanel once dined, the restaurant returns to a configuration similar to that which existed before Guy Martin's arrival. Cherry on the gâteau, there are now two beautiful terraces, with custom-made furniture, and Le Grand Véfour waits to welcome customers for breakfast, lunch, afternoon tea and dinner.
On the first floor, the Artist's Salon, so dear to the chef, has a contemporary new vibe created by French visual artist Claudine Drai.
"Menus du Jour" from Monday-Saturday are priced at €45 and €57. And Sundays a fixed-price, three-course menu is priced at €65+ wine. A La Carte starters (from €21) include Onion Soup; Sesame oil and ginger marinated tuna, seaweed and avocado; Beef cheek and vegetable terrine, sauce ravigote; and Duck foie gras, confit of mango with Columbian spices. Priced from €26, the mains include Butternut risotto spiked with black sesame; Pan fried Merlu (hake), grenailles potatoes, baby spinach with Voatsiperifery emulsion (wild red Madagascar pepper); Tneder Venison noisettes, carrot purée, carrot and orange juice sprinkled with grains de paradise. All these divine things are followed by regional cheeses and fabulous deserts like the Baba tonic citron with juniper berries, house made ice cream, and praline eclairs. Not to mention Grandmother Martin's sensational Gâteau de Savoie.
"I never forget the first time I crossed the Palais Royal Gardens to go to Le Grand Vefour," explains the chef. "It brings to mind the words of Paul Cézanne: "Nature is always the same, but nothing in her that appears to us, lasts. Our art must render the thrill of her permanence along with her elements, the appearance of all her changes. It must give us the taste of her eternity. So I take these wandering hands, here and there its tones its nuances, I fix them, I bring them together. They make lines. They become objects, rocks, trees, without my thinking about it."
"I don't regret the past. I was lucky enough to snag the Michelin stars, but, faced with a different era, it's time to offer something different, n'est ce pas?"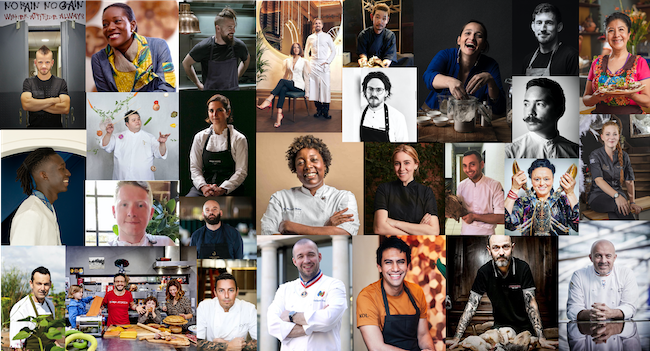 La Liste
A French ranking that seeks to recognize the best 100 restaurants in the world, La Liste has taken a different tack for 2021. Special awards will celebrate commitment, resilience and innovation across the global gastronomy sector.
Due to health constraints, La Liste was obliged to cancel its glittering annual event, scheduled last November at Paris Quai d'Orsay. Subject to travel restrictions, they're planning new celebrations in 2021 "to bring back the spirit of conviviality and community among our chefs and partners."
This year 10 new special categories (including Artisan and Authenticity, Openings of the Year, Hidden Gems) reward the work of those who have adapted and reinvented themselves during the crisis – building the gastronomy of tomorrow.
For example, "Community Spirit Award – Chefs for Health Workers" is the initiative of Elysée Palace head chef Guillaume Gomez, journalist Stéphane Méjanès and the Paris Hospitals Trust. It illustrates the strength of community spirit, solidarity, and generosity across the sector as it serves hot meals to hospital staff. To date, 776 chefs have cooked for 146 public hospitals and 119 private hospitals, serving 104,767 meals. The produce is supplied by wholesalers from Rungis International Market and the TipToque website handles logistics.
"And the Digital Influencer Award" goes to … Simone Zanoni, the Italian chef at the shuttered restaurant Le George, Four Seasons Hotel George V. Creating Italian recipes from his own kitchen, Zanoni puts his motto Bomba Atomica on a range of food products and accessories available online, calling his family adventure Casa Zanoni, which quickly became a digital sensation.
"Despite repeated closures and low morale, the restaurant sector never gives up. La Liste aims to be the catalyst supporting restaurants' recovery by recognizing exceptional individuals who stand up and face the crisis, shaping the future of gastronomy," says Hélène Pietrini, managing director newly appointed by Philippe Faure, founder of La Liste. "Gastronomy will always be ready to change and reinvent itself," adds Mme Pietrini.
For the full list of winners and to download "Gastronomy Observer," head to La Liste website.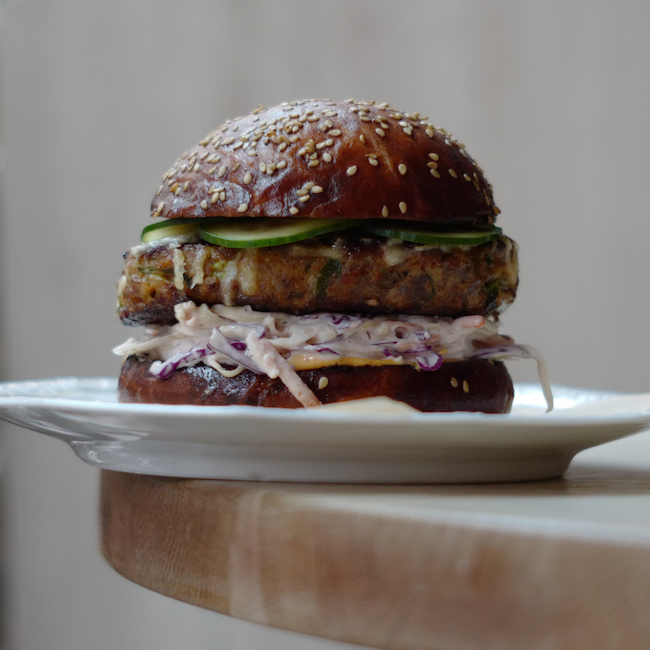 Mamibaba by Quinsou
Chef Antonin Bonnet heads the marvelous Michelin 1* Quinsou and the bold Boucherie Grégoire. Now, obliged by the pandemic curfew, he proudly presents Mamibaba, serving daring and delicious Korean street food.
Using produce from Boucherie Grégoire expect 100% exciting, original, smokin', spicy, homemade cuisine, from buns to sauces. Choose from starters such as pork ravioli, shiitake & tofu, served in an iodized broth; thin pancakes with mussels and spring onions, or, ever tasted Golbengui? There's a spicy whelk salad, vegetables & Somyeon (thin wheat flour noodles). Finger lickin' good, KFC (Korean fried chicken) with Gochugaro (hot peppers) radish sauce with vinegar and turmeric. The Hot-Dog MamiBaba nestles in a house made bun, served with herbs & kimchee, pear ketchup and radish pickles. Or try the Korean Meatloaf Burger with pork & beef gochujang (sweet, sour, fermented red chilli paste), coleslaw mustard and emmental cheese. Bossam – a traditional Korean dish – consists of a braised pork blade, Artouan oyster and steamed tofu – rocking the land-sea card. For dessert, there's a black sesame waffle laced with cinnamon whipped cream. Match with Quinsou beer or Kombucha Ginger, both €5.
33, rue de l'Abbé Grégoire, 6th arrondissement
Available via Click & Collect Wednesday – Saturday from 12pm – 2pm. Deliveries on Resto Paris from Wednesday – Saturday from 12pm- to 2pm, and 6pm – 8 pm. Price: Starters €11/12 – Main courses €13/28 – Desserts €6.5 / € 7.5
Need to Know: Its' named for Jina, Bonnet's partner, AKA MamiBaba.
Want to be inspired by more French foodie experiences and enjoy classic French food, wine and recipes? Head to our sister website, Taste of France, here.
Lead photo credit : Photo courtesy of Le Grand Vefour
More in French food, gourmet cuisine, Paris restaurants
---
---
Comments