Interview with Benjamin Patou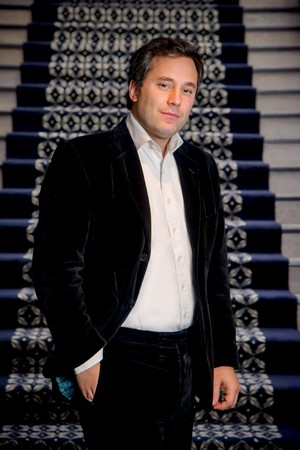 Creator of Moma Group, Benjamin Patou, great-nephew of couturier Jean Patou was born in Neuilly where he lives to-day. Dubbed "le roi de la nuit parisienne" Patou began his brilliant career as a DJ and has since acquired several top Paris hot-spots. His dream is to buy into Jean Patou and restore it to its former glory.
What are you most proud of in terms of your own achievement?
My family and my project in Morocco www.aide-et-action.org that helps underprivileged children.
What's your secret talent?
To take up challenges, have fear of nothing. My mother died when I was 8, nothing can be as devastating as that loss. But it makes you strong.
Were you born in Paris or moved there?
I was born in Paris in the suburb of Neuilly where I still live to-day with my wife and children.
If you could share a coffee or bottle of wine with a fellow Parisien from past or present who would it be?
Avec Margaret Kemp, he chuckles! No, but seriously. Well it would have to be Claude Lelouch, film director, actor, producer. He's a great friend and we spent New Years Eve with him in the mountains. I've watched all his films at least ten times! I'm hoping to organise an event with him in September, it will be an hommage to his 50 years of cinema.
Is there a local person you admire?
It would be Frederic Chopin, born in Poland, who lived a great deal of his life in Paris. I identify with him each day when I play my Bechstein piano.
What's Your Favourite Thing about Paris?
Montmartre.
What's the one thing every Parisen should own?
A chauffeur!
An Item you can't live without?
A piano.
Any pet peeves about Paris?
Stress, vulgarity. I love beauty.
Favourite Place to go for lunch?
L'Arc, with the best view in the world. I happen to own the place so have a good excuse to see what's going on. Chef Anthony Germani and pâtissier Ryotaro Sato create French neo-classical dishes with subtle hints of Asia.
Favourite Place for dinner?
Caviar Kaspia, place Madeleine for the caviar and spectacular grilled crab
Best address for coffee or drinks?
The Bar at Le Plaza Athénee
Where do you shop for clothes?
Ralph Lauren at place Madeleine.
Where do you shop for produce/groceries?
Always in the Normandy countryside, from little farmers and, near Calvados, I stock up at Epicerie de Cambremer, Place de l'Eglise which is on the cider route of Pays d'Auge find them on this site.
Your favourite neighbourhood?
Montmartre
Most fun thing to do in Paris?
Drive along the bus lanes, otherwise you never get anywhere!
What's the "touristy" thing you'd secretly like to do in Paris, but haven't?
Organise an event at The Elysée Palace, official residence of the President of the French Republic, containing his office, and where the Council of Ministers meets. It is located near the Champs-Élysées in the 8th arrondissement.
What's the most "touristy" thing you've done in Paris?
Go to the top of the Eiffel Tower
Best Life Lesson you've learned?
From meeting brave children with cancer. Les P'tits Cracks, created in 2001, funds medical equipment to improve the conditions of sick kids during their hospitalisation. Beyond the hospital, Les P'tits Cracks invites the young convalescents to equestrian camps and cultural and pedagogical escapades to rebuild themselves physically and psychologically. Every year, more than 600 children benefit from these actions.
Three words to live by?
Dream, emotion, passion
One thing you would change about the world?
All forms of injustice
One thing you wish Parisians would stop whining about?
La Meteo ! (the weather)
You've only got 25 euros left – how would you spend them?
Chocolate Eclairs and Macarons from Pierre Herme
Favourite Book?
I can't read ! (chuckles). Actuallly it's Le Livre de Ma Mere by the Swiss writer Albert Cohen
All time favourite movie?
Claude Lelouch's Itinéraire d'un Enfant Gâté with Jean-Paul Belmondo
Favourite city to visit (apart from Paris)
Barcelona
Is there an annual event like a festival, gala, or an exhibit that you look forward to every year?
Yes, Opéra en Plein Air that I organise from June to September. This year The Magic Flute by Mozart should not to be missed in September at Les Invalides. Awesome!
What's the one venue you HAVE to take an out-of-town guest to in Paris?
The Bus Palladium, a place that rocks in Paris!
Leave a reply
Your email address will not be published. Required fields are marked *