Buzz Citrus Etoile, Brunch Chez Kayser at Bercy Village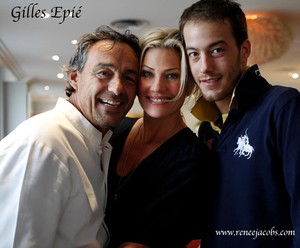 Alert readers will recall Citrus Etoile as a favourite BUZZ addy. Gilles and Elizabeth Epié, the Fred Astaire and Ginger Rogers of French cuisine, understand the Art of Service, a warm welcome, flute of champagne, delicious amuses while you muse over the menu.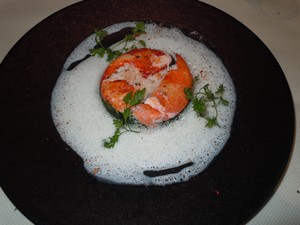 Spring's arrived at Citrus, the new menu a celebration, beginning with green asparagus served warm with salmon caviar, egg yolk, lime and soy sauce velouté. An epic new lobster dish includes spinach and onions, coconut milk and sweet wasabi. Duck foie gras raviolis, morel mushrooms and provenҫal beef juice may sound heavy; it's not. Trust me. French Langoustines are marinated with lime and litchis. Wild sea bass « Sashimi », white asparagus, olive oil and fresh mint go well with a glass of slightly sweet white wine. Service is as smooth and syncopated as a waltz by Ginger and Fred.
Plat du jour on Wednesday was slow cooked beef cheeks. Or choose from Lobster ravioli and watercress with morel mushrooms, a drizzle of lobster bisque. Cod's poached in saké, ginger and soy sauce broth, with a side of pea purée and onions. John Dory's seared, bay leaves slipped "between the sheets", then garnished with vintage balsamic vinegar sprinkled on sorrel salad. Rack of lamb simply roasted comes with corn and pea ravioli, mint leaves, lamb jus. Soy flavoured chicken breast is enhanced with lime, prawn, shrimp, lobster reduction and crispy spring vegetables.
The celeb (no names) on the next table ignored his date as he demolished filet mignon of beef with seared foie gras, grilled white asparagus "Rossini style".
The date looked upset, maybe because he tucked his napkin into his neck? Refused dessert, but, "the man with no name" was unaware, head down into an aromatic Java Grand Cru cocoa soufflé, vanilla ice-cream and cream Chantilly.
The date should have at least tasted, Roquefort, walnut and apricot terrine, mesclun salad. Not many calories in Caramelized pink grapefruit marmalade, sour whipped cream and suzette sauce is there babe? Nor in Pearls of marinated cantaloupe with ginger and lime or Red Berries, cottage cheese sorbet. Epié has cooked for le tout Hollywood, who make special journeys to rue Arsene Houssaye. "They know they won't gain weight with my cooking, it's without grease, I learned that in California", he admits.
And, there's a new toque on the block. Meet the son. Renald Epié, quiet good looking, passionate. His favourite dish on the menu is the old man's signature, Beignets de foie gras. "And the joue de boeuf", he adds. "With the purée of truffles". Renald loves to work fish and vegetables and is super-proud of the saké poached cod dish on Citrus' Spring carte.
Renald lived in the USA for a few years, then came to France, as you do, to serve his culinary apprenticeship chez Monsieur Ducasse, at the magnificent Bastide de Moustier in the Alpes de Haute Provenҫe, for two years. Staying with the Ducasse organisation Renald came to Paris and Il Cortile and Spoon.
"When dad returned from California I spent six months by his side at La Petite Cour, Saint-Germain", he says. Offered his first post as chef at La Villa Coloniale (15th) he stayed two years. Then back to Ducasse and the legendary Louis XV, Monaco (celebrating 25 years this year) and the now defunct Bar&Boeuf. Then exciting cooking in Quatar at the French Embassy and Cape Town. South Africa. "Finally I decided to put down some roots and here I am", he opens his arms. "I'd like to change to décor a bit, the pompom girl chandeliers bother me", he admits.
After service Renald can be found at L'Assiette, David Rathgeber's bistro, rue du Chateau, 14th, and at William Ledeuil's Ze Kitchen Gallery. If he hadn't taken culinary orders Renald would have been a DJ, rap and rock feature on his I-pod and he loves to cook for Slash when he's in town. Dream holidays are in Thailand, "for their products, the culture, and I also love Japan and Hong Kong". Respect !
Citrus Etoile
6 rue Arsene Houssaye, 8th
Metro: Charles de Gaulle Etoile.
T: 01 42 89 15 51
Open Mon-Fri Lunch & Dinner
Lunch 52€ + A La Carte
Dinner Average Spend for three courses – 74€ + wine
Valet Parking
On facebook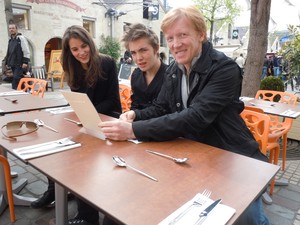 Eric Kayser should run a competition. Which is your favourite Kayser? Tough! Guess how many Maison Kayser's there are in the world? More than 100! Twenty in Paris and, outside the capital, lucky citizens of St. Germain en Laye and Lyon enjoy his baking.
Forget the diet and tuck into signature house breads, each branch has one, plus a mind-blowing selection of seasonal pains and patisseries, desserts, salads, everything you need for a picnic or a satisfying breakfast, lunch, brunch or dinner.
But let's concentrate on le Bercy brunch. Located at Cour Saint-Émilion where the metro station opened in 1998. Named in hommage to Saint Emilion wine because it replaced the old Bercy railway station where wines from south of France were delivered. The station entrance opens onto Bercy Village, now a chic shopping area replaces old Bercy wine warehouses. There's lots of restaurants, bars boutiques Coté Maison, Dammann Freres, Arteum, Agnes b, Alice Délice. And, if you want to send him off, while you shop there's always the Musée des Arts Forains or a stroll in Bercy Park.
Eric Kayser's latest address was a former Club Med now it's a bright contemporary space where you can take away or eat sur place. The talented Jean Imbert, participating in the must-watch every Monday night M6 "Top Chef 2012" and owner of L'Acajou in the posh 16th arrondissement has created the menu, in collaboration with EK.
Wearing the whites is EK's best friend at school, the delightful Taleb Daher. Imbert and Daher met while training at L'Institut Paul Bocuse, each went their separate ways with Daher at Le Meurice, Majestic Cannes and Le Scribe before heading the Malesherbes bakery.
Daher explains that bread has always been, will always be, the signature of Maison Kayser. And, of course there's a Bercy bread, as there is for each establishment. "Pain de Bercy" shaped like a wheatsheaf, the flour, rich in oligoelements, is made to a secret recipe Kayser keeps in the safe.
So turn left under the arch from the metro into the atmospheric Cour and tuck into Kayser's spin on brunch/lunch/super-snacks. "Mmm excellent jam, superb pain et les oeufs et salades à tomber!", said Tanguy Kayser, as dad and mum introduced the family to the new Maison Kayser. It really is a family affair. Please tell us which is your favourite Kayser.
Le Restaurant du Boulanger by Eric Kayser,
41 cour Saint-Emilion, Bercy Village, 12th
Metro: Cour St. Emilion (14)
T: 01 43 46 08 09
Open 7/7 7h-23hrs
Sunday Brunch – 11h-15hrs – 25€
Need to know:
Guy Martin, two-star (should be three) chef at Le Grand Vefour, Paris, chevalier since 2003, is decorated Officier de la Légion d'Honneur in the Easter Sunday awards, by President Nicolas Sarkozy.

Subscribe for
FREE

weekly newsletters.
BonjourParis has been a leading France travel and French lifestyle site since 1995.
Readers' Favorites: Top 100 Books, imports & more at our Amazon store
We update our daily selections, including the newest available with an Amazon.com pre-release discount of 30% or more. Find them by starting here at the back of the Travel section, then work backwards page by page in sections that interest you.
Current favorites, including bestselling Roger&Gallet unisex fragrance Extra Vieielle Jean-Marie Farina….please click on an image for details.
Click on this banner to link to Amazon.com & your purchases support our site….merci!
Leave a reply
Your email address will not be published. Required fields are marked *