Claude Debussy – Music and the Arts at Orangerie until June 11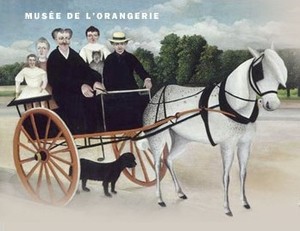 As a writer, when I sit down to work on a piece, there are several things that must be in place before I can even think to commence. I must have already drank a cup of coffee, my water glass must be filled, there must be complete silence, and I must be able to look out the window at the city of Paris which serves as my inspiration. For Claude Debussy, one of France's legendary composers of the early 20th century, that writing process could not begin until he was surrounded by the visual arts that inspired him. "I like pictures almost as much as I love music," Debussy said in 1911, and with the current exhibit "Debussy-Music and the Arts" at the Orangerie until June 11, this statement is proven to be true. The pictures of his admiration were those that took the form of seascapes, night scenes, mists and reflections of light on water, as well as contemporary new styles. Debussy also surrounded himself with the artists of his time that distanced themselves from tradition such as Edgar Degas, Camille Claudel, and James McNeill Whistler, to name a few. As a struggling artist, Debussy was able to see these pieces through the help of three family friends (Arthur Fontaine, the painter Henry Lerolle, and the composer Ernest Chausson) who served as the patrons for his and the young, Maurice Denis' early works. This artistic circle is shown in the exhibit by a series of oil paintings featuring salons, leisure, and naturally, scenes of families around a piano. There are plenty of works by both Lerolle and Denis on display here, with the most breathtaking, being Lerolle's "Jardin des Tuilleries, Le Soir" from 1890, which depicts the garden with an all-consuming twilight sky as dark figures retreat into the trees. Debussy and his friend Pierre Louys were additionally both caught up in the enthusiasm aroused by the archaeological excavations carried out by the French School of Athens in the late 19th century. In 1894, Louys successfully passed off his "Songs of Bilitis" as genuine ancient texts, which prompted Debussy to set them to music, resulting in the "Prelude to the Afternoon of a Faun." This return to Antiquity is shown in the exhibit through Debussy's own collection of Egyptian funerary urns. An orchestral book used for the piece is also on display. From a young age, Debussy was an avid reader of artistic journals and poetry. At the age of 20, he began setting music to works from the likes of Baudelaire and Verlaine. This continuing interest led to what is considered by many to be his ultimate masterpiece as well as his one and only opera, "Pelleas and Melisande," which was inspired by Maurice Maeterlinck's play of the same name. On display, are Debussy's own hardcover copy of the play, sketches of original costume designs, and a portrait of Maeterlinck by Edward Steichen from 1906. Although in society, he surrounded himself with contemporary French works and artists, Debussy found the most inspiration from the Chinese and Japanese art that he kept in his home. In 1895, Seigfried Bing opened a gallery devoted to Asian art, where Debussy was a frequent visitor. He surrounded himself with materials of jade, fine porcelain, and black and gold lacquer. Debussy felt these objects provided the visual equivalent of his musical world at its most sensitive. References to the timbers and harmonies of the music of these still-distant countries can be heard in several of Debussy's piano arrangements. It is in this room of Asian works, that visitors have the opportunity to sit down on a circular velvet couch and listen to excerpts of Debussy's opera through a small sound system. Perhaps this is the only flaw of the exhibition, as the listening area is misplaced chronologically, and it would have been more compelling to hear Debussy's music throughout the entire exhibit, fully fueling the inspiration on both ends. The exhibit concludes with "Debussy and Nature," circling back to the composer's love of specific oil landscapes that run parallel to the harmony found within his music. For Debussy, works by Degas, William Turner, and Claude Monet's "Nympheas" encompassed the simple, yet forward-looking landscapes that moved away from sensations and into the psychological barrier of feelings, much like the musical language the composer succeeded in accomplishing on his own. <br>
SUBSCRIBE
ALREADY SUBSCRIBED?
BECOME A BONJOUR PARIS MEMBER

Gain full access to our collection of over 5,000 articles and bring the City of Light into your life. Just 60 USD per year.

Find out why you should become a member here.

Sign in

Fill in your credentials below.
As a writer, when I sit down to work on a piece, there are several things that must be in place before I can even think to commence. I must have already drank a cup of coffee, my water glass must be filled, there must be complete silence, and I must be able to look out the window at the city of Paris which serves as my inspiration. For Claude Debussy, one of France's legendary composers of the early 20th century, that writing process could not begin until he was surrounded by the visual arts that inspired him.
"I like pictures almost as much as I love music," Debussy said in 1911, and with the current exhibit "Debussy-Music and the Arts" at the Orangerie until June 11, this statement is proven to be true. The pictures of his admiration were those that took the form of seascapes, night scenes, mists and reflections of light on water, as well as contemporary new styles. Debussy also surrounded himself with the artists of his time that distanced themselves from tradition such as Edgar Degas, Camille Claudel, and James McNeill Whistler, to name a few.
As a struggling artist, Debussy was able to see these pieces through the help of three family friends (Arthur Fontaine, the painter Henry Lerolle, and the composer Ernest Chausson) who served as the patrons for his and the young, Maurice Denis' early works. This artistic circle is shown in the exhibit by a series of oil paintings featuring salons, leisure, and naturally, scenes of families around a piano. There are plenty of works by both Lerolle and Denis on display here, with the most breathtaking, being Lerolle's "Jardin des Tuilleries, Le Soir" from 1890, which depicts the garden with an all-consuming twilight sky as dark figures retreat into the trees.
Debussy and his friend Pierre Louys were additionally both caught up in the enthusiasm aroused by the archaeological excavations carried out by the French School of Athens in the late 19th century. In 1894, Louys successfully passed off his "Songs of Bilitis" as genuine ancient texts, which prompted Debussy to set them to music, resulting in the "Prelude to the Afternoon of a Faun." This return to Antiquity is shown in the exhibit through Debussy's own collection of Egyptian funerary urns. An orchestral book used for the piece is also on display.
From a young age, Debussy was an avid reader of artistic journals and poetry. At the age of 20, he began setting music to works from the likes of Baudelaire and Verlaine. This continuing interest led to what is considered by many to be his ultimate masterpiece as well as his one and only opera, "Pelleas and Melisande," which was inspired by Maurice Maeterlinck's play of the same name. On display, are Debussy's own hardcover copy of the play, sketches of original costume designs, and a portrait of Maeterlinck by Edward Steichen from 1906.
Although in society, he surrounded himself with contemporary French works and artists, Debussy found the most inspiration from the Chinese and Japanese art that he kept in his home. In 1895, Seigfried Bing opened a gallery devoted to Asian art, where Debussy was a frequent visitor. He surrounded himself with materials of jade, fine porcelain, and black and gold lacquer. Debussy felt these objects provided the visual equivalent of his musical world at its most sensitive. References to the timbers and harmonies of the music of these still-distant countries can be heard in several of Debussy's piano arrangements. It is in this room of Asian works, that visitors have the opportunity to sit down on a circular velvet couch and listen to excerpts of Debussy's opera through a small sound system. Perhaps this is the only flaw of the exhibition, as the listening area is misplaced chronologically, and it would have been more compelling to hear Debussy's music throughout the entire exhibit, fully fueling the inspiration on both ends.
The exhibit concludes with "Debussy and Nature," circling back to the composer's love of specific oil landscapes that run parallel to the harmony found within his music. For Debussy, works by Degas, William Turner, and Claude Monet's "Nympheas" encompassed the simple, yet forward-looking landscapes that moved away from sensations and into the psychological barrier of feelings, much like the musical language the composer succeeded in accomplishing on his own.
More in Art, France artists, French artists, Museum, Orangerie, Paris art exhibits, Paris art museums, Paris artists, Paris museums
---
---