Reviews: Park Hyatt Paris-Vendôme + Hyatt Regency Paris-Madeleine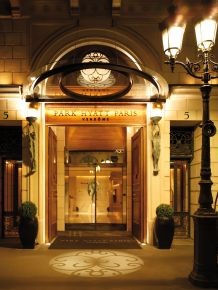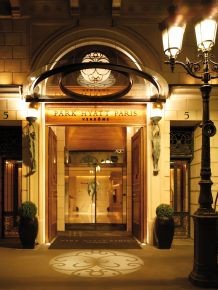 The luxurious Park Hyatt Paris-Vendôme is located in the heart of Paris, with attractions such as The Louvre, Place Vendôme, Opéra Garnier, and Musee d'Orsay just a few steps away.
The 5-star hotel, which overlooks Rue de la Paix, is a visual treat with its striking, yet elegant, architecture. Modern and classic styles come together in a delicate fusion. There is a sensual feel to the hotel which is further underscored by the distinct Blaise Mautin aroma that is pumped throughout the hotel. Those who love it, will forever associate their stay with the scent. (Many even choose to bring it home by purchasing a lotion or candle from the hotel.) Those who don't enjoy the smell are out of luck – it is everywhere. It's even infused into the hotel's macarons.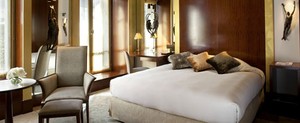 Thanks to American interior designer Ed Tuttle, the state-of-the-art, high ceiling rooms are exquisitely decorated with impeccable detail. Lacquered mahogany, silk, marble… and the beds are comfortably lush. Nothing is over-the-top, yet it is all undeniably luxurious, working hard for each of its five stars. Understated, but posh all the same. Perfect, but not sterile. Bronze sculptures that seem to emerge out of walls add a particularly artistic touch to an otherwise minimalistic layout.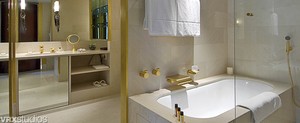 But something that often seems like an afterthought may surprise you: The bathroom. Clearly, a lot of thought went into the spacious bathroom. Its clean lines, muted palette, and modernist approach, lend it an almost meditative, zen-like feel. The limestone bath comes with floor heating, there is a stone-enclosed rain shower, and the Blaise Mautin toiletries are a treat.
Although there is no shortage of incredible food in Paris, the hotel also presents some choices that are sure to lure guests in. Their Michelin starred restaurant, Pur', for starters. Then there's also La Bar, Les Orchidées, La Cheminée, and La Terrasse. For those wanting to retreat, the hotel also features a spa and fitness centre, Le Spa.
There's a sense of anonymity to the hotel, a certain coolness that many may love and some might find a little cold. But undeniably, offers a magnificent architectural experience to dwell in.
A stay at the Park Hyatt Paris-Vendôme, however, comes at a price. Rooms generally start at 800 euro (but can be as low as 540 euro during low season).
Park Hyatt Paris-Vendôme
‪5 rue de la Paix, 75002 Paris, France‬
+33 1 5871 1234
[email protected]
paris.vendome.hyatt.com
For a less expensive alternative within the same chain, try Hyatt Regency Paris-Madeleine. There's a distinct business-like feel to the property and although the hotel has a much simpler approach than its counterpart, it also sports a contemporary design and polish. Rooms feel rather spacious and are well-appointed with large modern bathrooms and comfortable beds. You'll be sure to get a good night's sleep here – especially after a busy day of walking the cobblestones of Paris.
The location is quite central, right next to the Eiffel Tower. Be sure to ask for a room with a view of the Eiffel and you won't be disappointed, especially at night when it begins to sparkle like champagne for the first 15 minutes of every hour.
Although the hotel is central with a metro nearby, it is tucked away in a quiet spot, which feels nice after a busy day. There are some sophisticated dining options within the hotel. The M Champagne Bar and La Chinoiserie are good spots to retreat to with a glass of bubbly before bedtime. They deliver, but aren't out of the ordinary. However, the staff are impeccable throughout the hotel.
Although advertised rates appear fairly high, there are definitely some deals to be had if you shop around on different websites.
Hyatt Regency Paris-Madeleine
‪24 boulevard Malesherbes, 75008 Paris, France‬
+33 1 5527 1234
[email protected]
paris.madeleine.hyatt.com
Katherine Brodsky is the Associate Editor of BonjourParis. She can be reached at kb[at]bonjourparis.com


Subscribe for
FREE

weekly newsletters.
BonjourParis has been a leading France travel and French lifestyle site since 1995.
Readers' Favorites: Top 100 Books, imports & more at our Amazon store
We update our daily selections, including the newest available with an Amazon.com pre-release discount of 30% or more. Find them by starting here at the back of the Travel section, then work backwards page by page in sections that interest you.
Current favorites, including bestselling Roger&Gallet unisex fragrance Extra Vieielle Jean-Marie Farina….please click on an image for details.
Click on this banner to link to Amazon.com & your purchases support our site….merci!
Leave a reply
Your email address will not be published. Required fields are marked *