Bastille Day: Where to Eat in Paris on July 14
"In Paris, our lives are one masked ball." – Gaston Leroux, author of Phantom of the Opera, 1868-1927
Bastille Day, celebrated throughout the Hexagon on the 14th of July, is perhaps the biggest and most important festival in the French calendar. It commemorates the day Parisian commoners and peasants stormed the fortress and prison of Bastille. This provoked events that would end the monarchy and usher in the age of "liberty, equality and fraternity." Celebrations include major-league public events, parties, Bals Populaires, and Bals des Pompiers (Fireman's Balls).
Official Parisian festivities begin on the morning of the 14th with an impressive musical military parade (6,300 participants) along the Champs Elysées in the presence of President Macron and specially invited French and foreign dignitaries. Expect to admire: all the President's horses (200) 71 aircraft, 25 helicopters. At sunset, there's a firework extravaganza with the Eiffel Tower as backdrop.
Some take picnics to the Champs de Mars. But, where can we eat?
This unique, Seine-side, ***Michelin restaurant has welcomed guests within the historic building of the Monnaie de Paris since 2015.
"We don't have a menu, special dish or artwork for July 14, because every day is a party chez nous," says Guy Savoy. "However, we have the good luck to admire the annual air parade, it flies right over Restaurant Guy Savoy! Two years ago, I welcomed the general in charge of the French Air Force and his English counterpart to our table and, as it was July 14th, they were both in full uniform. They appreciated the cuisine," adds the chef. "I didn't dare sing the Marseillaise, even less play God Save the Queen."
Chef's not divulging the dishes chosen by the military, but they could have included: Foie gras sliders followed by the velvety smooth signature Soupe d'artichaut (if Savoy could be a vegetable it would be his adored artichoke) with warm flaky brioche, spiked with mushrooms, spread with molten truffle butter. Then oysters, oysters, and yet more oysters. The shells lined with oyster purée, a dab of cream, strip of sorrel, twist of pepper, dash of lemon. Saint-Pierre, roasted whole, paired with oursins and crosnes, filleted tableside. Perhaps they clinked glasses with an elegant Châteauneuf-Du-Pape 2008, Domaine de Beaurenard. Then, Madame Quatrehomme's cheeses with warm bread maison. Desserts? Millefeuille, agrumes, boule noir, a trolley laden with sweets, chocolates, almonds, warm madeleines… bliss!
Additional information
A La Carte – €250 + wine
Monnaie de Paris
Quai de Conti, 6th
Metro: Pont Neuf
Tel: +33 (0)1 43 80 40 61
Head up to Montmartre, the views are spectacular, a marvelous spot to watch the fireworks. Find the best chicken ever chez Coq & Fils (Mission Statement: "our birds are never stressed"). "According to the season, our beautiful birds include Coucou de Rennes, AOC de Bresse, Cou Nu du Forez, Gauloise Blanche," says celebrity super chef Antoine Westermann (***Le Buerehiesel, Alsace, Drouant, Paris etc.)
And Eggz? Organic, of course, are served deviled, Scotch, Mayo Westermann's way, fried. I love the Poultry House Burger with Poujauran bun (€16), paired with a glass of red or white (€6), and the Coq's Ile Flottante dessert (€14)
Westermann, along with young chef Mathis Devaux and the brigade, will have tricolor flags ready for their favorite day/night of the year. Westermann regrets that his best friend Paul Bocuse is no longer here to celebrate with him. "He loved Coq&Fils," Westermann recalls. "But said there was only one thing wrong! That he didn't think of this concept first!"  Respect!
Additional information
Average Spend: €55 + wine Dish of the Day (€18). Fridays salutes Fish of the Day with chicken giblets, jus and mash.
98 rue Lepic, 18th
Metro: Anvers/ then climb the steps or take the funicular
Tel: +33 (0)1 42 59 82 89
"When we acquired our restaurant in 1992, we named it because we knew it would always have good festive ambiance," explains chef Makesh. "We're not pretentious, a neighborhood bistro. Come for a glass of wine (from €4.60) or a complete meal, taste our traditional French cuisine seven days a week. Nothing's imposed."
Chef suggests:
House Terrine (€7)
Les Cochonneries du "Pere Pichon" (€12)
Croustillant of goat's cheese, honey, mint (€8)
Avocado, shrimp millefeuille, a touch of curry (€10)
Saumon cru (€9)
Followed by, say, veal kidneys, Porto sauce, grenailles potatoes (€18); veal escalope, sauce Normande, chips (€17); or sea bream fillets roasted in olive oil (€18). Seasonal cheeses, green salad (€7) and for dessert, there are wicked profiteroles, chocolate fondant, Cointreau crème brûlée, and/or ice creams and sorbets. The silky Beaujolais Fleurie de Chermette is suitably celebratory (€6-€25).
Additional information
(Monday to Friday (€14) lunch formula but not jours fériés!
99 rue Didot, 14th
Tel: +33 (0)1 40 44 99 19
Metro: Plaisance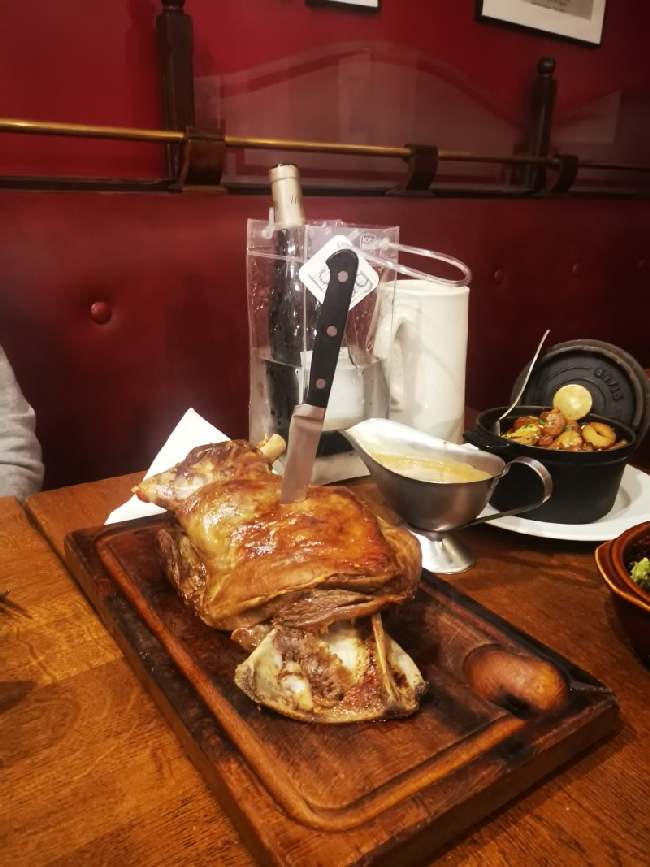 Guinguette maritime attitude, four minutes from Place de la Bastille – where it all began! Grand Bleu is anchored romantically on the edge of the Bassin de l'Arsenal, Bastille, with a 360° view of the capital, a floating terrace on the banks of the Seine. Italian dishes to share, or not, include: antipasti, pasta, pizzas, salads and divine desserts. Enjoy in the sun on the terrace, or, if it rains, indoors.
Menu du Jour – €19
Menu enfant (up to 12 years) €14
Pizzas from €13 – Vegetarian Pizza €15
Cocktails from €10 Bubbles, say, Moët & Chandon Brut Imperial (€16-€150-€300).
Additional information
67 boulevard de la Bastille, 12th
Open 7/7 No reservations
Metro: Bastille
La Réserve Sur Seine, Paris
How about a private Motoscafo Speedboat Seine cruise?
From June 28th– September 19th, 2022
The chic de chez chic, two-hour dinner cruise is the latest offering from La Réserve Paris, the bijou palace hotel. It showcases Michelin two-star chef Jérôme Banctel's signatures such as: Miso salmon with citrus fruits, Milk-fed veal tartare with lemon caviar, Blue lobster salad, green beans, goma sauce with sesame, surprise dessert.
Additional information
€1000 for 2 people (excluding drinks)
Please reserve at least four days before
Tel: +33 (0)1 58 36 60 60 or [email protected]
An exciting contemporary address linking Japan and France. "In the MUN for Love" is located on top of Galeries Lafayette, Champs Elysées. Discover panoramic views of Paris and stunning "Ode to Asia" décor by Eve Romberg and Charlotte Bessin-Oberlin. A mini-garden of aromatic herbs supplies mixologist Aurélien Fleury with everything he needs, including mint for mojitos!
Begin with a flute of Dom Perignon 2012, then chefs Julien Chicoisne and Roland Puse suggest: Red Prawn Nigiri Gambero rosso, caviar. Hamachi (amberjack) en gravlax, peach, almonds, gel yuzu kosho. Delicate mains of Turbot or Veal and Hibiscus dessert with fraises des bois, vanilla cream, yogurt sorbet, espuma hibiscus.
Additional information
14th July Dinner – €350
52 Avenue des Champs Elysées, 8th
Metro: Franklin D Roosevelt
Tel: +33 (0)1 40 70 57 05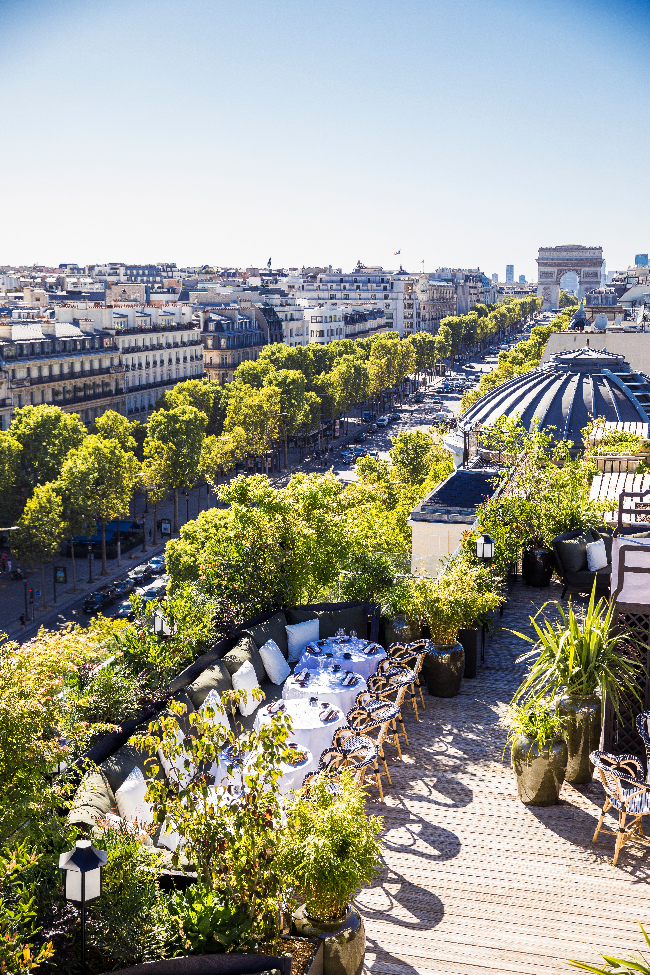 This Art-Deco marvel will float your boat (it has a Michelin *) with a July 14th dinner cruise. Helming the galley is Pre Catalan's Frédéric Anton. On the menu: an ode to contemporary culinary art showcasing superchef Anton's spin on fennel, crab, langoustine, free range chicken and chocolate. To be enjoyed without moderation as you sail by the city's major landmarks.
Additional information
€220 + wine.
5, port Debilly, 16th (near Palais de Tokyo)
Metro: Trocadero
Tel: +33 (0)1 83 77 44 40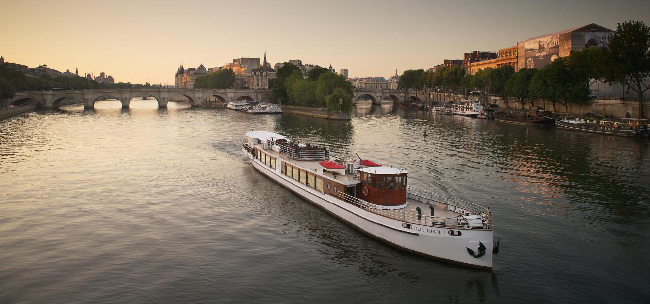 Poised elegantly on top of the Theatre des Champs Elysées, the former Maison Blanche (with stylish new décor by Hugo Toro) plans an impressive Bastille Day menu. Julien Chicoisne, Paris Society's executive chef, will send out: Truffle pizzetta, Beef carpaccio, parmesan, cipriani sauce, summer truffles Tomato salad, burrata, summer truffle, Fritti, scampi and zucchini flowers. Sea bass carpaccio, stracciatella, caviar, Cod, asparagus, beurre blanc, caviar. Black Angus rib steak, truffle juice, Lobster paccheri,  Spinach and ricotta ravioli, truffle emulsion. Desserts, Nocciolata waffle, Peach and raspberry granita, prosecco, verbena, Italian meringue, red fruits.
A good time is guaranteed.
Additional information
14th July Dinner €300
15 avenue Montaigne, 8th
Metro: Alma Marceau
Tel: +33 (0)1 47 23 55 99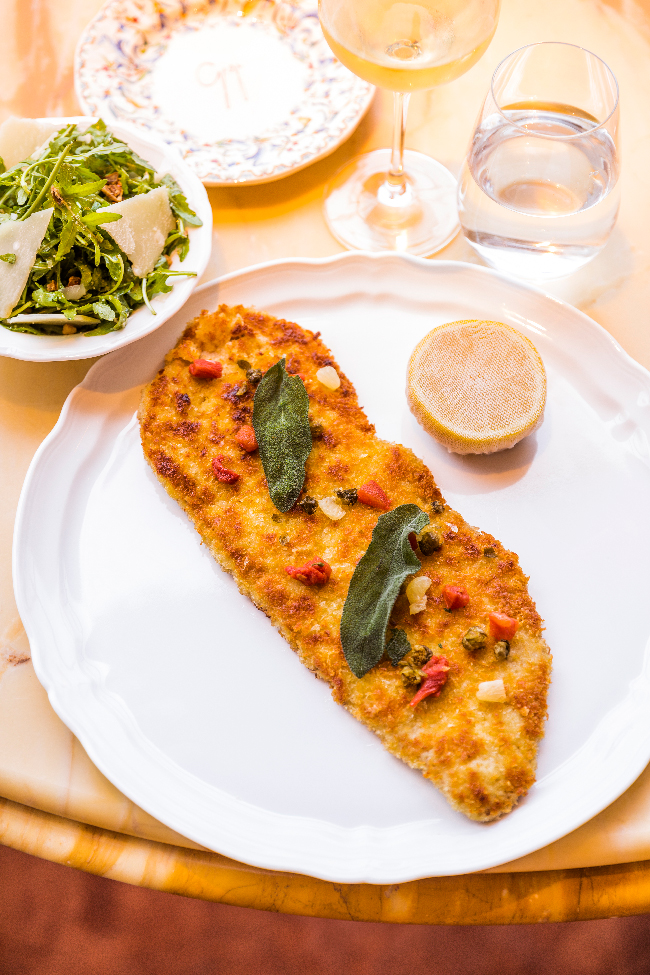 Lutetia Rive Gauche – Get A Room
The Art Deco/Art Nouveau Parisian palace's rooms and suites have picture postcard views of the Eiffel Tower, is a chic location to celebrate the National Day in splendor. Breakfast, lunch and dinner by chef de cuisine Patrick Charvet at Brasserie Lutetia (and on Le Patio) is a delight (or room service).
The Penthouse Eiffel suite with 74 m² terrace overlooks the capital, its domes and spires – perfect for a festive in-room dinner in the clouds.
The 5th floor Joséphine Baker Suite created in homage to an exceptional woman and the jazz era of Saint-Germain-Des-Prés, with views of Paris and the Eiffel Tower from its windows and terrace.
The Amour suite, resembling the prow of an ocean liner, occupies the pinnacle of the hotel – the ideal location for a romantic July 14th with champagne and macarons.
Additional information
July 14, 2022 from €1,700 per night includes a bottle of champagne and 6 petit fours per person.
45 boulevard Raspail, 6th
Metro: Sevres-Babylon
Tel: +33 (0)1 49 54 46 00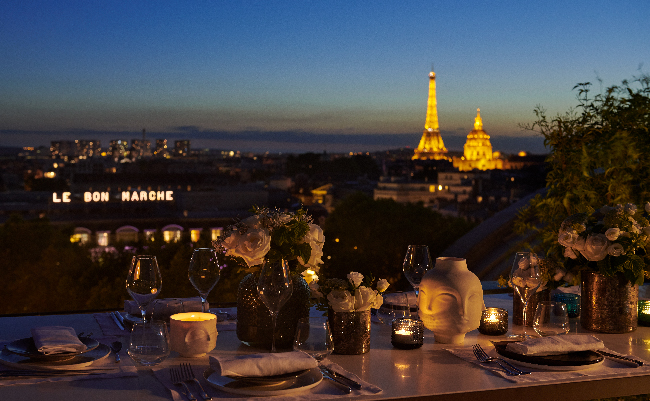 Lead photo credit : © Coq & Fils
More in Bastille Day, Champs-Élysées, July 14th, Michelin starred restaurants in Paris, Paris restaurants
---
---