Where to Watch the Bastille Day Fireworks
Joyeux 14 Juillet: Liberty, Equality, Fraternity…
Since 1880, La Fête Nationale (aka Bastille Day) includes an imposing military parade beginning at the Arc de Triomphe as troops march along the Champs-Élysées to Place de la Concorde. This year 5,000 participants, including 4,300 foot soldiers, are expected; the theme is "Winning the Future," inspired by the country's collective capacity to overcome difficulties linked to the health crisis.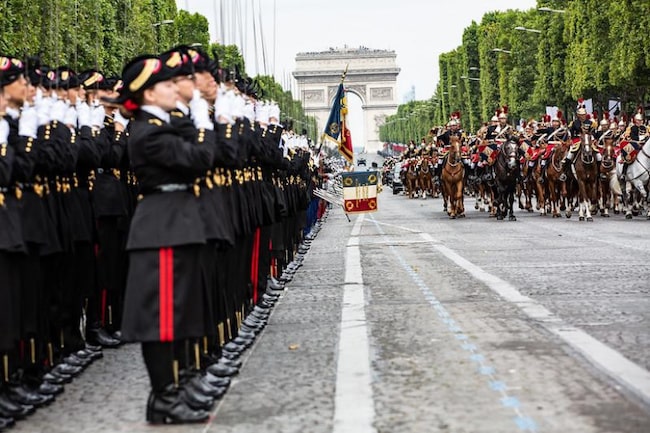 Add 200 Garde Républicaine horses, 221 tanks and vehicles, 71 planes, and 25 helicopters. At nightfall, a free concert on the Champ de Mars is followed by a noisy and fabulously choreographed fireworks display, launched from the Eiffel Tower and the Trocadéro Gardens.
Here are some ideas to eat, drink, and celebrate.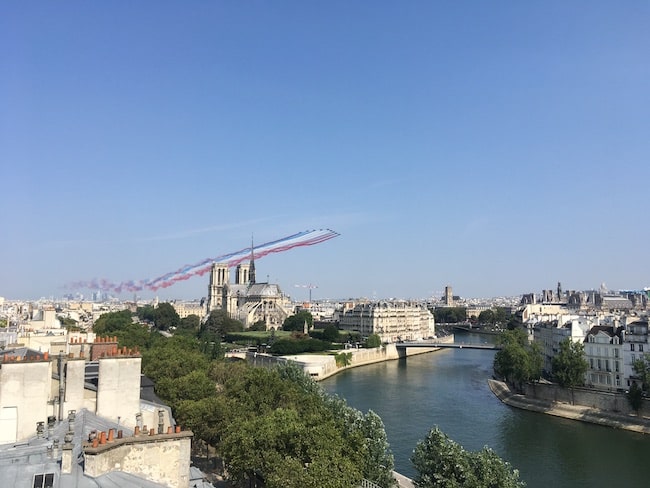 The fête begins in the morning, with the military parade in the presence of President Macron & Co. An awesome multi-color air show wings it over the city courtesy of the French Air Force planes and helicopters. So, here's the plan: From 10am meet and greet on the ground floor, then take the lift (admiring the history of the Tour on the way) to the top floor and the legendary restaurant – dating from circa 1582. Take your FROW (front row) seat to the Patrouille de France flypast with the plus of epic Notre-Dame and La Seine views. Post-parade cocktails and wine are served from the world's most famous cellars, a prelude to your mouthwatering three-course lunch by chef Yannick Franques (MOF) and his brigade (€240 per person). Rather be on La Seine? Book the good ship Joséphine river cruise, for two, with lunch by Yannick Franques.
15, quai de la Tournelle, 5th
Metro: Pont-Marie
Tel: 01 43 54 23 31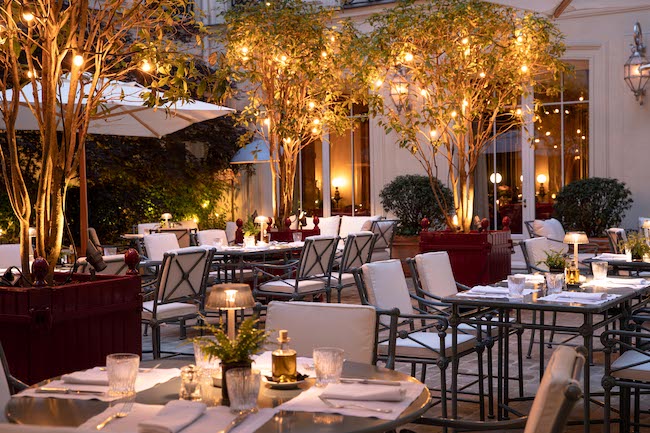 The elegant décor throughout this magnificent mansion, located near the Elysée Palace and once home to the half brother of Napoléon III, is by Jacques Garcia. Head chef Jérôme Banctel sends out a superb selection of exquisite French dishes with light Japanese influences. The fragrant bucolic terrace La Pagode de Cos (named for Cos d'Estournel Bordeaux wines) is planted by landscape garden wizard Pierre-Alexandre Risser.
42 Avenue Gabriel, 8th
Metro: Franklin D Roosevelt
Tel: 01 58 36 60 60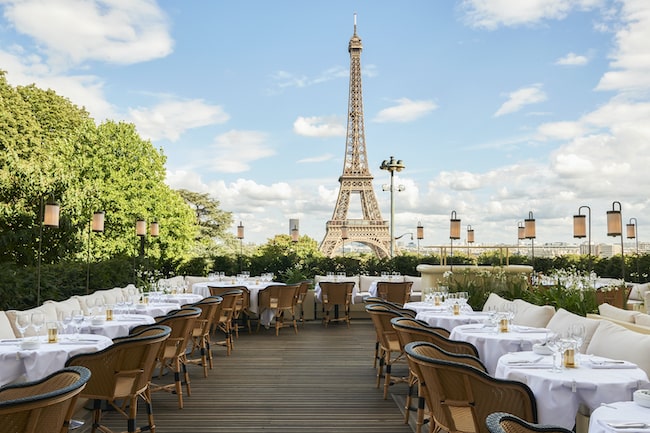 The USP here is the spectacular panoramic (heated) terrace. Dishes include the "Tartare du jour," Sologne caviar, Marinated and sashimi style raw fish, Tataki of tuna and avocado (a winner), Cod/morilles/girolles/mousseron mushrooms. Don't miss desserts like the Pavlova, mile high Millefeuille, and chocolate chouquettes.
1 Place du Trocadéro et du 11 Novembre, 16th
Metro: Trocadéro
Tel: 01 40 62 70 61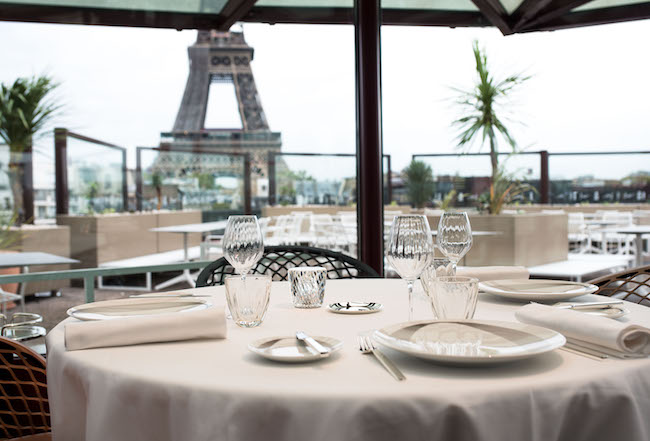 Up on the roof terrace of the Musée Quai Branly is one of the city's most poetic and romantic panoramic views. Facing the Eiffel Tower full on, the recently redesigned restaurant opens onto a vast terrace designed by Gilles Clément-  created in homage to President Jacques Chirac, who, in 2006, inaugurated Musée du Quai Branly. Under the baton of chef Alain Ducasse, chef Rui Martins composes a menu paying tribute to the 100 cult recipes of French cuisine, evolving with the seasons, bien sûr.
27 Quai Branly, 7th
Metro: Bir Hakeim
Tel: 01 47 53 68 00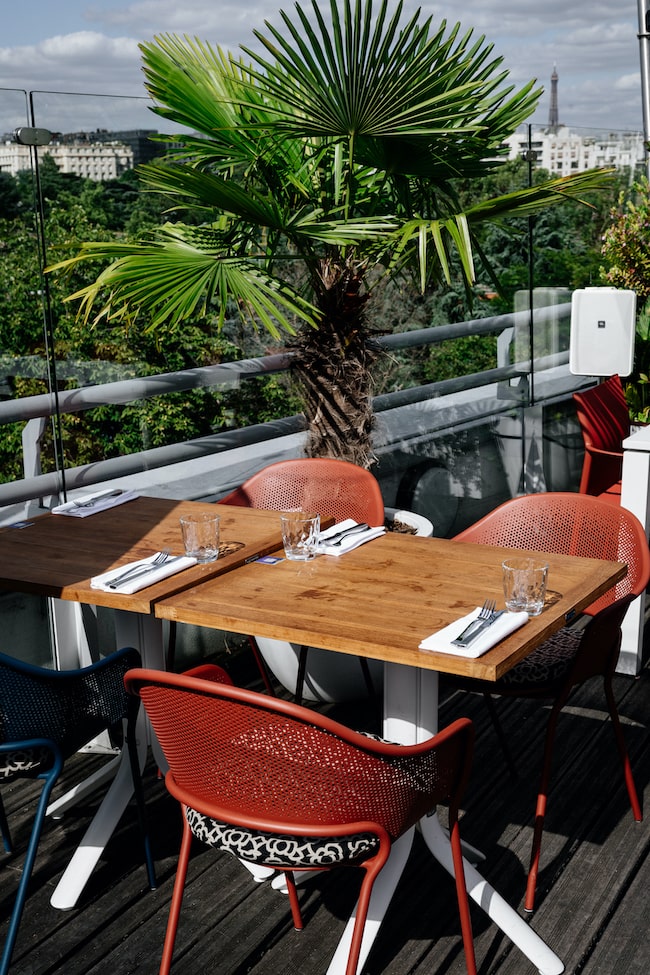 Located between Stade Roland Garros and Parc des Princes, this architectural gem was once the chic swimming pool of choice for 1930s celebs. In July 1946, the world's first bikini was presented here by designer Louis Réard. Meanwhile up on the roof terrace, chef Martin Simolka's cracking Croque Monsieur, omelettes, veggie & Beef Poke bowls, César salads, together with pastry chef Benoit Gressent's, Bailey's Au Chocolat, Tiramisu and Acai bowl desserts, get rave reviews.
6 Avenue de la Porte Molitor, 16th
Metro: Michel Ange – Molitor
Tel: 01 56 07 08 50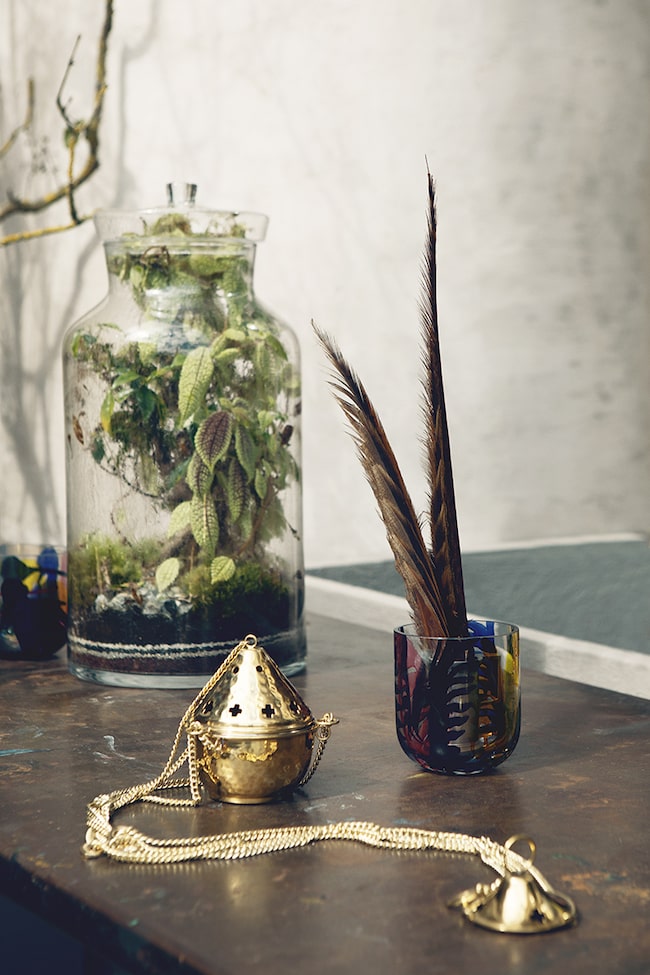 Forest x Musée de l'Art Moderne
A summer retreat in the heart of the city where self-taught superchef Julien Sebbag's Forest is inspired by The Cure's iconic track. Located between MOMA's columns, this informal and romantic terrace, with sumptuous Eiffel Tower views, is a fabulous Bastille Day setting. Dishes include Raw, Roots, A Forest, Sea, Balls, Babka (don't ask, just enjoy).
Another stylish idea from Moma Group and Benjamin Patou.
11, avenue du President Wilson, 16th
Metro: Trocadéro
Tel: 01 84 25 12 22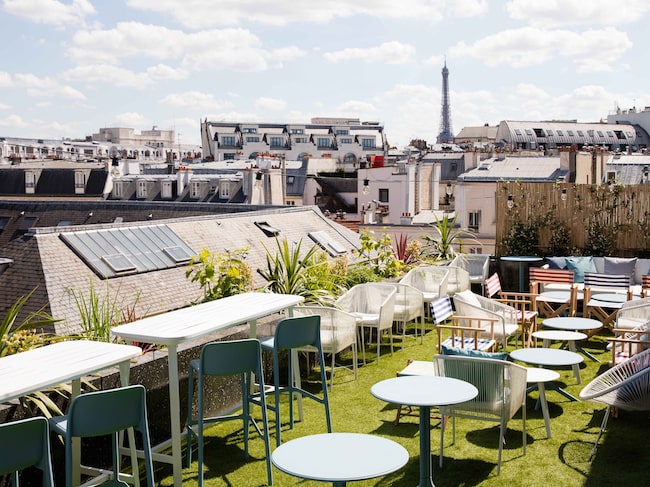 Chic hangout for music lovers to chill in this recently opened hotel close to Salle Pleyel concert hall at no. 252 rue du Faubourg Saint-Honoré. The terrace could be the coolest space you've never heard of. The menu's based on products from "Mersea Street Food of the Sea" – perfect with Château Pampelonne, red, white or rosé wines + quirky cocktails.
214, Rue du Faubourg Saint-Honoré, 8th
Metro: Ternes
Tel: 01 42 25 26 27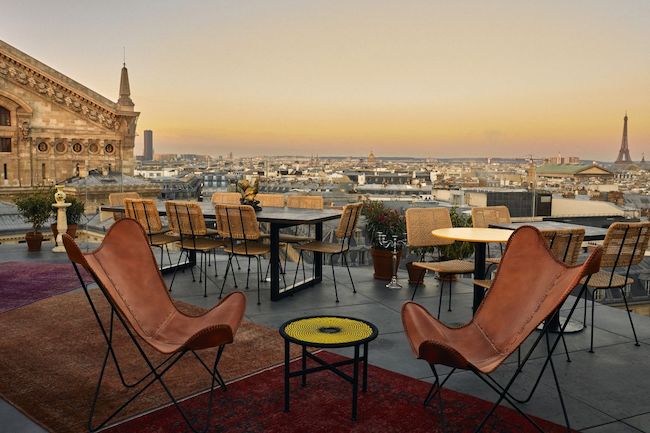 Créatures x Galeries Lafayette Rooftop Terrace
Chef Julien Sebbag (Moma Group) designs vegetarian food "for sharing," sent out, with love, from the buzzing open kitchen. Dishes reflect the chef's Mediterranean roots and his childhood spent between Tel-Aviv and Paris. Think roasted cauliflower, hummus, aubergine pancakes, roasted peaches with feta, strawberries with smoked buffalo mozzarella, and focaccia stuffed with vegetables. Gorgeous salads include cucumber, blackcurrant & basil or fennel, kohlrabi, ricotta, avocado and summer pear.
8th Floor – Galeries Lafayette Paris Haussmann,
25, rue de la Chausée d'Antin, 9th
Metro: Chausée d'Antin
No reservations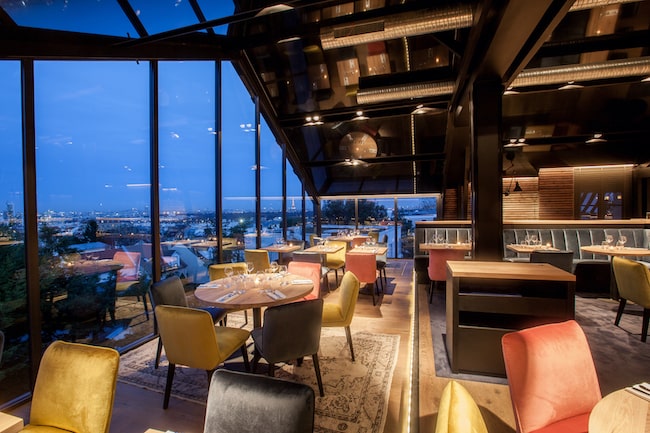 At the summit of Mont Valérian, high above Paris, offering panoramic views of the city. The bistro d'altitude style menu changes frequently, excellent quality/price ratio. M6 TV chef Norbert Tarayre and chef Yoanne Flament, cook in harmony on dishes such as Crab cannelloni, aubergine dip and crispy salmon, crunchy vegetables and pigeon pie and foie gras, rich jus, lamb's lettuce.
70 Avenue Franklin Roosevelt, Suresnes
Take Line 1 from Porte Maillot to Suresnes Mont-Valérian Station
Tel: 01 45 06 22 66
Other ideas to watch the fireworks: Yachts de Paris and the Montparnasse Tower Observation Deck!
Want to be inspired by more French foodie experiences and enjoy classic French food, wine and recipes? Head to our sister website, Taste of France, here.
Lead photo credit : Juy 14th (C) Shutterstock
More in dining, gastronomy, July 14, Paris, Reviews, Trending
---
---