How Lily-Rose Depp's Latest Looks are the Epitome of French-American Style
It's currently Fashion Week in London, the MET Gala was last week, the Emmy's were Sunday night, and Paris Fashion Week kicks off on September 28 – in short, this month is a fashion fan's paradise. And as the fashion world thrums with life, there's one person who's been catching the eye of fashion lovers all over the globe: Lily-Rose Depp.
View this post on Instagram
She's the super-stylish French-American actress and model you've been seeing around a lot lately: The MET Gala, the Toronto International Film Festival (TIFF), and international magazine covers. The 22-year-old budding acting phenom is also the daughter of actor Johnny Depp and French singer Vanessa Paradis; she was born in Neuilly-sur-Seine. The A-lister progeny is quickly carving out a place for herself among fashion circles, too.
Her envy-inducing wardrobe and brilliant sense of style can be an inspiration for anyone – no matter if you're walking a red carpet or not. Here are a few of the French-blend-plus-Americana-vibes style secrets that Lily-Rose draws on so well.
For Starters: Chanel!
What's more French than Chanel? The iconic French fashion house of Chanel chose Lily-Rose to star in some of its major ad campaigns and be a Chanel Ambassador. Suffice to say she's closely linked to the brand. So, it makes sense, then, why you'll often see her sporting the latest Chanel, as she did at both the MET Gala last week and at the Toronto International Film Festival.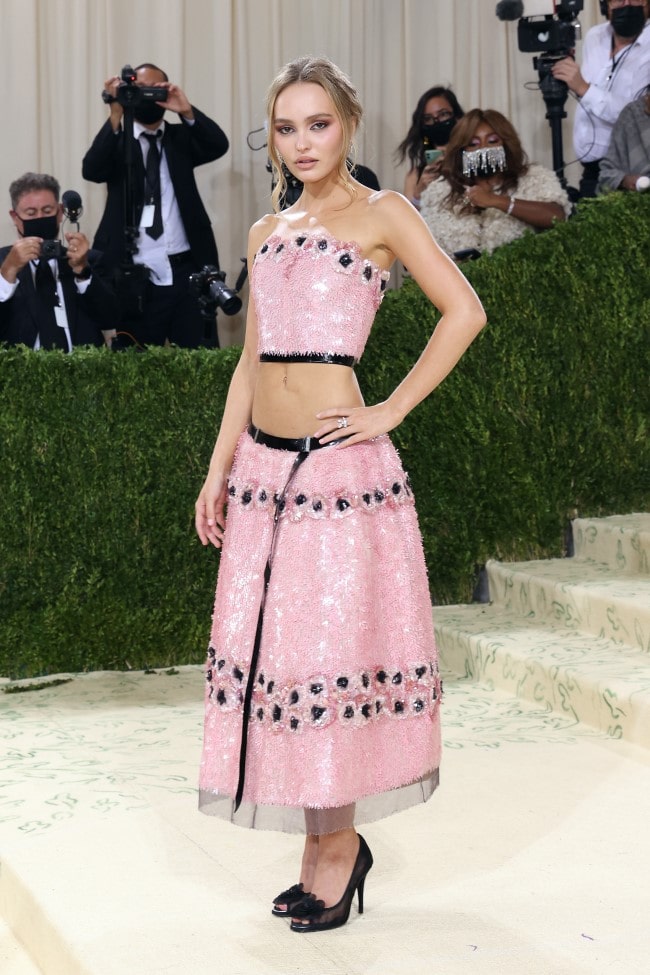 View this post on Instagram
She Nails the Unfussy Hair Look
The go-to French hairstyling tends to be an uncomplicated, unfussed natural look. It's that I-just-rolled-out-of-bed-after-an-amazing-night-of-romance type of hair, which is the ideal complement to a French look.
Lily-Rose is often pictured with unfussy, perfectly imperfect hair, which is more of a nod to her French roots than her American ones, when it comes to styling.
View this post on Instagram
Lily-Rose Rocks a Red Lip
French fashionistas always seem to do the bold red lip well and to a tee – and Lily-Rose is no exception! Her red lip coloring (along with her makeup choices) ensures that she's always looking the part of a budding style icon.
She's Body-Positive
Thanks to our oppressive puritanical roots, Americans tend to be a bit more buttoned-up when it comes to the human body. In France, that's not the case. The body is celebrated, and it's not seen as a vulgar or offensive thing, the way it is in parts of the U.S. (Compared to the majority of the rest of the world, the U.S.'s attitude towards nudity is unconventional – which is a bit amusing because many Americans think other countries are the odd ones when it comes to attitudes towards the body, but it's actually us who are a bit backward.) Lily-Depp embraces her body in a beautiful French way, using it to complement her looks.
View this post on Instagram
Her Sporty Chic Looks Have 'French-American' Written All Over Them
Americans, my country people, are – for better and for worse – known for our somewhat lax attitude towards style when it comes to day-to-day living. Whereas the French dress up – even when it's a casual look, it's always well-put-together on a French person. Their sense of style appears to be innate. Lily-Rose is adept at a mix of both approaches, and her sporty chic vibes are enviable, to be sure. (If you ever need some style "inspo," just Google image search "Lily-Rose street style" and you'll find plenty of looks to imitate.)
Lily-Rose's Confidence & Attitude are Fantastique
She has a beautiful blend of Americana confidence paired with a fierce French attitude. And for this reason and more, Lily-Rose totally nails it when it comes to the greatest accessory in your fashion and style arsenal: Self-confidence.
It goes without saying that no amount of money, fame, success, or prestige can lead to happiness and confidence – that comes from within. Lily-Rose's life looks gilded and glam from the outside – and it probably is, on the inside, too – but what she executes so admirably isn't her accomplishments and successes; it's that she really owns her style and her look. And what's better than feeling good in the skin you're in?
View this post on Instagram
Lead photo credit : Lily-Rose Depp at the 2021 Met Gala. Photo Credit: Getty
More in celebrities, clothes, designer, fashion, Met gala
---
---