Film Review: Hugo by Scorcese, Neither Fig Nor Grape (With Video)

Hugo: Neither Fig Nor Grape
Hugo (Hugo Cabret in France) is American cinema's latest valentine to Paris. Woody Allen's Midnight in Paris won over French critics and audiences with its depiction of Lost Generation Paris. Now Martin Scorsese has adapted The Invention of Hugo Cabret, another portrait of post-WWI Paris. The French public doesn't seem to know quite what to make of this film, though it's not for a lack of affection for the director. France's relationship with American movies is ambivalent and personal. The French love Allen's Jewish humor, his New Yorkiness, and his Francophilia. They love Scorsese for his New Yorkiness, energy, and film scholarship. They love Quentin Tarantino for his snarkiness and kinetic style. On the other hand, Steven Spielberg's films might be popular here but never loved (there's even resentment of his "Hollywoodization" of the beloved Tin Tin). If Hugo has left audiences somewhat befuddled it's because the film is, as the French say, ni figue, ni raisin—neither French, nor a true Scorsese film.
The first thing one notices is the actors. Scorsese has populated Paris with Englishmen: Ben Kingsley, Sacha Baron-Cohen and Christopher Lee. The characters look like they're going to a dress-up party whose theme is Old Paris, but they don't speak French or have French accents. Even the story has more to do with Dickens than anything French. The young orphan all alone in the big bad city amidst a menagerie of grotesque villains is typical of Victorian fiction, not the France of Hugo, Balzac, or Zola. It's not surprising that the books cited by a literature-loving young girl in the film are mostly English.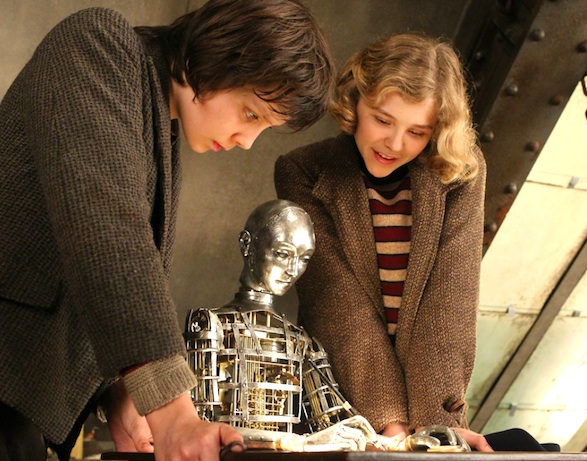 Asa Butterfield and Chloê Grace Moretz in Hugo. Photo courtesy of Paramount Pictures and GK Films.
Hugo tells the story of Hugo Cabret, a boy who's been orphaned twice. His watchmaker father died in a fire, leaving him a broken automaton that in working condition is capable of writing—Hugo thinks his father has left him a secret message. The automaton is based on a real one that was mechanically programmed to write a few lines. Hugo is taken by his drunkard uncle to help run the giant clock in a Parisian railway station, and then he dies. Hugo winds up living alone in the mechanical innards of the clock, winding it up and maintaining it.
A mean-spirited shopkeeper (Kingsley), who catches Hugo pilfering, confiscates his notebook that contains plans for repairing the automaton. Hugo's effort to get back the precious notebook has several consequences. He makes friends with the shopkeeper's goddaughter, another orphan no less (solidly played by Chloë Grace Moretz) and is led to a discovery about the automaton. He also learns the real identity of the Scrooge-like shopkeeper.
The latter turns out to be none other than Georges Méliès, the magician turned cinema pioneer who made hundreds of fantasy films including A Trip to the Moon in 1902, the first sci-fi film ever made. In this movie Méliès, like the real one, has been reduced to penury, all his works lost (he had to sell the film stock but negatives were found over the years).
The first part of the movie is enthralling, but overblown. Scorsese's direction here resembles the baroque filmmaking of Jean-Pierre Jeunet (Delicatessen, Amélie) and he commits many of the faults of this style. Comic scenes are so over-deliberate that they're more clever than funny. When charm is ladled over a character it's so overdone the effect can be ghoulish. Shots are so intricate and spectacular they're more like theme park rides than film sequences. Happily the characters aren't lost in the bravura technique.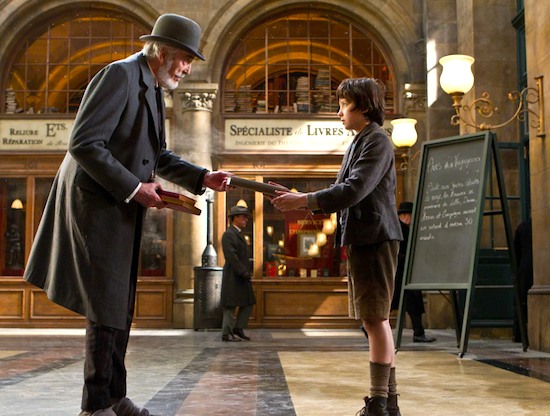 Christopher Lee and Asa Butterfield in HUGO. Photo courtesy of Paramount Pictures and GK Films.
Whatever their nationality, the actors are excellent. Asa Butterfield as Hugo is fascinating to watch. The feral eyes set in a sweet face realistically evoke an orphan's struggle to survive (and is the closest to a real Scorsese character). Kingsley's impersonation of Méliès is very moving Oscar material, while Christopher Lee as a book dealer nearly steals the show with his malevolent face and from-the-crypt voice. Sacha Baron-Cohen is powerfully creepy as the station inspector, though not as funny as intended.
The film's second half jarringly turns into a film history documentary, with Hugo's story receding into the background. Here Scorsese indulges his pedagogical side, as in his documentaries on American film and the blues. He wants to tell us about Méliès the conjuror of dreamland masterpieces, a nickelodeon Dali. This is an old canard of Méliès supporters and there's some truth in it—many Méliès sequences are imaginative and lovely, but in pressing his point Scorsese is a disingenuous conjuror himself. He expertly edits a dazzling montage of Méliès films, and it's possible there was also some computer enhancement. When one sees Méliès' films in their entirety, their thinness and gimmickry become more apparent. Watching one after another can be a dreary, rather than enchanting, experience. Scorsese's line is that with the Great War audiences became too jaded to enjoy Méliès' reveries. In reality, he never evolved beyond gimmicky one-reelers. The period after WWI saw the fantasy films of the amazing Louis Feuillade (Fantomas), not to mention great moviemakers like René Clair and Jean Vigo.
Although Hugo flatters French pride in Georges Méliès, the irony is that Méliès' manipulative magic has more in common with Steven Spielberg than Martin Scorsese. It's also ironic, but not surprising, that when Hugo speaks of his love for the new art, he says "the movies," American-style, not "the cinema." But the greatest irony is that this charming story set in Paris and depicting one of France's great film pioneers was written by a man named Selznick.
Watch the official Hugo movie trailer:
Official Hugo movie trailer courtesy of Paramount Pictures, GK Films and Infinitum Nihil.
Official website: HUGO
Get the free iPad app
Production: Paramount Pictures, GK Films, Infinitum Nihil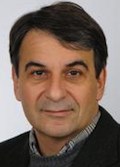 Distribution: Metropolitan Filmexport (France); Paramount Pictures (USA)
Dimitri Keramitas is a Paris-based film reviewer who covers the latest French film releases for BonjourParis every other week. Click on his name to read his past reviews published here.

Subscribe for
FREE

weekly newsletters with subscriber-only content.
BonjourParis has been a leading France travel and French lifestyle site since 1995.
Readers' Favorites: Top 100 Books, imports & more at our Amazon store
We daily update our selections, including the newest available with a pre-release of 30% discount. Find them by starting here at the back of each section, then work backwards page by page.
Learn more about this film & check out these books that guide you to locations in Paris where famous films were made.
Click on this banner to link to Amazon.com & your purchases support our site….merci!
Leave a reply
Your email address will not be published. Required fields are marked *