Gusto Italia: Casual Italian Restaurants in the Paris 7th

Gusto Italia. Photo: ©natnutella
Gusto Italia: A Little Italian in Paris
Sometimes when traveling, even in Paris, all you want is a little taste of home. And that is exactly what Gusto Italia, a lovely low-key Italian restaurant in the 7th offers–it's unfussy, Italian comfort food at its best.
Recommended to me by a friend who happened upon it when she visited Paris earlier this year, there are actually three Gusto Italia locations in the Paris 7th: one at 11 rue Amélie and two on rue de Grenelle at numbers 199 and 218, across the street from each other. Though all three serve the same menu, the rue Amélie and 218 rue de Grenelle locations are closed between lunch and dinner. Their dining roooms are a little fancier with a bit more ambiance than the 199 rue de Grenelle location; but, the 199 rue de Grenelle location is open nonstop from lunch until 11pm. All three are tiny, rustic, and filled with locals.
I ended up eating at the 199 rue de Grenelle location three times during my last trip to Paris—twice by myself and once with my parents.  The first time was my first day in Paris.  It was 5:30pm, I was punch drunk from jet lag and starving. I knew I would never make it until the traditional 7pm dinner opening of most Parisian restaurants.  I stumbled upon the closed Gusto Italia at 218 rue de Grenelle and saw from across the street that, thankfully, their other location was open.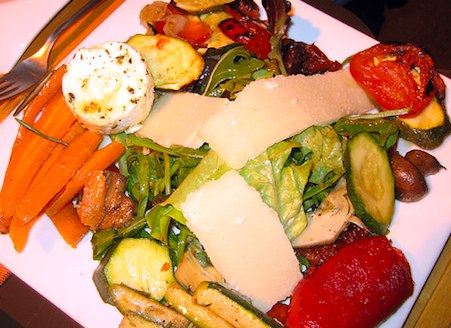 Gusto Italia. Photo: ©mere2007
This location reminded me of eating in my grandmother's kitchen when I was young. It's very casual, with just a few tables and a glass display counter filled with antipasti veggies, cheeses and other savory goodies. The sweet, English, French and Italian-speaking waitress brought me fresh-from-the-oven Italian bread and a plate of cold, roasted vegetables that were beyond delicious. The carrots were like nothing I had ever tasted before: they were roasted in nutmeg or cinnamon and were positively divine. For my dinner, I had the linguini Bolognese and it was exactly what I needed. The pasta was perfectly cooked, the sauce was delicately spiced and I was one happy eater. And the evening was made even more perfect when, as I enjoyed an after-dinner espresso, my sweet waitress brought me a treat: a free Limoncello!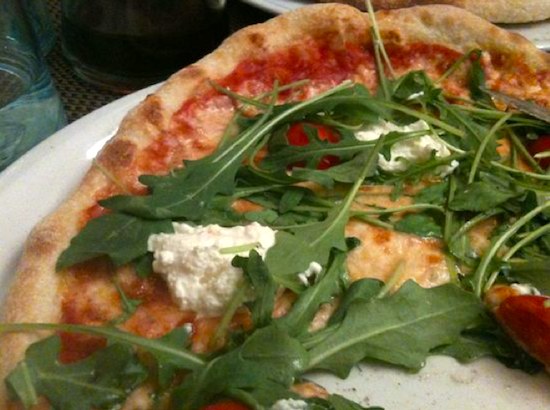 Gusto Italia chèvre pizza. Photo ©wildcat
A few days later my parents joined me in Paris and were craving pizza. Having noticed that Gusto Italia did a brisk take-away pizza business, I brought them there. Again, we were not disappointed. We got two pizzas for the three of us: a basic margherita and a prosciutto with mozzarella. The toppings were fresh and delicious; the crust was so thin it was barely there. Accompanied by a bottle of Lambrusco, Gusto Italia once again made for some very happy eaters.
I made one last trip to Gusto Italia during my stay in Paris. By this time, I was considered a regular and "my" waitress even gave me a hard time when I tried to order the linguini again. She said I should try something different, like the lasagna. I took her advice and was glad I did. The lasagna was thick with meat and cheese and I was yet again transported back to my grandmother's kitchen. The piece was so big two people could have shared it, but it was so good I managed to finish off most of it. Once again, as I sipped my espresso, I was treated to a Limoncello. C'est parfait.
Eating in Paris isn't always all about escargot and foie gras, it isn't even all about croissants and crêpes. There are some great restaurants in Paris that serve delicious though decidedly non-French food to locals and curious tourists alike. Gusto Italia is a prime example of such a place—you can enjoy a great meal with wine for under 30 euros while sitting amongst the neighborhood's residents and who knows, if the waitress really likes you, you might be treated to a Limoncello!
PRACTICAL INFORMATION:
Gusto Italia (no website)
Three locations in the Paris 7th:
11, rue Amélie
199, rue de Grenelle   
Tél: 01 47 53 01 85
218, rue de Grenelle
Métro: École Militaire
Also try Le Den, a "sister" restaurant
167, rue de Grenelle, Paris 7th
Tél: 01 45 55 19 79
Same pizzas, open for lunch through dinner, wider variety of take-away items.


Shannon George is a writer and producer in the entertainment industry. This longtime Francophile and traveler has dreams of living in Paris … we're putting money on her making it happen. Please click on her name to read other stories by her published by BonjourParis.

Subscribe for
FREE

weekly newsletters with subscriber-only content.
BonjourParis has been a leading France travel and French lifestyle site since 1995.
Readers' Favorites: Top 100 Books, imports & more at our Amazon store
Decisions, decisions…these books will help…click on an image for details.
Thank you for using our link to Amazon.com…we appreciate your support of our site.
Leave a reply
Your email address will not be published. Required fields are marked *