Clou de Fourchette, Mini-Palais Terrace, Akrame, Liza + Tea By Thé Buzz
Walk into Le Clou de Fourchette and you have a feeling of déjà vu, you've seen owner Christian Leclou on French TV cook-shows strutting his stuff. A charming friendly man, ex-Ledoyen, L'Escargot de Montorgueil, etc., his neighborhood bistro should be featured in a Woody Allen movie. Bright décor, pots and pans punctuate the lively salle, nice terrace, fun art from lolfrance.com. It's right by Gare Saint Lazare; when the trains pass, you're definitely part of the movie. "This is why I stayed in Paris," you'll sigh.
Leading the pack is young Maxime Leclou (ex-Le Bristol). "Bonjour mamzelle," he says to all the old biddys, with total Gallic charm. Leclou has an affinity with Noirmoutier, the potato-growing area of France, and brings them back when he goes. He does a little fishing and translates the fish into mouthwatering dishes à la plancha, salade de pommes de terre de Noirmoutier, bulots and caviar de hareng, bliss. Foie gras is flash fried, spiked with a skewer of tiny potatoes and fresh apricots. Choose from the daily blackboard or the menu.
Tartares are traditionnelle, faҫon César or aller retour. Make sure you're hungry if you order Quasi de veau Franҫais aux légumes nouveaux, jus à la sariette, it's a trencherman portion. Cheese is "of the moment", served with salad, and desserts include Gros baba arrosé au vieux rhum, crème battue au sucre vanillé. It's all good.
Try tapas, Le Clou style, because the speciality is also in the superb selection of wines at knock-down prices, and people pop in for a glass of wine and Assiette de jambon "Iberico", tortillas aux oignons or sardines à l'huile d'olive served in the tin, and that's just for breakfast, darling. Sit at the retro bar and taste by the glass or bottle. This is a great bistro to come alone, everyone chats away, often about the excitement of being able to order a 178€ bottle of Chambolle Musigny 1er cru 2004, Domaine Confuron for 89€ or a glass of Château Maucaillou 2007 Moulis at 6€.
Le Clou de Fourchette
121,rue de Rome, Paris 17th
Métro: Rome
Tél: 01 48 88 09 97
Lunch 15€
A La Carte spend about 31€
Shut Sunday
Magnificent Mini-Palais terrace dining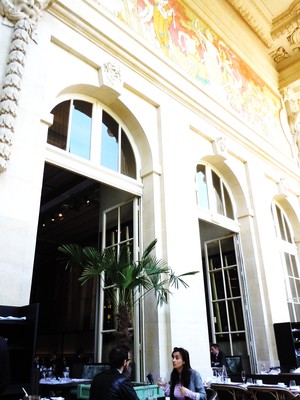 The magnificent terrace at Mini-Palais ticks so many boxes. The just-opened Veuve Clicquot Champagne and Piano Bar now serves the widow's finest from 6PM to midnight. "Cole Porter" tinkles the ivories from 9PM. Great after the theatre or a visit to the Grand Palais which often stays open late, especially with the Anish Kapoor "must-see" Leviathan in the nave.
Eric Fréchon continues to create new dishes with the talented Stéphane d'Aboville, and the handsome terrace buzzes with ze beautiful pipole. Study the menu with a flute of Veuve Clicquot and gougère puffs that are like golden mini-cheese soufflés. The seasonal clafoutis theme continues: it's now crunchy green asparagus and smoked salmon, a winning combination; d'Abovville was using truffles before. New light starters include Carpaccio de Betterave, écume de hareng fumé and a light and refreshing Melon en gelée de pastèque, coppa et sorbet miel-poivre. Drink rosé Bugey Cerdon "Méthode Ancestral" from Bernard Rondeau (40€) or the red Saint-Emilion Réserve Louis 2008 at 7€ a glass. The concept of Mini-Palais is that you can pop in any time and there's always something delicious to eat and drink in a majestic calm atmosphere. Service is seamless, as you'd expect from Fréchon & Co. His new website, listed below, explains everything.
Mini-Palais
Avenue Winston Churchill, Paris 8th
Pont Alexandre 111
Métro: Champs-Elysées Clemenceau
Tél: 01 42 56 42 42
Valet Parking
Open 7/7 from 10h to midnight
Lunch menu changes daily 28€
A La Carte 45€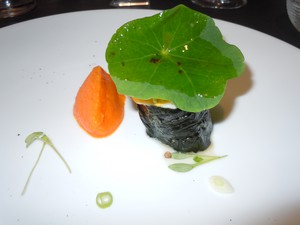 The day after BUZZ lunched chez Akrame a polite note arrived thanking me for my custom and asking that I complete a questionaire, "which only takes seconds." Nice touch from a talent who really wants to please. Accueil & Service, Qualité des mets, Ambiance, Cleanliness, Quality Price, Noise level, Business/family/friends/romance/solo?
In the comment box, I wrote: Akrame Benallal, you are so happy in your chic restaurant, working in your tiny, shiny beautifully equipped, open kitchen with John Erwin. You create surprises for your clients at each service. GaultMillau dubbed you Grand de Demain, and with your parcours in Tours, then with Gagnaire, Ferran and Passard you've absorbed but you're not copying, you have your own definite signature.
Crème de petits pois, petites fleurs d'acacia, the acacia flowers gathered from your garden, en amuse bouche. Sablé parmesan, encre de seiche, oeufs de poissons volants. The butter's spiked with Tonka beans and the bread's from Poujauran. Carpaccio de daurade with black quinoa is excellent as is Lotte cuit avec feuille d'algues and fleur de capucines, purée de carottes et carottes en émulsion, a triumph. Onglet de boeuf retour d'Espagne, purée de pommes de terre a l'ail, tick, tick, tick. Dessert citron-vert Panacotta, sorbet d'acacia, gelée de citron vert, today. But not tomorrow—they'll be variations. Only you know, Akrame, that's why we'll keep coming back. Thank you.

Akrame
19, rue Lauriston, Paris 16th
Métro: Charles-de-Gaulle-Etoile
Tél: 01 40 67 11 16
Shut Sat-Sun
Menus 25€-35€ Lunch
45€-65€ Dinner
Liza's Lebanese restaurant, 14 rue de la Banque, Paris 2nd, is a firm foodie favourite. Lovely décor, delicious food, wine and atmosphere. Now there's Liza's pop-up bistro/design boutique on the first floor of Galeries Lafayette. Like the banquette by Godot de Bokja you're sitting on? Then you can buy it right there. As well as Bowya tables, mirrors by Nada Debs, photos by Fouad El Kouri. Little purses, so chic, by Smartiz, etc.
Lunch from 16€ Petits encas from 6€
Until 31 July 2011
Open from mid-day until 6.30pm, Thursday until 8pm
Address Book:
Tea by Thé is the delicious concept of Patrick and Franҫoise Derdérian of Zebra Square to combat the invasion of Starbucks in the city. Not only tea, but smoothies, salads, quiches, cookies, cakes.
2, place du Palais Royal, Paris 1st
Open 7/7 until 8pm
A Paris hotel we think you'll like . . .
Subscribe for free so you don't miss a story & don't forget our searchable library of 7,000+ stories about France travel. 50 original stories monthly: travel guides, Paris events, dining, lodging, shopping, French lifestyle, recipes, photography & more since 1995.
Shop direct at Amazon.com (and merci for using our direct link, your support allows us to publish BonjourParis.)
and check our Francophiles Favorites loaded with French-themed items for travelers and Francophiles. Choose your category at the right edge, then click the category's last page number to browse the latest listings.
Short-cut to our 100 TOP SELLING ITEMS

(please wait for widget to load—updated daily)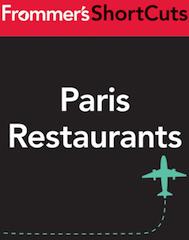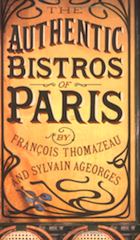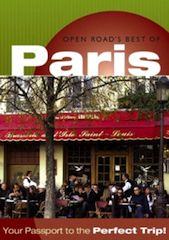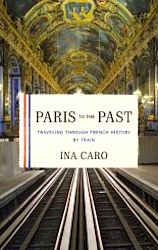 Paris Restaurants: Frommer's ShortCuts Kindle version  [Released September 26, 2011]
The Authentic Bistros of Paris
Open Road's Best of Paris 3E [Released September 20, 2011] by Andy Herbach, bestselling author of Open Road's 'Eating & Drinking' menu-translator guides to Paris
Paris to the Past: Traveling through French History by Train [Released June 2011] Past & current train travel history, highly reviewed
Leave a reply
Your email address will not be published. Required fields are marked *