Creamy Leek and Potato Soup: Hot or Cold French Classic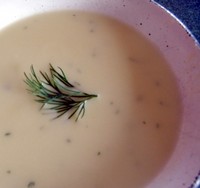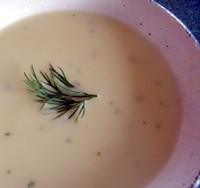 Sometimes I think we take classic recipes for granted as we search for the newest taste sensation. I know I do.
Not long ago I was assisting at a cooking class that featured  classic French recipes. As I did the prep work before the students arrived, I wondered what the students would think about these standard dishes. We had a mix of young and older students, about 18 in all. I was in responsible for making and demonstrating Vichyssoise with Zucchini, a super easy dish with a flavor that blew away all participants.
Two 20-somethings came up after class and told me that it was the best soup they had ever tasted and that's when it hit me: sometimes I take the classics for granted but classics are classics for a reason.
Here is a variation of the recipe served in that class, which can be served hot or cold. Et voilà:
Soupe de poireaux et pommes de terre crémeuse à l'aneth ~ Creamy Leek and Potato Soup with Dill.
INGREDIENTS:
·        3 Tablespoons unsalted butter
·        4 leeks, trimmed of all but 2 inches of the green part, well rinsed
·        3 potatoes, peeled and cubed
·        6 cups chicken stock
·        1/2-3/4 cup cream
·        juice of 1 lemon
·        3-4 Tablespoons chopped dill
·        salt and white pepper
PREPARATION:
1. Slice the cleaned leeks. Cube the potatoes.
2. Melt the butter in a large casserole. Add the leeks and the potatoes.
3. Season the leeks and potatoes with salt and pepper and toss the vegetables to coat with the melted butter. Cook for about 3 minutes.
4. Add the chicken broth and bring to a boil. Cover and cook for 45 minutes.
5. Mix the cream and the lemon juice together in a small bowl.
6. Using a stick blender or a food processor, puree the soup.
7. Stir in the cream/lemon juice and minced dill.
TO SERVE:
Ladle the soup into 6 bowls. Garnish with a dill sprig and serve hot.
If you make this soup, please post whether or not it was a sensation. I'm betting it is.
Debra Fioritto contributes delicious French recipes to BonjourParis–follow her at: @DebraFioritto, Fabulous French Food , Julia's Paris & Provence and Tour de Forks Uncommon Epicurean Adventures.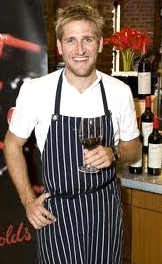 We apologize . . .
the Chef Works chalk stripe bib apron does not come with Curtis, the chef wearing it. Details about this stylish apron at our Amazon.com French Marketplace: Chef Works black & white striped apron for him or her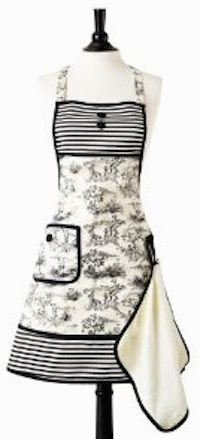 Perfect hostess gift or a gift to jazz up your kitchen?

Chic French toile pattern apron by Jessie Steele comes with coordinated towel. Coordinating pot mitt available, sold separately.
Leave a reply
Your email address will not be published. Required fields are marked *