Relais Boccador, Paris Design Week & The Art of Touch at Royal Monceau, Raffles, Paris Buzz
Le Relais Boccador, Madame Claude ran
Relais Boccador
as a private club whose clients included politicians, police, mafia, actors etc.. Shush! Nobody knew, but everybody knew. DSK syndrome. In 1974, after prosecution for procuring, Madame Claude abandoned her Boccador and left for New York (I don't know if she continued her work over there, ask Bill Clinton) So, Relais Boccador was acquired by Italian Mario Nicolo, For 35 years, the restaurant, and Nicolo, hosted royals, cinema stars, and slebs from fashion, journalism or business who contributed to making this unusual Italian the place to be for excellent food, wine and company. When Hervé de Seynes, who had been taken to Boccador by his parents and grandparents, heard it was for sale, he decided to buy it at any cost. "It's not my business, I'm a trader by profession, but I love this place so much", he explains. "I wanted to preserve the restaurant as it was". Finally, in June 2012, Hervé de Seynes signed on the dotted. After two months of restoration work to conserve and restore the original style, Le Relais Boccador re-opened in September 2012. Begin with Burrata, huile d'olive, basilic: Salade Boccador for the ladies who do: Carpaccio de boeuf, roquette, parmesan for Ashton. Then go for delicious tender, tasty Calamars Sauté, the signature dish that brings back clients time and time again: There's grilled beef topped with freshly chopped herbs: Mini hamburgers: Escalope Milanese or au Marsala: From the wine card choose the Chenas Vielles Vignes Beaujolais from Remy & Paola Denon (34€) or the classy white Orvieto Ruffino from Ombrie (29€). Perfect pastas include Spaghettis à la vraie carbonara: Raviolis, sauce morilles :Linguine alle vongole Spaghettis pomodoro et basilic: Gnocchis maison de pomme de terre au pecorino : Penne all' arrabbiata :Linguine à l'espadon façon sicilienne or Linguine aux artichauts :Taglierini aux gambas. Finish with Gorgonzola, fresh figs: Tiramisu: Lemon Tart: Wine Cooked Pear. Most popular table is No. 5. And, apart from his RB, where does Hervé de Seynes like to eat? L'Ami Louis and a beautiful little place
La Corte
in a tiny courtyard off rue Saint-Honoré, owned by Enzo and Adriana Barone. By the Way: The history of Madame Claude inspired many writers. Her life was the basis of the 1977 feature film, Madame Claude directed by French director Just (Emmanuelle) Jaekin. During the 1980s Madame Claude returned to France, convinced she was protected by new tax laws, and set up a new high-class prostitution organization. The French Treasury, however, prosecuted her in 1986. In 1992 she was sentenced to a term in Fleury-Merogis prison for procuring. Anyone know where she is now? Answers on a postcard please. 20 rue du Boccador, 8thM: George VShut: Sat & Sunday lunchLunch formula 28€Dinner average spendT: 01 47 23 31 98 Paris Design Week 9-15 September In synch with
MaisonObjet
Paris Design Week brings together the major players in design, showrooms, concept stores, workshops, galleries, hotels and restaurants join forces to offer a decompartmentalised, accessible, broad based view of design, read, confirming Paris, Capitale de la Creation. "Art District" the gallery at Le Raffles Royal Monceau, beacon of the avant-garde, present works by contemporary furniture design duo Domeau & Pérès in collaboration with Philippe Starck (responsible for the love it or loathe it palace hotel's interior) not only in the gallery but throughout the hotel. Also spot works by matali crasset, Marc Newson's "Bumper Bed" etc. Head to Raffles Cinema (leather fauteuils, Pierre Hermé popcorn) for the premier of Sylvie Adigard's docu on designer Ora-Ito "Ora Ito et le MAMO, l'art en plein ciel. Or Nelly Rodi's predictions on what you really really want "Etude sur les Couleurs". Book a table at La Cuisine (*Michelin) or Il Carpaccio (*Michelin). Check out the terrace and garden by Louis Benech ……and, everything's coming up roses with a display of "the Philippe Starck rose" designed by maven rosiériste André Eve. Spa My Blend And, if you're finding PDW a little tiring there's the spa darling. Be the first to try The Art of Touch. Just as the Royal Monceau chefs compose dazzling, innovative menus from top quality ingredients, Clarins uses the same techniques with their lotions, oils and potions to create ninety minutes dedicated to your, or Ashton's, mind and body. Combining aromatherapy and phytotherapy your "Beauty Coach" will spritz you with the Clarins fragrance (Eau Dynamisante or Sunshine to invigorate: Eau Ressourҫant and Eau des Jardins to relax) of your choice, matching your mood and temperament. Mmmmm You're in a state-of-the-art bubble of well-being baby. 90 minutes later, soothed, de-creased and massaged you'll leave revitalised, relaxed and regenerated from head to to, ready to tango into the Spa-Bar and celebrate with fresh juices, herbal delights, a few nuts and dates and a generous tasting of the latest macarons by PH. And, before you leave to go back into the real world, check out and treat yourself to some products from Clarins' Autumn Collection. Eye-lift serum and wrinkle soothing cream (I'm not saying you've got wrinkles but…). The 3-dot eyeliner, Be-Long Mascara:: Age control foundation and custom concealer sound like a good plan to me. Bring it on!  Why Clarins? Because they're
pure plant based products.
The Art of Touch1hr 30mins 190€ Only at:
Le Royal Monceau-Raffles Paris
,37 Avenue Hoche 8thM: Charles de Gaulle-EtoileT: 01 42 99 88 00
SUBSCRIBE
ALREADY SUBSCRIBED?
BECOME A BONJOUR PARIS MEMBER

Gain full access to our collection of over 5,000 articles and bring the City of Light into your life. Just 60 USD per year.

Find out why you should become a member here.

Sign in

Fill in your credentials below.
Le Relais Boccador,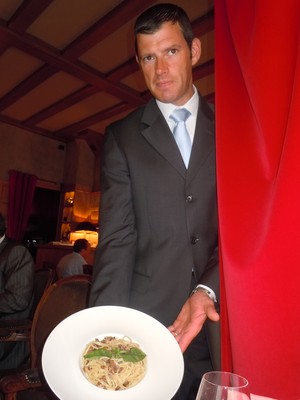 Madame Claude ran Relais Boccador as a private club whose clients included politicians, police, mafia, actors etc.. Shush! Nobody knew, but everybody knew. DSK syndrome.
In 1974, after prosecution for procuring, Madame Claude abandoned her Boccador and left for New York (I don't know if she continued her work over there, ask Bill Clinton)
So, Relais Boccador was acquired by Italian Mario Nicolo, For 35 years, the restaurant, and Nicolo, hosted royals, cinema stars, and slebs from fashion, journalism or business who contributed to making this unusual Italian the place to be for excellent food, wine and company.
When Hervé de Seynes, who had been taken to Boccador by his parents and grandparents, heard it was for sale, he decided to buy it at any cost. "It's not my business, I'm a trader by profession, but I love this place so much", he explains. "I wanted to preserve the restaurant as it was".
Finally, in June 2012, Hervé de Seynes signed on the dotted. After two months of restoration work to conserve and restore the original style, Le Relais Boccador re-opened in September 2012.
Begin with Burrata, huile d'olive, basilic: Salade Boccador for the ladies who do: Carpaccio de boeuf, roquette, parmesan for Ashton. Then go for delicious tender, tasty Calamars Sauté, the signature dish that brings back clients time and time again:
There's grilled beef topped with freshly chopped herbs: Mini hamburgers: Escalope Milanese or au Marsala: From the wine card choose the Chenas Vielles Vignes Beaujolais from Remy & Paola Denon (34€) or the classy white Orvieto Ruffino from Ombrie (29€).
Perfect pastas include Spaghettis à la vraie carbonara: Raviolis, sauce morilles :Linguine alle vongole Spaghettis pomodoro et basilic: Gnocchis maison de pomme de terre au pecorino : Penne all' arrabbiata :Linguine à l'espadon façon sicilienne or Linguine aux artichauts :Taglierini aux gambas.
Finish with Gorgonzola, fresh figs: Tiramisu: Lemon Tart: Wine Cooked Pear. Most popular table is No. 5. And, apart from his RB, where does Hervé de Seynes like to eat? L'Ami Louis and a beautiful little place La Corte in a tiny courtyard off rue Saint-Honoré, owned by Enzo and Adriana Barone.
By the Way:
The history of Madame Claude inspired many writers. Her life was the basis of the 1977 feature film, Madame Claude directed by French director Just (Emmanuelle) Jaekin.
During the 1980s Madame Claude returned to France, convinced she was protected by new tax laws, and set up a new high-class prostitution organization. The French Treasury, however, prosecuted her in 1986. In 1992 she was sentenced to a term in Fleury-Merogis prison for procuring. Anyone know where she is now? Answers on a postcard please.
20 rue du Boccador, 8th
M: George V
Shut: Sat & Sunday lunch
Lunch formula 28€
Dinner average spend
T: 01 47 23 31 98
Paris Design Week 9-15 September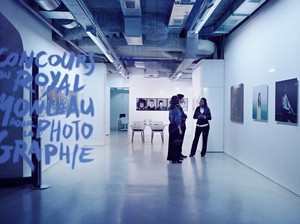 In synch with MaisonObjet Paris Design Week brings together the major players in design, showrooms, concept stores, workshops, galleries, hotels and restaurants join forces to offer a decompartmentalised, accessible, broad based view of design, read, confirming Paris, Capitale de la Creation.
"Art District" the gallery at Le Raffles Royal Monceau, beacon of the avant-garde, present works by contemporary furniture design duo Domeau & Pérès in collaboration with Philippe Starck (responsible for the love it or loathe it palace hotel's interior) not only in the gallery but throughout the hotel. Also spot works by matali crasset, Marc Newson's "Bumper Bed" etc.
Head to Raffles Cinema (leather fauteuils, Pierre Hermé popcorn) for the premier of Sylvie Adigard's docu on designer Ora-Ito "Ora Ito et le MAMO, l'art en plein ciel. Or Nelly Rodi's predictions on what you really really want "Etude sur les Couleurs".
Book a table at La Cuisine (*Michelin) or Il Carpaccio (*Michelin). Check out the terrace and garden by Louis Benech ……and, everything's coming up roses with a display of "the Philippe Starck rose" designed by maven rosiériste André Eve.
Spa My Blend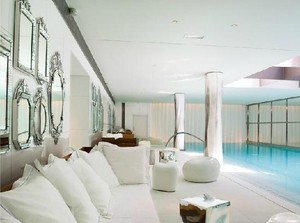 And, if you're finding PDW a little tiring there's the spa darling. Be the first to try The Art of Touch. Just as the Royal Monceau chefs compose dazzling, innovative menus from top quality ingredients, Clarins uses the same techniques with their lotions, oils and potions to create ninety minutes dedicated to your, or Ashton's, mind and body.
Combining aromatherapy and phytotherapy your "Beauty Coach" will spritz you with the Clarins fragrance (Eau Dynamisante or Sunshine to invigorate: Eau Ressourҫant and Eau des Jardins to relax) of your choice, matching your mood and temperament. Mmmmm
You're in a state-of-the-art bubble of well-being baby. 90 minutes later, soothed, de-creased and massaged you'll leave revitalised, relaxed and regenerated from head to to, ready to tango into the Spa-Bar and celebrate with fresh juices, herbal delights, a few nuts and dates and a generous tasting of the latest macarons by PH.
And, before you leave to go back into the real world, check out and treat yourself to some products from Clarins' Autumn Collection. Eye-lift serum and wrinkle soothing cream (I'm not saying you've got wrinkles but…). The 3-dot eyeliner, Be-Long Mascara:: Age control foundation and custom concealer sound like a good plan to me. Bring it on!  Why Clarins? Because they're pure plant based products.
The Art of Touch
1hr 30mins 190€
Only at:
Le Royal Monceau-Raffles Paris,
37 Avenue Hoche 8th
M: Charles de Gaulle-Etoile
T: 01 42 99 88 00
More in Paris Design Week, Paris restaurants, Relais Boccador, Restaurant reviews, spa, Spas in France, The Art of Touch
---
---