Lazare: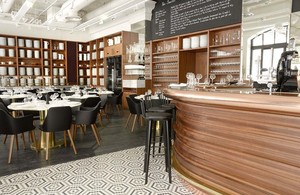 Eric Frechon, 3-Michelin star superchef at Le Bristol, MOF (Meilleur Ouvrier de France) author and chef at Mini-Palais just launched (September 9th) Lazare, Gare Saint-Lazare. How strange to open in a station? Not really, according to EF. "When the SNCF asked me if I was interested, I went to have a look, liked the idea and went ahead. This is my station, it links me to Normandy my hometown", he explains.
As well as chef Frechon, 450,000 passengers pass through the superbly transformed Gare Saint Lazare daily, second gare d'Europe after St. Pancras, London.
Lazare's concept is to create a warm atmosphere before or after a journey, all day, every day. "From the petit noir du matin jusq'au diner." Not forgetting "le tea-time" or "l'heure de l'apero", meet around the central zinc bar, read, Grand Central Station meets Gare Saint-Lazare.
This adventure includes the close co-operation of Madame Frechon and Eric's friend, financier Michael Cohen. Stunning decor's by Karine Lewkowicz, gentle curves, soft lighting and clear woody colours, copper pots and china stacked on shelves, mosaic bistro floor, open kitchen headed by Thierry Colas (ex-Procope and Le Louis X111 with Manuel Martinez).
Colas sends out generous helpings, often straight from the coppers, style Grand-Maman. La friture de gambas croustillantes to dip in fragrant house tomato ketcup. Marvellous mackeral en gelée. Slow roasted confit of seven hour lamb: roast quail with buttery cabbage. Starters of oeufs mimosa with thon and crabe: green bean salad, hazlenuts, hazlenut oil. Finish with Le Paris-Deauville the wobbly dreamy, creamy, cake as made by Eric's mum. The recipe's written on the wall. Write it down!
There's an excellent wine list and cheese by Claire Griffon, http://fromagerie-griffon.com/ plus an epicerie for last minute gifts, cupboard fillers.
"You know a lot of people asked when I was going to re-create La Verrière, my first restaurant, near Les Buttes Chaumont (where you could never snag a table, unless you booked weeks ahead) now they have the answer", Frechon grins. And, even if you're not going anywhere Frechon adds: "The table is a journey of plaisir, emotion, souvenirs and conviviality", n'est ce pas"?
Lazare,
Parvis de la Gare Saint-Lazare, rue interieure, 8th
Metro : Saint Lazare!
T: 01 44 90 80 80
Open 7/7 Formula petit dejeuner 9€
Plat du Jour 18€ changes daily e.g. Mon: Quenelles de brochet, sauce nantua!
Sunday Lunch de Grand-Mère 38€ – In-house journal
A La Carte Starters from 7-25€ – Mains 16-39€ : Desserts: 6-15€ + wine
www.lazare.paris.fr
Aller chez Allard: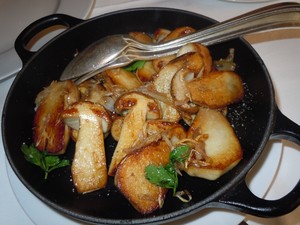 Marthe Allard and subsequently Fernande, her daughter-in-law, described their dishes as: "traditional slow-cooked and simple, proper meals beginning at the market, with seasonal products. Challans Duck with olives, shoulder of Limousin lamb, coq au vin etc".
So, hardly surprising, when Alain Ducasse took over from 75-year old Claude Layrac ( who acquired Allard in 1995 and, until recently, drove his truck to market) it was with the understanding he would change nothing and pass the kitchens to a woman chef.
Meet Laëtitia Rouabah, inspired by her mother and grandmother. Laetitia has worked in the kitchens of the Plaza Athénée, Le Relais Plaza, Alain Ducasse at the Dorchester with Jocelyn Herland, Jules Verne and Salon La Première Air France, Roissy Charles de Gaulle Airport.
For the re-launch of Allard in September Laëtitia took over the coppers, seconded by Emilie Villon ex- Benoit Paris, they continue the belle histoire alongside the formidable Didier Remay, 37 years in Allard's kitchens, 33 years as head chef, he began his career with Fernande Allard!
All the dishes are made in the open kitchen from original Allard recipes.
The wine card showcases Burgundies, Rhone Valley and also Bordeaux wines. Gérard Margeon, head sommelier of  Alain Ducasse restaurants says: "We'll feature 2nd growth wines from top chateaux".
So, to accompany the simple, no frills, friendly cuisine, Margeon's gathered a selection of over 150 references.
"Since 1962, Burgundy had ruled supreme at Allard, so I decided to create new pairings, namely with great Bordeaux" says Margeon. "A guided tour of the great estates through their second wines", he adds.
The majority of estates are represented by great wine, but above all, by their second wine. "Signature Challans duck with olives, matched with Pomerol, Le Manoir de Gay 2009, second wine of Château le Gay. Les Côtes d'agneau au sautoir, ratatouille, pairs with the second wine of Lynch Bages, le Pauillac Echo de Lynch Bages 2009. "We suggest daring pairings", admits Margeon. "For example, with Bresse roast chicken, I like the light and subtle white Burgundy, Nuits-Saint-Georges, Domaine des Perdrix 2010". Finish with Saint-Nectaire or 5 desserts including Rhum-Baba Chantilly.
"Allard is above all simplicity in tradition, and tradition in simplicity!"
Member of Châteaux & Hôtels Collection
1, rue de l'Eperon, 6th
M: Saint Michel
T: 01 43 26 48 23
Open 7/7
Parking Saint Michel
Lunch formula: 34€
A La Carte average spend – 55€ + wine
Let the train take the strain:
Christmas shopping, what fun. Find great gifts in Europe's colourful and traditional markets.
Brussels
The Brussels Christmas market is one of the most inventive in Europe. The 'Plaisirs d'Hiver' or 'Winter Wonders' market where you can wander around more than 240 chalets and stalls, try out the 200ft ice skating rink and take in the nightly sound and light show on the Grand Place
Journey time: 2 hours
Markets open: 29 November – 5 January
Tickets from: £69 return
Tickets from: £99 return
Strasbourg
There's something for everyone in this quaint and ancient city, crowds have been flocking here since 1570 to enjoy one of the oldest Christmas markets in France. A total of 12 markets now pack the cobbled streets around the old cathedral with a myriad of seasonal treats to charm festive shoppers.
Journey time: 5 hours 15 minutes 
Markets open: 30th November – 31st December
Tickets from: £99 return
Lille
A charming Christmas market, and over 80 chalets. Lille is the perfect city to immerse yourself in Christmas spirit. The main square transforms into Winter Wonderland with an 18-meter high Christmas tree, enjoy seasonal sights of the city from a giant Ferris wheel.
Families can spend hours enjoying the festive attractions on offer in the main square and foodies indulge in mouthwatering French Christmas delicacies.
Journey time: 1 hour 20 minutes
Markets open: 20 November – 30 December
Tickets from: £69 return
Bruges
The beautiful market square of Bruges transforms each winter with colourful lights and illuminated festive stalls crammed full of Christmas goodies. Around 30 traditional stalls sell everything from gifts, speciality foods, chocolates and sweets to unusual hand-made Christmas decorations. Check out the open-air ice rink and Christmas Hobby and Toy Fair.
Journey time: 3 hours 30 minutes (via Brussels)
Markets open: 23 November – 2 January
Tickets from: £79 return
Journey times are out of Paris: For more information, book Eurostar tickets or buy Eurostar gift vouchers, go to:
Diary Date:
Take a piece of Le Plaza Athénée (closing for a facelift) home from Artcurial's auction.
Mon 7th Octobre 10h, 14h30 and 19h, Tues 8th Octobre, 10h et 14h30.
At. 7, Rond-Point des Champs-Élysées, 8th
Preview at l'Hôtel Plaza Athénée, 25, Avenue Montaigne, Friday 4, Saturday 5 et dimanche 6 Octobre, de 10h à 20h.