Pierre Herme La Vie Est Belle: Picasso: Chateau de Versailles: Fouquet's Gluten Free Menu & Festival de Prunes Buzz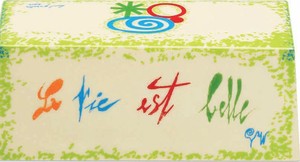 Early in September, to showcase "La Vie Est Belle" his Christmas 2013 Collection, Pierre Hermé hired the Theatre de l'Odeon, Paris, inaugurated by Marie-Antoinette on April 9, 1782, and where The Marriage of Figaro premiered two years later.
How very appropriate to let them eat cake, while taking part in an itinerant opera by Les Brigands.  Tables were set in the theatre with crisp white cloths, waiters in crisp whites offered champagne, green tea with bergamote, fresh juices, to match the fabulous feast for les fêtes. Bûche Infiniment Citron: Bûche La Vie Est Belle: Noel a la Montagne and a new take on Galette de Rois with featherlight riz au lait à la vanille. Yum!
Added to his team for the last few years is artist Bernard Quentin, a painter, but also an architect, sculptor, landscape architect, still working at 90! Monsieur Quentin created Cake in the Clouds at the request of PH.  "He's a major inspiration to me", admits PH who lies in bed at night thinking up new flavours and savours, check out Truffles Infiniment Caramel, dreams come true. Swing by any of PH's patisseries to taste the entire collection.
"And, if you were marooned on a desert island PH, could only have a supply of one of your creations, which would it be?" I ask. "Chacun à sa Madeleine, la mienne c'est Ispahan, it's my fetish", he grinned (incidentally there's now a Proustian madeleine version of Ispahan!) Oui, La Vie Est Belle!
Picasso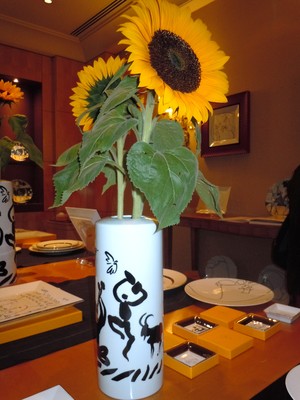 "Owning a Picasso or not owning a Picasso: that is the question!" says Marc de Ladoucette whose gallery is located in the chic 16th arrondissement. "Chez moi you can acquire one/two/several, without breaking the bank".
The publisher/gallery owner's limited edition plates, cups, vases re-produce the art of the iconic painter.  All the pieces reference mythology and antiquity. La colombe, the horse, the three Graces, the dove and many others.
Editions Marc Ladoucette has an excellent reputation for its' china and porcelain made in the Limoges workshop of Michel Lassont.  Together with his team of skilled craftsmen, keeping alive the traditions of French porcelain manufacturers.
Reproduced under licence of the Picasso Administration© all the items can be ordered on line and each stunning piece comes with a Certificate of Authenticity. Picasso, sculptor, painter, printmaker, ceramist, stage designer 1881-1973 said: "The purpose of art is washing the dust of daily life off our souls".
Galerie Marc de Ladoucette
Prices from 96€-230€
Showroom: 11 rue Gustave Zédé, 16th
T: 01 40 47 05 06
M: Ranelagh RER Boulainvilliers
Let's Eat Cake: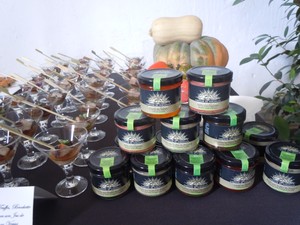 Look for "Château de Versailles" just launched brand of gourmet goodies headed, "Royal Garden",  "Queen's Delicacies", "King's Pleasures" etc. with delicious Chutneys & Confits, Foie Gras, Confitures de Fruits, Sirops, Honies, Soups, Sauces, Jams and Honey Bonbons.
The concept reflects the refined and epicurean tastes of King Louis XIV, who, with Le Nôtre and Jean Baptiste de La Quintaine his two gardeners, created the Royal Vegetable Garden designed as a "research laboratory" of horticulture providing his feasts with constant new flavours.
"Oh! Legumes Oubliés, the forgotten fruits and vegetables are organically produced by Bernard Lafon include asparagus: aubergines: quince: figs: strawberry: parsnips: petits pois: jerusalem artichokes rhubarbe: elderberries presented in Versailles Brand designer jars (lovely to keep!) with herbs, spices, truffles.
"It was at the Court of Versailles that French cuisine became truly prestigious. To-day, this lifestyle is perpetuated showcasing the bounty of France, we're going back to the future", said Monsieur Lafon.
The products are available at Le Bon Marché, Lafayette Gourmet, Galerie Gourmandes, Macy's & Dean & Deluca, NYC etc., and on line. Now you to can eat like a King.
Price from 6.80€-38.70€
Prunes and Prisms
The 1st Paris Festival of Prunes is on Sunday 6th October at Bercy Village, Cour-Saint-Emilion: re-named Place des Pruneaux d'Agen for the weekend of festivities
See you there!
Fouquet's Menu Non-Gluten: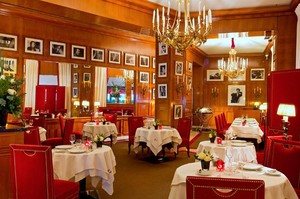 Louis Fouquet launched his eponymous restaurant in 1899, it's always been the chic destination for le tout Paris. Monument Historique since 1990, it was acquired in 1998 by Groupe Lucien Barrière.
The walls are punctuated with Studio Harcourt portraits of the great and the good, Maurice Chevalier, Orson Wells, Jeanne Moreau and, more recently Liza Minelli, Sean Penn, Quentin Tarantino, Clooney etc.
"It's obvious our clientèle are very conscious of what they eat, so we've put together a Gluten Free menu in collaboration with Paule Neyrat, dieticienne at the U Spa of the adjacent Hôtel Fouquet's Barrière", explains executive chef MOF Jean-Yves Leuranguer. "Of course there's still the classics such as la Sole Meunière, le Tartare de boeuf Bénabar, les Ravioles au Homard Jean Todt and the Chariot of Desserts including Millefeuille Tradition Fouquet's", he promises.
The Gluten-Free dishes will change with the seasons, at present begin with a delicate Autumn Salad from Verger Saint-Eustache with crunchy grains of kacha, Vinaigrette Xérès à l'huile d'amande douce.
Chef Sommelier Rodolphe Lesueur suggests Gérard Bertrand's La Forge AOP, Corbière Boutenac (26€). Main is either grilled organic Tamari marinated chicken, creamy polenta, sauce riviera. Or Fusilli Paradeigma with tomato, cooked in vongole jus, topped with locavore cresson. Mop up with delicious gluten-free bread. Finish with sublime layered Quinoa Candi, figs and verveine.
Book Table 3, a good post to eyeball le tout Paris coming and going and get the backstory from Christophe, he knows a thing or two, he's been chez Fouquet's for thirty-five glorious years. "It's my life", he sighs.
Fouquet's
46 Avenue George V
Metro: George V
T: 01 40 69 60 00
Menu Gluten-Free 88€
Diary Date with Masculin/Masculin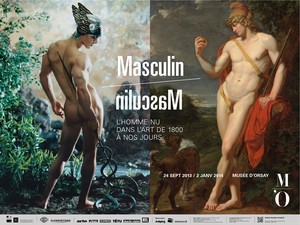 The Naked Man in Art from 1800 until to-day
Until 2 February, 2014.
Leave a reply
Your email address will not be published. Required fields are marked *