La Riviera: Where to Eat near Gare du Nord in Paris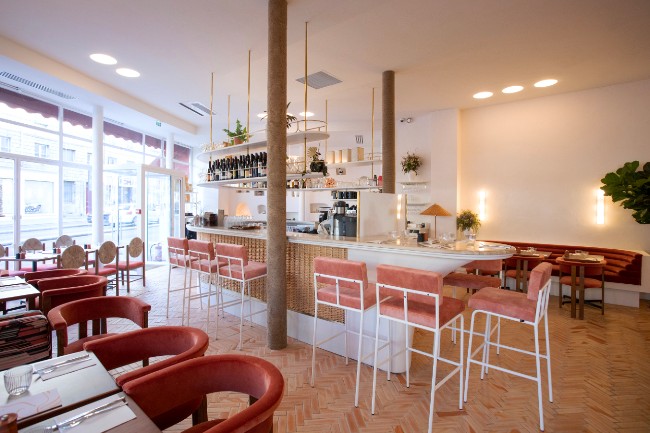 Locals in the 10th arrondissement— and those traveling to Brussels on the Thalys, or London on the Eurostar— used to bemoan the lack of good restaurants near the Gare du Nord. That's no longer the case. There are a handful of enticing new eateries, and one of our favorites is situated just a stone's throw away on Rue La Fayette.
La Riviera made a splash when it launched in autumn 2019. This buzzy restaurant is the latest address from the team behind La Maison Bleue, a neo-bistrot in the 10th arrondissement, and Les Fauves, a popular restaurant in the Montparnasse area.
La Riviera is a cheery, vibrant spot, designed by the French interior design studio Friedmann & Versace with lots of greenery and pops of Mediterranean color. We recently stopped by for lunch— escaping a tempestuous rainstorm— and warmed up immediately on arrival, greeted by the friendly staff and catching sight of a large communal table that looks like a slab of swirly agate. Taking a seat near the open kitchen, we were likewise impressed with the tableware, hand-crafted ceramics exclusively created by Laurette Broll– almost too pretty to eat from. Instead of just a carafe with tap water, the waiter also brought one filled with sparkling water.
There's a nice soundtrack, mingling with the hum of conversation from contented diners. The menu features a selection of contemporary southern French cuisine made with local, seasonal ingredients, along with wood-fired pizzas. Did you know that the French are huge fans of pizza? It's said that the French eat more pizza per capita than the Italians and needless to say, you can find delicious pizza in Paris. One of the best we've sampled is at La Riviera. The team worked for many months to perfect an original recipe, featuring organic flour from the Moulin Hoche in Picardy, less than 100 kilometers from Paris. The crust is crispy and perfect but the sauce is what really got us. La Riviera collaborated with the Domaine Terra cannery to create this unique recipe featuring organic tomatoes from Aquitaine, organic garlic, organic French olive oil and organic Espelette pepper from the Basque country.
Tip: Even if you're hankering for one of the signature plats, make sure to order a Margherita pizza (15 euros) as a starter.
Another popular dish at La Riviera is the poulet au citron (18 euros), prepared with lentils and Jerusalem artichoke. On the menu you'll also find steak, fish, salads, and a vegetarian couscous served with a fragrant bouillon. Don't skip home-made dessert. The giant chou à la crème (9 euros)— as big as your hand— is topped with mouthwatering chocolate, while the Riviera-style lemon tarte (8 euros) is made with a thyme-accented shortbread crust.
Love brunch? La Riviera has recently launched a creative weekend menu, served in two services on Saturday and Sunday (11:30 am and 1:30 pm). Often brunch in Paris— a relatively new concept in recent years— can be limited to a standard egg and croissant affair. But La Riviera has a wonderfully creative brunch menu for 29 euros. You'll be treated to: 1) large plate composed of four elements— a spinach salad with citrus, pomegranate and dates; an egg with a purée of truffled Jerusalem artichoke; a fresh fruit salad; and your choice among three main dishes. 2) An assortment of four sweets including lemon cake, praline brioche, chou à la crème, pistachio-studded pain de Gênes, and Babka brioche. 3) A hot drink and detox juice.
This is a favorite local address, packed at lunch time, so make sure you reserve in advance. It's possible to make a booking directly on the website.
La Riviera
118 Rue la Fayette, 10th
Tel: +33 (0)1 42 63 06 05
Weekly lunch menu, served Monday-Friday, priced at 17 euros for a starter and main, or main and dessert.
Open every day of the week. From 7 am to midnight from Sunday through Wednesday, and from 8 am to 1 am from Thursday through Saturday
Want to be inspired by more French foodie experiences and enjoy classic French food, wine and recipes? Head to our sister website, Taste of France, here.
Lead photo credit : courtesy of La Riviera
More in Italian food in Paris, pizza, pizza in Paris
---
---