Yazuka, Cléo, Fabula: Summer Dining in Paris
"I never planned or plotted any of this. I have, however, always followed my mother's dictum: 'When opportunity knocks, open the door!' "- Bob Colacello
Château Minuty is the magical story of the Matton-Farnet family, dedicated winemakers for over 85 years, at Gassin, on the Saint-Tropez peninsula.
From the capital to the Côte-d'Azur, Minuty is arguably the favorite Saint-Tropez wine. This summer, sip it at Yazuka in the Japanese garden at Maison Albar – Le Vendome, Paris. Surrounded by greenery in this zen-like setting, discover a selection of cuvées from the iconic French vineyard: Minuty Prestige Rosé and White, Château Minuty Rose et Or, and, exclusively Château Minuty 281.
Yakuza's summery menu tips its straw hat to the Mediterranean and Japan, blending the vigor and bloom of Provençal Minuty wines. Chef Olivier da Costa presents his signature dishes to share (or not): Ika Crispy, Hot Yakuza, Edamame beans with truffles, fleur de sel, California rolls.
"Tom Cruise" shakes and stirs sublime cocktails based on Minuty Prestige Rosé with fruity, refreshing notes of peach, lemon and cardamom honey.
From: Tuesday to Saturday, lunch and dinner services until 2am. DJ sets Thursday, Friday and Saturday evening.
DETAILS
Yakuza Paris by Olivier
Maison Albar Hotels – Le Vendôme
Tel: +33 (0)1 87 44 38 88
Metro: Opera
7 rue du Helder, 9th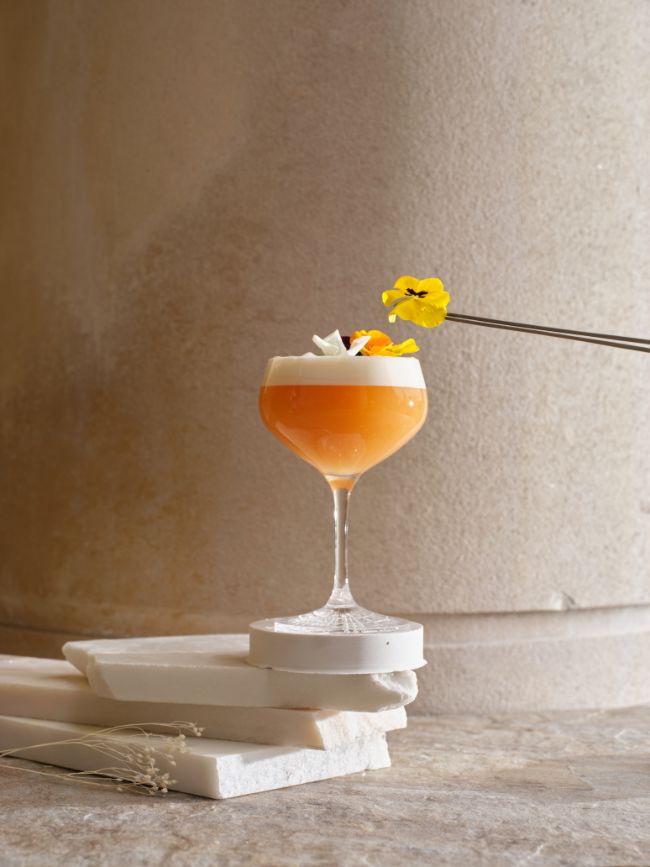 The Palais Galliera, the must-visit Paris fashion museum, celebrates summer in the garden with chic cocktails, lunches, and, for the first time, dinners.
There's a terrific trio at La Galliera, helmed by Chef Geoffrey Lengagne, sending out a parade of colorful and delicious dishes. Divine desserts by pastry chef François Daubinet and haute couture cocktails by Sébastien Foulard, founding mixologist of Jefrey's Bar.
View this post on Instagram
This summer, chef Lengagne presents his first menu as resident chef, based on his  world travels and time spent with Mathieu Vianney in Lyon, Thomas Keller in NYC and Pierre Gagnaire at Sketch, London.
Look for shiitake mushrooms, grilled then marinated in chimichurri and served with candied datterino tomatoes, mozzarella di Bufala and Iberian lomo. Mediterranean tuna takes on a "dolce vita" style with marinated green beans, summer arrabiata and raspberries!
For dinner, there are delicious sharing dishes such as barbecue grilled mature French sirloin with chipotle and pepper condiment; and ultra-melt in the mouth Galician octopus, barbecue roasted, summer fregola sarda. Bella musica!
Foulard's collection-capsule of haute couture cocktails is dedicated to the creators, from the 18th century until today, shown off at the Palais Galliera. Each recipe, with or without alcohol, salutes the awesome gowns in Palais Galleria's permanent collection, such as Mugler's ultra-black Mugler and Versace's very gold Versace. "Going to a restaurant is much more than having a meal: it's living an experience by and with real people," says the talented Legagne.
What are Les Petites Mains?
Les petite mains (which literally means "small hands") refers to the seamstresses who bring haute couture creations to life. Working in the ateliers, this talented, patient breed are fiercely loyal to a fashion house, spending their whole career at one brand.
(PS. The museum is located on the avenue with the incredible street market Tues-Sat from 7am-1:30 pm).
DETAILS
14, avenue du President Wilson, 16th
Metro: Alma Marceau
Menus from €26 (starter,main) to €35 (starter, main, dessert)
Lunch Tuesday-Sunday
Dinner Tuesday-Saturday
Sat-Sun – 12noon-3 pm
Open in August
Inspired by the beautiful dancer Cléo de Merode (1875-1966), the muse of the Belle Epoque, Bruno Aubin (Top Chef contestant, Eric Frechon alum) is sending out super summery dishes at L'Hotel Le Narcisse Blanc. Chef Aubin joins Vianney de Tastes (yes, that's his real name!), the cellar master at the Loire Valley's Château Soucherie. They create interesting food & Wwine pairings to match the four seasons.
Dr. Olivier Courtin-Clarins (CEO Clarins Group) collaborates with chef Aubin, so expect vegetarian, vegan and well balanced dishes. A few examples: grilled cauliflower (€18); salmon, cooked at low temperature, served with citrus butter, tandoori, cabbage, and a touch of ginger (€34); grilled Angus Beef with Java pepper, wild asparagus, and mustard beef jus (€36). Desserts include "Le Snickers" (€16), Baba au Campari (€24).
The hotel's spa, by Clarins, has a treatment room, gym, 13-meter-long pool and sauna. Mmmm…see you there!
DETAILS
Hotel Le Narcisse Blanc
19, Boulevard de la Tour Maubourg, 7th
Metro: La Tour Maubourg
Tel: +33 (0)1 40 60 44 32
Open 7/7. Open in August.
Menu Narcisse: €39-€55 + wine
Suggestion of the week: €25 + snacking available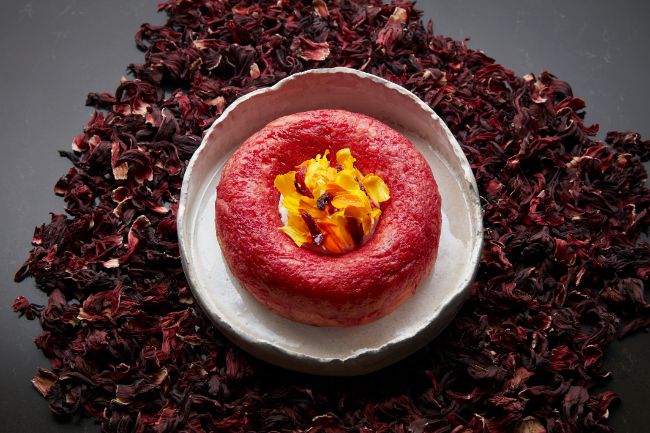 Don't miss Fabula! The pop-up restaurant (open until the end of October) is situated in the manicured gardens of Musée Carnavalet, the Marais museum dedicated to the history of Paris.
Fabula's second season follows an exciting debut last year helmed by Top Chef's Thibaut Spiwack, and Michelin-starred chef, Julian Dumas, from Saint James Paris.
Dumas' dishes (for dinner only) are a poetic ode to the vegetable kingdom, where herbs play the leading role. Think gnocchi with Parisian ricotta, roasted eggplant and rocket pesto, or sea bass ceviche with peach and tarragon leche de tigre (citrus-based marinade that cures the seafood in a ceviche).
More than a restaurant, here's a romantic escape from the hustle and bustle of Paris. Look for delightful dishes such as pressed fennel, yogurt, marjoram and honey, verjuice, pollen vinaigrette, Ile de France peas. Chilled gazpacho, pea pod jus, Fontainebleau lovage (soft curdy cheese, think posh yogurt with attitude). Wines, by the glass, from €8. Or match your food with signature cocktails/mocktails crafted by Remy Savage, World's Best Mixologist 2022. Inspiration is via nature's garden; Savage is a big fan of ingredients such as elderflower, basil, and lemon verbena.
Desserts are by Jeanne Lecourt ("Best Apprentice") who learned her craft from the likes of François Perret (The Ritz), Jacques Maximin, Nicolas Guercio (Lutetia) and Bellefeuille, Saint James with Julian Dumas. Jeanne combines salty and spicy, but beg for Baba in Bali, tea syrup with verbena, vanilla whipped cream, verbena leaf.
Why Go?
The recently renovated museum tells the story of Paris from its origins to today. Because you're worth it! Note: During the day, snack on suggestions by No More Penguins
DETAILS
16 rue des Francs-Bourgeois, 3rd
Metro: Place des Vosges
Tel: +33 (0)1 86 95 10 61
Open for Dinner from Tuesday-Sunday 7:30 pm – 2 am
Until the end of October
Average spend: €50 + wine
View this post on Instagram
Inspired by sunny thoughts of Mediterranean holidays – even if you're planning a staycation in Paris this year! At the heart of this crunchy creation, olive flavors,  enhanced by grilled notes of  Zaatar with its aromas of thyme, oregano, sesame, sumac. This beautiful bread is made with sourdough, Maison Kayser's signature for more than 26 years.
Price €4 – in all Eric Kayser boutiques.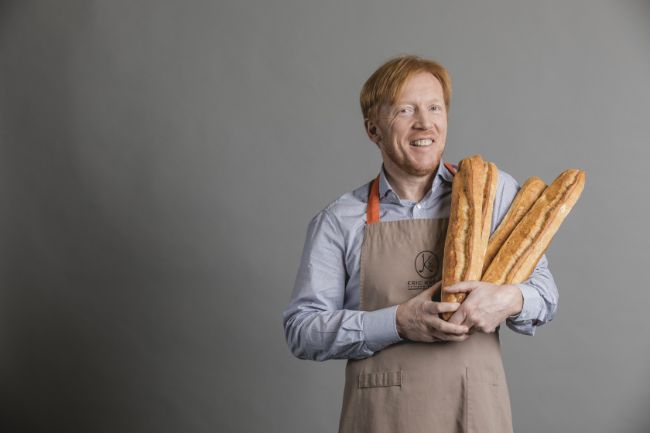 Diary Date – Tour de France – Final Stage 23rd July, 2023
Find a pitch on the right bank on Rue de Rivoli (near Le Meurice Hotel, that way you can pop into La Pâtisserie du Meurice).
Even better: A spot on the Champs Elysées outside metro station Champs Elysées Clemenceau – near the finish line.
Lead photo credit : Yakuza. Photo credit: Raphael Metivet
---
---