Letter from Paris: July 19, 2023 News Digest
In case you missed Bastille Day in Paris, here's a peek at the fireworks display over the Eiffel Tower. We may be a bit biased, but we think it's one of the best shows in the world! From Paris Plages to the finale of the Tour de France on the Avenue des Champs-Élysées, there's no shortage of fun and festivities in Paris this summer. Here are some recommendations.
View this post on Instagram
You've heard that the city of Paris aims to host the Olympic swimming events in the River Seine, following a massive river clean-up costing €1.4 billion. Though Parisians used to enjoy swimming in the river, it's been banned since 1923 because of health risks associated with pollution. The project has involved the construction of the Austerlitz rainwater storage basin (to prevent runoff during heavy rains) and the connection of 23,000 homes and 260 houseboats to the sewerage system (previously they discharged untreated wastewater directly into the Seine). In a continuation of the Olympics promise, Mayor Anne Hidalgo has unveiled the three permanent areas of the Seine that will be safe to swim in by 2025: Bras Marie (Central Paris), Grenelle (15th) et Bercy (12th). Accessible via footbridge, these spots will be marked by buoys. Changing rooms and showers will be constructed on the river quays. This summer, you can enjoy water sports like kayaking at the Bras Marie location.
Dès 2025, on pourra se baigner dans la Seine grâce aux Jeux !

Les 3 sites de baignade dans la Seine retenus : Bras Marie (Paris Centre), Grenelle (15e) et Bercy (12e).

Mes adjoints ont déjà fait un premier plongeon ! Ce sera bientôt votre tour et aussi le mien 😀 pic.twitter.com/Hh2dGxSgPF

— Anne Hidalgo (@Anne_Hidalgo) July 9, 2023
Meanwhile, Olympics fever is sweeping across the country. Paris is staging a "summer of sports" as it prepares to host the games next year. From the triathlon test event to the French youth golf championships, there's a bevy of competitions to enjoy. Mark your calendars: July 26, 2023 will start the 365-day countdown to the official start of the Games. France24 has published a calendar of key dates leading up to start of the 2024 Summer Games. Check it out here.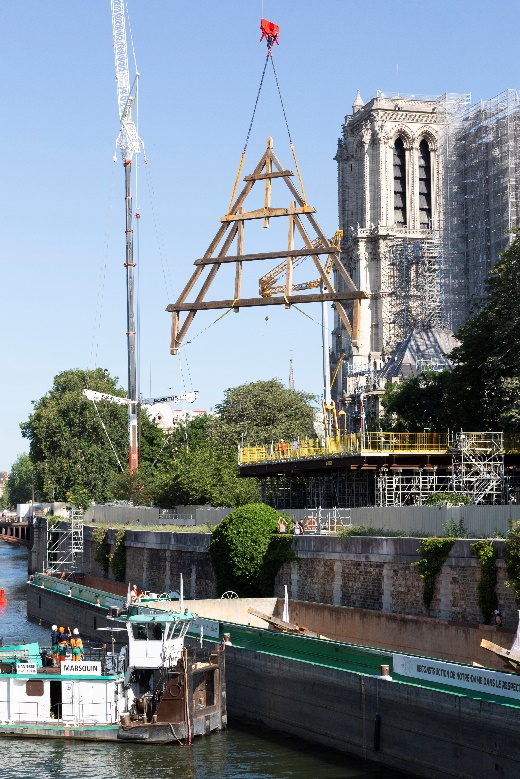 The restoration of Notre-Dame continues on track for completion in December 2024. Earlier this month, crowds gathered along the quays to watch a crane hoist oak trusses from a barge. Expert carpenters constructed the trusses using medieval techniques; they measure 14 to 16 meters wide and 12 to 13 meters high. This incredible operation required serious technical skill since the trusses weigh 7 to 7.5 tons. They were guided by ropes and placed on the roof near the spire and transept.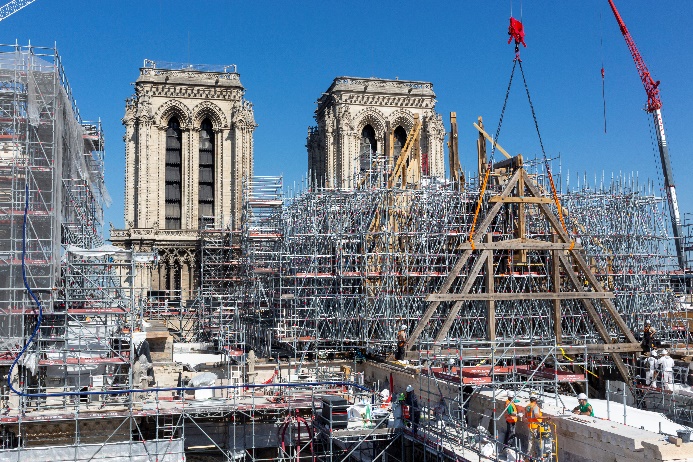 In environmental news, the French government has launched an initiative to help pay for clothing repair in order to cut waste. As reported by The Guardian's Kim Willsher: "A broken heel, a rip in trousers, buttons missing from a shirt? Don't throw them away if you live in France, where the government will pay a "repair bonus" to have them mended in a new scheme aimed at cutting waste. An estimated 700,000 tonnes of clothing is thrown away in France every year, two-thirds ending up in landfill. From October, people will be able to claim back between €6 and €25 of the cost of mending clothes and shoes in workshops or at cobblers that have joined the scheme."
The scheme will be run by the eco-organization Refashion, whose goal is to encourage consumers to repair, reuse and reduce the amount of clothes they buy every year. The textile industry is one of the most polluting on the planet, and the French government aims to reform it and fight against "fast fashion." France has already passed legislation to eliminate single-use plastics, and supermarkets cannot throw away unsold food (it must be donated for redistribution).
🚀 Le #BonusRéparation #Textile arrive !

👚👞 Dès cet automne, les consommateurs bénéficieront d'un coup de pouce de 6€ à 25€ pour la réparation de leurs vêtements et leurs chaussures.

Tous les réparateurs peuvent se labelliser dès maintenant auprès de @RefashionEcoorg pic.twitter.com/Der9g2rlwT

— Bérangère Couillard (@BCouillard33) July 5, 2023
Chapeau to Orange, the French telecommunications company, for their terrific advertisement supporting Les Bleues ahead of the FIFA Women's World Cup.
Wildly impressive French Football ad done for Les Bleues ahead of the World Cup. Helps if you speak French. But not required. 🇫🇷🔵🙌pic.twitter.com/DWyBHYmY4j

— Men in Blazers (@MenInBlazers) July 10, 2023
We'll leave you with a peek at the fun street style recently seen during Paris Fashion Week, courtesy of The New York Times photo essay "Where mortals become fashion gods." The street style often rivals the couture looks on the catwalk…

Lead photo credit : Eiffel Tower. © Pixabay
More in fashion week, notre dame, Paris Olympics
---
---