The Joie de Vivre of July: What to Do in Paris This Month
July is the month of warm evenings and long days and aircon on full blast. It is the month of ice-cold citronnades and seeking shade under the weeping willows along the Seine. It is the month of music and fireworks and excitable celebrations for Bastille Day. It is, as Hal Borland wrote, "a blind date with summer".
As the start of July brings us into the second half of 2023, the dog days of summer have arrived. Paris has quite the program for this scorching month, from France's most celebrated national holiday to evenings spent watching cult classics at the Louvre.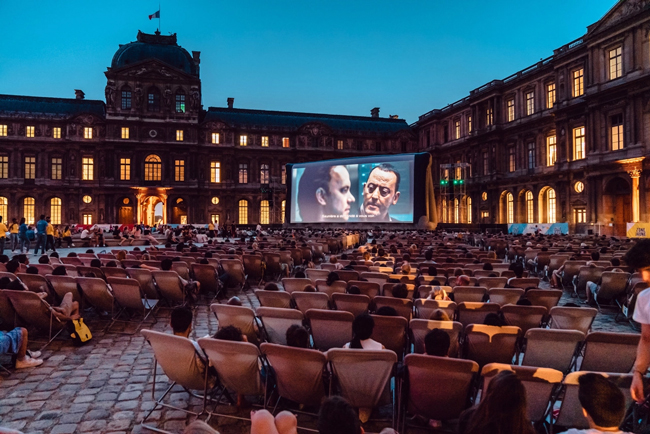 A trip to Paris in July provides the perfect summer getaway, with the sky staying light until 10 pm, maximum heat, and minimal rainfall. In the case of a Parisian heatwave, in which temperatures have reached an astonishing 109°F (43°C), I highly recommend taking an open-top boat tour down the river, or perhaps hiding from the heat in a cool wine cellar!
National Days of Celebration
Fête de la Bastille – 14th of July
France's most important national holiday falls on the 14th of July to commemorate the storming of the Bastille prison in 1789, marking the beginning of the French Revolution. Known to the French as La Fête Nationale and Le Quatorze Juillet, this day of festivity celebrates the symbolic milestone in French history.
A year later, in 1790, thousands of Parisians gathered on the Champs de Mars to mark the one-year anniversary of the storming. The National Assembly then declared it would be an annual event. 223 years later, the 14th of July is still celebrated across France as incredibly as it first was.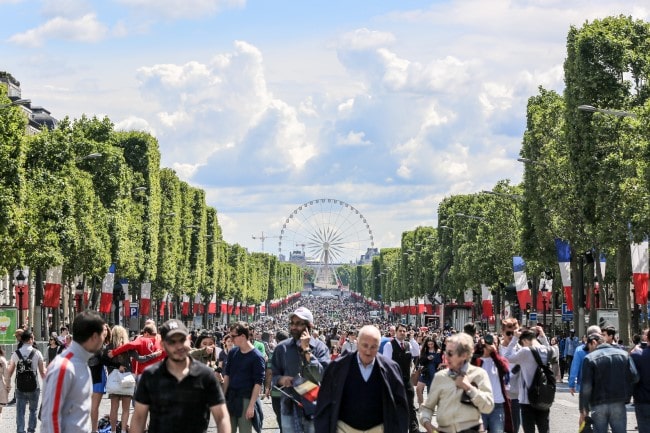 In the morning, there is an impressive military parade on the Champs-Elysées, followed by the spectacular lights, fireworks, and music display at the Eiffel Tower. Or, if you would rather have a view of the city's celebrations from the water, a dinner cruise is a popular way to experience Bastille Day. However you decide to honor this jour férié, this will be a day full of positivity, unanimity, and fun. Vive la France!
Cinémas en Plein Air
 La Villette Open Air Cinema – July 19th – August 20th
Parc de la Villette
Free Entry
For 25 nights each summer, the Parc de la Villette hosts the largest open-air cinema in France. This year's theme for La Villette Cinema is "Team Spirit," inspired by the upcoming Paris Olympics next year. Miss Peregrine and the Peculiar Children, Parasite, Les Misérables, Drunk, and Dunkirk are just five of the 25 films that demonstrate the importance of community. And what better setting to watch such films than in a beautiful park surrounded by other cinephiles? The film is projected onto a large screen at the fall of night, and watchers lounge on their picnic blankets on the grassy bank in front. All screenings are free, but don't forget to reserve your place online.
View this post on Instagram
The Louvre Cinema Paradiso Festival – July 6th to July 9th
Cour Carrée du Louvre, 1st Arrondissement
Free Entry
After the success of previous editions, the Louvre Museum has teamed up again with MK2 for four days of open-air film screenings, concerts, and DJ sets. The courtyard of the Louvre is transformed into a majestic cinema under the stars and overlooks the stunning building of the famous museum. Screening both cult classics and avant-premières, this will be a night surrounded by art in all of its forms. This is another free event, but on invitation only, so make sure to register for an invitation as soon as possible.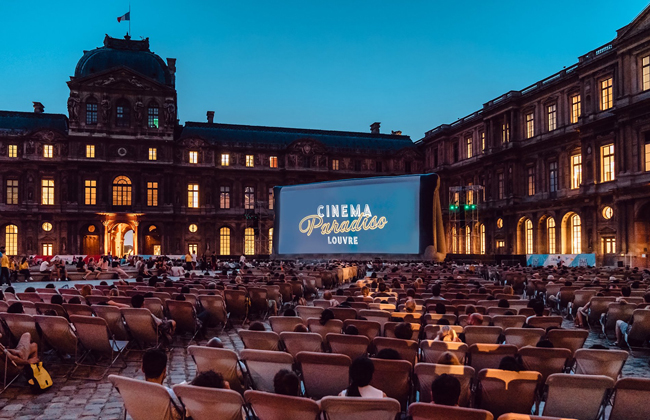 Festivals
Lollapalooza – July 21st – July 23rd
Hippodrome Paris Longchamp
Headliners: Rosália, Stray Kids, Kendrick Lamar, Lil N'as X, Niall Horan, One Republic, Central Cee
The term "lollapalooza" is an archaic word meaning "extraordinarily impressive", and that is exactly what this music festival is. With headliners such as Rosália, Kendrick Lamar, Lil Nas X, and One Republic, a weekend of music at the Hippodrome of Paris is one not to miss. As well as enjoying these renowned artists, Lollapalooza is also home to the next generation of rap artists by providing a stage to shine a spotlight on the upcoming talents of France's most popular genre of music. Lollapalooza is not just a festival of good music, but also a festival of good food, with an expansive street food market. There's something for everything with Kidzapalooza, an opportunity to rediscover music through the lens of childhood. Along with the performances on stage, workshops and activities will inspire musical creativity in both children and their families.
View this post on Instagram
Carnaval Tropical – 2nd of July
Starting at Avenue des Champs-Élysées at 1 pm.
In the early afternoon of the first Sunday of July, around 25,000 dancers and over 30 floats from around the world will descend upon the Champs-Élysées for the annual Carnaval Tropical. Bursting with color, costume, and Caribbean culture, this anticipated event is one of the highlights of Parisian summer. 200,000 spectators will join in with the celebrations of this exotic afternoon, and with the invigorating beats of the music, it will be hard for you not to get drawn for a boogie. Marvel at the elaborate costumes, taste flavorsome food, and make friends with people from across the globe.
Festival Paris l'Été – 10th July – 30th July
Organized by the Ministry of Culture and Communication in an effort to facilitate greater access to the arts, Paris' Summer Festival is an action-packed program showcasing the best of the city's artistic and cultural talents. Many notable locations around the city are taken over by theater, dance, circus, music, performances, and artistic installations, frequently outside of conventional performing arts venues and in the open air of Paris. Some performances worthy of attention include the Charon project by artist Peter Hudson and two evenings of ballet in the heart of the Louvre with the CCN Ballet de Lorraine and Maud le Pladec.

Other Unmissable Events
Paris Plages – 8th July – 28th August
Paris Plages brings the beach to the banks of the Seine, with entertainment, deckchairs, and free swimming awaiting you for a glorious summer of rest and relaxation in Paris. Each year since 2002, Parisians have flocked to the river's edge to enjoy the best of both worlds: serene "beaches" in a lively city. Take your book, sip on a cocktail, and lay under a palm tree to enjoy this summer resort. The 100-meter-long floating swimming pool on the Bassin de la Villette will reopen this summer to provide the public with a needed cool-off. Water sports such as paddle-boarding, canoeing, and kayaking are also available in the Bassin, and back on land, table soccer, pétanque, and tai chi are played between friends.
View this post on Instagram
Tour de France Finale – 23rd of July
The route of this year's Tour de France begins in the Basque region of Bilbao in northern Spain, stretching into the Pay-Basque of southwest France, before heading east and then finally north to Paris. This region is known as the heartland for cycling in western Europe and will provide incredible scenery to backdrop this famous competition. The race's final leg starts in Saint-Quentin-en-Yvelines and heads 115 km northwest until the finish line on Paris' Champs-Élysées. This stage is the last of 21 grueling stretches of cycling, and only the fittest will reach the finish line. Head to the 8th arrondissement on the 23rd of July to see who will be taking home the €500,000 prize.

La Fête des Tuileries – 1st July – 27th August
Each summer vacation, La Fête des Tuileries arrives in the Jardin des Tuileries to provide children and adults alike with a fun-filled fairground. With 60 activities on offer, such as bumper cars, rollercoasters, and an ice palace, your children will be sure to be amused. Treat yourself to some cotton candy, and maybe a toffee apple too, and let yourself be transported back to the joys of youth.
Lead photo credit : Bastille Day Fireworks, 2010, Paris by Joshua Veitch-Michaelis/Flickr
---
---
Comments