"My mother was right: When you've got nothing left, all you can do is get into silk underwear and start reading Proust." — Jane Birkin (born in London 1946 — died in Paris 2023)
The sad news is that singer and actress Jane Birkin has died, aged 76.
The English-French icon who inspired Hermès in the naming of their designer Birkin handbag, was found at home by her caregiver, French media has reported.
France's President Emmanuel Macron tweeted: "Because she embodied freedom, because she sang the most beautiful words of our language, Jane Birkin was a French icon. A complete artist, her voice was as sweet as her engagements were fiery. She bequeaths us tunes and images that will never leave us."
Jane Birkin first emerged in the showbiz world during the 1960s via an uncredited role in The Knack …and How to Get It. Subsequent notoriety came through a small role in Michelangelo Antonioni's Blowup (1966), following her brave nude scene as a blonde model.
Ms Birkin went on to a bigger role in 1966's Kaleidoscope and starred as a fantasy-like model in the 1968 film Wonderwall.
In 1969 she famously auditioned for the lead female role in the French film Slogan and, despite not speaking French, won the role and co-starred alongside Serge Gainsbourg. The dynamic duo performed the film's theme song "La Chanson de Slogan" and went on to appear together in Gainsbourg's first film, Je t'aime moi non plus (1975) – banned in the UK for its examination of sexual ambiguity.
They famously released the duet "Je t'aime…" to see it banned by radio stations in Italy, Spain and the UK, due to the panting and sexual explicitness. However, it became – at the time – the biggest-selling single ever for a foreign-language record.
Having finished filming Kaleidoscope, Birkin moved to France permanently and filmed 1969's La Piscine. Taking a brief break from acting in the early 70s, Birkin returned to the screen in 1973 to play Brigitte Bardot's lover in Don Juan, or If Don Juan Were a Woman. The same year she starred alongside Joan Collins and Christopher Lee in the horror flick Dark Places.
In the late 70s and early 80s, there were appearances in Agatha Christie films Death on the Nile and Evil Under The Sun. During this time she also recorded a number of sexy, suggestive albums, including Amours des Feintes, Lolita Go Home and Baby Alone in Babylone.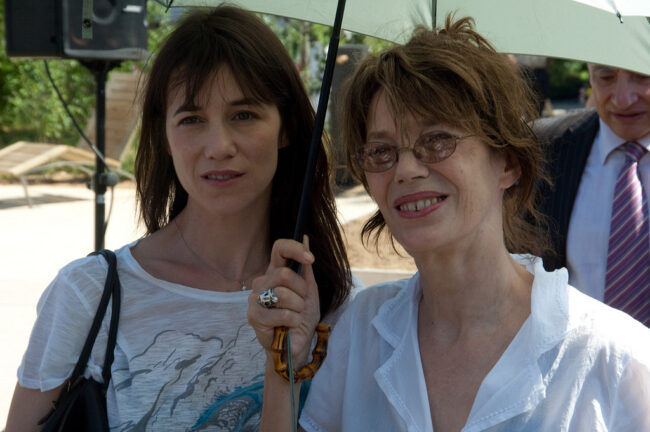 And there were children: Charlotte, from her relationship with Serge Gainsbourg, Kate Barry (who sadly died – from her marriage to composer John Barry) and Lou Doillon with Jacques (film director) Doillon.
Of the Hermès bag, Birkin declared in 2017: "I fill my bag with junk… and half the furniture from my house; it's a very, very heavy bag." Of the limitations that the wish list carryall poses, Birkin revealed that she prefers to keep things fuss free. "Now I fill my pockets like a man, because then you don't actually have to carry anything."
RIP to an icon.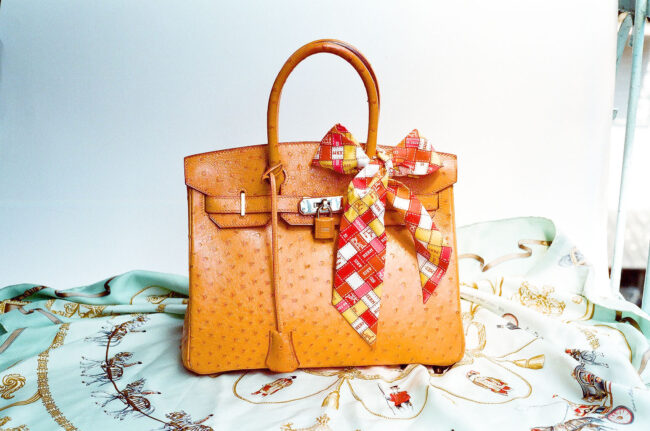 Lead photo credit : English actress and singer Jane Birkin at the American film festival in Deauville, 1985. Photo credit: Roland Godefroy / Wikimedia Commons
---
---