Ritual and Tradition: Find Lucky Spots in Paris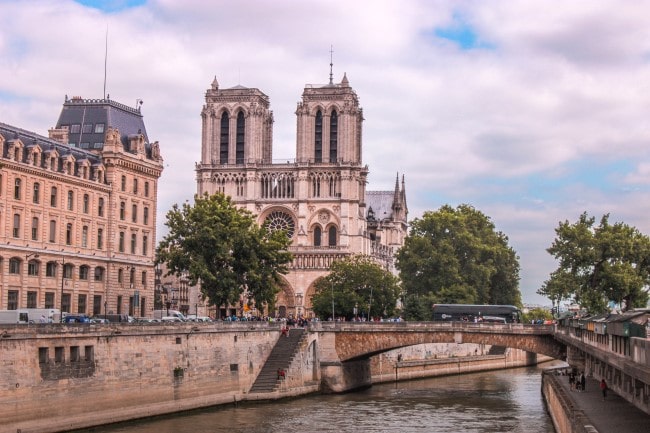 Sometimes old customs and traditions are hard to resist. Dropping a coin into a fountain is nonsensical, yet we do it anyway. It's all part of the fun. Paris has its share of charmed spots, points on the map, with adherent rites and superstitions where the curious can try their luck or merely leave their mark. A somewhat newish and divisive tradition in Paris are the
love locks
– padlocks attached by visiting couples to bridges or railings in the hope the love they feel in Paris will last forever. This tradition quickly got out of hand. Paris doesn't want these locks; bridge structures are crumbling under the weight of all that mawkishness, and the removal and repairs are quite costly. There's more to see and do and wish for in the City of Light. Here are a handful of rituals and lucky spots in Paris that are far less problematic. Love Lock ~ Paris, France by Dustin Gaffke/ Flickr Kilometre Zero Located in the square in front of the cathedral of Notre Dame is a small geographic marker. This octagonal brass plate is Kilometre Zero and the focal point from which all other distances in France radiate. The rites performed here are of the wishing kind. Some spin in a circle on the marker to gain their heart's desire. A kiss over the marker supposedly ensures eternal devotion. Coins are left at the site for good luck – somebody does well out of this! Others treat it as a punctuation mark to a splendid Paris holiday. Kilometer Zero/aka Point Zero is located about 30 meters in front of
Notre Dame
and looks like an unobtrusive maintenance cover. Point Zéro des Routes de France. Photo credit: Hazel Smith Palais Royal The eye-catching black and white columns called les Deux Plateaux or more commonly, the Colonnes de Buren are a permanent installation in the courtyard of the Palais Royal. It's considered good luck to toss coins through the grates surrounding some of the striped columns into the pools of water at their base. It's also lucky for those fishing for the centimes with magnets. Colonnes de Buren. Photo: Guilhem Vellut/ Wikimedia Commons
SUBSCRIBE
ALREADY SUBSCRIBED?
BECOME A BONJOUR PARIS MEMBER

Gain full access to our collection of over 5,000 articles and bring the City of Light into your life. Just 60 USD per year.

Find out why you should become a member here.

Sign in

Fill in your credentials below.
Sometimes old customs and traditions are hard to resist. Dropping a coin into a fountain is nonsensical, yet we do it anyway. It's all part of the fun. Paris has its share of charmed spots, points on the map, with adherent rites and superstitions where the curious can try their luck or merely leave their mark. A somewhat newish and divisive tradition in Paris are the love locks – padlocks attached by visiting couples to bridges or railings in the hope the love they feel in Paris will last forever. This tradition quickly got out of hand. Paris doesn't want these locks; bridge structures are crumbling under the weight of all that mawkishness, and the removal and repairs are quite costly. There's more to see and do and wish for in the City of Light. Here are a handful of rituals and lucky spots in Paris that are far less problematic.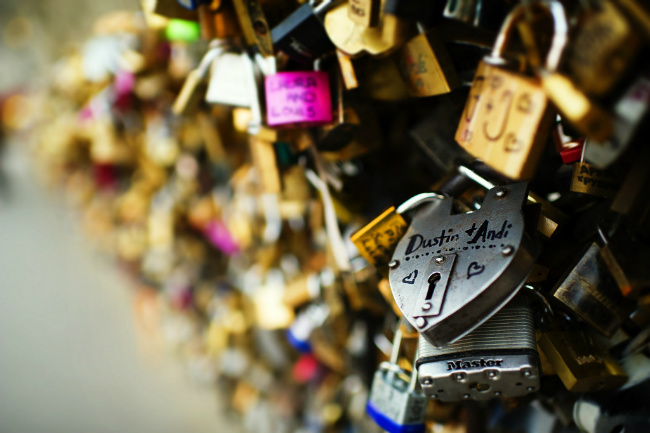 Kilometre Zero
Located in the square in front of the cathedral of Notre Dame is a small geographic marker. This octagonal brass plate is Kilometre Zero and the focal point from which all other distances in France radiate. The rites performed here are of the wishing kind. Some spin in a circle on the marker to gain their heart's desire. A kiss over the marker supposedly ensures eternal devotion. Coins are left at the site for good luck – somebody does well out of this! Others treat it as a punctuation mark to a splendid Paris holiday. Kilometer Zero/aka Point Zero is located about 30 meters in front of Notre Dame and looks like an unobtrusive maintenance cover.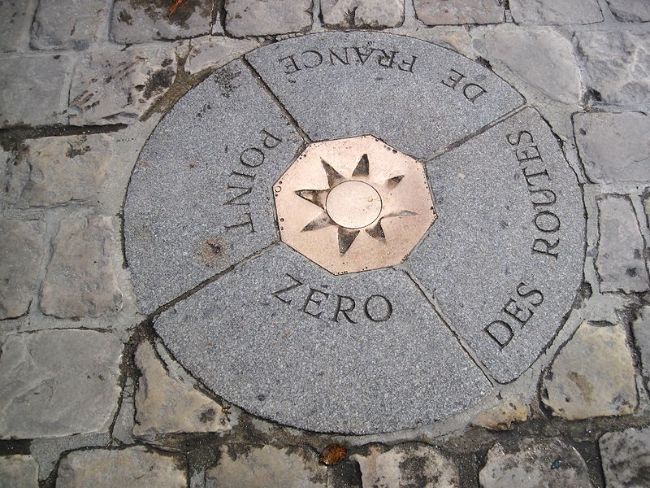 Palais Royal
The eye-catching black and white columns called les Deux Plateaux or more commonly, the Colonnes de Buren are a permanent installation in the courtyard of the Palais Royal. It's considered good luck to toss coins through the grates surrounding some of the striped columns into the pools of water at their base. It's also lucky for those fishing for the centimes with magnets.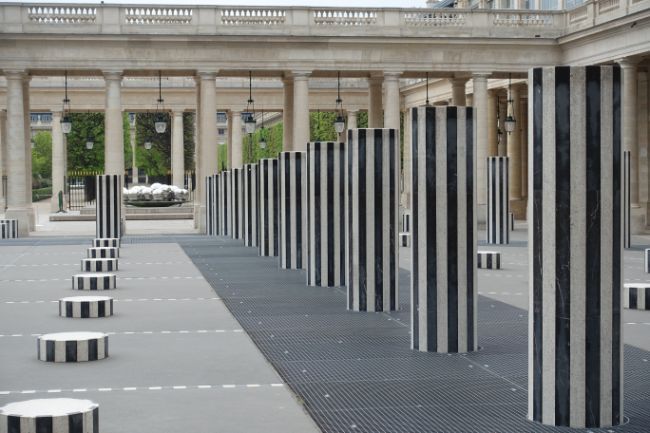 5th Arrondissement
Next to the church Saint-Julien-le-Pauvre church, in the Square René Viviani, lives the oldest tree in Paris. This black locust was planted in 1601 by botanist and doctor Jean Robin who brought several species of trees back to Europe from his foreign travels. This one was named Robinier faux-acacia in his honor. Robin was the official gardener to three French kings and was later assigned to set up the Jardin des Plantes. This tree has been the recipient of much tender loving care witnessed in the structures propping up its branches. It's known as the "Lucky Tree of Paris," and is thought to bring good luck to those who ever-so-gently touch its bark.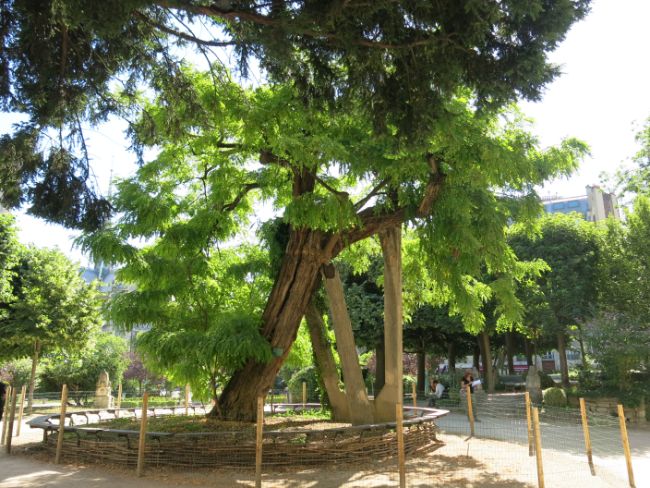 It's an old student custom in the 5th arrondissement to touch the slippered foot of Montaigne's statue and say "Salut, Montaigne!" for good luck on an exam. Perhaps as the father of the essay, Michel de Montaigne could positively influence their lengthy finger-cramping tests. Montaigne's statue was originally marble, fashioned by Paul Landowski, the same sculptor that created Christ the Redeemer in Rio. Montaigne's magic slipper received so much attention that the foot began to erode and the 1933 original was replaced with a bronze copy in 1989. Montaigne's attentive pose and knowing smile have comforted several decades of Paris students who still shine his shoe to this day. Montaigne is part of the Square Samuel Paty but readily touchable at 59 rue des Ecoles.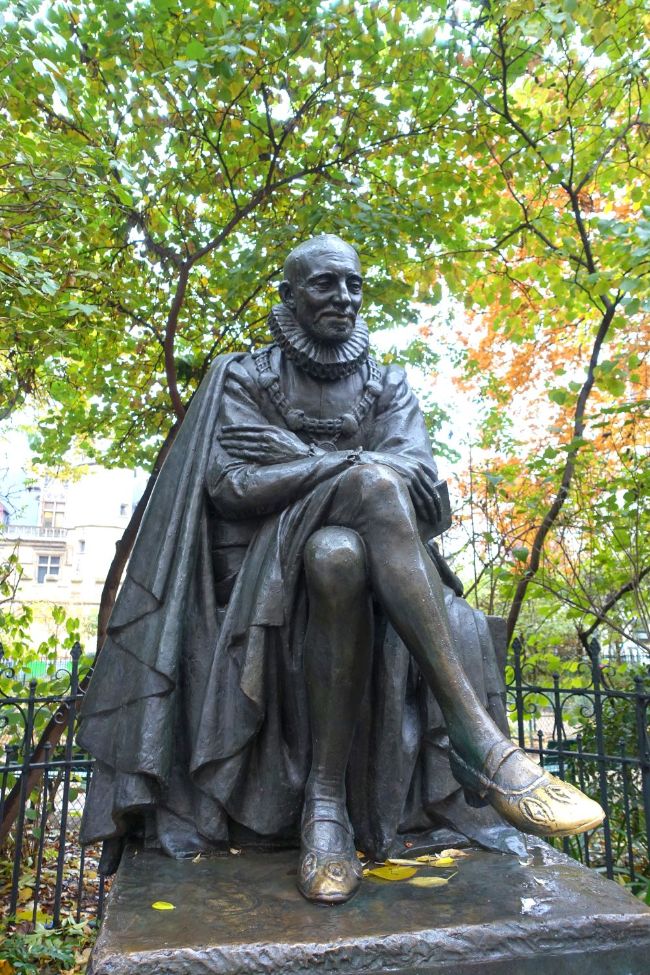 7th Arrondissement
Located on Paris's left bank at 5 rue de Verneuil is the house of Serge Gainsbourg, where the indefinable mentor of French pop lived from 1969 until his death in 1991. The front gate and façade feature a time-lapse tableau of street art, AKA graffiti, as a tribute to Gainsbourg. Some pieces are hastily scribbled homages and some are impressive works of art. These impromptu tributes began when Gainsbourg was still living. It amused him but annoyed his neighbors who regularly demanded the removal of these expressions of love. Fans toting environmentally friendly spray cans still doodle on the walls, but they're no Gainsboroughs (Thomas, that is). Gainsbourg's home will be open to the public as a museum in September 2023.
Montmartre
Montmartre has its share of charmed and charming spots. After popping your head into Le Deux Moulins to pay tribute to the lovelorn Amelie, head up rue Lepic to a much older Montmartre legend.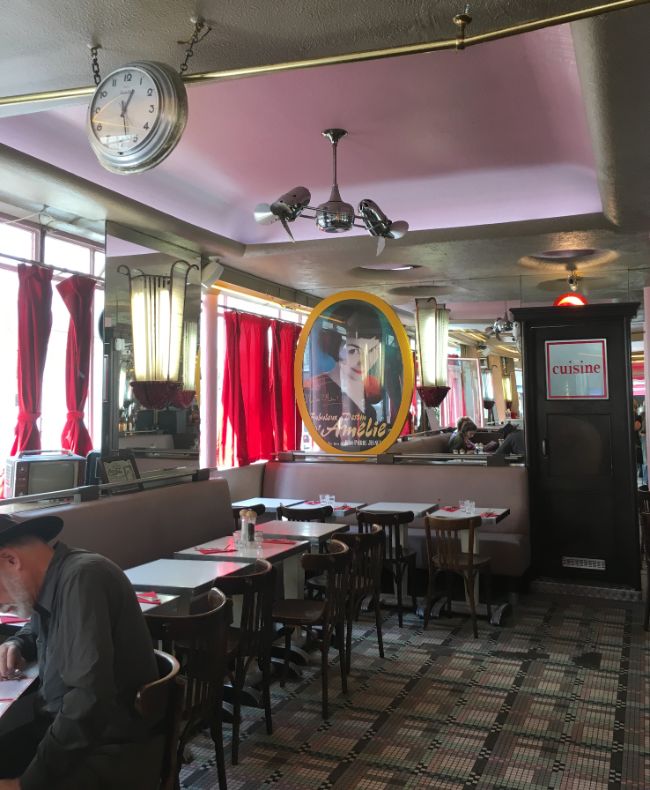 There is a mysterious outcropping called the Witch's Rock in the Passage de la Sorcière, which joins rue Lepic with Avenue Junot. Was the rock cursed by a neighborhood witch? Because the ugly and imposing rock practically drips with bad vibes. A geological survey concluded that the stone is not local and may be a meteorite. Perhaps the rock might have capped an ancient water source and the path named passage de la sourcière was corrupted to sorcière, the French word for witch. The more sinister of the two names remains on maps. The Witch's Rock is located in an alley beside the Hotel Particulier Montmartre and is accessible to everyone, from either 23 avenue Junot or 65 rue Lepic.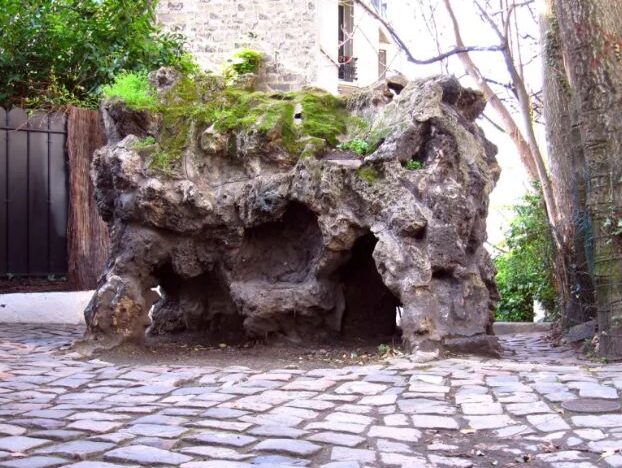 Tucked away in Montmartre is the statue of a man mystically emerging from a wall. This is a tribute to Marcel Aymé's 1941 short story Le Passe-Muraille about a man with a newfound ability to pass through walls. If you are able to pull the confounding man out of the wall, you will inherit the gift too. His polished hand bears witness to the countless people who've tried. He's found on the Place Marcel Aymé.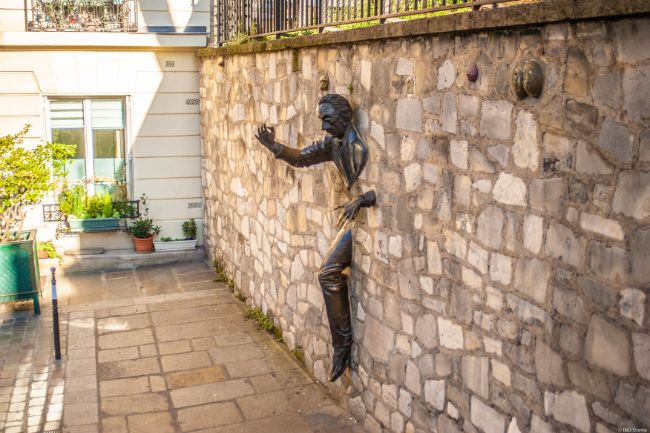 In the Square Suzanne Buisson is a statue of Saint Denis, the patron saint of Paris, who holds his head in his hands. At his feet is a meager fountain. A proverb says "the girl who drinks from the fountain of Saint Denis, remains faithful to her husband." The first bishop of Paris was so effective at converting pagans to Christianity that he was beheaded at Montmartre, and the area – Martyr's Mount –  is named after his sacrifice. Legend has it that Bishop Denis walked for six kilometers after his execution carrying his head in his hands, all the while preaching the Christian gospel. He collapsed on a spot on outskirts of Paris where the Basilica of Saint-Denis stands today. However, before he succumbed, Denis stopped at a Montmartre fountain to wash his face. The statue and fountain of Saint-Denis on rue Girardon dates from 1941 although the water source is thought to be much older.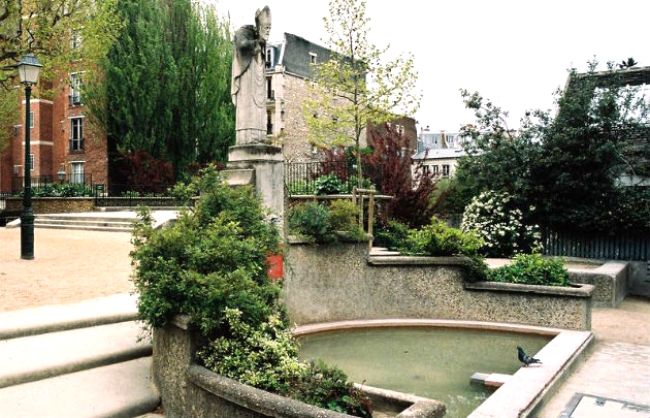 Where the rue de l'Aubreuvoir turns into the rue Giradon, there is the buste and the bust of the one-named Dalida – a famous pop singer with a tragic history. Her breasts are stroked for good luck and the gesture has worn away the finish on the bronze statue. I don't think there's much superstition here, it's simply an excuse to be cheeky.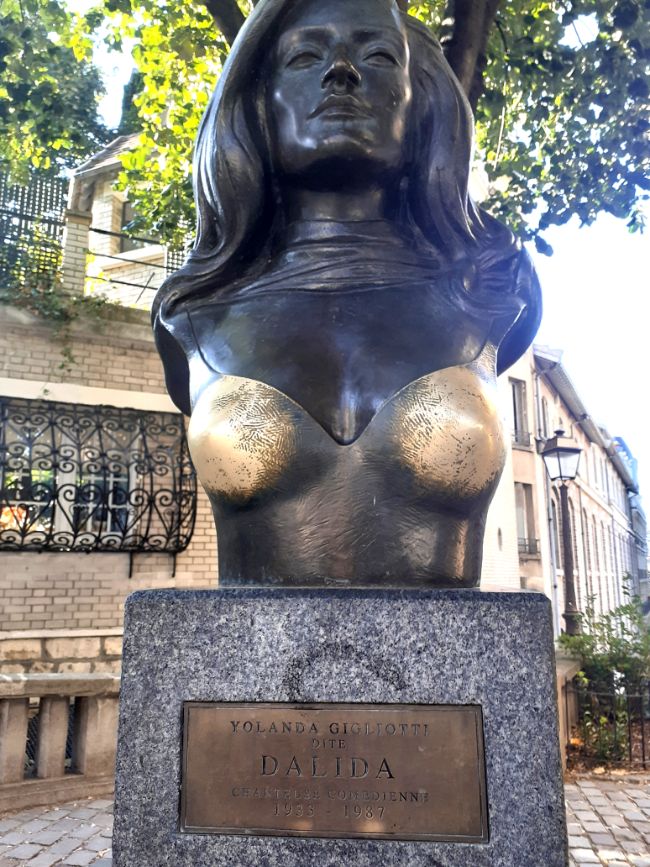 Cemeteries
Tombs and graves are especially well-suited to this type of ritual admiration and like the locks on the Pont des Arts can go too far. At Père Lachaise cemetery there is a fad to kiss Oscar Wilde's tomb and leave a lasting lipstick mark. Apparently, the emollient contained in lipstick began to sink into the stone and cause permanent damage. A fine of €9,000 was put in place to deter this activity. Wilde's Art Nouveau tomb is now surrounded with plexiglas, which is still, unhygienically, covered in kisses. It's located in Division 89, Père Lachaise.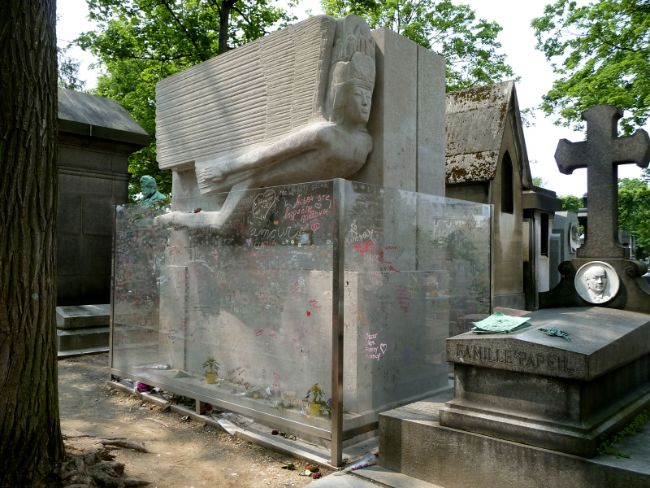 On the tomb of journalist Victor Noir lies his gorgeous effigy. Visitors, mainly female, have rubbed the groin of Noir's figure until the verdigris of the bronze has worn away. Twenty years after he was killed in a duel with Napoleon III's cousin, the sculptor Dalou chose to depict Victor Noir at the moment of his death, lying flat on the ground as though he had just fallen, his top hat by his side. Noir is fully clothed, but his genitals are noticeable through his trousers. In the 1970s, a myth began that rubbing the statue's bronze appendage and kissing him on the lips would bring women fertility and a blissful sex life. In 2004, the cemetery administration lost patience with this constant eroticism and fenced off the tomb to the public. The press cried censorship, and the barriers were removed. One can always leave a rose in Noir's upturned hat. Located in Division 92, Père Lachaise.
To commune with the founder of spiritual philosophy, visitors need to find the tomb of 19th-century psychic Allan Kardec. His tomb is one of the most visited in Père Lachaise mainly because before he left this mortal coil, he said that he'd grant your wish if you laid your hand on the neck of the statue overlooking his grave. If your wish was granted, you must return to the gravesite with flowers. Kardec's tomb is always scattered with them. Located in Division 44, Père Lachaise.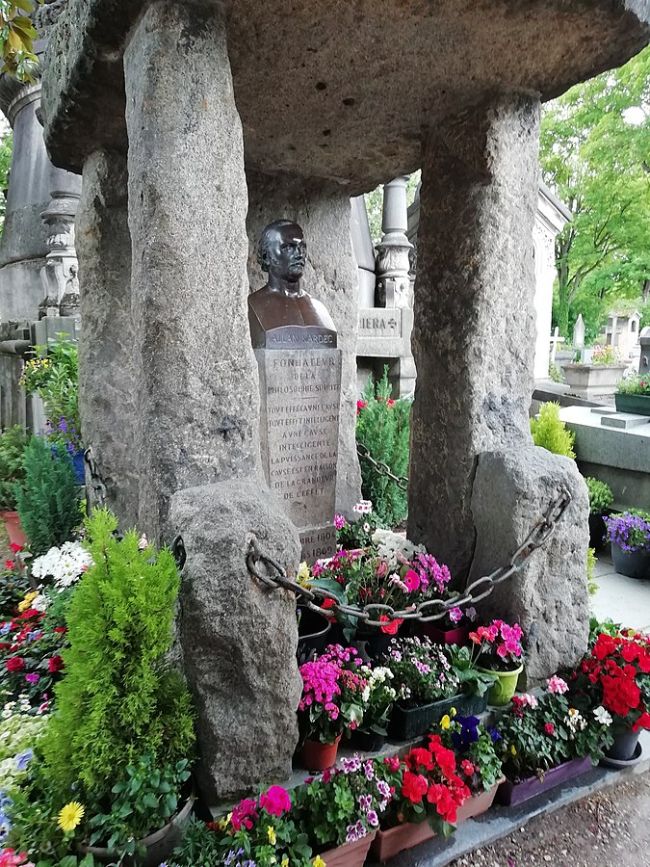 The barriers erected around the tomb of Jim Morrison, one of Père Lachaise's star attractions, are still being breached. They were needed to prevent access to crowds of fans who defaced the memorial with graffiti and litter the area with souvenirs. This over-exuberance has led to the bust of the 60s icon being removed long ago. Now, for whatever reason, fans leave old chewing gum on a nearby tree. Located in Division 6, Père Lachaise.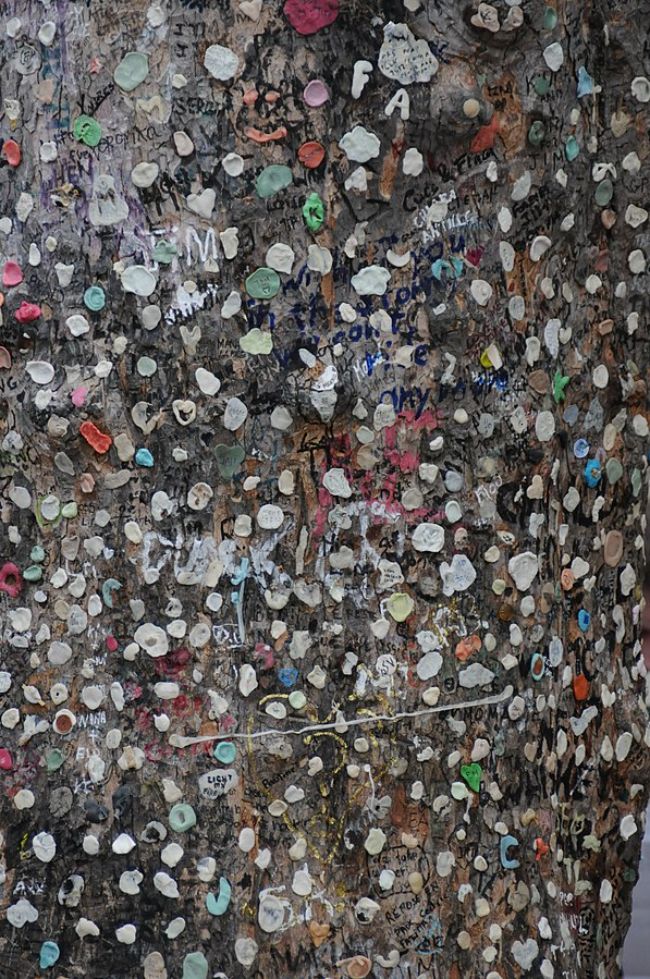 At Antoine Parmentier's grave leave not gum, but potatoes. The widely accomplished Parmentier was an 18th-century agriculturalist who worked to improve the diet of the French people and is famous for his cultivation of potatoes, once an unacceptable food source. Credited for staving off famine, Parmentier was awarded the Legion of Honor by Napoleon. Visitors haven't forgotten his endeavous and fondly leave potatoes on his grave. Located in Division 39, Père Lachaise.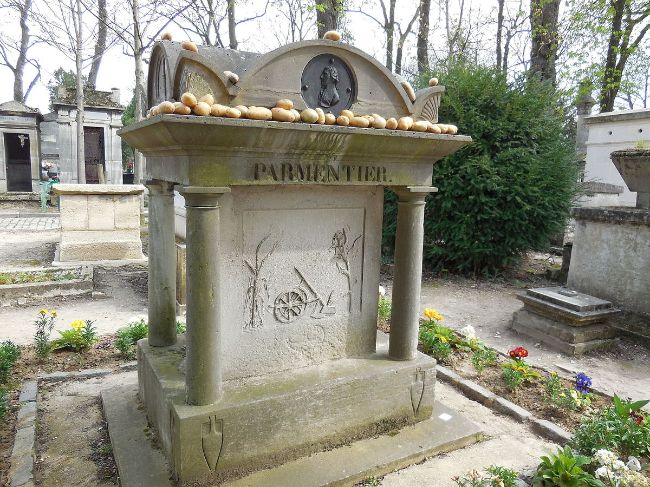 At the Cimetière Montparnasse, one can leave a poem on Baudelaire's tomb. The writer's tomb, at in Division 6, not to be confused with his cenotaph, is often covered with flowers, pebbles, hand copied poems and anguished notes in a range of languages. A poem, drawing, cigarette butt, or metro ticket can be left at the grave of Serge Gainsbourg (Division 1). Some think the tickets are a reflection on one of his most popular songs, The Ticket Puncher of Lilas, but this doesn't explain why the graves of Sartre and de Beauvoir, located in division 20, are also strewn with bus tickets.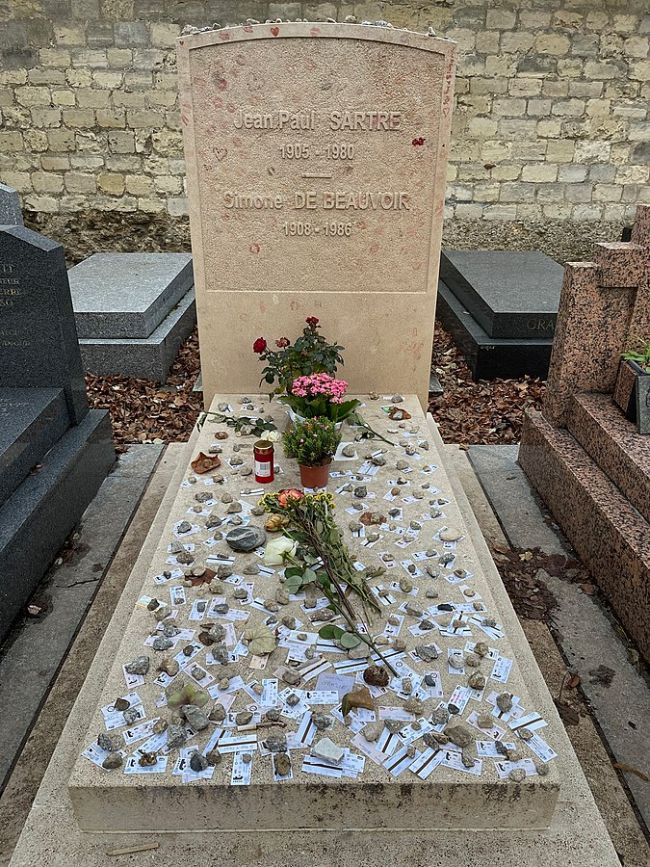 Lead photo credit : Notre Dame from the Seine © Hannah Reding, Unsplash
More in Kilometre Zero, Michel de Montaigne, Montmartre, notre dame, oldest tree in Paris, Palais Royal, Parmentier, Pere Lachaise, Saint Denis, Serge Gainsbourg, Witch's Rock
---
---
Comments