Flâneries in Paris: Rue Montorgeuil
This is the 18th in a series of
walking tours
 highlighting the sites and stories of diverse districts of Paris. The Sentier metro station is perfectly placed for the northern end of the foodie haven which is Rue Montorgueil. Large letters adorn the imposing archway over the street's entrance, announcing its presence with a fitting fanfare, since orgueil means pride in French. The road – confusingly named Rue des Petits Carreaux at this point – was abuzz with shoppers and enticing smells of cheese and garlic wafted my way as I turned into it. A cheese shop on Rue Montorgueil. Photo credit: Marian Jones Parisians, I could see immediately, could do most of their food shopping here. At Le Palais des Fruits, colorful fresh produce of every description was piled high: shiny purple aubergines, cauliflowers in creamy white and lime green, tomatoes of every size and shade. A cheerful life-size ceramic cow grinned down from the balcony of La Fermette, where cheeses from all corners of France were crammed into the window. At the Poissonnerie Soguisa, fish and seafood glistened on piles of ice, and a boucherie de tradition offered a full range of butchery services: boucherie, volailles, rotisserie, charcuterie. Jammed in between the food shops was an old fashioned cordonnier-clés, offering to mend shoes and cut new keys. This is a well-used street, not just a showpiece for tourists. Fish and seafood glistened on piles of ice. Photo credit: Marian Jones
SUBSCRIBE
ALREADY SUBSCRIBED?
BECOME A BONJOUR PARIS MEMBER

Gain full access to our collection of over 5,000 articles and bring the City of Light into your life. Just 60 USD per year.

Find out why you should become a member here.

Sign in

Fill in your credentials below.
This is the 18th in a series of walking tours highlighting the sites and stories of diverse districts of Paris.
The Sentier metro station is perfectly placed for the northern end of the foodie haven which is Rue Montorgueil. Large letters adorn the imposing archway over the street's entrance, announcing its presence with a fitting fanfare, since orgueil means pride in French. The road – confusingly named Rue des Petits Carreaux at this point – was abuzz with shoppers and enticing smells of cheese and garlic wafted my way as I turned into it.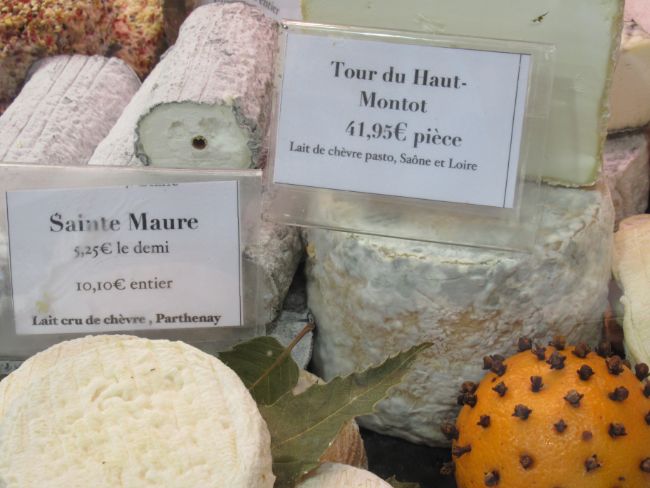 Parisians, I could see immediately, could do most of their food shopping here. At Le Palais des Fruits, colorful fresh produce of every description was piled high: shiny purple aubergines, cauliflowers in creamy white and lime green, tomatoes of every size and shade. A cheerful life-size ceramic cow grinned down from the balcony of La Fermette, where cheeses from all corners of France were crammed into the window. At the Poissonnerie Soguisa, fish and seafood glistened on piles of ice, and a boucherie de tradition offered a full range of butchery services: boucherie, volailles, rotisserie, charcuterie. Jammed in between the food shops was an old fashioned cordonnier-clés, offering to mend shoes and cut new keys. This is a well-used street, not just a showpiece for tourists.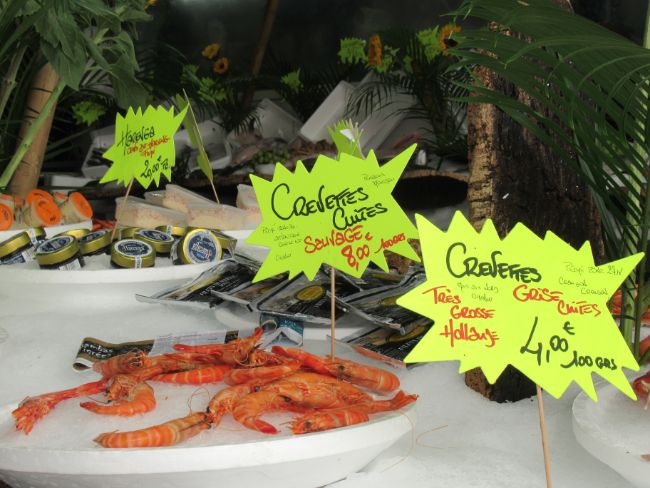 But there is luxury too. À la Mère de Famille, at number 82, billed as "probably the oldest chocolatier in Paris," has been selling delicious treats since the mid-18th century. The oldest patisserie is here too, the Pâtisserie Stohrer, opened by Nicolas Stohrer, pastry chef to Louis XV. One of Stohrer's signature recipes was the baba au rhum, named, he said, by his former master, the king of Poland, who found it exotic and decided to name it after Ali Baba because he happened to be reading Arabian Nights at the time. The longest queue on the street led me to the shop's window, where the rum baba featured heavily amongst glossy sculpted strawberry gateaux and cascades of macarons.
View this post on Instagram
I found history of a different sort on a plaque set into the pavement just where Rue Montorgueil meets Rue Bachaumont. It recalls the arrest, on January 4th, 1750, of Bruno Lenoir and Jean Diot and explains that they were charged with the "crime" of homosexuality, found "guilty" and executed in July that year, burned to death in the Place de la Grève, now the Place de l'Hôtel de Ville. This was, reads the inscription,  "the last execution for homosexuality in France." A journal-writer, Edmond Barbier, noted that this cruel punishment was not typical for the time. He felt that the authorities had chosen to make an example of the two men – a cobbler and a charcuterie assistant – because they had "no connection with persons of distinction, either at court or in the city." In 1791, just 40 years later, French law was changed so that sex between consenting adults was decriminalized, an important step on the road to equality enshrined in the mariage pour tous (marriage equality) law passed in 2013.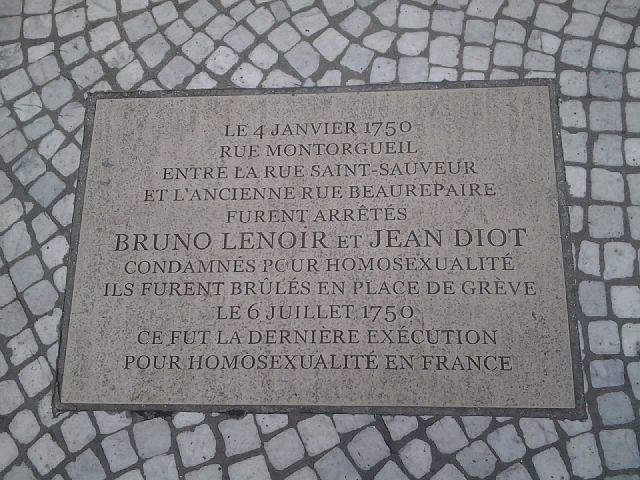 Some of the city's oldest restaurants are here too. I was looking out for Au Rocher de Cancale and was amused to find this famous 19th-century oyster restaurant, where Balzac and Alexandre Dumas dined, exactly opposite the much more of-the-moment Manhattn's Burgers. When the Cancale opened in 1804, it was the place to go after the opera or theater and enjoy their speciality oysters. Its extensive menu also offered 50 other specialities of veal, beef and poultry, and dozens of desserts.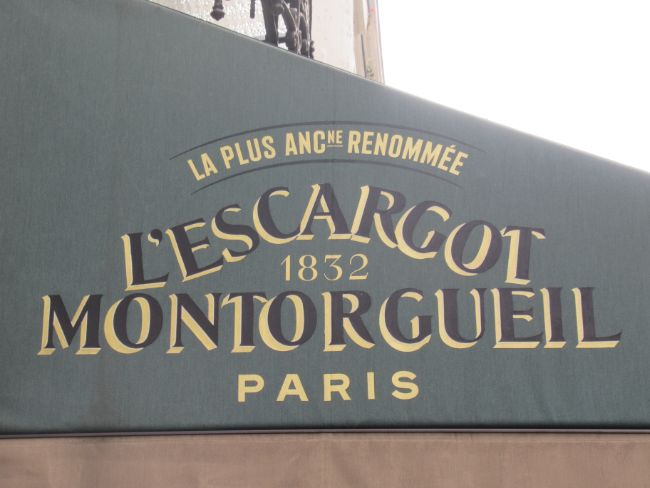 I could hardly miss the Escargot de Montorgueil, where a huge golden snail sits proudly on the roof. It's another classic restaurant where Burgundy cuisine – snails a speciality, bien sûr – was enjoyed by such distinguished diners as Marcel Proust, Charlie Chaplin and Sarah Bernhardt. I'd been collecting picnic treats all along the road, so I decided not to go inside this time, but to return soon, perhaps before a visit to the nearby Tour Jean Sans Peur, just a little way down the Rue Étienne Marcel. I could visit this tower of the former Palace of the Dukes of Burgundy, then come here to enjoy, say, boeuf bourguignon or perhaps the intriguingly named profiterole d'escargots. I reflected, not for the first time, that any flânerie gives rise to ideas for several more.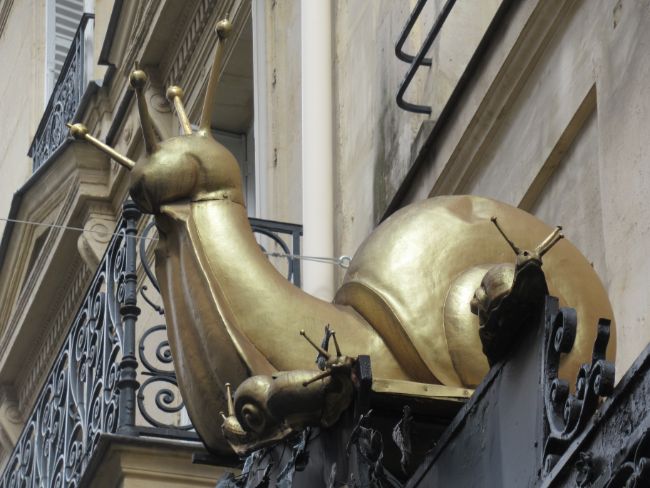 I didn't want to rush down Rue Montorgueil. It's one of the capital's oldest streets, dating back to the 13th century at least and hides a multi-layered history. As well as its impressive food traditions, it has a long connection with the art and culture of the city. Characters from many of the novels in Balzac's vast Comédie Humaine met and ate here, as did some of those from Victor Hugo's Les Misérables. Émile Zola's Le Ventre de Paris – all about the nearby market, Les Halles – mentions the then well-known, but now disappeared, Compas d'Or (Golden Compass) restaurant.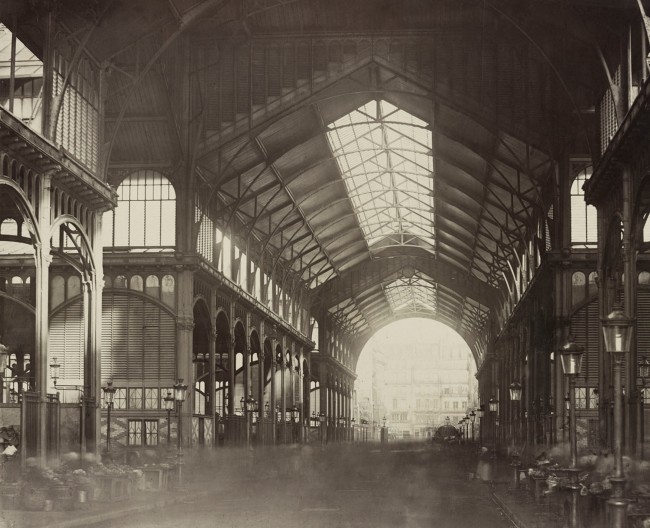 Claude Monet's La Rue Montorgueil, shows the first fête nationale being celebrated here on June 30th, 1878, just as France rallied in recovery after defeat to Germany in 1870. Monet described being so taken with the exuberant patriotism he witnessed, that he climbed a balcony, determined to capture the scene. His painting, now in the Musée d'Orsay, shows dense crowds thronging along the street under a profusion of tricolore flags. This first "national day" was celebrated as part of the third Exposition Universelle, and two years later the date was moved to July 14th. Known to the English-speaking world as Bastille Day and in French as the Fête Nationale or Le Quatorze Juillet, it had been marked ever since the revolution, but now, in 1880, it became an official public holiday for the first time.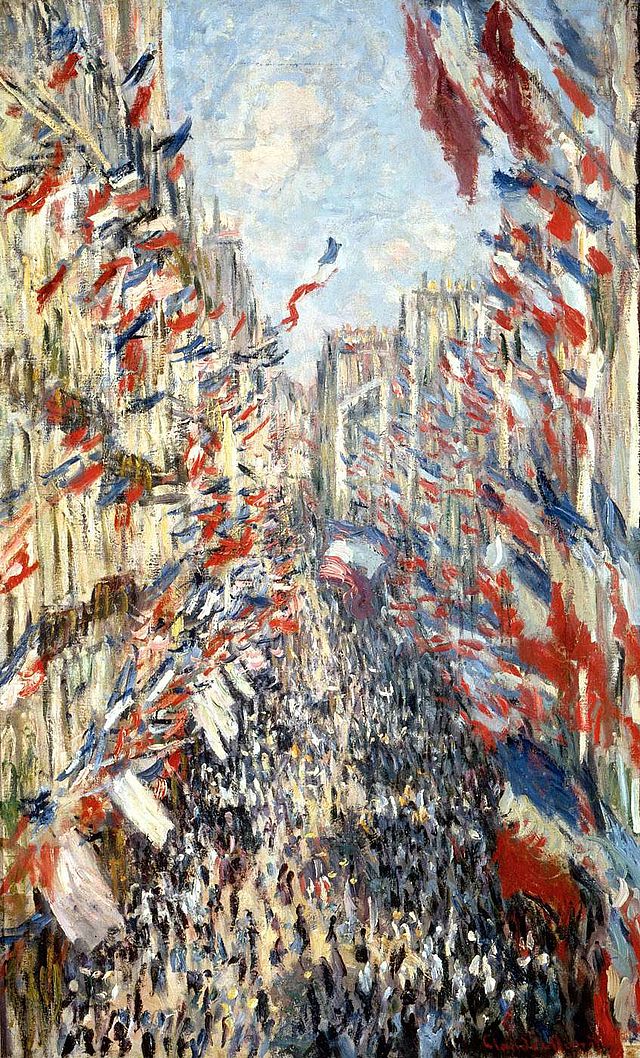 Rue Montorgueil still throngs today, but the crowds are more diverse. This became more obvious at the southern end of the street, where the food from the many take-aways and little restaurants jostling for space includes Berliner kebabs, Belgian waffles and Lebanese cuisine from a restaurant offering, on the day I visited, a free dessert to all diners. Its message, scrawled cheerfully on a blackboard propped up on the pavement, ended with the words Eid Mubarak, the traditional greeting used at  the end of the Ramadan period. To me, it summed up the hospitality of this very welcoming street.
I suddenly noticed another little piece of history, a closed off passageway labeled, in fading script, Passage de la Reine d'Hongrie. Had the queen of Hungary really passed by? Research revealed that yes, she sort of had. Queen Marie Antoinette, received a visit one day at Versailles from a market trader, Julie Bécheur, who lived here and worked at Les Halles. The queen mentioned that the visitor reminded her of her mother, the Empress Marie-Thérèse, Archduchess of Austria and Queen of Hungary and the name stuck! It was a fascinating last nugget to think about as I reached the end of Rue Montorgueil and crossed over the main road towards the park behind the Forum des Halles in search of a bench for my picnic.
Lead photo credit : Café Montorgueil. Photo credit: Marian Jones
More in À la Mère de Famille, Flâneries in Paris, mariage pour tous, Paris Walks, Pâtisserie Stohrer, Rue Montorgeuil, walking in Paris
---
---
Comments