Bringing the "Belly of Paris" Home: The City's Best Cookery Shops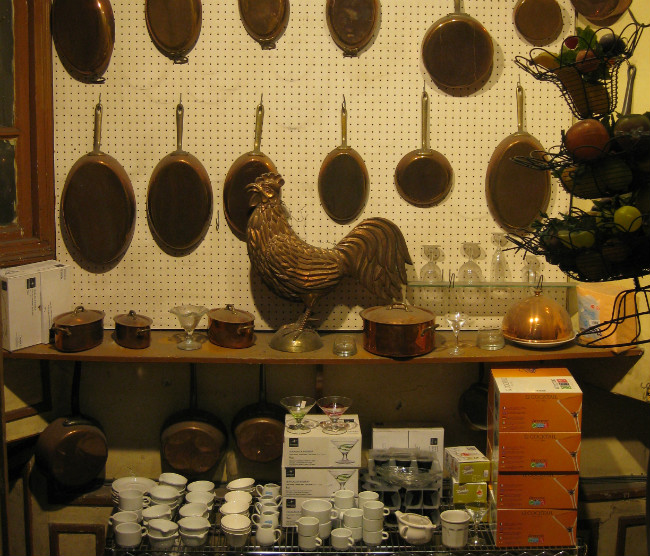 France is known for its culinary history – in the words of the beloved Julia Child, "In France, cooking is a serious art form and a national sport." Though the original market is long closed, the area in and around Les Halles in Paris's 1ere and 2eme arrondissements, remains a center for some of the best cookery shops in the world and is home to a quintessential Parisian market street, rue Montorgueil. A Le Creuset cocotte may be too heavy to carry home, so let's take a stroll through Zola's "Belly of Paris" to find a few more packable souvenirs to for your kitchen.
Start at Verrerie des Halles (15, rue du Louvre), behind a gate in a courtyard on the rue du Louvre. This hidden gem specializes in restaurant supplies from menu boards and wine carafes and it also has the best prices for the Peugeot salt and pepper mills found on many restaurant tables. The metal grinding mechanism and classic design is available in a range of sizes and several colours. I have mixed and matched the natural wood for salt and dark wood for pepper as a popular Christmas present for foodies at home.
Cross over to the corner of rue Coquillière and stroll into a part of history at E. Dehillerin (18-20, rue Coquillière). While you may be wooed by the copper cookware, there are many smaller pieces that are less expensive and will remind you of Paris every time you slice an apple, make an omelette or cut out cookies. For just a few euros, I recommend bringing home a couteau d'office (a perfect paring knife to keep at home or at work), a small inox whisk (French-made whisks really do work better!), and a few little cookie cutters to pull out every Christmas or for other occasions. Note that this store does not offer price tags on its wares, but rather stickers them with a catalogue number which you then look up at one of the catalogue stands in the store to find out the price with or without V.A.T. They will also wrap the parcels for you, including a handy piece of cork for the tip of the knife to avoid punctures.
Carry on down the street and, if you're hungry, stop in at the always-open Au Pied du Cochon for some (French) Onion Soup or for a pause at the stunning Saint-Eustache – perhaps the only church in the world with a stained glass window that features charcuterie. Can you spot it? Be sure to also view the whimsical installation tributing the vendors of the original Les Halles market.
Turn the corner and walk to Mora (13, rue Montmartre), a mecca for bakeware. Here I would recommend picking up a non-stick silicone baking mat, made by De Buyer, which has the outline on it to make 44 perfectly shaped round macarons.
Further along, at the corner of rue Etienne-Marcel is La Bovida (36, rue Montmartre). In addition to great cookware, there's a nice selection of dried spices some of which are available in lovely keepsake tins. Just across, at A. Simon (48-52, rue Montmartre), you will find everything from a roquefort cutter to Staub bakeware in the shape of a cow. I prefer perusing the smaller items available in cubby bins such as the wee spoons and forks, which are just perfect to put out to serve dips and meats, or the selection of Opinel picnic knives.
Keep going down rue Montmartre to La Librairie Gourmande (92-96 rue Montmartre), an adorable shop stuffed with books on food and wine for professionals and amateurs with a few quirky postcards and other items in between. Though nearly all of the stock is in French, the photos in some of the gorgeous books translate into "delicious" in all languages. On my last visit, I bought a copy of a book called: Cent Façons de Préparer les Oeufs…a skinny paperback for €8 dedicated to the preparation of eggs.
On the nearby rue Tiquetonne is G. Detou (58, rue Tiquetonne), a small grocer that specializes in baking supplies for all pastry delights. This is the perfect place to pick up the powdered food coloring needed for the macarons you will make on your new baking mat.
By now you will have worked up an appetite and can enjoy walking along the rue Montorgueil and wandering in and out of all of the food shops selecting picnic ingredients or a snack and, of course, pop into Paris's oldest patisserie, Stohrer (51, rue Montorgueil), to pick up a sweet treat. While on the street, be sure to stop in at the Quincaillerie Dujardin (71, rue Montorgueil) for a filoche (a loosely crocheted grocery bag). While these are widely available in a cream color, this quincaillerie has a selection in nearly every color of the rainbow. Just perfect for carrying your purchases in Paris and at home!
If you're looking to top off your visit with a class at a cooking school, La Cuisine Paris is nearby on the rue de Rivoli and offers full and part-day classes on a variety of cooking and baking techniques as well as market tours. Book early and enjoy. Or, if you're keen on learning about the history of this neighborhood, check out the Old Les Halles Market District tour offered by Paris Walks.
There's nothing better than a gourmet day in Paris and conjuring the happy memories every time you use the treasures in your kitchen at home.
Lead photo credit : The glorious selection at E. Dehillerin/ Sarah Viehbeck
More in cooking shops in Paris, culinary classes, walking tours of Les Halles
---
---
Comments