A Day in the Fifth Arrondissement of Paris
The next time you are in Paris, I invite you to pass a day in the fifth arrondissement experiencing some of my favorite activities, places and tastes. The upper part of rue Mouffetard is the perfect morning meeting place and a great way to start our day in the fifth. Begin by stopping for a croissant and coffee at Place de la Contrescarpe where Ernest Hemingway took up residence in the early 1920's. The address where he and Hadley lived is 74 rue du Cardinal-Lemoine. It is a plain apartment building where the young couple had a two-room, cold water flat on the fourth floor and a toilet down the hall. If you wish to track down other authors who resided in this area you will have a full day ahead of you. Just in this immediate vicinity, Valery Larbaud lived for several years at 71 rue du Cardinal Lemoine and the poet Verlaine lived at 39 rue Descartes. After taking in the local color at Place de la Contrescarpe, amble along rue Mouffetard and become immersed in its unique ambiance. The narrow cobblestone street has remained in use for 2000 years and it is said that Victor Hugo would spend time here while writing les Misérables in order to immerse himself in an atmosphere reminiscent of the Middle Ages. The street is now characterized by diverse shops, boutiques and cafés. You will have no problem finding that perfect gift or lovely trinket to remind you of your time in Paris. As you progress down the hill you will most likely encounter street performers adding to the conviviality. At the base of the street is the Chapel of Saint Medard in Saint Medard Square. Enjoy the square and the surrounding shops. Once you get to the Starbucks, cross rue Monge. Look for a small street called rue du Fer à Moulin. Follow this narrow street till you arrive in a small square and turn left onto Geoffrey Saint Hillaire. In two blocks you will arrive at the Grand Mosquée de Paris founded in 1926. The mosque was built as a token of gratitude after World War I to the Muslim tirailleurs from France's colonies of whom approximately 100,000 died fighting against Germany. During the Nazi occupation of Paris, the mosque served as a secret refuge for Jews and provided shelter, safe passage and fake Muslim birth certificates. Directly across the street from the Grand Mosquée is the Jardin des Plantes. If you are not quite ready for lunch head to the gardens and admire the plants and pathways. This is a locally used park and a popular place for families and school excursions. Despite the popularity of this location, there are ample walkways and benches to accommodate everyone. I encourage you to take a close look at the first greenhouses constructed in 1836 made entirely of glass and metal. They were the templates for all future greenhouses and a tour is breathtaking. By this time, I hope that you have worked up an appetite because I am taking you to my favorite restaurant in Paris called Variations which is located at 13 rue des Wallons. As you head out of the iron gates of the Jardin des Plantes turn left onto rue Geoffrey Saint Hillaire. When you get to Boulefard Saint Marcel cross to the other side and turn left. After one short block turn onto rue Rène-Panhard which goes immediately into rue des Wallons. You can not miss Variations directly on the corner with its chocolate brown awning. The menu here has a variety of meat and fish dishes artfully presented. Quality products are selected with great care. Chefs Pierre and Philippe Tondetta bring an inexhaustible quest for perfection earning them a one fourchette with Guide Michelin and one torque with Gault et Millau. Thanks to their Italian roots you can also find one of the best pasta dishes in Paris. Their homemade pasta is tossed in a large wheel of parmesan and then flamed with the Italian brandy, Grappa. The result is a creamy pasta with not one drop of cream! Best of all, the restaurant has a weekday price fixed menu at just 19 euros (or about $25.00). This includes a starter, a main dish, a dessert and a coffee. I am always pleased with their basic house wine, but for those of you who wish to sample a premium wine they offer a beautiful selection. The decor is understated; simple and elegant with large windows and lots of light. If you wish to rub elbows with the locals this is the spot. It draws a large crowd of businessmen, doctors from the nearby hospital and local residents (as myself). By this time, I hope that you are fully satisfied having had a full morning and afternoon. But we are not finished yet with our perfect day in the fifth arrondissement of Paris. The best days always end with a walk along the Seine. I suggest that you head back to Boulevard Saint Marcel and turn right. Walk only one block and at Boulevard de l'Hopital turn left and you will reach the Seine in about 10 minutes. It does not matter if it is raining or if the sun is shining. The Seine is always beautiful. Enjoy the view, the people and if you need a break stop in a peniche (a boat) for a second cup of coffee or a cool beverage. I hope you enjoyed what I believe to be a perfect day in the fifth! Variations is located at 18 rue des Wallons. It is a small street off of Boulevard de l'hopital and very near to mètro stop Saint Marcel on ligne 5. It can also be accessed by ligne 10 at Gare d'Austerlitz or ligne 7 at Les Gobbelins. The phone number is 01 43 31 36 04. (
website
) The best mètro stops for Place de…
SUBSCRIBE
ALREADY SUBSCRIBED?
BECOME A BONJOUR PARIS MEMBER

Gain full access to our collection of over 5,000 articles and bring the City of Light into your life. Just 60 USD per year.

Find out why you should become a member here.

Sign in

Fill in your credentials below.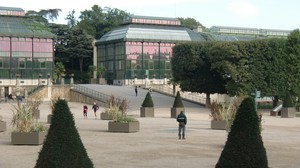 The next time you are in Paris, I invite you to pass a day in the fifth arrondissement experiencing some of my favorite activities, places and tastes.
The upper part of rue Mouffetard is the perfect morning meeting place and a great way to start our day in the fifth. Begin by stopping for a croissant and coffee at Place de la Contrescarpe where Ernest Hemingway took up residence in the early 1920's. The address where he and Hadley lived is 74 rue du Cardinal-Lemoine. It is a plain apartment building where the young couple had a two-room, cold water flat on the fourth floor and a toilet down the hall. If you wish to track down other authors who resided in this area you will have a full day ahead of you. Just in this immediate vicinity, Valery Larbaud lived for several years at 71 rue du Cardinal Lemoine and the poet Verlaine lived at 39 rue Descartes.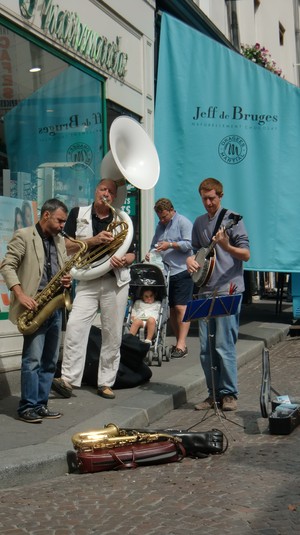 After taking in the local color at Place de la Contrescarpe, amble along rue Mouffetard and become immersed in its unique ambiance. The narrow cobblestone street has remained in use for 2000 years and it is said that Victor Hugo would spend time here while writing les Misérables in order to immerse himself in an atmosphere reminiscent of the Middle Ages. The street is now characterized by diverse shops, boutiques and cafés. You will have no problem finding that perfect gift or lovely trinket to remind you of your time in Paris. As you progress down the hill you will most likely encounter street performers adding to the conviviality. At the base of the street is the Chapel of Saint Medard in Saint Medard Square. Enjoy the square and the surrounding shops.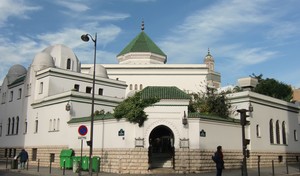 Once you get to the Starbucks, cross rue Monge. Look for a small street called rue du Fer à Moulin. Follow this narrow street till you arrive in a small square and turn left onto Geoffrey Saint Hillaire. In two blocks you will arrive at the Grand Mosquée de Paris founded in 1926. The mosque was built as a token of gratitude after World War I to the Muslim tirailleurs from France's colonies of whom approximately 100,000 died fighting against Germany. During the Nazi occupation of Paris, the mosque served as a secret refuge for Jews and provided shelter, safe passage and fake Muslim birth certificates.
Directly across the street from the Grand Mosquée is the Jardin des Plantes. If you are not quite ready for lunch head to the gardens and admire the plants and pathways. This is a locally used park and a popular place for families and school excursions. Despite the popularity of this location, there are ample walkways and benches to accommodate everyone. I encourage you to take a close look at the first greenhouses constructed in 1836 made entirely of glass and metal. They were the templates for all future greenhouses and a tour is breathtaking.
By this time, I hope that you have worked up an appetite because I am taking you to my favorite restaurant in Paris called Variations which is located at 13 rue des Wallons. As you head out of the iron gates of the Jardin des Plantes turn left onto rue Geoffrey Saint Hillaire. When you get to Boulefard Saint Marcel cross to the other side and turn left. After one short block turn onto rue Rène-Panhard which goes immediately into rue des Wallons. You can not miss Variations directly on the corner with its chocolate brown awning.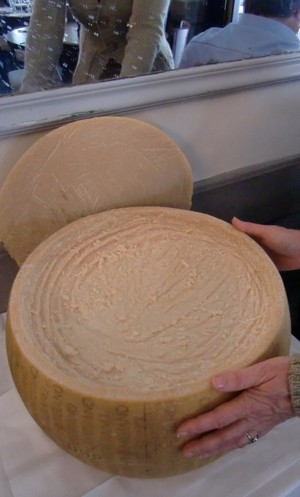 The menu here has a variety of meat and fish dishes artfully presented. Quality products are selected with great care. Chefs Pierre and Philippe Tondetta bring an inexhaustible quest for perfection earning them a one fourchette with Guide Michelin and one torque with Gault et Millau. Thanks to their Italian roots you can also find one of the best pasta dishes in Paris. Their homemade pasta is tossed in a large wheel of parmesan and then flamed with the Italian brandy, Grappa. The result is a creamy pasta with not one drop of cream!
Best of all, the restaurant has a weekday price fixed menu at just 19 euros (or about $25.00). This includes a starter, a main dish, a dessert and a coffee. I am always pleased with their basic house wine, but for those of you who wish to sample a premium wine they offer a beautiful selection.
The decor is understated; simple and elegant with large windows and lots of light. If you wish to rub elbows with the locals this is the spot. It draws a large crowd of businessmen, doctors from the nearby hospital and local residents (as myself).
By this time, I hope that you are fully satisfied having had a full morning and afternoon. But we are not finished yet with our perfect day in the fifth arrondissement of Paris. The best days always end with a walk along the Seine. I suggest that you head back to Boulevard Saint Marcel and turn right. Walk only one block and at Boulevard de l'Hopital turn left and you will reach the Seine in about 10 minutes. It does not matter if it is raining or if the sun is shining. The Seine is always beautiful. Enjoy the view, the people and if you need a break stop in a peniche (a boat) for a second cup of coffee or a cool beverage.
I hope you enjoyed what I believe to be a perfect day in the fifth!
Variations is located at 18 rue des Wallons. It is a small street off of Boulevard de l'hopital and very near to mètro stop Saint Marcel on ligne 5. It can also be accessed by ligne 10 at Gare d'Austerlitz or ligne 7 at Les Gobbelins. The phone number is 01 43 31 36 04. (website)
The best mètro stops for Place de la Contrescarpe are Cardinal Lemoine and Place Monge.
For more on rue Mouffetard, click here.
For more on Jardin des Plantes, click here.
photos by Loui Franke
Loui Franke is author of Parisian Postcards: Snapshots of Life in Paris.
More in 5th arrondissement, Dining in Paris, Grand Mosquée, jardin des plantes, Paris restaurants, restaurant, Restaurant reviews, Variations
---
---