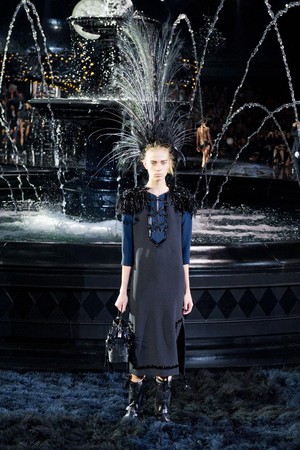 With Christmas around the corner, it feels impossible to think about Spring.
But such was the theme last week at Paris Fashion Week Spring 2014. Paris was abuzz with warm weather looks for next year. Showy celebrities, elitist fashion editors and snarky bloggers flocked to the shows to see seasonal debuts by French designers like Hermès, Louis Vuitton, Chanel, Chloé, Jean Paul Gaultier, Dior and Givenchy.
Not all of the designers on parade were French. Despite misleading labels with French names, some came from afar.  Comme des Garcons, for example, is in fact a fashion house which hails from Japan.
France's sometimes-friend from across the pond, England, featured many looks from designers like Stella McCartney, Vivienne Westwood, Alexander McQueen and Victoria Beckham.
Celebrities like Sofia Coppola, Vanessa Paradis, Katy Perry, David Beckham (in support of wife, Victoria), and Lena Dunham were all out in full force to soak up the fashions, display their own, and have it all captured on camera. The nice thing about Ready-to-Wear shows is the practicality of the pieces. Apart from some looks, like Chanel's patent chain boots, most items can be worn on the street by people other than Lady Gaga or Miley Cyrus.
French designer Isabel Marant's show drew in large crowds. Marant has been popping up in the media lately, as she continues to grow her label's wide fan base. A recent feature in the Wall Street Journal Magazine summed up her popularity in their profile's title: "The Cult of Isabel Marant." This November, Marant will be designing affordable pieces exclusively for H&M. (Good news since her popular biker jackets cost around $3,000 at her boutiques.)
Fashion expert and author of "Bringing Home the Birkin," Michael Tonello, said of the shows: "Parisian designers are never afraid to push the envelope and truly create something totally new. They're masterful with color (or in some cases the lack thereof). This week's big news of course was Marc Jacobs' departure from LV. Rather than see it as a departure from Vuitton, I see it as great news for his namesake label.
Kate Moss closed the Louis Vuitton show, which was held at the Cour Carrée du Louvre tent and featured fountains as part of the show. In an ode to Vuitton's home, the City of Light, the show featured mostly black designs. This Vuitton show which marked Jacobs' last hurrah for the famous French fashion house after he served as their Creative Director for sixteen years. Moss and Jacobs – both icons, both former enfants terrible and rehab graduates – have matured and only grown their icon status to greater heights.
"It's been great," said Jacobs of his stint at Vuitton. And knowing Jacobs, the best is yet to come. More seasons that beckon for designs await him and the rest of the creative, wacky, incomparable designers who bring us our beloved fashion.