Virtual Tour of Paris: 8th arrondissement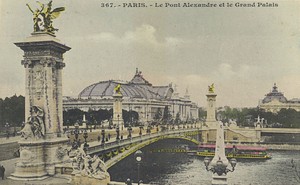 Here in the 8th arrondissement our e-tour bus turns onto the broadest and best-known street in Paris: Avenue des Champs-Élysées, whose name, Elysian Fields, refers to the paradise of Greek mythology.
8ème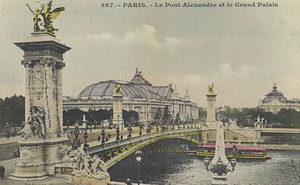 The triangle made up of the Champs Elysées, Avenue Montaigne and Avenue George V is known as Le Triangle d'Or (golden triangle). Although the Champs Elysées tends toward the pedestrian—tourists speaking every imaginable language schlepping along in their shorts and flip flops slurping ice cream cones—around the corner the very short, very fashionable Avenue Montaigne is pure deluxe. Louis Vuitton, Dolce & Gabana, Ferragamo, Jimmy Choo, Dior, Chanel, Bulgari and the Plaza Athenée hotel scream opulence—all in 615 short meters.
A bit to the east is the iron-and-glass Grand Palais, an amazing space showing contemporary art. Its little brother, the Beaux-Arts Petit Palais, is across the street. At the eastern end of the Champs Elysées is the Place de la Concorde, a vast square of never-ending traffic circling the Obelisque of Luxor and two impressive fountains. This—the largest square in Paris—was originally called Place Louis XV, but during the revolution  became Place de la Révolution and it is where heads (Louis XVI, Marie-Antoinette and thousands of others) literally rolled.
Just to the north is La Madeleine, an ancient-Roman-temple-ish church dedicated to Mary Magdalene that plays host to some of Paris' most fashionable weddings.
North of the Champs Élysées is very residential. The President of the Republic lives at the Élysée Palace and Parisians play in the Parc Monceau, one of the most beautiful and well-used parks in Paris.
For classic escargots and crème brûlée (flaming!) drop by Le Boeuf Sur le Toit (34 rue du Colisée), former hangout of Jean Cocteau, and sink into another era at this consummate art déco brasserie.


Christopher Measom combines his love of history, art, and travel to create books like "Paris, Wish You Were Here!" and "The Little Big Book of Ireland." He spends most of his time in New York (an artsy historic place) working on all kinds of books for Night & Day Design.
Leave a reply
Your email address will not be published. Required fields are marked *