Paris Nightlife on the Riverbanks: The Best Rooftop Spots and Boat Bars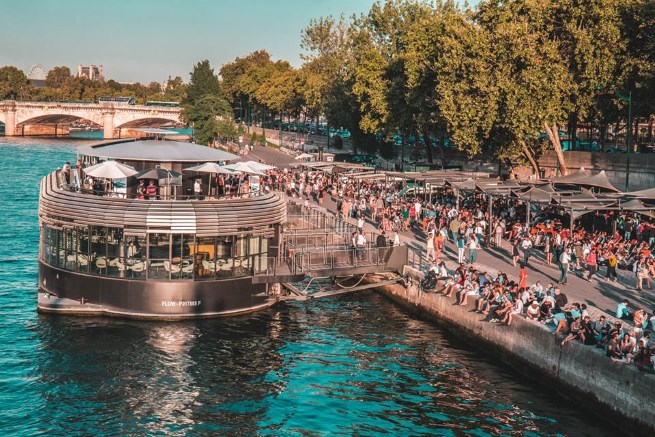 In the stifling heat of summer the Paris locals (who haven't already fled in the grand exodus to the countryside) flock towards the riverbanks in search of cool evening cocktails and a lively atmosphere. By five o'clock on any given summer's eve the banks of the Seine are the place to be, with rooftop bars and converted barges, or péniches, offering fantastic views and vibes for one and all. Here you'll find besuited young professionals (YoPros), bespectacled intellectuals (SpecLecs) and be-bearded bobos (bourgeois bohemians); all gathered together to enjoy the summer rays.
Here are our top picks for a riverside drink.
Petit-Bain
Located in the 13th Arrondissement juste à côté to the National Library, this flotilla is less a boat bar than a 45-meter floating cultural scene. The Petit-Bain triples up as a music and art venue, a bar/ restaurant and an architectural garden. Fantastic views of the Seine from the terrace, well priced drinks and reduced mobility access make this barge a good call.
Batofar
Perhaps the most famous of Paris's nightclub boats, Batofar in the 13th is a great choice for those in search of a proper party. The iconic red ship was once a lighthouse ship, a Bateau-phare in French, and come the evening it returns to its former luminescent glory, though the lights now signal wild music and cheap-ish drinks rather than warning sailors away from hazardous rocks. The Batofar cooks up delicious grilled meats on their deck outside, and they have a menu full of summery cocktails.
Café Oz
The recently unveiled Café Oz is a riverside, rooftop terrace on the Quai d'Austerlitz which hosts regular DJ sets from notable artists around the world. The 1,200 square meter spot sits on top of the Cité de la Mode et du Design which opens a differently themed space each year on its roof.
La Demesure sur Seine
With its grand opening this Spring in May, La Demesure sur Seine is the place to be this summer. The outdoor terrace on the Port de la Rapée in the 12th arrondissement has its own cocktail bar, plenty of cushioned seats and an enormous grill; perfect for watching boats glide by!
www.facebook.com/pg/lademesuresurseine
Flow
Moored on the Port des Invalides, Flow has long been a popular barge bar for locals in the center of Paris. The boat is easily distinguished, thanks its lively atmosphere and pumping music. Drinks can be a little pricey here, but it is to be expected in this superb location.
Concrete
The first venue in France to receive authorization to stay open around the clock, 24 hours a day, Concrete in the 12th is for those looking for a serious bit of hedonism. The club is a techno hot-spot with a Berlinesque edge, and holds monthly parties which go on from Saturday to Monday, nonstop. This is one of the best places to see up and coming DJs in Paris, so check out their calendar for an event that grabs you.
The riverbank not close enough to the water for you? Go swimming in the Seine
Lead photo credit : Flow
---
---
Comments