Interview with Olivier Lapidus, designer of Hotel Felicien Paris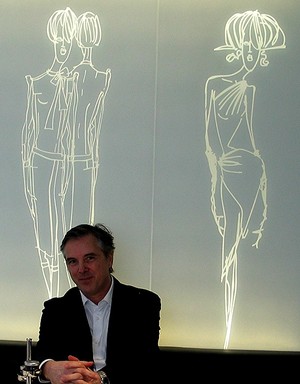 I recently got to sit down with the eponymous Olivier Lapidus, in the lobby of his newly-designed Parisian hotel, the 4*
Hotel Félicien
. Just behind me, hanging in the windows,  were the curtains made from his illuminated textiles, a design that originated with this man, born with the famous name. The textiles are woven optical fibers and continually migrate through a million colors, propelled by LED battery tubes, the first ones of their kind in the world. « Light is my primary material », explains the designer, who himself has migrated through several design incarnations, over several decades and several continents. Raised by the father who designed for and clothed The Beatles, it is only natural that an eye for textiles and creativity would be in this man's genetics. And what he can rightfully claim as his very own is a desire to push the envelope on all fronts, to achieve what he refers to as an Industrial Transversatility, « taking old techniques to make a new technique. » For example, these optical fiber curtains first began life in his couture show a decade ago. At that time, people in the fashion and design worlds had little context with which to respond to such an innovative use of light-woven fabrics. This was still at the beginning of, even a forerunner to, smart-fibers and smart-fabrics, which, of course, since then, have become widely integrated in design and fashion. « It was Empress Eugenia who first replaced her yarn of silk with yarn of fiber. My textile integrates glass fiber with carbon, to ahieve this quality of light through this (polymer) fiber optic, » he explains, also noting that his partner, Brochier of Lyon, holds three patents for this fiber optic textile technology. « At first this was just to make a dress. But since I enjoy cross-fertilizing laboratory with craftsmanship, I couldn't help but begin envisioning what all could be done with this textile. It's one of the main reasons why I made the jump from exclusively fashion to overall design. » The
Hotel Félicien
, a member of the Elegancia Group Hotels, gave him carte blanche when it came to interior design of the hotel. Each floor is conceived of as a fashion runway show. Detailings include Swarovski crystal elements, a wall- length portrait of his fashion model mother, Porcenalosa bespoke pieces in the rooms and suites, and a glass elevator which acts as a sort of moving mural of fashion sketches as you travel to the rooftop where a jacuzzi awaits with a view over the Seine and Radio France. « Maybe it's a new era for designers coming from my field with this ability to adapt the material around the customer. Even the choice for the sateen for the sheets was made very carefully, » explains the designer. He also points out that customarily, when it comes to hotel design, you collect objects for display, rather than create objects that embody the hotel's aesthetics. Creativity + Innovation Admittedly the hotel interior design project was a bigger one than he had anticipated. But one, nonetheless, that seems to have infused Lapidus with the desire to embark upon creating a lifestyle brand. « You don't create a product, you create a universe, » says the ambitious entreprreneur. « Lifestyle is the last link in the chain of fashion design. » On the horizon? Busy raising his two daughters while his wife pursues her singing career in London, Lapidus's pipe dreams of creating a Lifestyle Brand, one that incorporates his favorite material, light, throughout and gives his imagination room to soar, are what preoccupy him today. « From a dress to an industry, » he  says, with twinkling eyes. Olivier Lapidus's Paris Q : What are you most proud of (in terms of your own achievements)? A : Mes deux filles sont ma création ultime ! Les voir grandir est vriament ce dont je suis le plus fier. T : My two daughters. They are my ultimate creation. Watching them grow up is what I am most proud of. Q : What's your secret talent? A : Le sabre japonais. J'ai commencé le aikido à 13 ans et je garde une passion pour le sabre ( j'ai une photo d'ailleurs !!!) T : Japanese samourai swordsmanship. I started learning aikido when I was 13 and always kept my passion for the samourai swords. (I have a photo of myself with one even !) Q : Were you born in Paris or moved there? A : Je suis né à Neuilly sur Seine , j'adore cette ville en bordure du bois de Boulogne avec ses lacs romantiques . T : I was born in Neuilly sur Seine. I love this town,  just next to the Bois de Boulogne with all its romantic  lakes. Q : If you could share a coffee or bottle of wine with a fellow Parisian from past or present, who would it be? A : Mon papa… T : My dad… Q : Is there a local person you admire? A : Mon épouse Yara : sa poésie au quotidien. T : My wife, Yara. Her daily poetry. Q : What's your favorite thing about Paris? A : Paris itself, its own magic : any bridge, any stone between past and present . La Tour Eiffeil at any hour. Q : What's the one thing that every Parisian should own? A : A sense of humour. Q : An item you can't live without? A : Same Q : Any pet peeves about Paris? A : Taxes. Q : Favorite place to go for lunch? A : Le Stresa , rue Chambiges Q : Favorite place for dinner? A : Home Q : Best place for coffee or drinks? A : Carette , Place du Trocadéro Q : Where do you like to shop for clothes? A : I do most of my clothes. Q : Where do you shop for produce/groceries? A : Dans le 13 eme , des magasins BIO T : In the 13th arrondissement and also organic grocery shops. Q : Your favorite neighborhood? A : The sun Q : Most fun thing to do in Paris? A : Just walk, no plan, an hour to lose, spring time. Q : What's the "touristy" thing you'd secretly like to do in Paris but haven't? A : Monter sur l'Arc de Triomphe. Mais je vais le faire . Un jour… T : Go up to the top of the Arc de Triomphe. But I will do it, one day… Q : What's the…
SUBSCRIBE
ALREADY SUBSCRIBED?
BECOME A BONJOUR PARIS MEMBER

Gain full access to our collection of over 5,000 articles and bring the City of Light into your life. Just 60 USD per year.

Find out why you should become a member here.

Sign in

Fill in your credentials below.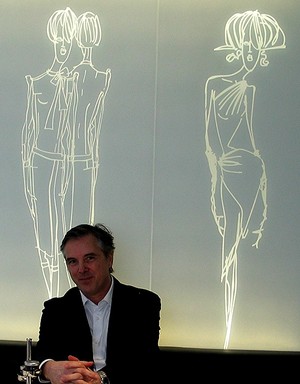 I recently got to sit down with the eponymous Olivier Lapidus, in the lobby of his newly-designed Parisian hotel, the 4* Hotel Félicien.
Just behind me, hanging in the windows,  were the curtains made from his illuminated textiles, a design that originated with this man, born with the famous name. The textiles are woven optical fibers and continually migrate through a million colors, propelled by LED battery tubes, the first ones of their kind in the world.
« Light is my primary material », explains the designer, who himself has migrated through several design incarnations, over several decades and several continents.
Raised by the father who designed for and clothed The Beatles, it is only natural that an eye for textiles and creativity would be in this man's genetics. And what he can rightfully claim as his very own is a desire to push the envelope on all fronts, to achieve what he refers to as an Industrial Transversatility, « taking old techniques to make a new technique. »
For example, these optical fiber curtains first began life in his couture show a decade ago. At that time, people in the fashion and design worlds had little context with which to respond to such an innovative use of light-woven fabrics. This was still at the beginning of, even a forerunner to, smart-fibers and smart-fabrics, which, of course, since then, have become widely integrated in design and fashion.
« It was Empress Eugenia who first replaced her yarn of silk with yarn of fiber. My textile integrates glass fiber with carbon, to ahieve this quality of light through this (polymer) fiber optic, » he explains, also noting that his partner, Brochier of Lyon, holds three patents for this fiber optic textile technology.
« At first this was just to make a dress. But since I enjoy cross-fertilizing laboratory with craftsmanship, I couldn't help but begin envisioning what all could be done with this textile. It's one of the main reasons why I made the jump from exclusively fashion to overall design. »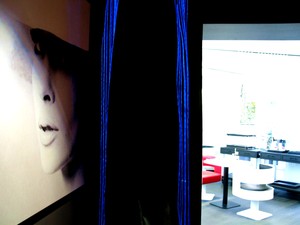 The Hotel Félicien, a member of the Elegancia Group Hotels, gave him carte blanche when it came to interior design of the hotel. Each floor is conceived of as a fashion runway show. Detailings include Swarovski crystal elements, a wall- length portrait of his fashion model mother, Porcenalosa bespoke pieces in the rooms and suites, and a glass elevator which acts as a sort of moving mural of fashion sketches as you travel to the rooftop where a jacuzzi awaits with a view over the Seine and Radio France.
« Maybe it's a new era for designers coming from my field with this ability to adapt the material around the customer. Even the choice for the sateen for the sheets was made very carefully, » explains the designer. He also points out that customarily, when it comes to hotel design, you collect objects for display, rather than create objects that embody the hotel's aesthetics.
Creativity + Innovation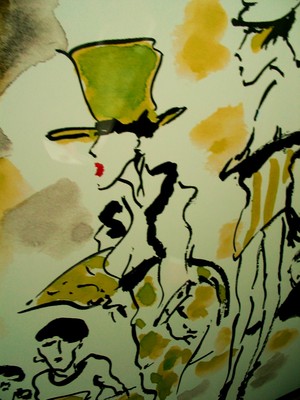 Admittedly the hotel interior design project was a bigger one than he had anticipated. But one, nonetheless, that seems to have infused Lapidus with the desire to embark upon creating a lifestyle brand. « You don't create a product, you create a universe, » says the ambitious entreprreneur. « Lifestyle is the last link in the chain of fashion design. »
On the horizon? Busy raising his two daughters while his wife pursues her singing career in London, Lapidus's pipe dreams of creating a Lifestyle Brand, one that incorporates his favorite material, light, throughout and gives his imagination room to soar, are what preoccupy him today. « From a dress to an industry, » he  says, with twinkling eyes.
Olivier Lapidus's Paris
Q : What are you most proud of (in terms of your own achievements)?
A : Mes deux filles sont ma création ultime ! Les voir grandir est vriament ce dont je suis le plus fier.
T : My two daughters. They are my ultimate creation. Watching them grow up is what I am most proud of.
Q : What's your secret talent?
A : Le sabre japonais. J'ai commencé le aikido à 13 ans et je garde une passion pour le sabre ( j'ai une photo d'ailleurs !!!)
T : Japanese samourai swordsmanship. I started learning aikido when I was 13 and always kept my passion for the samourai swords. (I have a photo of myself with one even !)
Q : Were you born in Paris or moved there?
A : Je suis né à Neuilly sur Seine , j'adore cette ville en bordure du bois de Boulogne avec ses lacs romantiques .
T : I was born in Neuilly sur Seine. I love this town,  just next to the Bois de Boulogne with all its romantic  lakes.
Q : If you could share a coffee or bottle of wine with a fellow Parisian from past or present, who would it be?
A : Mon papa…
T : My dad…
Q : Is there a local person you admire?
A : Mon épouse Yara : sa poésie au quotidien.
T : My wife, Yara. Her daily poetry.
Q : What's your favorite thing about Paris?
A : Paris itself, its own magic : any bridge, any stone between past and present . La Tour Eiffeil at any hour.
Q : What's the one thing that every Parisian should own?
A : A sense of humour.
Q : An item you can't live without?
A : Same
Q : Any pet peeves about Paris?
A : Taxes.
Q : Favorite place to go for lunch?
A : Le Stresa , rue Chambiges
Q : Favorite place for dinner?
A : Home
Q : Best place for coffee or drinks?
A : Carette , Place du Trocadéro
Q : Where do you like to shop for clothes?
A : I do most of my clothes.
Q : Where do you shop for produce/groceries?
A : Dans le 13 eme , des magasins BIO
T : In the 13th arrondissement and also organic grocery shops.
Q : Your favorite neighborhood?
A : The sun
Q : Most fun thing to do in Paris?
A : Just walk, no plan, an hour to lose, spring time.
Q : What's the "touristy" thing you'd secretly like to do in Paris but haven't?
A : Monter sur l'Arc de Triomphe. Mais je vais le faire . Un jour…
T : Go up to the top of the Arc de Triomphe. But I will do it, one day…
Q : What's the most "touristy" thing you've done in Paris?
A : Le Plaza à 17 H.
Q : Best life lesson you've learned?
A : J'ai bien fait d'épouser cette fille .
T : I did well marrying my wife.
Q : Three words to live by.
A : Love, love, love
Q : One thing you could change about the world?
A : Time schedule
Q : One thing you wish Parisians would stop whining about?
A : Themselves
Q : You've only got 25 euros left – how would you spend them?
A : I'll try not to spend them.
Q : Favorite book?
A : Eloge de l'ombre de Tanizaki
Q : All-time favorite movie?
A : Vacances romaines (Roman Holiday)
Q : Favorite city to visit (aside from Paris)?
A : Une région entière : la Provence, le Lubéron…
T : A whole region : Provence, the Lubéron…
Q : Is there an annual event like a festival, gala or an exhibit that you look forward to every year?
A : Wimbledon. C'est , au delà du tennis , un moment d'élégance extraordinaire.
T : Wimbledon. For tennis it's one of the most extraordinarily elegant events.
Q : What's the one place you HAVE to take an out-of-town guest to in Paris?
A : Versailles illuminé un soir de 15 aout.
T : Versaille on the 15th August, for the Festival of Lights.
More in Hotel Félicien, Hotels, Olivier Lapidus, Paris hotels
---
---