Light French Recipes: The French Diet Cookbook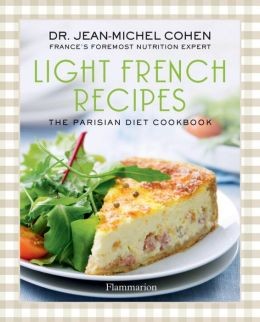 Snowdrifts give way to crocuses, and songbirds perched in budding cherry trees announce that spring is here, with swimsuit season hot on its heels. It's that time of year when we confront the pounds packed on over a dismal winter, when nothing felt as good as cocooning. The incentive is there. Now, what about the method?
Hardly a month goes by that a new fad diet doesn't appear on the scene. The diet industry rakes in billions of dollars each year, yet an alarming percentage of diets fail. Of those dieters who are temporarily successful, many will regain the weight within a short period of time. So why are most diets doomed to failure?
It's hard to dispute the wisdom of Mark Twain, who observed, "There is a charm about the forbidden that makes it unspeakably desirable." Though it seems logical that an effective approach would accentuate the positive, most diets stress what you can't do. You are unsatisfied, leading to overeating at the next meal, if not to an outright binge. Chances are you get bored, or you feel deprived, nibbling on bunny food while your friends are enjoying haute cuisine. Often you're limited in where you can eat, so you refuse social invitations that involve food (don't they all?). Bored, deprived and isolated – there's a recipe for failure.
So let's talk about recipes for success. In his latest book, Dr. Jean-Michel Cohen has taken 100 traditional French dishes and transformed them into lighter versions. This is cuisine classique for the price (in calories) of cuisine minceur. The book is Light French Recipes: The Parisian Diet Cookbook. It's a simple title; Cohen's approach is equally straightforward. He cites the three fundamentals of nutrition, "Food should be nutritious, good to share and pleasurable to eat."
Let's face it: good food is one of the life's finer pleasures. Wouldn't it be easier to maintain a healthy lifestyle (not to mention a positive attitude) if you could indulge your inner gourmand? It's hard to feel deprived when you've just nibbled on gougères or polished off a portion of profiteroles drizzled with warm, dark chocolate. All of your favorites are there, from coq au vin to croque-monsieur, crème brûlée to clafoutis, and you will lose weight. When did dieting become so much fun?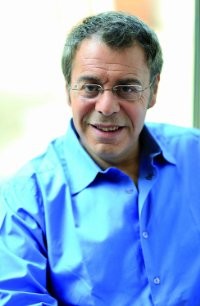 Dr. Cohen is a physician and nutritionist with more than 30 years' experience in counseling patients who want to lose weight. He is a best-selling author whose books (including last year's best-seller, The Parisian Diet) have been translated into ten languages and the host of a television show in France. In addition to his own show, he has appeared on the French edition of Top Chef, while in the U.S. he has been featured on Good Morning America, Nightline and The Today Show.
Maintaining weight loss means forming healthy new habits, yet most diets don't give you the tools you need to succeed. Those that don't endanger your health are likely to leave you nutritionally deficient. So let's resolve to do away with fads and gimmicks. Although Light French Recipes is intended as a sequel to complement The Parisian Diet, it is full of common-sense advice for anyone who wants to live a healthier life. This is not just a cookbook; it's a primer that sets out the rudiments of healthy eating, a practical guide as you travel the road toward your personal best.
The simple, easy-to-follow recipes are organized into three sections according to the number of calories – 300, 400 or 500. However, so satisfying do these dishes appear that calories may be the last thing on your mind. Especially helpful when starting out are Dr. Cohen's 10 tips for cooking light, beginning with the proper kitchen equipment and advice on how to stock your pantry. You will learn to substitute ingredients, thereby reducing the amount of fat and calories, as well as healthy methods of preparation. Sample menus are there to guide and inspire.
The book itself is just the sort of beauty we've come to expect from the team at Flammarion-Rizzoli. Credit goes to stylist Géraldine Sauvage, who specializes in culinary photography, and Bernard Radvener, whose photographs throughout may send you straight to the kitchen. The cover is graced by what may be one of the most appealing slices of quiche Lorraine ever concocted, superimposed on a background of gingham checks. The content is just as tantalizing.
As you might expect of a country that has elevated sustenance to an art form, the French approach to dieting is civilized and humane. It should come as no surprise, then, that you don't have to sacrifice your wine with dinner – in moderation, bien sûr.
Santé ! Bon appétit !
Jane del Monte lived for a number of years in Paris. She is the owner of ARTS in PARIS, personalized tours that focus on French culture and l'art de vivre. 
More in book, Diet, French diet, French recipes, Paris book reviews, Paris books, recipe
---
---