New Hotels: La Clef Champs-Élysées Paris Designed by Jean-Philippe Nuel
Architect and interior designer Jean-Philippe Nuel has a portfolio which includes well-known Parisian hotels such as Le Cinq Codet, the Molitor, and Melia La Defense. Now he has recently unveiled his latest project, La Clef Champs-Élysées Paris.
Nuel has retained many of the classic Haussmannian features of this former hôtel particulier, which was built by the Hennessy family in 1907, designing it in the style of a family apartment rather than a hotel.
The original staircase, which has been updated with the addition of contemporary light fittings, leads up to the hotel's bedrooms and suites, which are furnished in a color palette of white, soft pink, and shades of grey, not unlike what you may find in a modern Parisian living space. Eschewing traditional hotel design details such as a formal desk and chair, rooms have been finished with a more personal selection of accessories with a sofa, table and chairs, well-stocked bookcases, ornaments, framed artwork and a fireplace, many of which are original.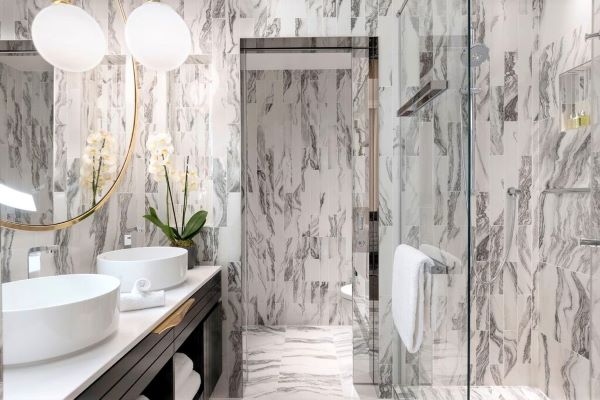 For longer stays, guests can also request apartments with small kitchenettes, or splash out on the Duplex suite with the addition of a terrace and Montmartre views. The luxurious bathrooms are fitted out in marble, with minimalist furniture and large gold-rimmed mirrors adding the final contemporary touch.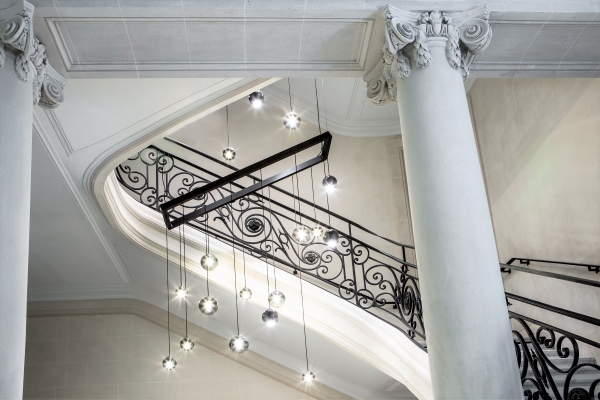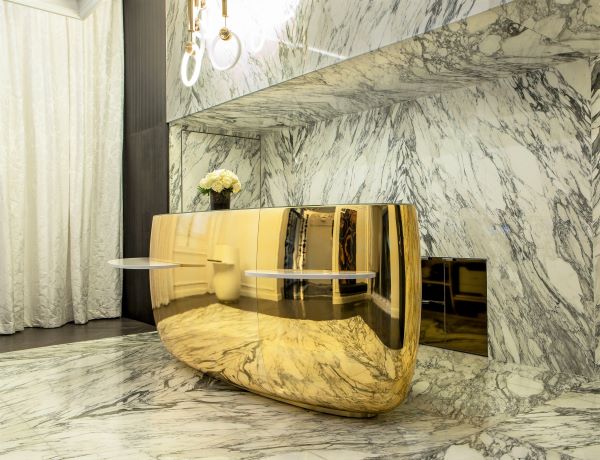 Downstairs, the space has been inspired by the world of jewelry. The reception's marble backdrop and sleek gold desk resemble a jewel in a box, while the lights hang like earrings and the black sculptural columns in the lobby bring to mind the beads of a necklaces. Nuel has respected the origins of the building, keeping the original walls in the lobby, which was once a thoroughfare for horses and carts to the garden, while adding a touch of modernity with monochrome flooring and tall gold and black light fittings, all crowned by a mirrored ceiling.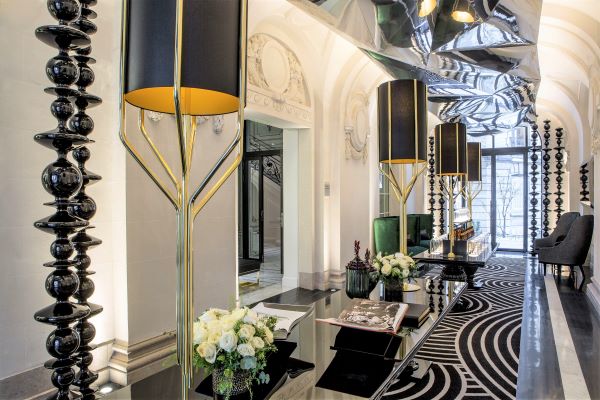 Something a little different…
Nuel has also added a Fragrance Bar to this area, introducing guests to the French savoir-faire of this artisan craft, as well the hotel's own scent, exclusively created by one of France's foremost 'noses'. Here guests can play around with different scents, and take home the hotel's fragrance in the form of a candle or spray for a unique souvenir. An inventive approach that sets the property apart.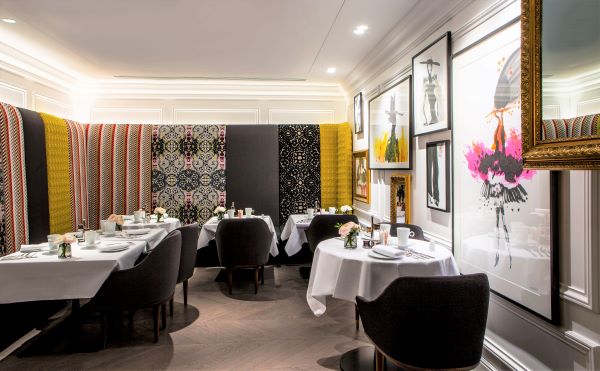 Also look out for a soon-to-be-added restaurant, also designed by Nuel: a partnership with the award-winning 2-Michelin Star restaurant, 'Imperial Treasure' which is set to launch in June.
La Clef Champs-Élysées Paris, 46 Rue de Bassano, 8th arrondissement. Tel: +33 (0)1 53 75 01 60. Rooms from around 330 euros.
Leave a reply
Your email address will not be published. Required fields are marked *