10 Design Hotels in Paris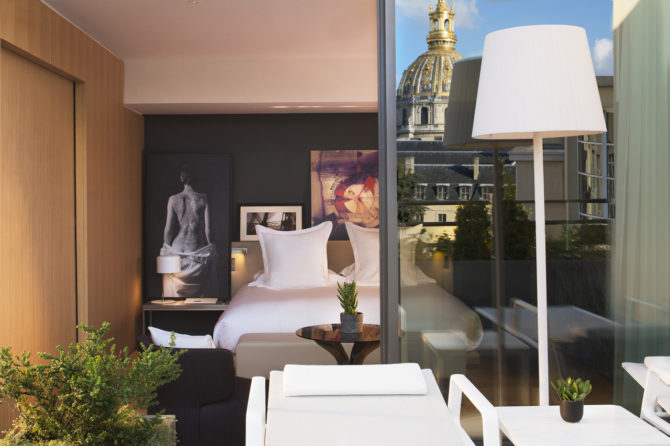 Paris is peppered with iconic centuries-old landmark hotels that exude quintessential French charm, but the city also has its fair share of contemporary and slick design hotels. For the real design fiend, here are 10 stellar finds to choose from.
Le Cinq Codet
Designed by architect and designer Jean-Philippe Nuel, this cosy but slick 67-room hotel looks more like an art collector's home than a temporary place to stay. Housed inside a 30s Art Deco building, the 5-star Cinq Codet comes with a bar, restaurant, outdoor patio, small gym and spa with outdoor Jacuzzi. The generously sized apartment suites have terraces boasting vistas of the nearby Invalides dome. From 279€ for a double room per night.
5 rue Louis Codet, 75007 Paris. Tel: 01 53 85 15 60 www.le5codet.com
Grand Pigalle Hotel
Paris' first 'bed & beverage hotel' nestles in the heart of trendy South Pigalle, which brims with independent boutiques, bar and restaurants. The first hotel for cocktail bar crew the Experimental Group, the GPH was completely refurbished by young hit designer Dorothée Meilichzon. Its 37 rooms have a playful retro style that reflects the neighbourhood's bohemian history. The ground-floor bar serves over 400 types of Italian wines. From 165€ for a double room per night.
29 rue Victor Masse, 75009 Paris. Tel: 01 85 73 12 00 www.grandpigalle.com
Hotel de Nell
A discreet address of 33 rooms, it is located in the unpolished area of Grands Boulevards close to the trendy Faubourg Saint Denis. Owned by the same proprietors of Saint Tropez's Benkirai, it boasts uncluttered soothing and hushed interiors by French designer Jean-Michel Wilmotte who integrated environmentally sustainable aspects as well as minimal 50s Danish style furniture. From 250€ for a double room per night.
9 rue du Conservatoire, 75009 Paris. Tel: +33 01 44 83 83 60 www.hoteldenell.com
Les Bains Paris
This former iconic Parisian nightspot that welcomed the likes of Andy Warhol to Puff Daddy in the 80s and 90s reopened as a 39-room boutique hotel, restaurant, bar and basement club designed by Tristan Auer and Denis Montel of RDAI Agency. The rooms are spacious and bright with playful throwbacks to the Bains' glamorous heyday. From 392€ for a double room per night.
7 Rue du Bourg l'Abbé, 75003 Paris. Tel: 01 42 77 07 07 www.lesbains-paris.com
Hotel Henriette Rive Gauche
A short walk from Paris' Latin Quarter, close to landmarks like the Sorbonne and the Pantheon, is the offbeat Hotel Henriette. Designed by fashion journalist and owner Vanessa Scoffier the 32 rooms and breakfast lounge have a cheerful Scandinavian style while the winter garden adds a bucolic farmhouse feel. From 80€ for single room per night.
9 rue des Gobelins, 75013 Paris. Tel: 01 47 07 26 90 www.hotelhenriette.com
Dupond-Smith
Tucked in a side street of the Marais neighbourhood, the discreet five-star, eight-room lodging is more of a pied-à-terre with very hands-off service than an actual hotel. The concept is based on guests being incognito, echoed in the hotel name. Rooms are individually decorated with items of furniture by Philippe Starck and Hermès wallpaper. There is a cosy lounge adjoining the reception where breakfast and tea are served throughout the day. From 380€ for a double room per night.
2 rue des Guillemites, 75003 Paris. Tel: 01 42 76 88 99 www.hoteldupondsmith.com
Bel Ami
A handy five-star Saint-Germain-des-Près address, the Bel Ami (part of the Bessé Signature Group) is a homely pocket of 108 rooms with touches of uplifting lime tones. Formerly a printing press, it was here that Guy de Maupassant's novel Bel Ami was printed in the 19th century. The hotel has a bar and lounge as well as a small spa; breakfast is served daily. From 305€ for a double room per night.
7 Rue Saint-Benoît, 75006 Paris. Tel: 01 42 61 53 53. www.hotelbelami-paris.com
Hotel Thoumieux
This compact boutique hotel of 15 rooms comes with a Michelin star restaurant led by chef Jean-François Piège entirely designed by French-Iranian designer India Mahdavi with touches by design duo M/M. The rooms are a flamboyant and varied patchwork of fabrics, graphics that unexpectedly come together in complete harmony. The ground-floor Brasserie Thoumieux offers well priced French fare. From 200€ for a double room per night.
79 rue Saint Dominique, 75007 Paris. Tel: 01 47 05 79 00 www.thoumieux.com
Hotel Vernet
Located just a few steps away from the Arc de Triomphe and Champs Elysées, the hotel is housed inside a 1913 post-Haussmannien mansion with an impressive Art Nouveau glass dome designed by Gustave Eiffel himself, above the dining room. This 50-room hotel (Bessé Signature group) was completely overhauled by designer François Champsaur and reopened last year. From 224€ for a double room per night.
25 rue Vernet, 75008 Paris. Tel: 01 44 31 98 00 www.hotelvernet-paris.fr
La Maison Champs Elysées
Just steps away from blockbuster museum, the Grand Palais, and the Champs Elysées, the five-star hotel has 40 sleek whimsical rooms in total, 17 of which were designed by Maison Martin Margiela, the designer brand's first interiors project. The hotel also comes with a restaurant, bar and outdoor patio planted with a luxuriant year-around garden. From 204€ for a double room per night.
8 rue Jean Goujon, 75008 Paris. Tel: 01 40 74 64 64 www.lamaisonchampselysees.com 
Lead photo credit : Le Cinq Codet
---
---
Comments