Hotel Paradiso: How to See Your Film … and Live in it Too!
Marin Karmitz is one of the great innovators of French cinema, though mostly unheralded outside France. Karmitz originally came from Romania, attended the French national film school, and became a cameraman. He later worked as a director and distributor (the chief feathers in his cap are producing Krzysztof Kieślowski's Three Colors trilogy). During the late 60s he was a member of a radical Maoist group, and used his cinematic skills in the interests of revolution. Ironically he ultimately became one of France's wealthiest cinematic capitalists.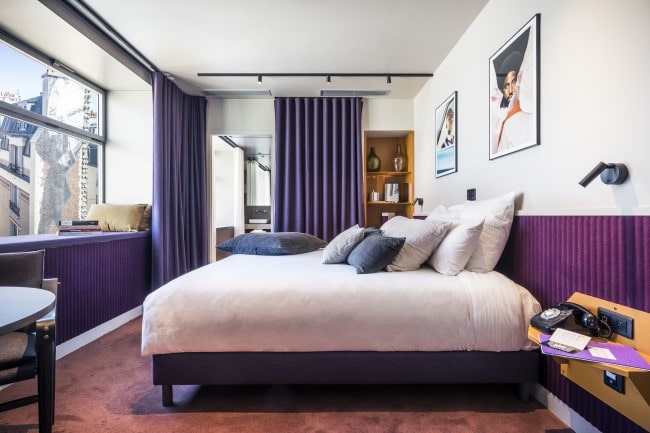 His main contribution to film has been as an exhibitor. His MK2 chain's risky premise was to combine regular commercial fare with auteur movies, foreign films, even short films. His bet paid off, and now the MK2 establishments are ubiquitous in Paris. Even the free program, Trois Couleurs, that's distributed in his theaters is handsome and intelligently written.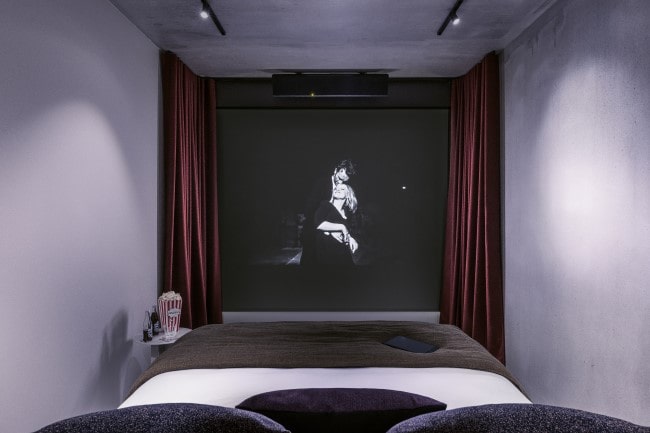 His next innovation was MK2 Bibliothèque, not just another one of his MK2 cinemas, but an immense complex with many screens, bookstores, gift-shops, eateries and cafés. It's essentially a movie-based shopping and entertainment center. Big though it is, it never feels inhuman; commercial though it is, it never seems vulgar. The MK2 Bibliothèque helped to transform the Bercy area, making it more fun and youth-oriented. Since then Nathanael Karmitz has taken the reins of the company from his father.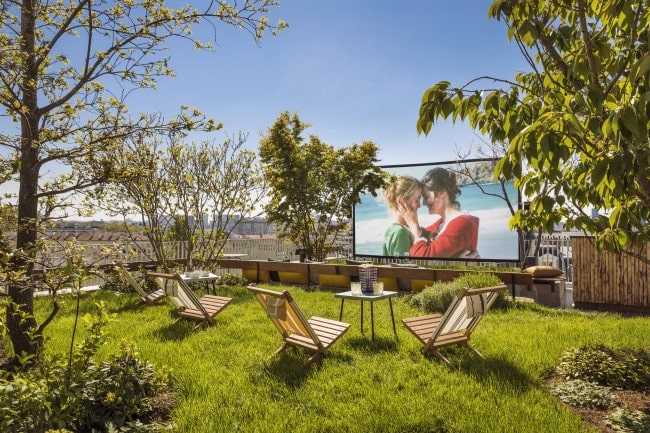 MK2's latest spin on cinema is the Hotel Paradiso. The name was inspired by the Italian classic, Cinema Paradiso, about a boy's infatuation with the movies he sees in an old-fashioned theater. In a sense, the allusion is a misnomer, for while the common theme is movies, the Italian classic was down-home and picturesque, while MK2 Hotel Paradiso is glitzy to the max. This isn't apparent from its façade, which is very discreet, with a simple orange awning.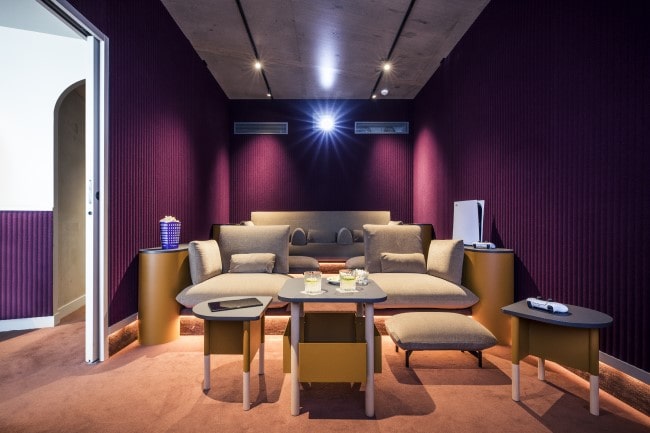 The Hotel Paradiso is a theme hotel for film buffs, in some ways a cinematic theme park. The rooms are equipped with very large screens, and offer access to thousands of films. Suites are even more luxurious, with private screening rooms just one of the amenities. They go by names such as Grande Suite Cinema, Paradiso Room, Paradiso Superior Room, and Junior Suite Paradiso. The roof garden doubles, naturally, as an open-air cinema. La Loge is a private screening room where you can invite friends, family, clients, and whomever else. Last, and certainly least, is the La-La Land Karaoke Room.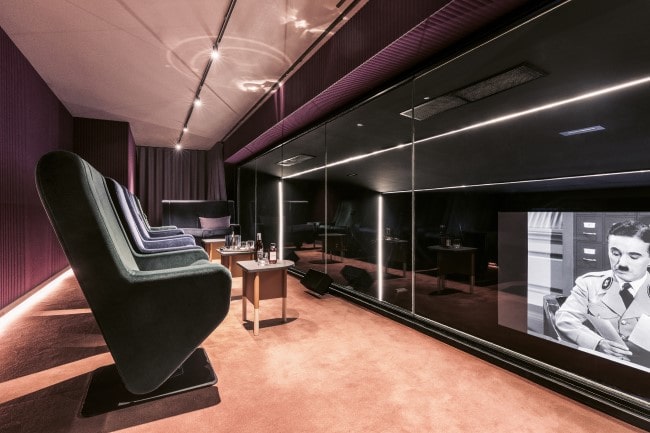 In addition to room service, you can brunch, dine or just drink at the Hotel Paradiso Café and the Rooftop Bar. The latter is open to the general public, by reservation. It should be pointed out that for traditional movie-going, the MK2 Nation is right next door to Hotel Paradiso.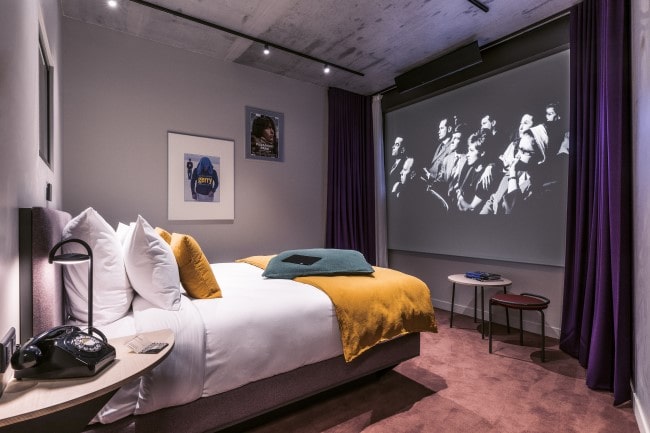 The hotel is located on rue Diderot, just off the Place de la Nation, on the eastern side of Paris. It's very near to both the Bastille and the Bercy area. The latter has become a film-goer's haven, not only the home of MK2 Bibliothèque but also the Cinémathèque Française and the UGC Ciné Cité at Bercy Village.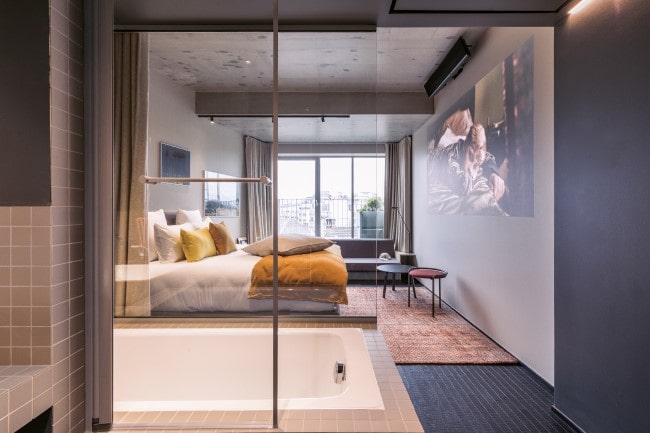 I'd assumed that for such an over-the-top establishment, if you had to ask the cost then it wasn't for you. But MK2 has always tried to be accessible to the public. And so I was pleasantly surprised to see prices in the 100 – 200 euros a night range. Still, we can't help wondering about who Hotel Paradiso is targeting. I personally love films and Parisian movie theaters (including those of the MK2 chain). But there's something a bit private and exclusive about the Hotel Paradiso concept. I prefer going to sundry Paris neighborhoods, waiting in line with everyone else, and watching a movie with le grand public. Then again, I enjoyed my visits to Disneyland Paris with my children or those of friends, though I'd never have gone alone. So, if your Tinder date claims to love movies, you know where to take him, her or them.
Hotel Paradiso
135 Boulevard Diderot, 12th
Tel: +33 (0)1 88 59 20 01
Official website.
Lead photo credit : Hotel Paradiso © Romain Ricard
More in cinema, film, French film, watch
---
---