Unique Cinemas in Paris: MK2 Bibliothèque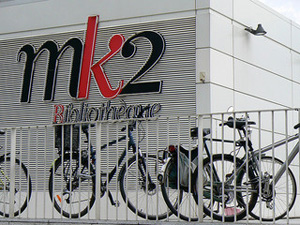 Cinéma refers not only to movies, but to the movie experience: sitting in a darkened room with a crowd of people in front of a large illuminated square. Seeing movies on a computer screen, tablet or even a smartphone may be convenient or cheap, but it's not the same. And in Paris the cinema scene has many interesting variations. In this series we highlight several of the most unique cinemas in Paris:
It's not a multiplex, it's not a cultural center it's … MK2 Bibliothèque!
The François Mitterrand Library, home of the Bibliothèque Nationale, or BN, has been called the Super Library, its four structures towering like a postmodern Stonehenge in the Bercy area of the 12th arrondissement. It's only fitting that the movie complex named after the library and located just behind it be just as pharaonic.
The movie-theater mogul Marin Karmitz shares with the late President Mitterrand, a predilection for art and politics and a large, ambitious ego. That ambition created one of Paris' major cinema chains, MK2, named, naturally, after himself. The idea was to combine conventional films with more intelligent fare, also to include shorts made by young talents in the movie programs. Having raised the bar for movie theatres in general, Karmitz then set out to transform the multiplex.
Both library and cinema sit on a raised escarpment overlooking a barge-filled stretch of the Seine, and face the gigantic Finance Ministry and grass-covered Bercy Omnisports stadium. Several flights of steps lead up to the wood deck atop the escarpment. Crossing the esplanade, at the foot of the monolithic buildings, can be an eerie experience, especially at night.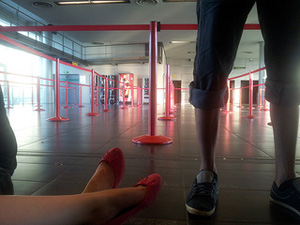 MK2 Bibliothèque contains 16 screens on a basement-level and upper floor, as with Karmitz' other theatres mixing low- middle- and high-brow films. Most patrons buy their tickets at automated ticket vending machines, avoiding the ubiquitous lines at other theaters. But there is a good deal more. On the ground floor there are cafés and a restaurant, but most especially a large place to shop for all things cinematic. Le Store includes a wide variety of books on films, and a huge offering of DVDs, novelty items and collectibles. It has expanded to food and clothing, which risks turning the cinema into a sort of upscale mall.
In addition to the normal run of films, the cinema regularly puts on thematic festivals (the latest is dedicated to "The End of the World") and embraces the intersection of film and other arts, currently re-broadcasting dance from the Netherlands Dans Theater and opera from the Met. MK2 Bibliothèque sponsors (with Studio Philo) a series of seminars examining the philosophical implications of movie trends. This year the "School of Super-Heros" puts several Hollywood franchises in the spotlight.
MK2 Bibliothèque also maintains a voluminous on-line and social media presence including an e-newsletter.
photo 1 by Dierk Schaefer [CC BY 2.0], via Flickr
photo 2 by g4ll4is [CC BY-SA 2.0], via Flickr
Leave a reply
Your email address will not be published. Required fields are marked *