Holiday Gifts for French Cooks and Food-Lovers
Just in time for the holidays, here's a list of some great gift ideas for people on your list who love to cook—especially those who love cooking French food.
1. Ossau-Iraty Cheese + Black Cherry Confit.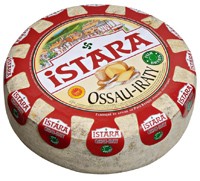 I spend a lot of time near the French Pyrenées. It was there I discovered the wonderful combination of thinly sliced brebis (sheep's milk cheese) and dark cherry preserves.  The combo is served with bread, either as a cheese course or as dessert—and it is sublime.
What's crazy is that my favorite cheese-seller in the Pyrenées foothills often sells out of this great confit. Yet you can find it online.
For a great gift, pair a jar or two of this confit with Ossau-Iraty cheese—a wonderful Pyrenées sheep's milk cheese that you'll likely find at a good cheese-seller in your neck of the woods.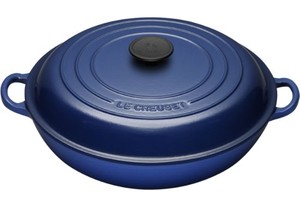 This is a splurge—and for those on your list who have been very, very nice.
Frankly, I don't know what I did before I got this braiser. It's just perfect for so many of France's hearty, warming braises. Their wide bottoms give you plenty of room to brown lots of meat and also make sure that the meat braises in shallow liquid—rather stewing in too much liquid.
The braisers go from stovetop to oven—not a lot of pans do that.  And they're beautiful.
I have lots of recipes for the braiser on my website. Find them here.
3. French Salt Cellar + Fleur de Sel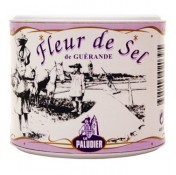 Anyone who loves cooking "French" will appreciate a package of fleur de sel, a complexly flavored and richly textured salt from France. And what better way to store it than in this lovely salt cellar that's made in the Basque region of France? I like the way its "hood" protects the salt from spatters, yet its wide mouth lets you reach in for a pinch again and again.
Together, these two would make a lovely pairing in a gift basket.
4. True French Lavender Honey with a Cornbread, Scone, or Biscuit Mix.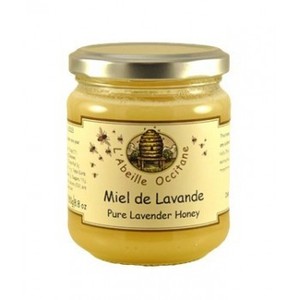 Nobody—absolutely nobody—makes better lavender honey than the French. U.S. lavender honey rarely offers the viscous, opaque qualities and rich flavor of French lavender honey.  Offering a subtle whiff of Provence—but never overly perfumy—this is truly a treat.
When in France, I spread lavender honey with butter over French bread for a treat at teatime (an afternoon snack time that the French call le goûter or le quatre heures).
Once home, I love mixing French lavender honey with softened butter and spreading it over warm scones, corn muffins, or baking-powder biscuits.
Pair a jar of French Lavender Honey with a gourmet cornbread, scone, or biscuit mix that you've spotted at a local gourmet food store. Or make your own mix with any number of Food in a Jar recipes.
5. Eat Smart in France, by Ronnie Hess
This little book makes a great stocking-stuffer for anyone you know who will be heading to France. Written by Ronnie Hess, an award-winning journalist who lived and worked in France as a reporter for CBS News, the slender, easy-to-pack volume offers a fabulous overview for those who want to "get to the next level" at the French table. She thoroughly explains how French menus work, and outlines what to expect (and savor) as you travel from region to region.  A few well-chosen recipes will help you bring France to your table once home.
By Wini Moranville, author of The Bonne Femme Cookbook: Simple, Splendid Food That French Women Cook Every Day
Follow Wini Moranville on her blog or on Facebook at Chez Bonne Femme.
Leave a reply
Your email address will not be published. Required fields are marked *