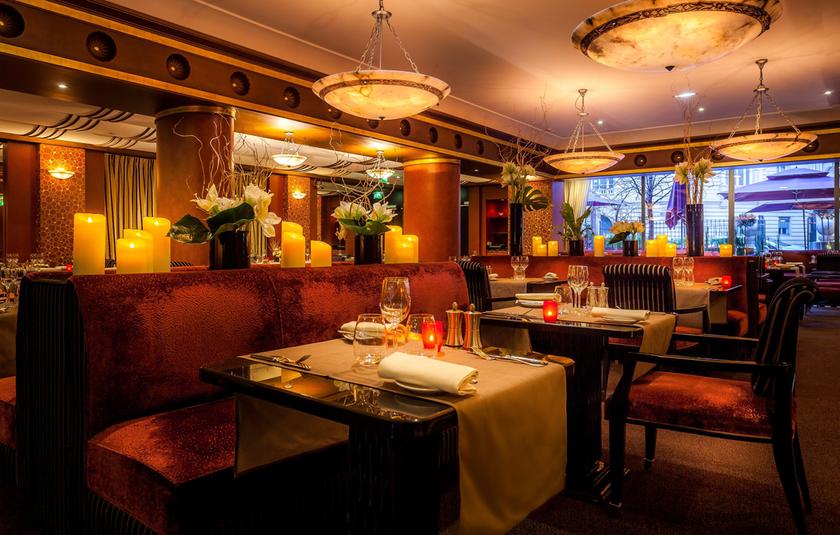 "Brunch is cheerful, sociable and inciting. It puts you in a good temper, sweeps away the worries and cobwebs of the week."– Guy Beringer, Hunter's Weekly 1895. Looking for a great spot for brunch in Paris? Here are some of BP's top picks for 2015.
Le Safran at L'Hotel du Collectionneur
Safran's Big Brunch is a bucolic experience in this Jacques Garcia-designed space surrounded by floral terraces. Children are entertained in a pretty room where they can paint, draw, sing, dance and make new best friends with whom they'll keep in touch and eventually come for Sunday Brunch 2020. A generous and delicious spread of brunch dishes, freshly prepared at various food stations. You'll find amazing pâtisserie, eggs any style, fresh juices, crêpes, pancakes, waffles, and French toast. A taste of France, American style, with traditional seafood plateaus. Plus sushi, and perfectly ripe cheeses. The dessert buffet's laden with seasonal fruit tarts, fruit salad, mousses, yogurts, financiers, brownies. Afterwards, walk off the calories in Parc Monceau, just across the road.
L'Hotel du Collectioneur, 51 rue de Courcelles, 8th. Metro: Courcelles. Tel: 01 58 36 67 00. Valet Parking. Le Safran Sunday Brunch from 65-75€. Under 4 years free – then 28€ from 12 years.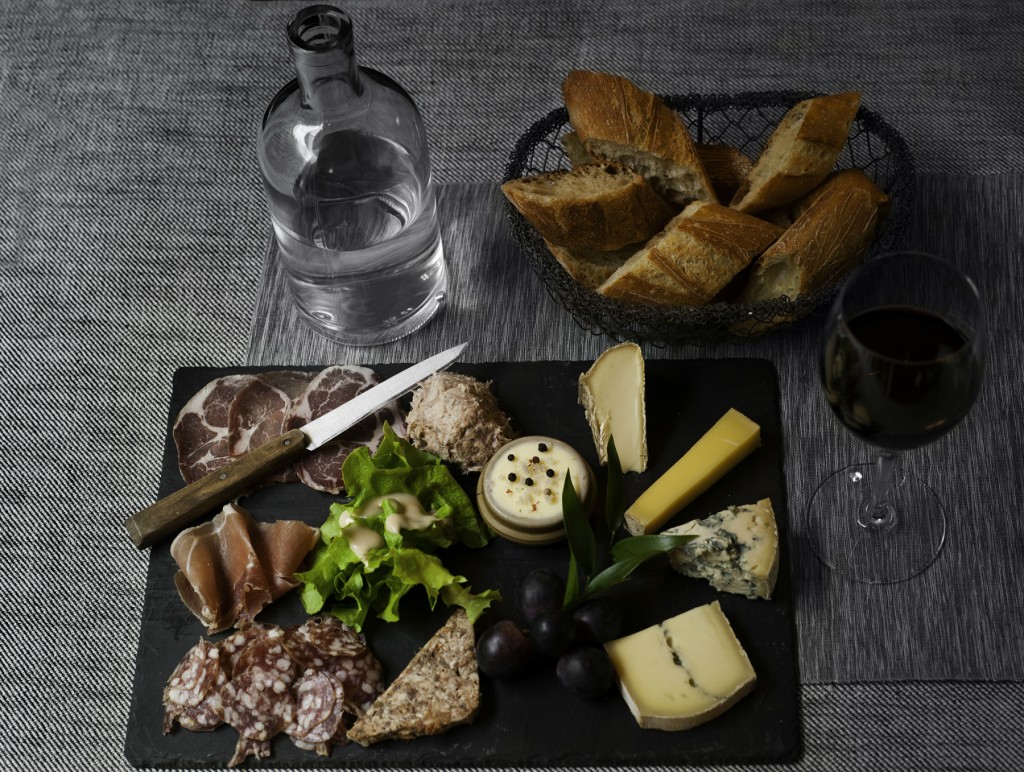 Located in "Les Halles" neighbourhood close to the lively Montorgueil and Etienne Marcel neighbourhoods. A traditional, authentic and comfortably stylish bistro, with lively terrace action, on a pretty "pedestrian only" street. Eric Salmon (great name for a chef, eh?) presents an incredible value concept of four Brunches each priced at 20€: you can't make it for that at home! French: English: Spanish: Swedish. If you're recovering from last night, or on a diet, order an astringent detox super boost cocktail. Teas and infusions are by Mariage Frères and there's an excellent wine and beer card.
9 rue Pierre Lescot, 1st. Metro: Les Halles. Tel: 01 42 33 74 17. Sunday Brunch served all day
Here's a Saturday Brunch, right next to Uniqlo, the Apple Store, Galeries Lafayette and all the stores that make this area retail central. Relax on the terrace or in the state-of-the-art restaurant at the W Hotel. Yoga bunnies can take a pre-brunch class with Strala Yogo founder Tara Stiles, or make-up/couture/jewellery lessons. Chef Jimmy Desrivières' brunch includes classic and veggie burgers, fresh vegetable salads, eggs benedicte. Add gluten free options, breads by artisan baker Gontran Cherrier, incredible desserts. Read: something for the whole family.
4 rue Meyerbeer, 9th. Metro: Opera. Tel: 01 77 48 94 44. Saturday Brunch 42€ : 11am-19hrs (59€ with the yoga but you must book ahead)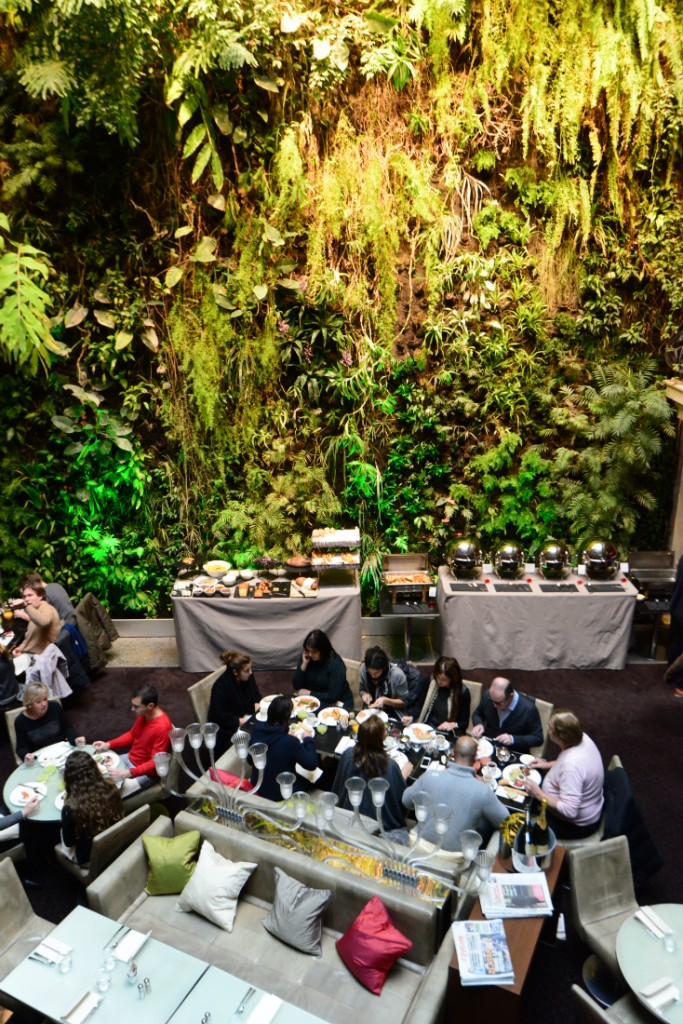 Five minutes from the Champs Elysées, where all the shops are open on Sunday, the former Second World War HQ of US General Pershing was transformed by the late Andrée Putman in 2001. During summer, brunch is served beneath the awesome vertical garden designed by botanist Patrick Blanc. Waffles, pancakes with maple syrup, lots of American influences, hommage to the late great General. Have a nice day !
48 rue Pierre Charron, 8th. Metro: George V. Tel: 01 58 36 58 00. Sunday Brunch from 11.30am-4pm. 59€ and 29€ for children up to 8 years.
L'Opera Restaurant, Palais Garnier
Inside, architect Odile Decq has created a contemporary red, grey glass and steel bubble. Some love it, some loathe it, but all have a comment. Outside, parasols shade the terrace where brunch is served. Newspapers and magazines (Paris Match anyone?) are offered. As you would expect there's music everywhere, even on the sunny south-facing terrace and Chef Stéphane Bidi orchestrates a beautiful palate-pleasing brunch. Salmon gravlax, charcuterie, salads, baskets of fresh vegetables, eggs and bacon, market fresh fish, cheeses. Delicious desserts (brownies, fruit tarts) include, of course, the glorious house signature: L'Opera. Wines are displayed in a refrigerated glass cabinet and there's the Martini Bar for cocktails and/or champagnes. A well-stocked boutique is accessed from the restaurant and sells Jean Pauncton's honey from the Opera Garnier bee hives on the roof.
Palais Garnier, Place Jacques Rouché, 9th. Tel: 01 42 68 86 80. Metro: Opera. Sunday Brunch 33€ 12 noon-5pm
Presented in La Cuisine, the Philippe Starck-designed restaurant, the brunch is sophisticated and child friendly at the same time. Available both Saturday and Sunday, in a beautiful garden setting. Consult the kids programme here. Then marvel at the incredible choice of dishes, smoothies, gluten free options, organic egg station, Italian pastas, Marie Quatrehomme cheeses. Save room for desserts by macaron maven Pierre Hermé. It's brunch heaven !
37 Avenue Hoche, 8th. Metro: Charles de Gaulle-Etoile, Tel: 01 49 52 70 00
Saturday Brunch 12:30pm-3:30pm (78€ per person, excluding soft and alcoholic drinks, children under 6 free & 50% for children aged between 6 and 12)
Sunday Royal Brunch 12:00 noon-3:30pm (120€ per person, excluding soft and alcoholic drinks, free for children under 6 and 50% for children aged between 6 and 12)

Located in the lush green Philippe Niez- designed sculpture, herb and planted garden, great for people watching. Rendezvous on the shady terrace on Fatboy Sofas or well spaced tables if you want to read the papers. Child friendly, there's animation, activities and sensational seasonal food, buffet/brunch style, by talented chef Stéphane Duchiron. "I've been here two years now and, guess what? There's four healthy Australian Fougère trees growing in the garden ! This is obviously where I'm meant to plant my pots and pans!"
55-57 Avenue Raymond Poincaré, 16th, Metro: Victor Hugo/Trocadero. Tel: 01 44 05 66 10. Sunday Brunch 12.30-15hrs 59€ -29€ for the under 12's
Alone, with friends or en famille, there's a friendly atmosphere in this contemporary restaurant/gallery located just opposite the hôtel George V. Begin with freshly squeezed juices, hot croissants, pain au chocolat, corn flakes, granola, pancakes and French Toast. There's cold cuts of meat, cheeses, smoked salmon to stuff in warm bagels with cream cheese and coleslaw. Then order Eggs Benedicte, Norvegian or Florentine style. Maybe you want them scrambled, or a herb/egg white omelet ? It's all possible. Cheeseburger, bacon cheeseburger, cheese on toast, beef tartare or steak and chips. To finish chocolate cake, cheesecake, fresh fruit salad and, a nice touch, bowls of Haribo candies decorate the tables.
45 rue Pierre Charron, 8th, Metro: George V. Tel: 01 47 20 46 19. Saturday & Sunday Brunch 12-16hrs. Price : 37€ 17€ kids
Superchef Cyril Lignac re-named Chardenoux des Prés, his super-cool left-bank bistro, and changed the concept, because "you can't stand still in this business". Cyril's brunch spin begins with baskets of traditional home baked buckwheat tartines (toast) and home-made apricot jam, croissants and pastries from his eponymous bakery. Follow with Black Angus burgers, chips, honey/curry mayo., smoked salmon, cheese on toast "Aux Pres". eggs Benedict, soft boiled, scrambled, egg white or normal omelets etc. These are matched with white asparagus salad, lamb's lettuce, chunks of old Dutch cheese. Finish with pancakes, granola, fresh fruit, cream cheese, French toast with pears, caramel and vanilla ice cream and perfect cappuccino or filter coffee.
27, rue du Dragon, 7th. Metro: rue du Bac. Tel: 01 45 48 29 68. Sunday Brunch 39€ 11.30am-3pm