Drawing Now Art Fair Returns to Paris in March 2019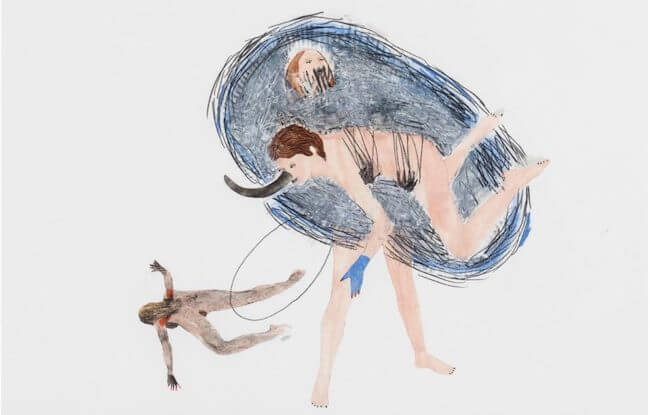 Drawing Now, the fair dedicated to promoting contemporary drawing, is returning to Paris from March 28-31, 2019. Taking place for the 13th time at the Carreau du Temple in the city's
3rd arrondissement
, Drawing Now Art Fair 2019 will showcase the best of contemporary drawing from the past half century, with up to 2,000 works on display to satisfy the diverse tastes of all visitors. Drawing Now Paris has become a key event in the international art fair calendar, with works on display from more than 70 international galleries carefully selected by an independent committee of prominent figures from the art world. This spring event is different to many other prestigious art shows in that it is designed to be a friendly encounter with French and foreign art galleries, with visitors able to purchase a contemporary drawing should they so wish. This year's event will not only feature works from a range of international galleries, including the likes of Isabelle Gounod who represents British cartoonist Glen Baxter famous for his absurdist drawings, and Art Brut specialist Christian Best, but there will also be a host of accompanying events for art aficionados to enjoy. Highlights to include "Action! Performing Drawing", a live event in which drawing professionals put their artistic skills to the test, through the use of music and dance, and "Master Now", a program within the fair itself in which a member of the selection committee presents a selection of outstanding masterpieces from the 20th century from an artist who made excellent use of the medium of drawing. Not to mention a range of interviews, artistic encounters and workshops with contemporary drawing professionals. This ever-popular event, which was dubbed "the best yet" in 2018, was launched in 2007 by Christine Phal, a chemist by trade, who wanted to create a link between contemporary drawing and the world of amateurs and collectors. "I've always had a keen interest in art despite being a chemist, and before Drawing Now I had an art gallery for around twenty years. But one day I decided that I wanted to take my love of art further. That's when the idea of organizing this event came to me," she says. Helping her realize this dream was Carinne Tissot, whose passion for contemporary art led her to go on and launch the
Drawing Hotel
in 2017. Located steps away from the Comédie Française theater in the
1st arrondissement
, the hotel boasts 48 rooms furnished by French and international designers who were given carte blanche in the corridors of each of the five floors. The result is an impressive building that serves as an ode to contemporary art, with art lovers able to indulge in more of the same in the hotel basement, which is home to the Drawing Lab, the first private art center fully devoted to contemporary drawing. For more information on this year's event, visit
www.drawingnowartfair.com
SUBSCRIBE
ALREADY SUBSCRIBED?
BECOME A BONJOUR PARIS MEMBER

Gain full access to our collection of over 5,000 articles and bring the City of Light into your life. Just 60 USD per year.

Find out why you should become a member here.

Sign in

Fill in your credentials below.
Drawing Now, the fair dedicated to promoting contemporary drawing, is returning to Paris from March 28-31, 2019. Taking place for the 13th time at the Carreau du Temple in the city's 3rd arrondissement, Drawing Now Art Fair 2019 will showcase the best of contemporary drawing from the past half century, with up to 2,000 works on display to satisfy the diverse tastes of all visitors.
Drawing Now Paris has become a key event in the international art fair calendar, with works on display from more than 70 international galleries carefully selected by an independent committee of prominent figures from the art world. This spring event is different to many other prestigious art shows in that it is designed to be a friendly encounter with French and foreign art galleries, with visitors able to purchase a contemporary drawing should they so wish.
This year's event will not only feature works from a range of international galleries, including the likes of Isabelle Gounod who represents British cartoonist Glen Baxter famous for his absurdist drawings, and Art Brut specialist Christian Best, but there will also be a host of accompanying events for art aficionados to enjoy.
Highlights to include "Action! Performing Drawing", a live event in which drawing professionals put their artistic skills to the test, through the use of music and dance, and "Master Now", a program within the fair itself in which a member of the selection committee presents a selection of outstanding masterpieces from the 20th century from an artist who made excellent use of the medium of drawing. Not to mention a range of interviews, artistic encounters and workshops with contemporary drawing professionals.
This ever-popular event, which was dubbed "the best yet" in 2018, was launched in 2007 by Christine Phal, a chemist by trade, who wanted to create a link between contemporary drawing and the world of amateurs and collectors. "I've always had a keen interest in art despite being a chemist, and before Drawing Now I had an art gallery for around twenty years. But one day I decided that I wanted to take my love of art further. That's when the idea of organizing this event came to me," she says.
Helping her realize this dream was Carinne Tissot, whose passion for contemporary art led her to go on and launch the Drawing Hotel in 2017. Located steps away from the Comédie Française theater in the 1st arrondissement, the hotel boasts 48 rooms furnished by French and international designers who were given carte blanche in the corridors of each of the five floors. The result is an impressive building that serves as an ode to contemporary art, with art lovers able to indulge in more of the same in the hotel basement, which is home to the Drawing Lab, the first private art center fully devoted to contemporary drawing.
For more information on this year's event, visit www.drawingnowartfair.com
Lead photo credit : Annabelle Guetatra, Les éléphants de mer 3, 2018 © photo Vincent Everarts
More in artists, collection, contemporary, drawing, fair, galleries
---
---