The Queen of Gossip in 17th Century Paris
Is the past really a different country? Reading the gossipy letters of
Mme de Sévigné
, which give such a delightful insight into the upper echelons of 17th-century Paris society, the answer seems to be yes … and no!  The luxurious court of
Louis XIV
does seem far-distant, but the human dramas which played out there are instantly relatable. Mme de Sévigné was very well-placed to observe Parisian high society. She was born in the
Place des Vosges
(then called the Place Royale) and lived for many years in the nearby Hôtel Carnavalet. As a wealthy aristocratic widow, she moved in the highest circles. It is said that she knew personally "almost everybody, from the highest in the court downwards." When her daughter married and moved to Provence, she began a correspondence with her that has left us the priceless legacy of detailed, colorful descriptions of life in Paris, laced with gossip and her own incisive commentary. The letters span nearly 30 years, from 1669 to her death in 1696. Aerial view of the Place des Vosges (C) (CC BY 3.0) The subject of her daughter's marriage is an early insight into her outlook. She writes to a friend that Françoise-Marguerite, "the prettiest girl in France," is to marry Monsieur de Grignan, "one of the most honorable men in the kingdom." Others advised caution because this was his third marriage, but Mme de Sévigné could see the advantages. Both wives had died, she says, and so had his son, so he was "richer than he has ever been" and no one else had a call on the money. He was, she explained, "by virtue of his rank, property and personal qualities, a man after our own hearts." He was an excellent prospect, and so "we are not haggling with him, as people usually do." Françoise-Marguerite de Sévigné (C) Unknown, Public Domain She enjoyed a very full social life. One evening in February 1674, she planned to attend the opera, where she would be mixing with royalty: "Monsieur le Prince, Monsieur Le Duc and the Duchess will be there." But that was just the start, because she had a number of options in mind for later on: "From there I shall perhaps go to supper at Gourville's with Mme de Lafayette, Monsieur le Duc, Mme de Thianges and M de Vivonne. If this party is canceled, I shall go to see Mme de Chaulnes, – I have had the most pressing invitation from the lady of the house and from Cardinals de Retz and Bouillon, who made me promise to go." Master of the Night Ballet, Costume for the Rising Sun in the last entry of the Night Ballet, 1653, pen, wash and gouache heightened with gold, BnF, Prints and photography © BNF
SUBSCRIBE
ALREADY SUBSCRIBED?
BECOME A BONJOUR PARIS MEMBER

Gain full access to our collection of over 5,000 articles and bring the City of Light into your life. Just 60 USD per year.

Find out why you should become a member here.

Sign in

Fill in your credentials below.
Is the past really a different country? Reading the gossipy letters of Mme de Sévigné, which give such a delightful insight into the upper echelons of 17th-century Paris society, the answer seems to be yes … and no!  The luxurious court of Louis XIV does seem far-distant, but the human dramas which played out there are instantly relatable.
Mme de Sévigné was very well-placed to observe Parisian high society. She was born in the Place des Vosges (then called the Place Royale) and lived for many years in the nearby Hôtel Carnavalet. As a wealthy aristocratic widow, she moved in the highest circles. It is said that she knew personally "almost everybody, from the highest in the court downwards." When her daughter married and moved to Provence, she began a correspondence with her that has left us the priceless legacy of detailed, colorful descriptions of life in Paris, laced with gossip and her own incisive commentary. The letters span nearly 30 years, from 1669 to her death in 1696.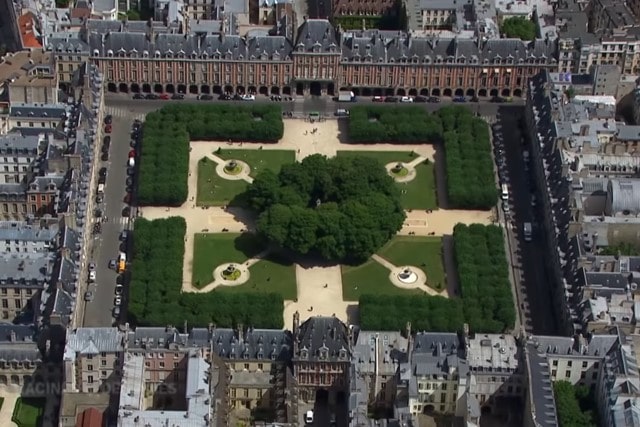 The subject of her daughter's marriage is an early insight into her outlook. She writes to a friend that Françoise-Marguerite, "the prettiest girl in France," is to marry Monsieur de Grignan, "one of the most honorable men in the kingdom." Others advised caution because this was his third marriage, but Mme de Sévigné could see the advantages. Both wives had died, she says, and so had his son, so he was "richer than he has ever been" and no one else had a call on the money. He was, she explained, "by virtue of his rank, property and personal qualities, a man after our own hearts." He was an excellent prospect, and so "we are not haggling with him, as people usually do."
She enjoyed a very full social life. One evening in February 1674, she planned to attend the opera, where she would be mixing with royalty: "Monsieur le Prince, Monsieur Le Duc and the Duchess will be there." But that was just the start, because she had a number of options in mind for later on: "From there I shall perhaps go to supper at Gourville's with Mme de Lafayette, Monsieur le Duc, Mme de Thianges and M de Vivonne. If this party is canceled, I shall go to see Mme de Chaulnes, – I have had the most pressing invitation from the lady of the house and from Cardinals de Retz and Bouillon, who made me promise to go."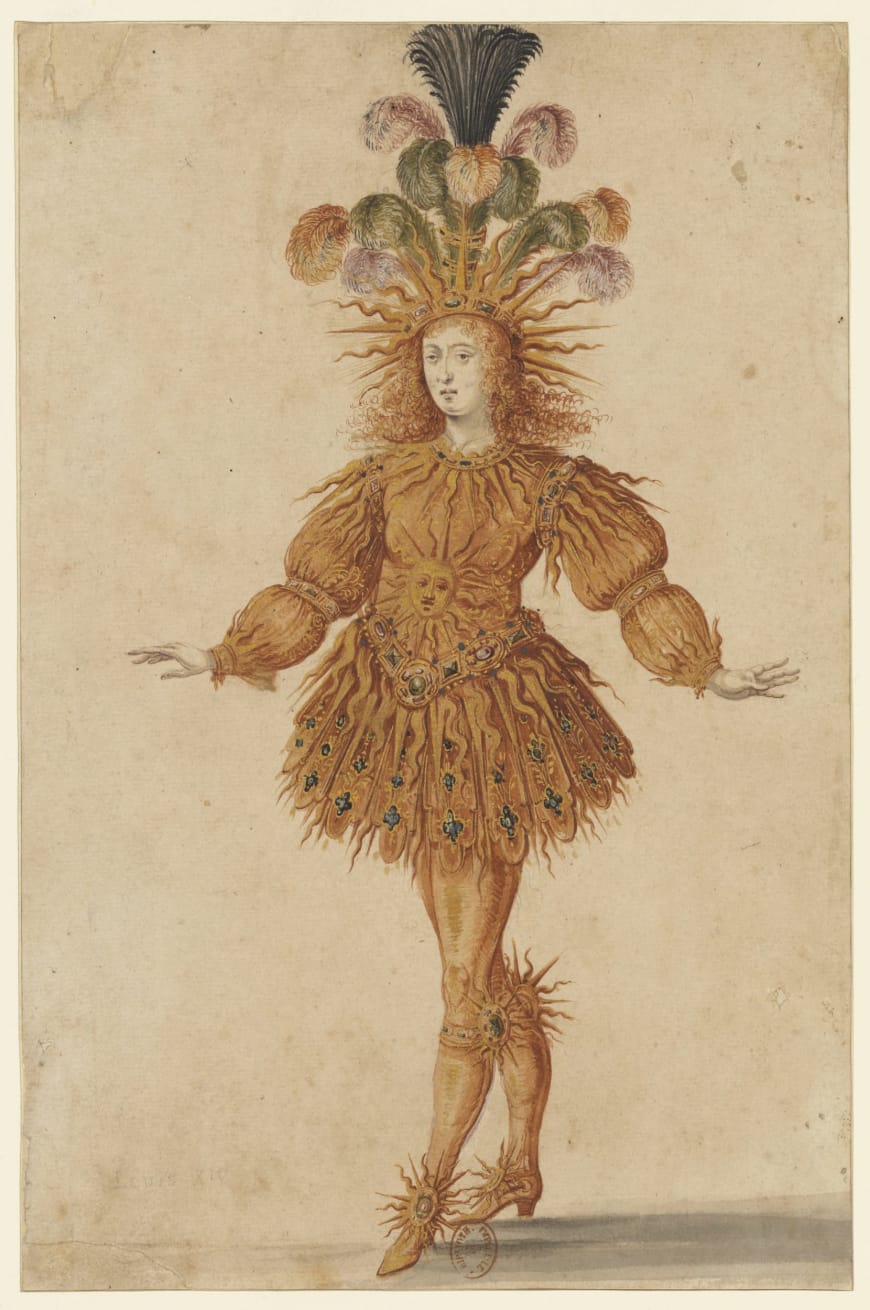 We learn a lot about the social side of court life. In the winter season, at St Germain, the principal royal residence, there were "balls, plays and masquerades every evening."  In the summer, the court might move elsewhere, perhaps to Versailles, where there would be "plays, concerts, suppers on the water and gaming every evening." The king, she wrote, would preside at one gambling table and the queen, with her ladies and courtiers, at another and "you can see two or three thousand louis lost there every day." The Château de Chantilly was another favorite venue, and in April 1671 the king was there for "stag-hunting by moonlight and lanterns, fireworks, supper and gaming."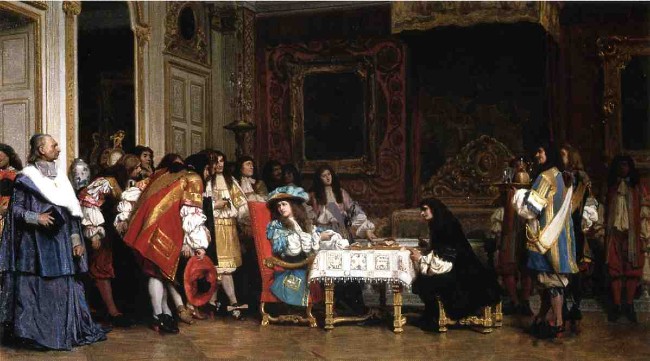 Tragedy struck on that occasion over an event which gives an insight into the strain on the courtiers and servants when trying to keep everything perfect for their royal master. There were unexpected guests at supper and not enough meat to go round.  The king's table was, of course, "well-served," but "at the twenty-fifth table, the roast was missing." The servant in overall charge of provisions, Vatel, who admitted to 12 sleepless nights in the preparation of the event, said "I am dishonored. This is a humiliation I will not bear." When, the following day, the expected fish supplies did not arrive, he went to his room, "put his sword up against the door and ran it though his heart."
Mme de Sévigné doesn't spare us the grisly detail that his suicide only succeeded "at the third attempt." She relates that Monsieur le Prince was "terribly upset," but her comment on Monsieur le Duc's reaction reminds us that servants were not personally valued very highly: "He wept, for the whole of his trip to Burgundy depended on Vatel."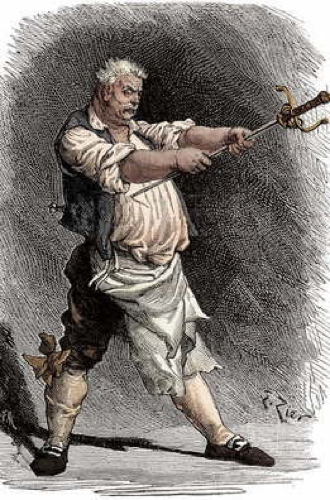 The petty jealousies of court life feature frequently. Here's how the assembled ladies dealt with their envy of the beautiful young Mme de Roquelaure in 1656. "(She) makes the beauties there so terribly jealous that it has been decided, out of spite, that she will not be invited to the after-supper gatherings, which are gay and gallant." In fact, there was tragedy here too. Married to the Duc de Roquelaure, yet madly in love with the Marquis de Vardes who did not return her affection, Mme de Roquelaure is said to have died of a broken heart, aged 21.
Mme de Sévigné shows an acute awareness of social interactions, relating how one lady feigned an interest in her which she really did not feel. Mme de Ludres showed "an  abundance of friendliness," but was in fact not listening at all: "Her lovely eyes were running round the room." Mme de Sévigné reports with pleasure that others noticed too, and she and they smiled about it over the lady's head.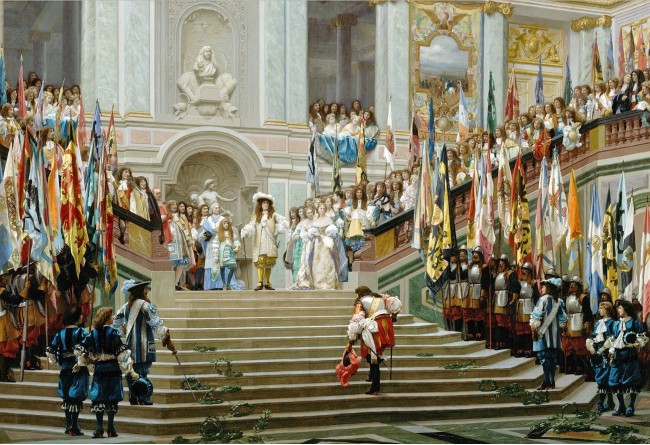 Sometimes, especially amongst the men, the quarrels turned to violence. In 1656 the Prince d'Harcourt and François d'Aubusson de La Feuillade, a minor royal, had a furious argument about whether a third party, the Chevalier de Gramont, had any money or not. Mme de Sévigné reports the incident verbatim:
'La Feuillade said 'it was not so and that he did not have a bean'.
'I tell you he had.'
'I say he had not.'
'Keep quiet La Feuillade
'I shall do nothing of the sort.'
Then she tells us how things escalated: "Thereupon the Prince threw a plate at his head, the other threw a knife, both of them missed. Someone came between them and made them embrace." And, presumably because both wanted to continue attending court, they managed to put this behind them. "In the evening, they spoke to each other at the Louvre as if nothing had happened."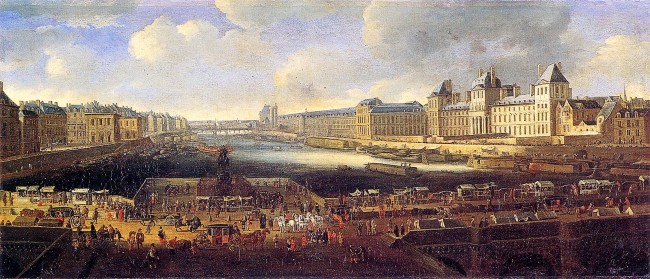 Mme de Sévigné was a sharp observer of royal intrigues. In 1670, Louis agreed to the marriage of his cousin, La Grande Mademoiselle, the richest heiress in Europe, to the Duc de Lauzan, described as "a court buffoon," but then changed his mind and forbade it. As Mme de Sévigné relates, the marriage was announced on Monday, Tuesday was all "talk and compliments," on Wednesday Lauzan was granted four duchies, "the whole estimated to be worth 22 millions" and on Thursday the king withdrew his permission. How did the thwarted bride react? "She burst into tears, cries, violent outbursts of grief, exaggerated lamentations, and remained in bed all day, taking nothing but broth."
Mme de Sévigné also keeps us informed about the many twists and turns of the saga of the royal mistresses. One day in 1671 "Madame de la Valliere is quite back in favor" and in 1675, Mme de Montespan is tearful, "even when she sees how well the king is doing without her." Louis, on the other hand seemed "gay and glad to be free of upsets." Mme de Sévigné's final conclusion on all this is that "it is all difficult to understand and we must keep our own counsel."
Mme de Sévigny no doubt understood the need for "keeping her own counsel" when she was moving in aristocratic circles. To offend would have been to invite exclusion. But it is not a maxim she followed in her writing and, given the entertainment to be gained from reading her letters, we must surely be glad that she was willing, indeed keen, to be a little more indiscreet when putting her thoughts to paper.
Lead photo credit : Marquise de sevignee (C) Unknown, Public Domain
More in history, Parisian, Society, Woman
---
---